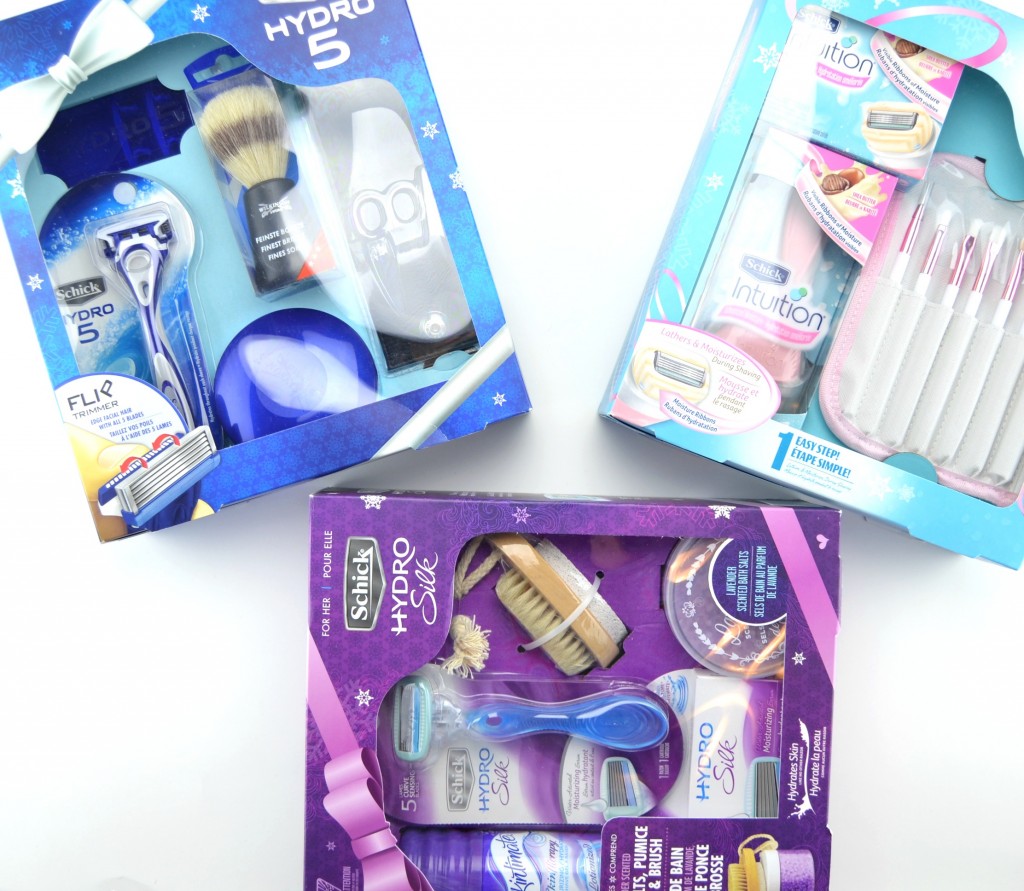 Show some love to your skin
It's my favourite time of the year, holiday gift sets are slowly making their way into stores (and going fast) and I'm usually the first in line to snag a few. Holiday gift packs are not only practical, but you get the most bang for your buck. Schick has released three holiday gift packs this season for both the men and women in your life. It's the perfect gift for those that want to show some love to their skin this season and features everything they need to have silky, smooth, hydrated skin. There are two Schick Holiday Gift Packs for the ladies and one for the fellows, both packaged perfectly with an array of different products within. Schick Hydro Silk Holiday Pack is perfect for the girl that wants to relax in the tub with the aromatherapy scent of lavender, Schick Intuition Advance Moisture Holiday Pack is for the girl that not only enjoys silky smooth legs, but also enjoys having fun with makeup and finally, the Schick Hydro 5 Holiday Pack for the most manly of man in your life that not only likes to enjoy a close, clean shave, but takes pride in his grooming.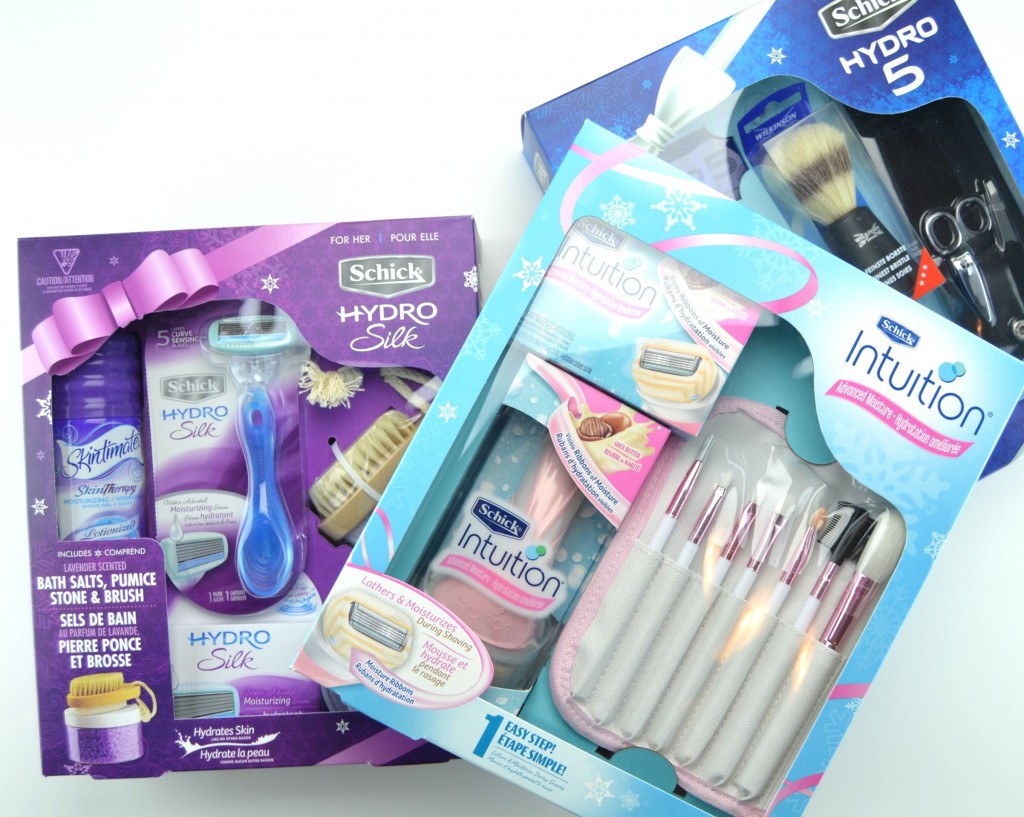 Schick Hydro Silk Holiday Pack contains the Schick Hydro Silk 5 blade razor with 2 refill cartridges, Skintimate Skin Therapy Moisturizing Shave Gel, along with lavender scented bath salts and a pumice stone and brush set. The Schick Hydro Silk razor features a unique design that gives an incredibly close shave and actually cares for your skin. Thanks to its water-activated moisturizing serum, it actually helps replenish your skin's natural moisture for added softness hours after shaving. It's 5 curve sensing blades help to protect skin from irritation and helps to achieve the closest shave possible. Skintimate Skin Therapy Moisturizing Shave Gel will not only help provide you with a smooth and silky shave, but it will also help to replenish the skin's natural moisture for healthy, more radiant looking skin. It has an extremely thick and creamy texture that comes to a rich lather when in contact with water. Just pump onto fingers and gently rub onto the area that's going to be shaved. Not only will it allow you to get to the closest shave, but it will help protect the skin so you don't end up with tiny razor bumps or irritated skin. It washes clean away and instantly leaves skin feeling highly hydrated, silky smooth with an intoxicating fresh scent. The pumice stone and brush is a handy 2-in-1 product that has rough texture on one side to slough off dead skin, while the other side will brush and clean away dirt in and around the nails. The pumice stone will help remove dry, callused and excess skin from the bottom of your feet and when used daily, will help to maintain, soft, smooth feet. After shaving and scrubbing the bottom of our feet, it's nice to just sit back and soak in a nice hot bath. The lavender scented bath salts are super relaxing and will leave your skin feeling baby soft and silky smooth.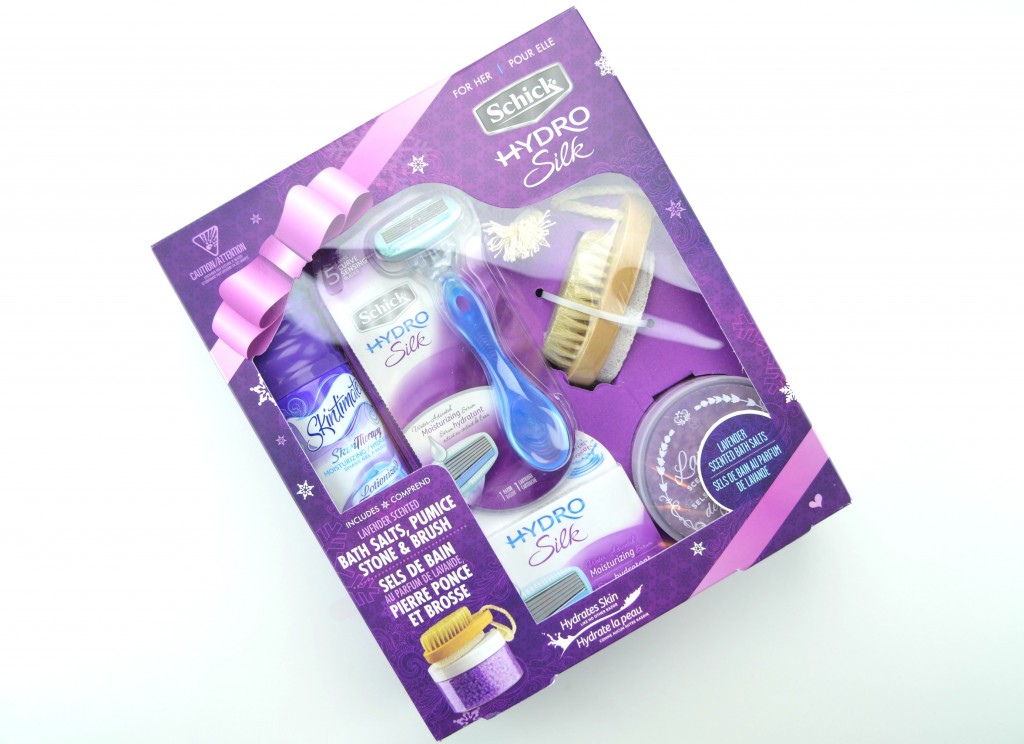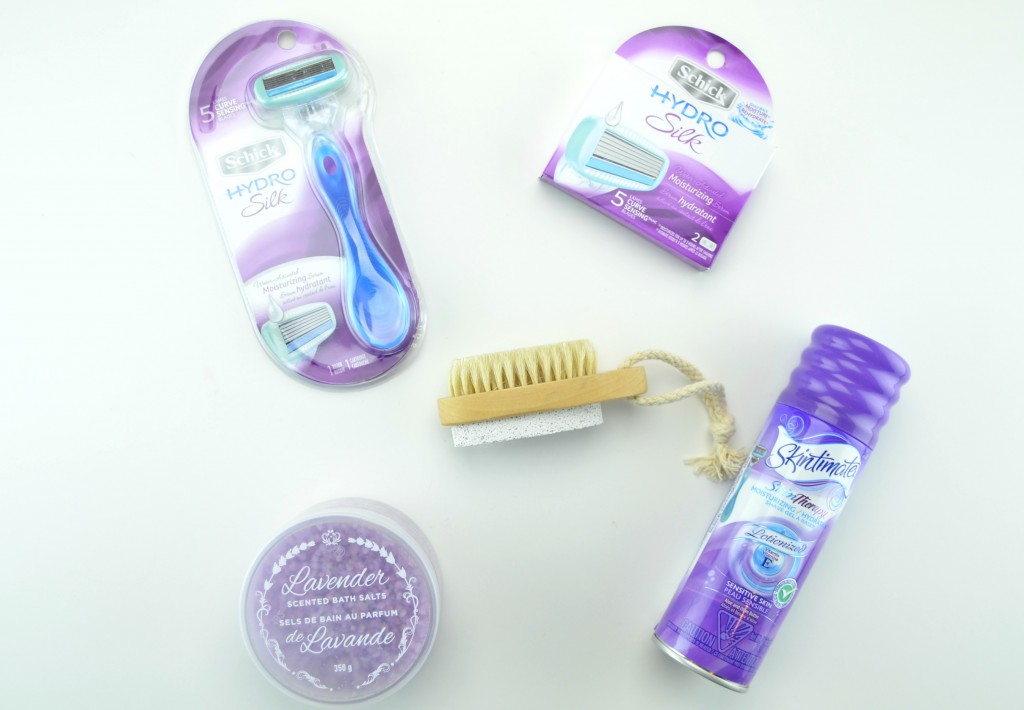 Schick Intuition Advance Moisture Holiday Pack contains the Schick Intuition Advance Moisture razor with 3 refill cartridges, along with a 7 piece premium makeup brush set. The Schick Intuition Advance Moisture razor is the only razor on the market that lathers and moisturizes during shaving with the use of a shaving gel. In just one easy step, the razor foams and softens skin for the closest shave without the use of another product. This is the perfect innovation for a busy gal on the run and doesn't have time to fuss with multiple products in the shower. Its unique design fits perfectly into the palm of your hand and its pivoting head with four blades follow the natural contours of your legs. It's surrounded by a skin conditioning solid that contains natural aloe, and vitamin E helps to achieve noticeable softer skin with each use. Its built-in moisture ribbons comes to a light lather for easy shaving without having to worry about nicking the skin.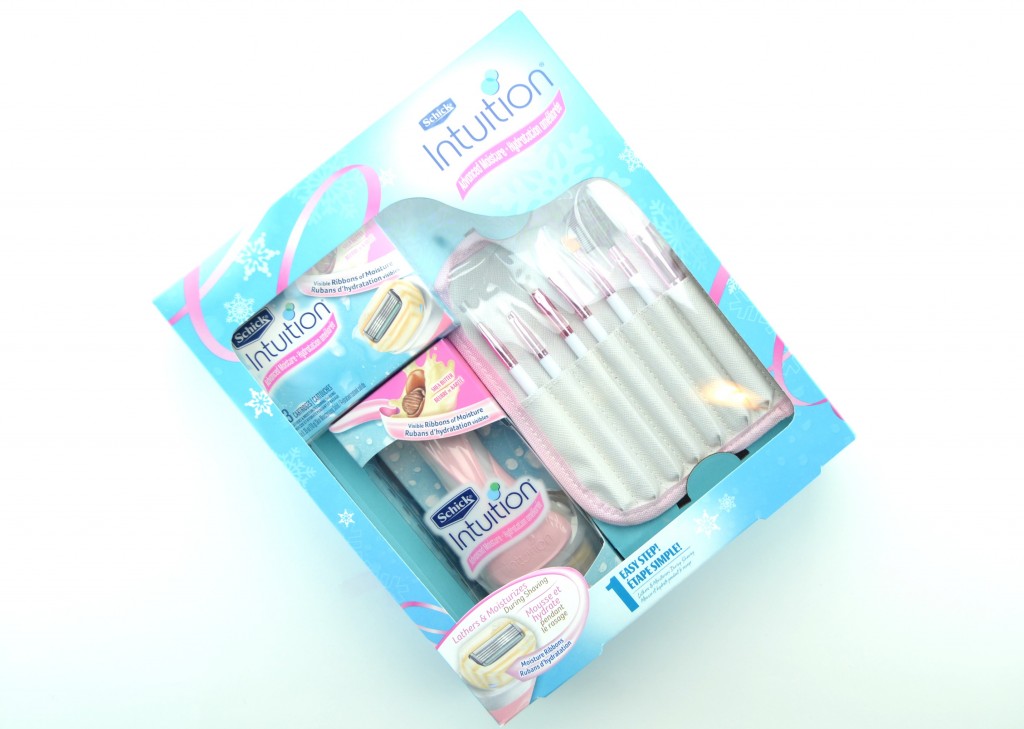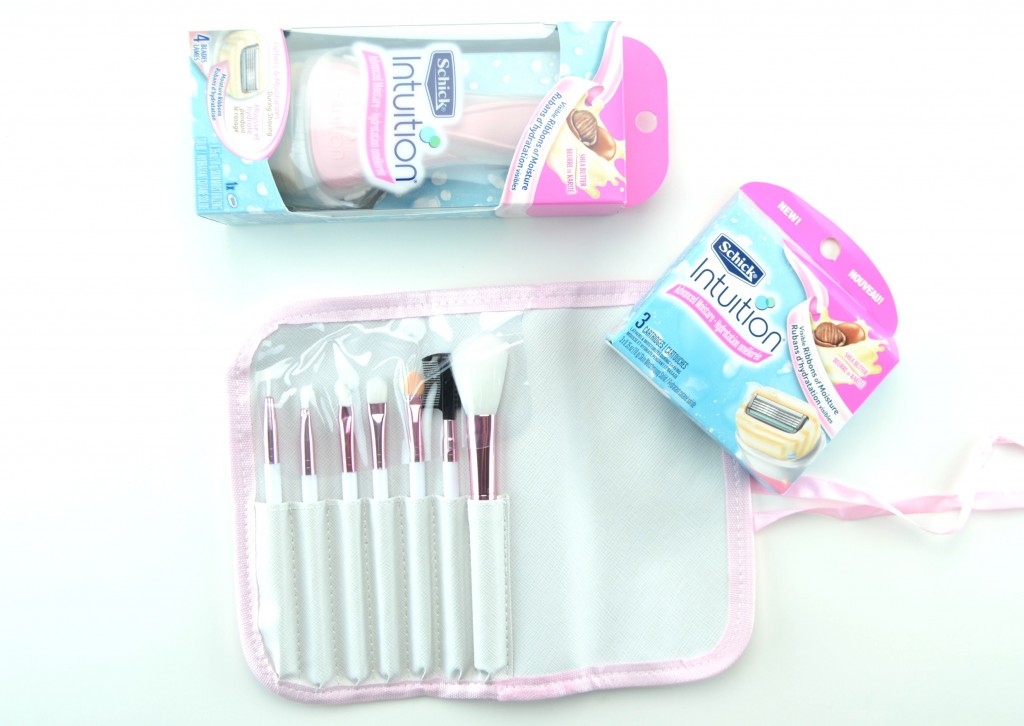 We all know that having the correct brushes can make a huge difference in your makeup application and this 7 piece makeup brush set has everything you need to create a flawless look this holiday season. These have a sleek white and rose gold handle with silky soft bristles and a seamless ferrule which help to tightly hold the bristles in place and eliminate shedding. It's all about the eyes this season, which calls for a pointed eyeliner brush that's perfect for applying eyeliner to create that perfect winged out eye look. It's thin and offers precision when lining and defining the eyes. You also can't have a polished, complete look without a bold lip, so the second brush that's included is the lip liner brush. It's dense, sturdy and tiny enough to get precise application when applying lipstick. The Brow Brush is an angled brush that is used to create sharp, featured brows and also works well in distributing eyeshadow right along your lash line. The eyeshadow brush is stiff, yet fluffy and just large enough to cover the entire eyelid in one stroke. It does an excellent job at packing on the shadow and helps to blend out the colour beautifully. The sponge tip brush is perfect for creating an opaque look or to help smudge out pencil liners. The eyebrow brush has medium soft bristles to help keep your eyebrows in place, while the comb helps to comb and separate the hairs. It can also double as an eyelash separator. Finally the blush brush is flat and fluffy and features a dome, round edge that isn't too dense, but has enough fibers to really pick up the blush.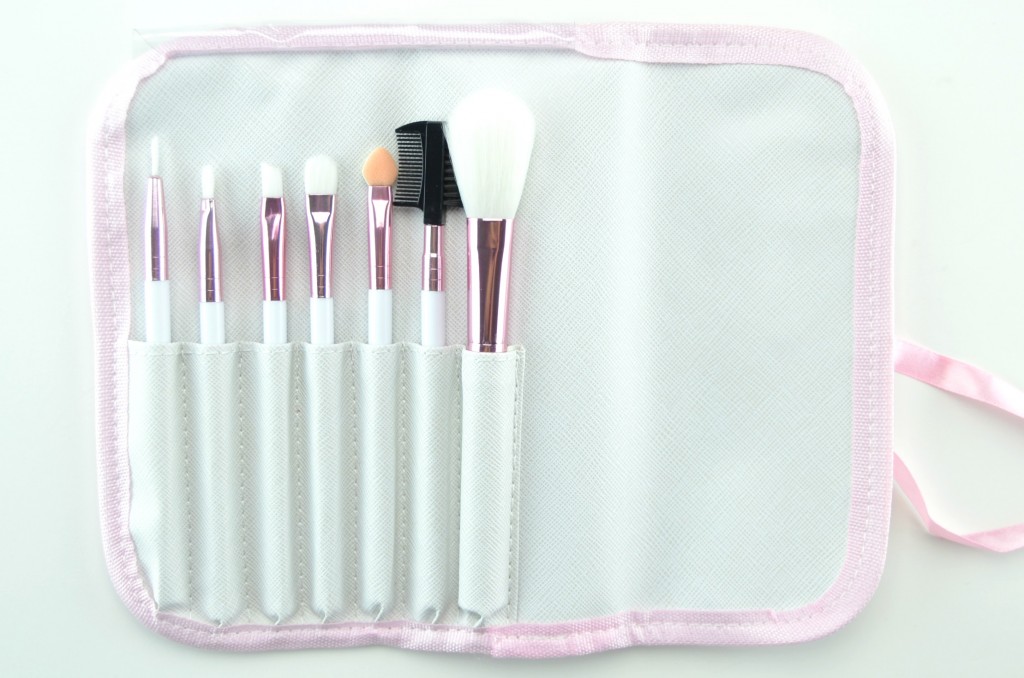 Schick Hydro 5 Holiday Pack contains Schick Hydro 5 Razor with 5 refill cartridges, a Wilkinson Sword Shaving Soap and bristle brush, along with a 3 piece grooming set. The Schick Hydro 5 features a hydrating gel reservoir and a total of 5 ultra glide blades with skin guards that help provide a close, comfortable shave with less irritation and razor bumps. The Wilkinson Sword Shaving Soap and bristle brush is taking you back to the traditional "old fashion" ways of shaving. The soap comes in an old-style soap bowl and provides an extremely rich and creamy lather when combined with the bristle brush. The brush not only helps to provide a foamy lather, but its fine bristles help to exfoliate the skin and help lift and moisten the hairs. Finally no grooming kit would be complete without tweezers, scissors and nail clippers. Everything your man needs this holiday season to have him mistletoe ready.