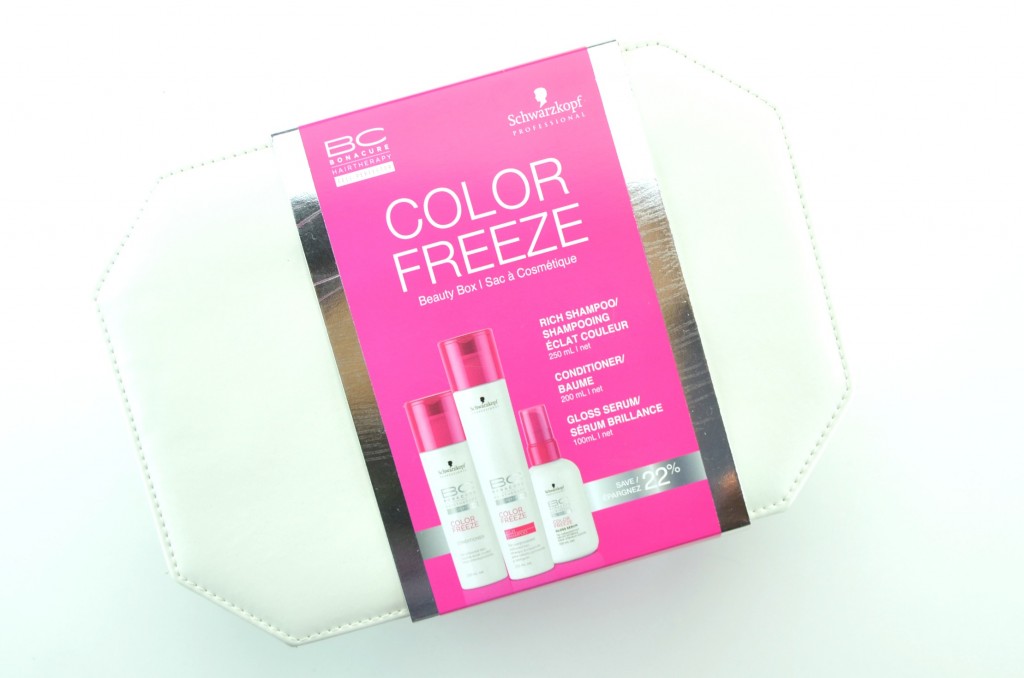 Glamourous hair this season
I've been dying to share with you some of my favourite holiday collections for the past few months. You know retailers are always ahead of the game and I've been a busy lady testing out a lot of the holiday collections for you. Have you checked out my review on the new Lise Watier Aurora Collection or the new Quo Holiday 2014 Collection? Now let's talk about your hair. Schwarzkopf Professional is celebrating the season with a launch of their new BC Hairtherapy Beauty Box. It's available in 5 therapies boxes for all hair types and each comes prepackaged in a stunning and glamourous white leather box with complete system (shampoo, conditioner and styling products) within. This is one gift that keeps on giving. Not only will it help keep your hair healthy and strong, but with every BC Hairtherapy Beauty Box purchase, Schwarzkopf Professional will donate a portion of proceeds to their innovative Shaping Futures Initiative. Know that your gift will help transform lives through hairdressing, by teaching disadvantaged young adults basic hairdressing techniques in order to give them the opportunity for a better livelihood and future. These boxes retail for $37.95 exclusively at Schwarzkopf Professional partner salons across the country.

BC Hairtherapy Color Freeze is for those with coloured and highlighted hair, BC Hairtherapy Moisture Kick is formulated for those with normal to dry hair, BC Hairtherapy Repair Rescue is also for those with coloured and highlighted hair, BC Hairtherapy Time Restore is formulated for those with mature and fragile hair and finally, BC Hairtherapy Fibre Force for those with dry, damaged and breaking hair.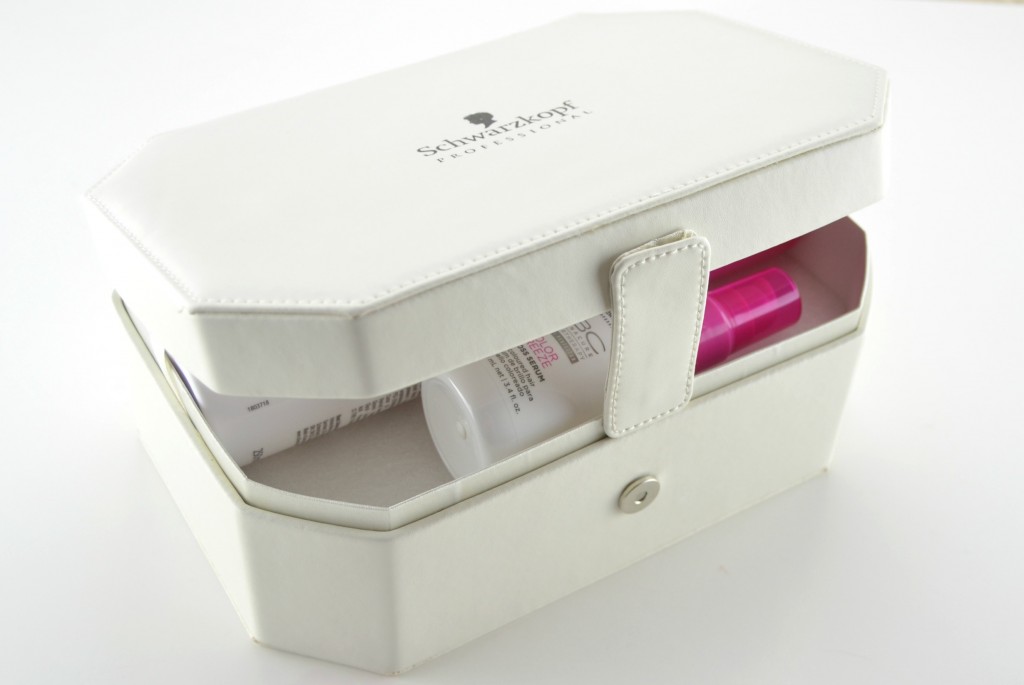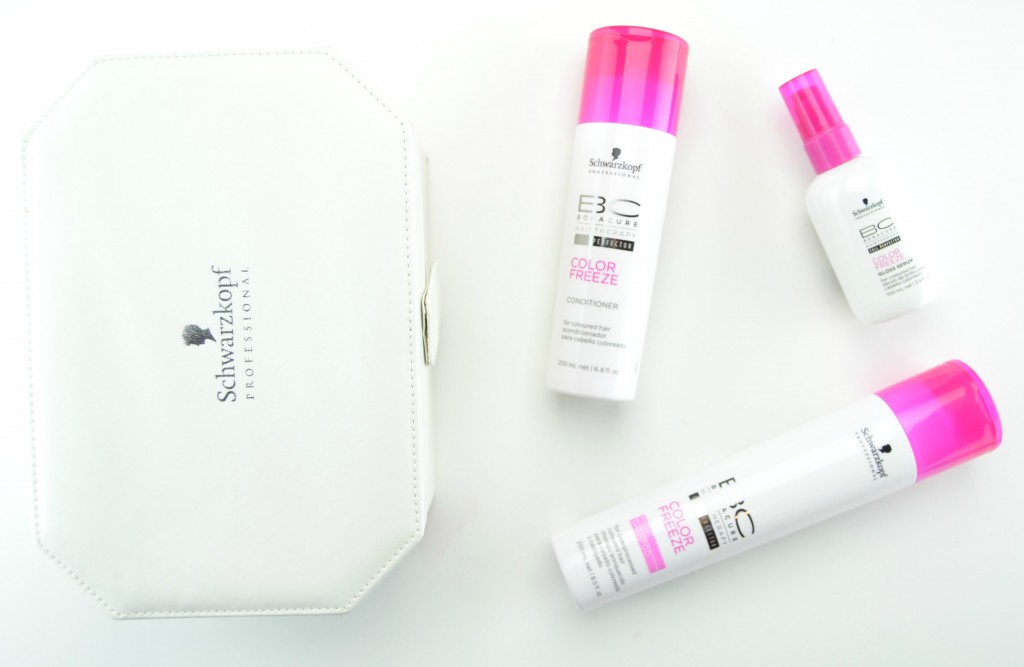 This season I'm putting my hair in the spotlight and holding onto my colour longer with BC Hairtherapy Color Freeze three piece system. We all love the first few days after returning from the salon, our hair is saturated in colour, is shiny and full of life, but as we start to wash and condition, it slowly starts to fade and become dull. I'm always on the hunt for products that will not only cleanse the hair of product buildup, dirt and oil, but will also keep my hair salon perfect for weeks to come. Color Freeze Shampoo and Conditioner features a unique lightweight formula that helps to provide up to 90% colour retention and add 100% more shine back into the hair. It not only helps to straighten and protect my hair, but it keeps it looking fresh and healthy in between colours. It helps to lock and seal in my colour, instead of stripping the dye like other brands. It provides long lasting colour and mirror like shine all day without feeling greasy or weighted down.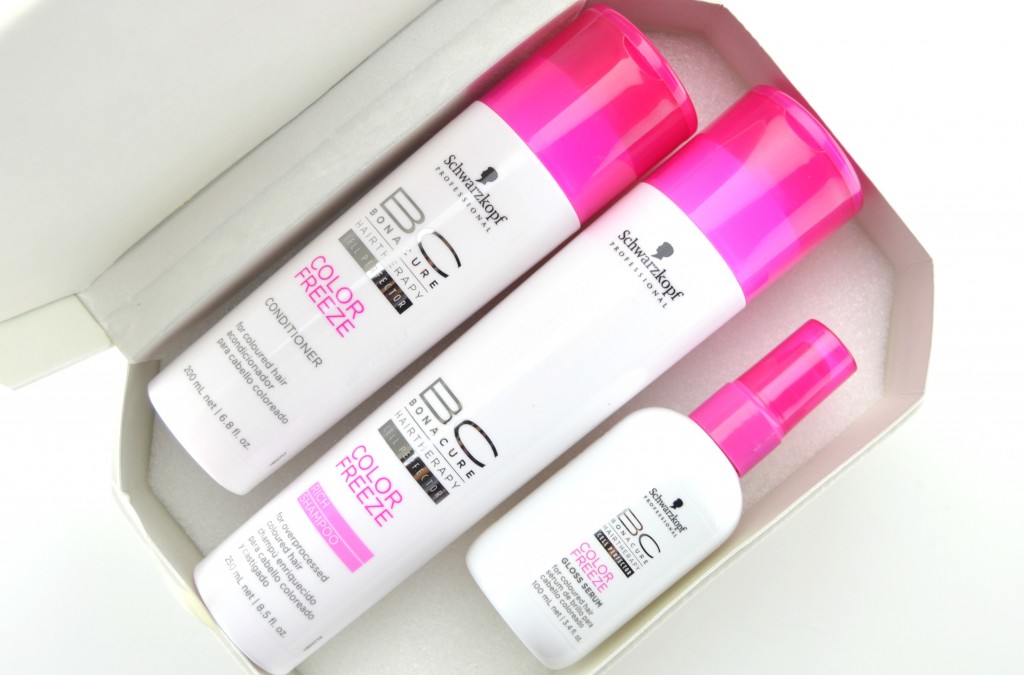 BC Hairtherapy Color Freeze Gloss Serum helps to reduce split ends on coloured treated hair and minimize the breakage. It does an excellent job at keeping my hair vibrant in between colours and seals in shine for a glossy finish that lasts throughout the day. It has a lightweight, crystal clear texture that's applied over damp or dry hair and left in. I've been using it daily for the past few weeks by working in a small amount into the palm of my hands before smoothing over my dry hair. It's actually replaced my argan oil as it seems to not only keep the frizz and fly-a-ways at bay, but it adds an incredible amount of shine to my dull hair. It also seems to help against split ends and protects against future breakage caused by my heating tools.