Winter Wishes Do Come True
Winter wishes really do come true with the new limited edition Mary Kay Wishes Shimmeriffic Shower Gel and Shimmeriffic Body Lotion Set. It will help capture the magic of the season with its fruity and floral scent that will be sure to get you into the holiday spirit. It has rich notes of snow apple and citrus sparkle, with warm floral notes of jasmine petals and cozy musk. This lovely duo comes prepackaged in a stunning and festive white and silver tin with a body lotion and shower gel within.
The shower gel has a rich gel like texture to it with a ton of shimmer throughout it. It has somewhat of a tacky texture that although applies fairly easily to the skin, it doesn't lather at all. It washes clean away and leaves you with a fresh wintery scent. Don't worry about the shimmer, it doesn't show up outside of the shower. It leaves skin feeling moisturized and hydrated even before applying a body lotion.
The body lotion will add a touch of glamor to the skin with its rich festive scent. It is described as a subtle shimmer, but it's anything but subtle. It's extremely shimmery on the skin, which I love around the holiday season, but it might be a bit too much for daytime/ work wear. It's extremely moisturizing and keeps skin hydrated throughout the day.
Although this is fairy pricey at $27 for the set, I think this collection would go beautifully paired with the limited edition Winter Wishes Eau De Toilette Wand for a delightful pampering gift set.
Mary Kay Winter Wishes Eau De Toilette Wand comes packaged in a silver cardboard container with a white silky ribbon on the top, so you're able to hang on your Christmas tree. The perfume wand is glass and rectangle in shape and features a rollerball on the end for easy application. It has the warm and festive apple, citrus, jasmine and musk scent as the body lotion and shower gel, just a lot stronger. It starts off quite fruity, but dries down to a musky apply scent. It's festive without being too Christmasy. It has excellent staying power, I could still smell the scent hours after applying it. It retails for $25.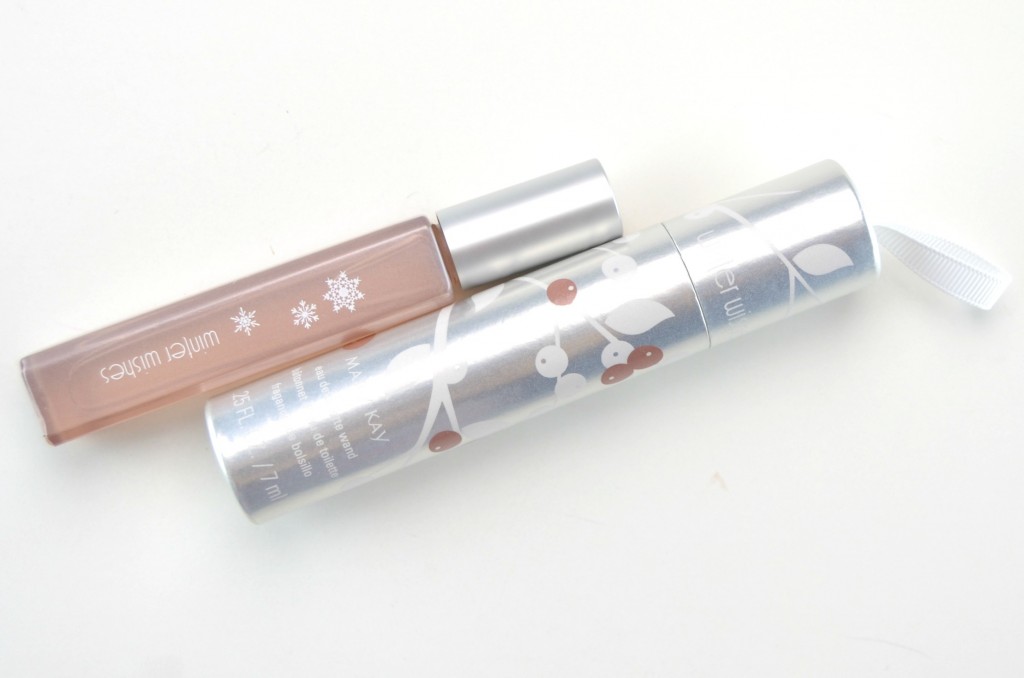 Another great stocking stuffer idea would be the limited edition Mary Kay At Play Hail to the Nails Mini Nail Lacquer Trio. It's the perfect party shade for not only the holidays, but 365 days out of the year. All 3 shades are pigmented, truly opaque in 2 coats and is fairly fast drying. The trio includes Pink Hottie, a bright rosy pink with a crème finish, Inky Blue, a rich, deep navy with a crème finish and Silver Sparkle, a stunning iridescent silver micro glitter. It comes beautifully packaged for only $18.