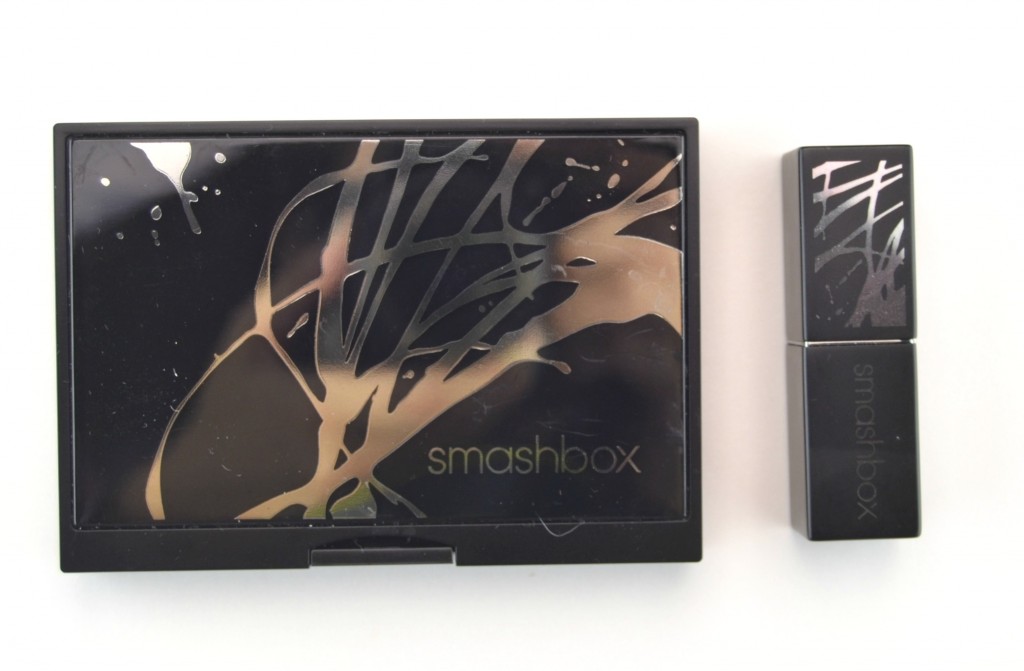 Deep cherry and Bordeaux
Fall is officially here and I'm in love with all the rich and warm colours of the season. Rusty reds, warm Amber, creamy orange, mossy green, cozy caramels and honeys and deep browns are just some of the shades you'll see in the new Smashbox Cherry Smoke Fall 2014 Collection. Deep cherry and Bordeaux were found all over the runway this season and with this new collection, it helps you recreate those high-fashion looks at home. It features unexpected shades of smoky, ruby eyes and cherry-stained lips for a bold look that's super fun and modern.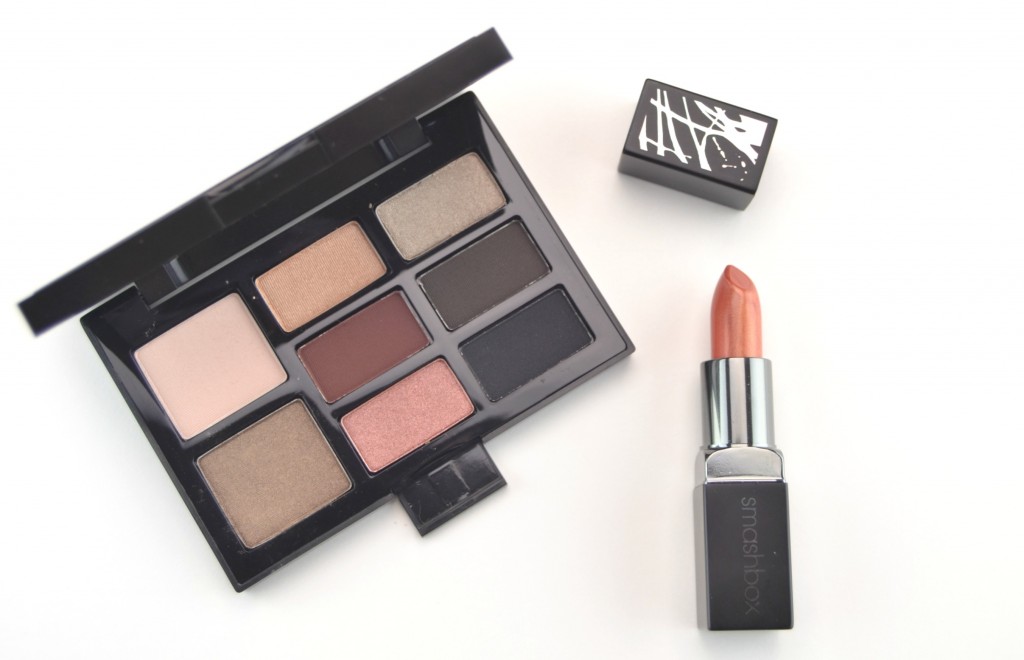 Smashbox Cherry Smoke Photo Op Eye Shadow Palette comes in a black plastic palette with mirrored silver graphic design on top, magnet snap shut closure and full size mirror on inside lid. It features eight gorgeous fall colours, 3 matte shades in rustic, dark cocoa and ebony, 4 shimmer shades in unadorned, shell, oxidize and topaz and 1 satin sheen shade in bare. This palette will help you create the ultimate smoldering, hazy, smoky eye in a few easy steps.
Smashbox Cherry Smoke Photo Op Eyeshadow Palette will get you in the fall mood with its warm, smoky neutrals that can easily take you from day to night in a few easy steps. The rich warm rusty shades compliment the gold and copper shades wonderfully, while the deep browns and blacks help to create the perfect smoky look and ground the rest of the shades. It has a soft, creamy, finely milled texture that applies effortlessly and blends out beautifully. Each shade is easy to work with in both the matte and shimmer shades. It provides intense colour payoff that's extremely buildable. It has little to no fallout, even the shimmery shades, and doesn't smudge, crease or budge the entire day. Each shade is highly pigmented with true, intense colour payoff in a few easy swipes. It lasts throughout the day without fading. It retails for $44.
Bare is a light, pale, cream pink nude with a satin matte finish.
Shell is light peach with a rose gold shimmer finish.
Topaz is a shimmery silver with subtle violet shimmer throughout.
Rustic is a warm red/ chestnut brown with a matte finish.
Dark cocoa is an almost black, deep cocoa bean brown with a matte finish.
Unadorned is a cool bronze with gold shimmer.
Oxidize is a rusty pink with a shimmery copper finish.
Ebony is a deep midnight black with a matte finish.
Smashbox Be Legendary Lipstick comes housed in a beautiful black, square, metal, yet lightweight tube. It contains shea butter for moisturization and Vitamins C and E to help protect the lips. The formula is very creamy, lightweight and comfortable to wear. It leaves the lips feeling soft, moisturized and hydrated, never sticky or dry. It has a very light, almost sweet vanilla cupcake scent to it that once applied to the lips, slowly disappears. It last for 3 to 4 hours on the lips, but fades out evenly, almost to a stain.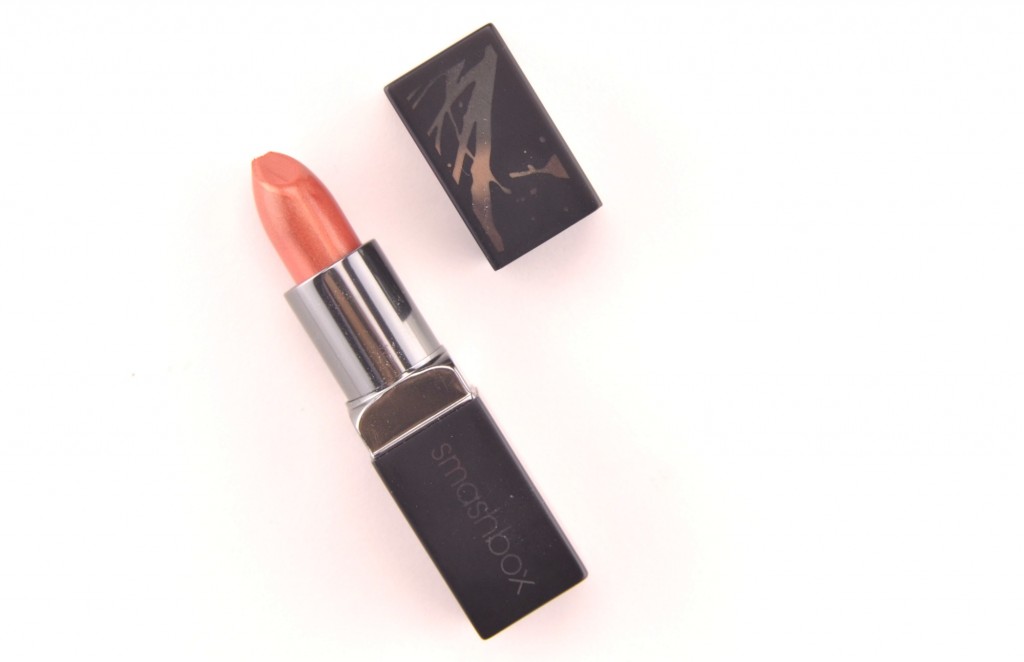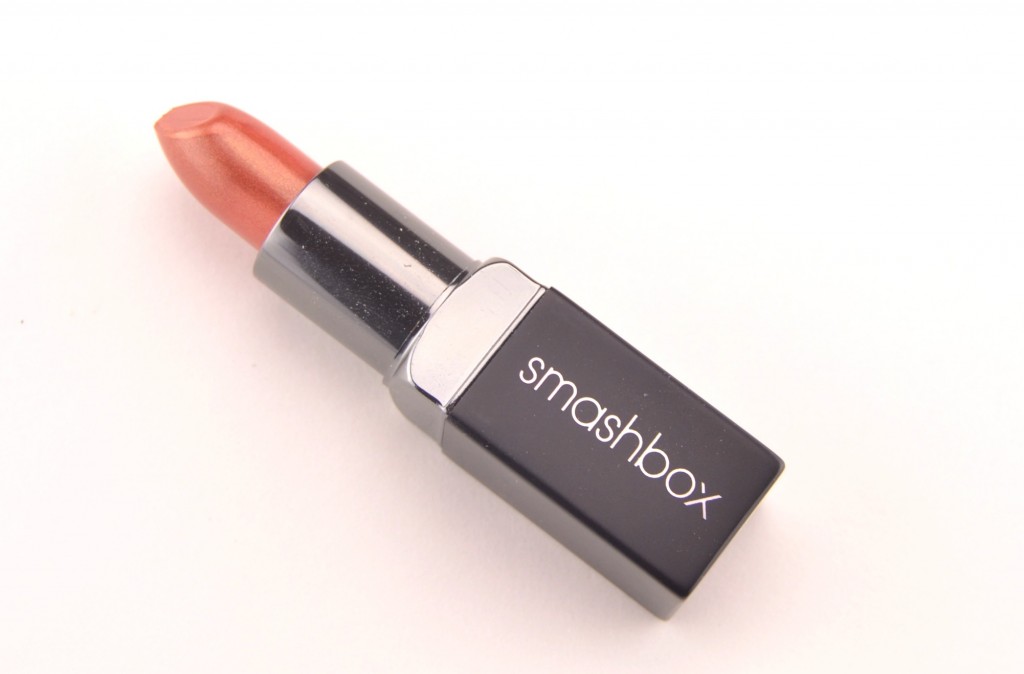 Smashbox Be Legendary Cherry Smoke Lipstick in Copper Cherry will sure to make your lips the statement with this trend-setting, limited- edition pinky nude with a copper pearl sheen finish. It retails for $23.