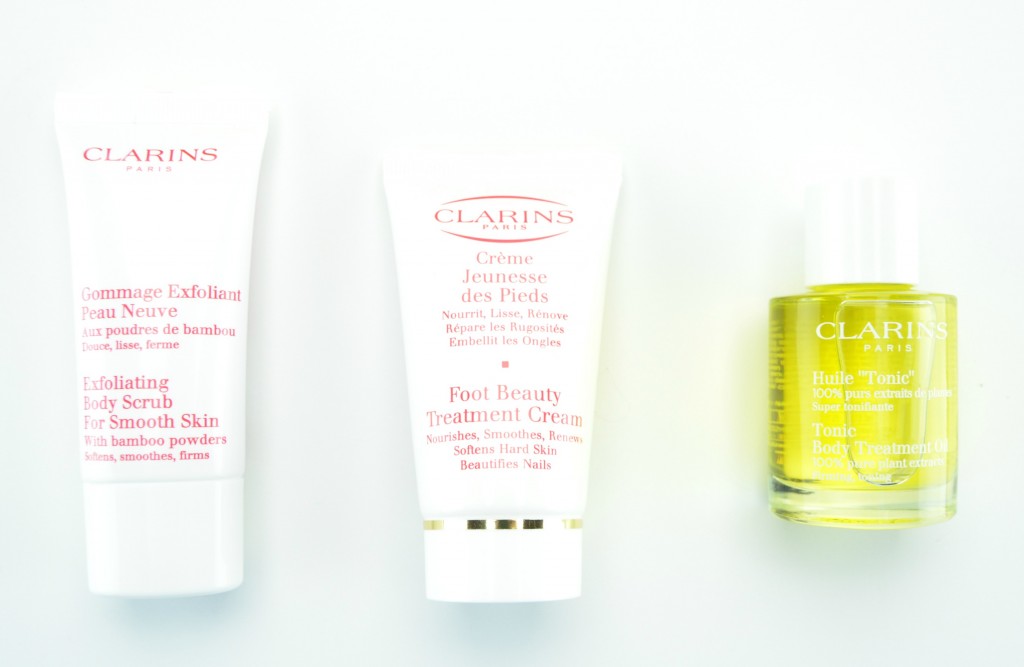 3 ways to get baby soft feet at home

If you're anything like me, you've been suffering from dry, cracked feet this winter. These long cold days are doing a number on my skin, and my feet have been hit the hardest. In as little as 3 short steps, you could be on your way to baby soft feet, thanks to Clarins. You're first going to want to start with a good exfoliator to help remove dead skin, then moisturizer to help keep skin nourished, smooth and renewed and finish with a body oil to help lock in moisture for softer, silky skin that lasts all day.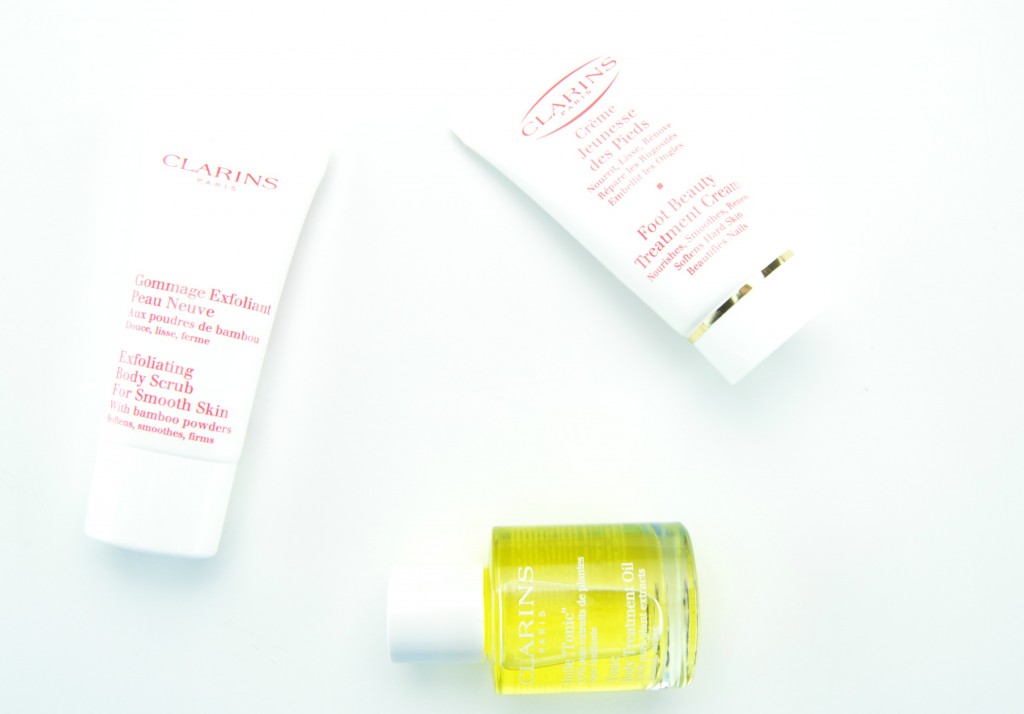 Clarins Exfoliating Body Scrub is the first step in achieving firm, youthful, clear skin. This refreshing exfoliator features smoothing natural bamboo powders that gently remove rough, flaky surface cells and impurities for a sleek new start. It also contains moringa extract to help remove toxins, mimosa tenuiflora to help repair the skin, liqorice extract to help soften the skin, cyamopsis and shea butter to help protect skin and encourage cell renewal.
Clarins Exfoliating Body Scrub has tiny micro exfoliators in it to help cleanse and remove dead skin cells from the surface, leaving feet instantly soft, smooth and healthier. The granules are rough enough to remove dry skin, but gentle and moisturizing enough to not dry the skin out. Simply massage the scrub into the skin, making sure to get between the toes, before rinsing and drying. It washes clean away and leaves my skin feeling moisturized and hydrated and ready for my foot cream. It retails for $45 for 200ml.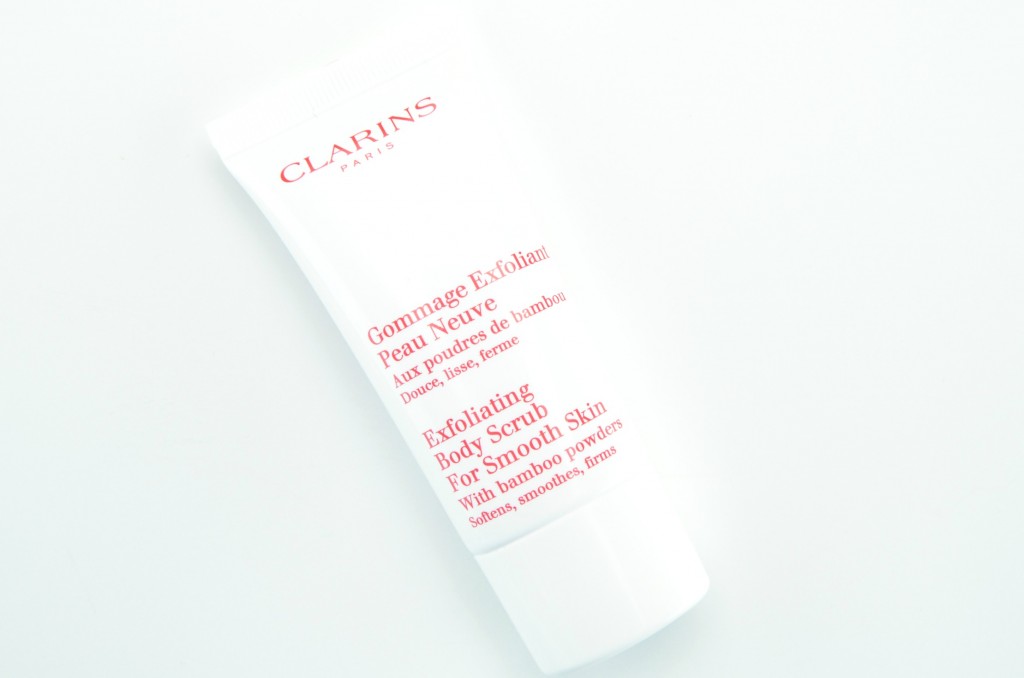 Clarins Foot Beauty Treatment Cream is you're second step to help soothe and relief tired, dry feet. It's formulated with arnica extracts to help relieve swelling and fatigue, virgin cashew nut oil and shea butter to smooth roughness and dryness. It also contains myrrh to help strengthen and beautify nails. It has a rich and creamy texture that absorbs into the skin almost immediately without being oily or greasy. It gives a slight cooling effect as you apply and blend into the skin. IT leaves skin noticeably softer, smoother and suppler than ever. It conditions the skin, helps heel dry, flaky, rough spots while absorbing quickly without a sticky residue or greasy feeling to the heels. It does have a fairly strong floral scent with a mixture of mint tea, if that makes sense?

Clarins Foot Beauty Treatment Cream is almost better than any other pedicure treatment I've had in the past. It renovates rough feet in a single session. It's perfect for applying right after a nice, warm, hot bath and after you gently exfoliated the dead skin. It helps to lock in moisture and works as a miracle treatment on rough, dry cuticles. After a few short weeks, my heels, skin and nails are smoother and a lot softer. It retails for $37 for 125ml.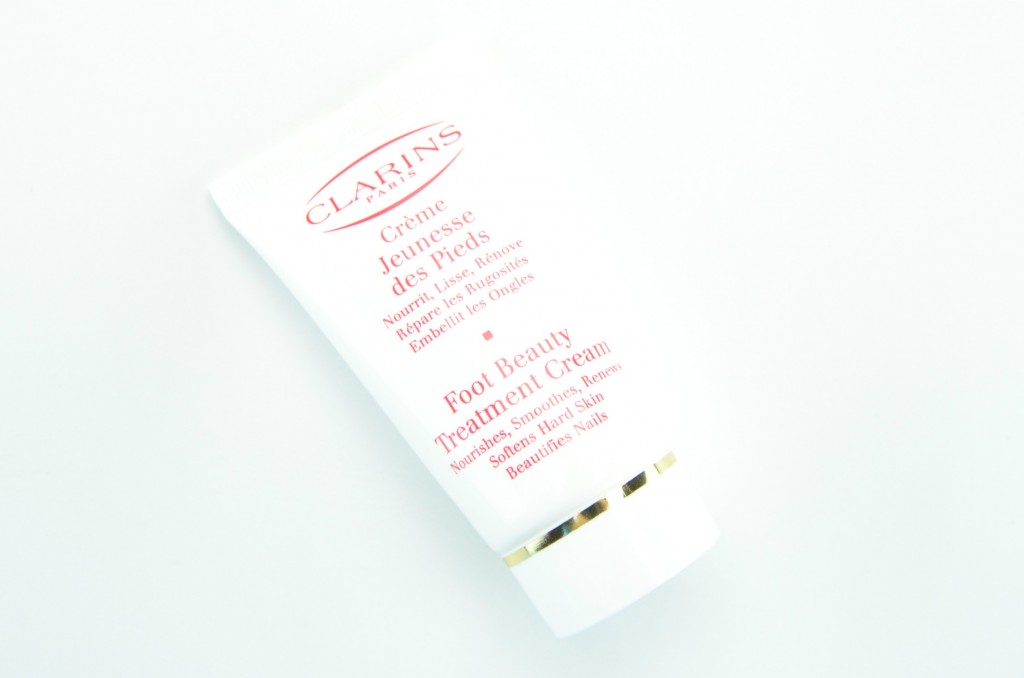 Clarins Tonic Body Treatment Oil is a luxurious, 100% pure plant extract including Rosemary, Geranium and Mint, that helps improve elasticity and prevents the appearance of stretch marks, while promoting skin's firmness and suppleness. It has an extremely lightweight, silky smooth texture that absorbs fairly quickly into the skin. It helps to deeply nourish and tone for firmer, softer skin. It does have somewhat of a strong floral scent that lingers for a few hours. I find it very relaxing and soothing, much like an expensive spa treatment. It helps to lock in moisture without the heavy, greasy or oily feel like from other oils.
I was hesitant at first to apply an oil with my moisturizer, for fear it would be too heavy, greasy and messy. Happy to report that since this oil absorbs within a few minutes, without any nasty residue or stickiness, it's the perfect body treatment to help lock in moisture. I've been applying it daily to my entire body, as soon as I get out of the bath in the evening, but paying extra special attention to my dry, cracked feet. It helps to keep every inch of my body moisturized and hydrated throughout the night. It helps to relieve itchiness and redness my skin has been suffering with this entire winter. Just smooth, soft, extremely comfortable skin. This is my last step in my 3 step program to perfectly smooth feet this winter. I put on a clean pair of socks that not only help keep my toes warm, but help to lock in the moisture before heading to bed. The only down side is the bottle could use a little improvement. I find it hard to control how much product comes out each time. It retails for $57 for 100ml.