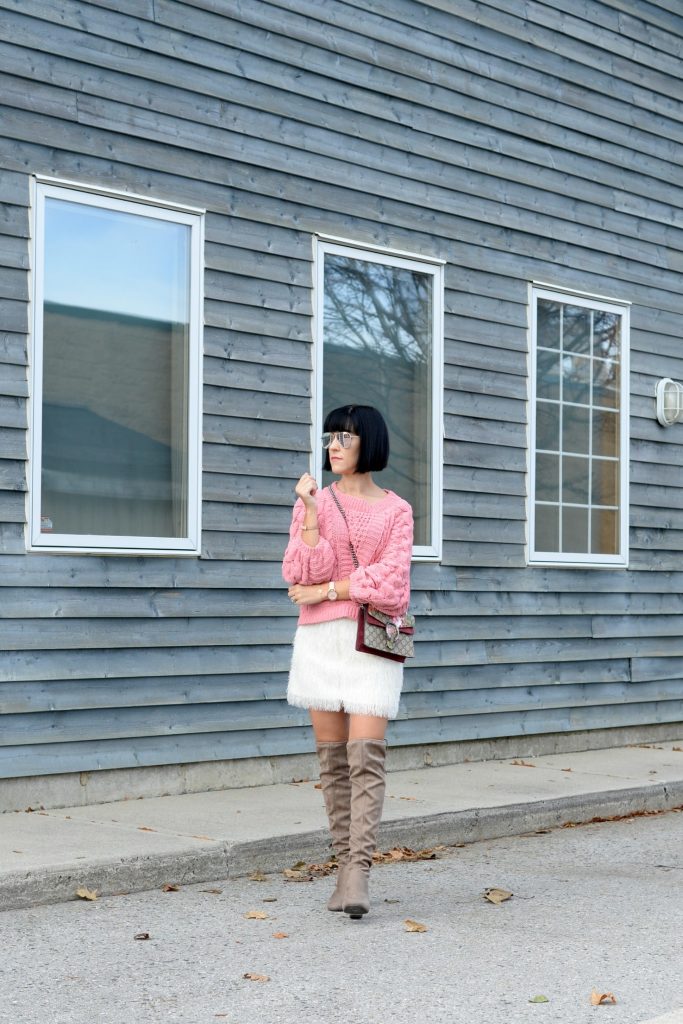 Over The Knee Boots 
I have to say, year after year, my favourite boot trend would have to be over the knee boots. Whether it's done in suede, velvet, faux or real leather, it my go-to boot of choice. No more high-gloss, shiny faux patent leather, dominatrix, hooker boots (think Julia Roberts in Pretty Women). Today's OTN boot is sleek, chic and oh-so fashionable. Not only does it help to keep any outfit you pair with it, right on trend, it helps to keep you warm on cold, chilly days. Today's modernized luxe, rich fabrics are both chic and stylish.
I picked these Steve Madden OTK boots last season, and I'm not going to lie, I already picked up another pair in a different colour this year. Its quickly become one of my favourite items in my shoe wardrobe. The slightly raised heel helps to lengthen my leg without being too uncomfortable in walk in. It's the perfect boot to take me from day to night, work to play. It's been spotted on all your favourite celebs, models, street style stars and bloggers, and I can see why. It honestly goes with everything.
Anything from oversized cable knit sweater dresses, to long, flowy skirts, to skinny jeans and everything in between, these go with everything. It helps to give a relaxed, yet elegant look to any outfit. The colour, material and height is both feminine, sexy and cool. It's ultra flattering on all body types (depending on what you style with it). Don't be scared to have fun with colour, tassels, lace and other small embellishments, it's what helps to keep it interesting.
What I Wore- Sweater- Express (while I was in Cali), Purse- Gucci, Sunglasses- Venice Beach, Watch- c/o Christian Paul, Bracelet- c/o Thomas Sabo, Bracelet- Keep Collective, Skirt- H&M, Over The Knee Boots- Steve Madden