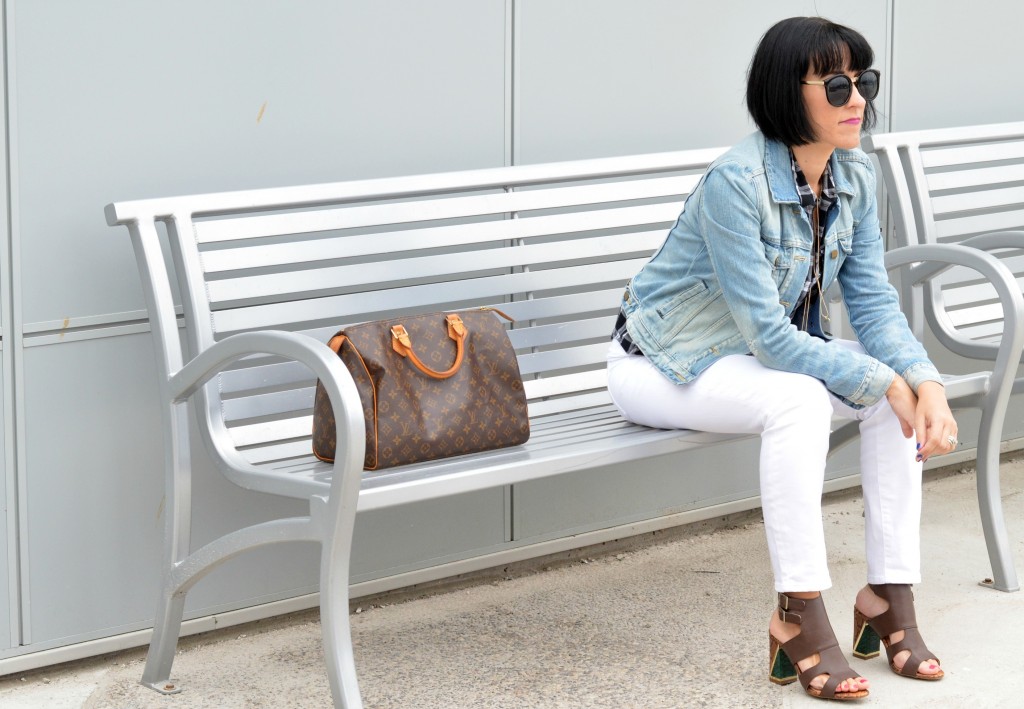 If it's one thing this fashion blog has taught me, it's that everyone needs a good denim jacket. I know when you're out shopping for new summer clothes, the last thing you want to be thinking about it layering pieces, but we often forget just how cool and chilly out Canadian summer nights can get. A well-fitted denim jacket can go with literally everything you own in your closet. It can easily be dressed up or down, giving it a casual-cool or dressy nighttime feel depending on what you pair it with. It will help to keep you warm on coo summer nights or on windy days at the beach.
One of my favourite ways to wear a dark denim jacket is with crisp whites. Pair it with a white lace dress and cowboy boots to give to a chic western feel, or white skinny jeans, like in today's look for a more weekend, causal look.
I also love playing up the relax feel of the denim with a sequin top or dress with some killer heels, it's fun to mix and match dressy and casual apparel for a more interesting and trendy look.
Looking for a more summery, beach look, you can never go wrong with a denim jacket and a maxi dress paired with studded flats or cute sandals or even a cute flowy, floral dress for a more girly and feminine look.
A maxi skirt, black turtleneck and blocked, chunky heels is an effortless way to achieve that trendy, vintage 70's vibe.
Have fun with prints and patterns, add a denim jacket is the perfect way to help balance out an otherwise quite trendy look.
Of course one of my favourite ways to style a denim jacket is with the classic Canadian tuxedo. Take a slight denim top, pair it with a slim dark wash jean and top it with the jacket, instant chic outfit without trying too hard.
For all your die-hard black enthusiastic, adding a denim jacket to your all black outfit, instantly helps to balance an otherwise simple outfit.
Gosh, so many other ways to style my favourite jacket, how do you rock your denim?
What I Wore- Top- Smart Set,  Denim Jacket- The Gap, Sunglasses- c/o Polette, Necklace- c/o Avon, Watch- c/o Bulova, Jeans- c/o Wal-Mart, Heels- c/o Avon