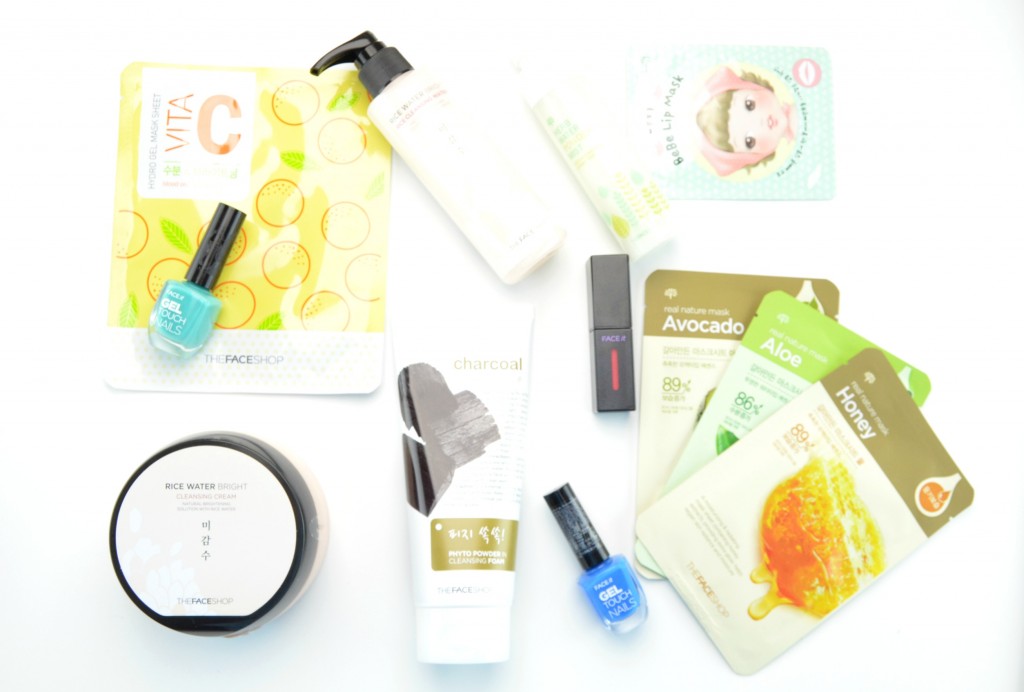 Believes there's natural beauty in everyone

Although THEFACESHOP has been a huge hit in Korea since 2003, these past few years it's really taken off. They now have over 2,300 stores in over 30 countries across the globe. This fabulous beauty brand is your one stop shop for all things beauty and is now available across Canada. THEFACESHOP offers high quality products made from the finest ingredients from nature to help enhance your natural beauty. Each product is affordable, meets all your beauty needs and helps to nourish and revitalize your skin. With over 800 products, that are all easy to use for both the body, skin, hair and beauty, the only problem you'll have, is what products to pick up next?

THEFACESHOP Real Nature Mask is a single use sheet face mask that contains a serum with moisturizing and nourishing properties to help leave skin soft, smooth and hydrated. It's formulated with natural processing system which include raw ingredients that are extracted at an extremely low temperature to help prevent natural minerals and nutrients from being damaged. You have your pick at over 15 different masks, each one containing different ingredients to suit your own personal skin needs/ concern. Simply place the sheet mask on clean, dry skin, sit back and relax for 10 to 12 minutes as the mask works its magic. After a few short minutes, remove the mask and gently tap the remaining serum into the skin. It will quickly absorb and you'll be left with radiant, glowing, healthy looking skin.

This winter my skin has been extremely dehydrated. No matter how many times I apply my moisturizers or serums daily, nothing seems to help. I've been applying these THEFACESHOP Real Nature Mask once a week for the past few weeks and they've already made a huge improvement in my skin. My overall skin texture and hydration level has improved significantly in a few short weeks. Each mask has a slightly cooling effect that's extremely calming and relaxing. It's the perfect mask to apply before bed as it helps soothe and calm the skin, but works equally as beautiful in the morning, as it helps to give the skin a fresh, dewy, healthy glow. Each mask retails for $2.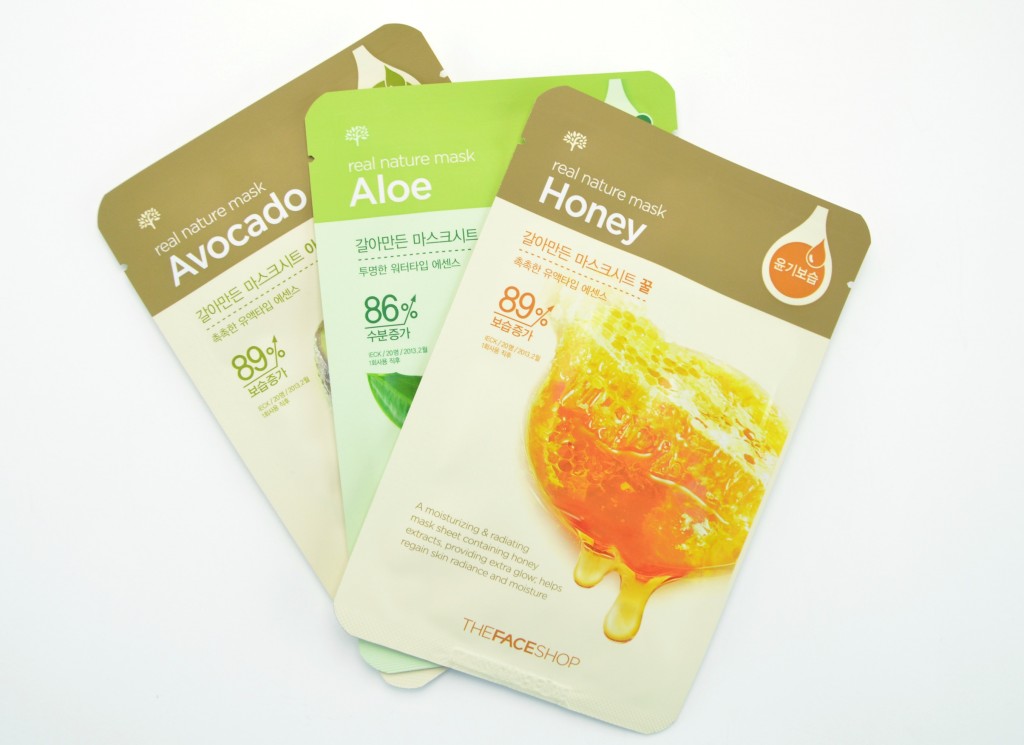 THEFACESHOP Real Nature Mask Aloe contains aloe extract to help soothe and hydrate sensitive skin.
THEFACESHOP Real Nature Mask Avocado features a moisturizing and nourishing formula that contains avocado extract to help re-energize and reinvigorate dry, rough skin. This is perfect for those long, dry, cold Canadian winter months.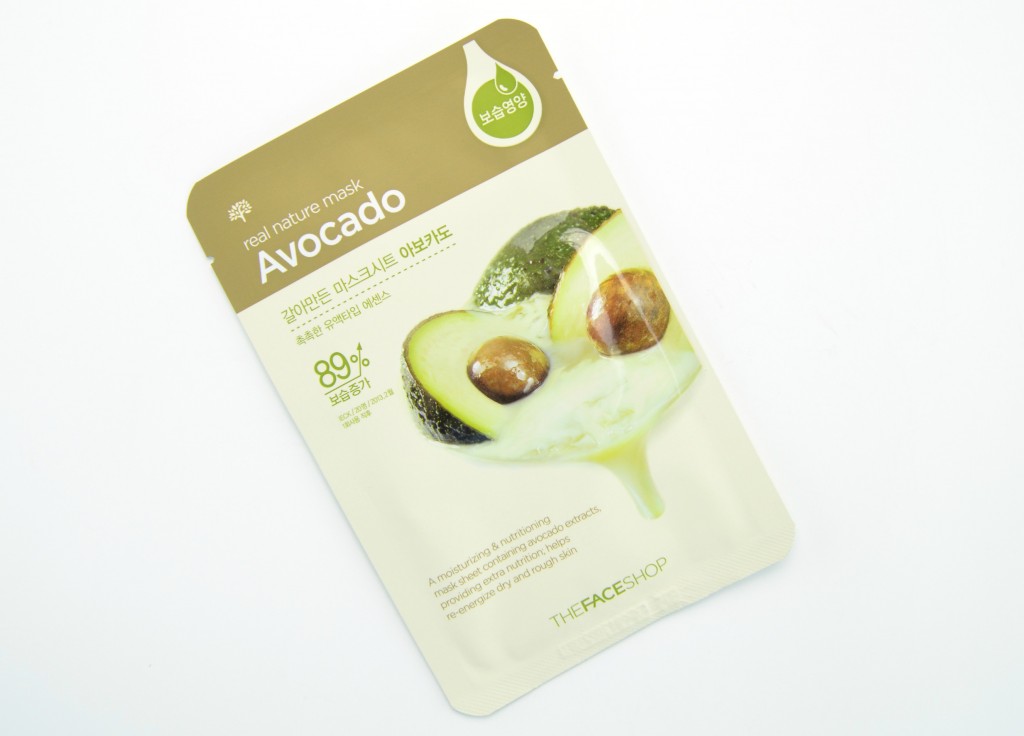 THEFACESHOP Real Nature Mask Honey contains honey extract to help leave skin moisturized and radiant throughout the day.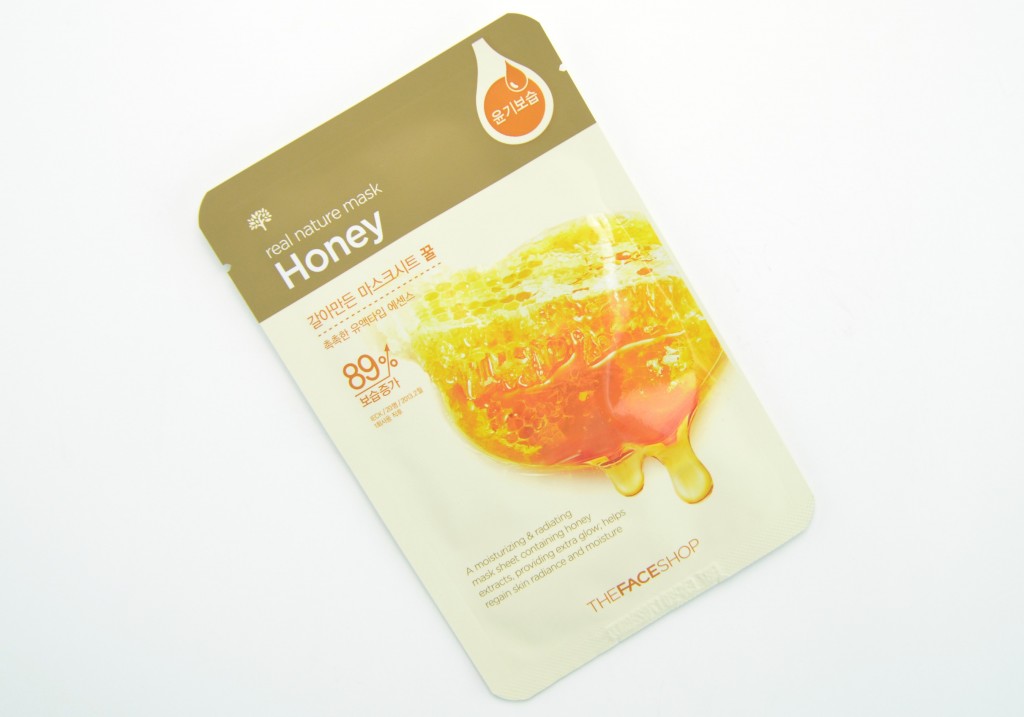 THEFACESHOP Hydro Gel Mask Sheet is also a single use sheet mask, but with a gel like formula instead of a hydrating serum. It features both vitamins B, C and E to help nourish the skin. THEFACESHOP Hydro Vita C Gel Mask Sheet: Blood Orange Extract contains blood orange extract and vitamin C that helps to not only moisturize the skin, but helps brighten it. It comes in two pieces, one sheet placed on the upper part of the face, the second sheet on the bottom half. It gives an immediate cooling sensation with a very light, citrusy scent. It's left on for 15 to 20 minutes. It's slightly sticky and the gel formula doesn't absorb into the skin like the Real Nature Mask. I actually just ended up re-washing my face afterward to remove the goopy residue. It still left my skin feeling refreshed, hydrated and with a slightly brightening effect that lasted throughout the day. Each mask retails for $2.50.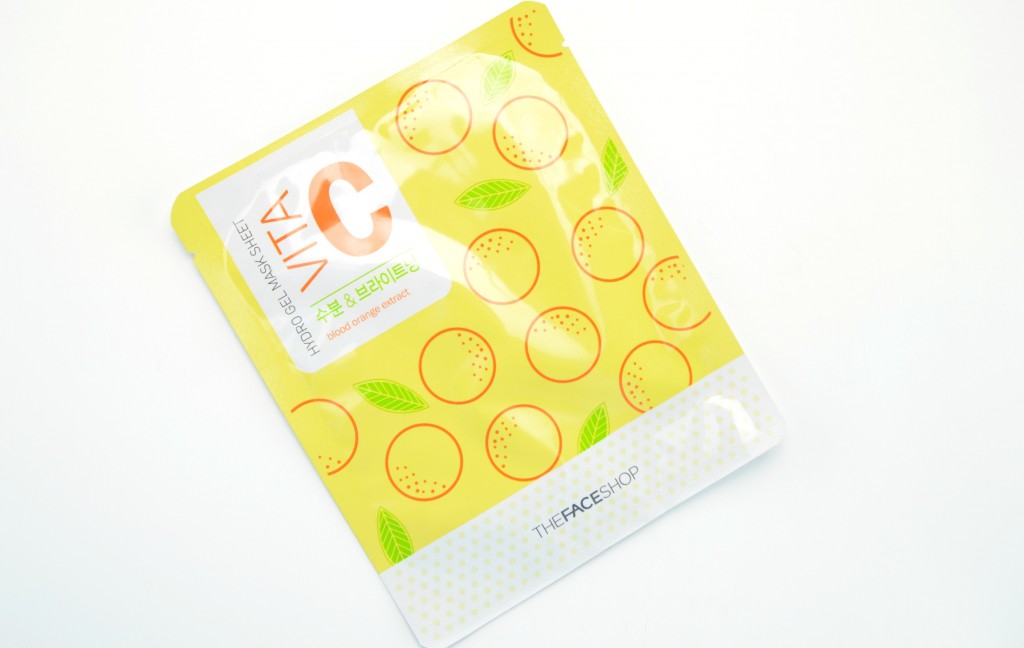 THEFACESHOP Lovely Me:Ex Bebe Lip Mask is a single lip treatment mask that helps make lips baby soft and smooth. This gel mask contains hydrolyzed collagen, hyaluronic acid and purslane extract to help soothe and nourish dry, chapped lips and help restore its original softness. It too comes in 2 pieces, one sheet for the top lip and one sheet for the bottom. It actually fits pretty perfectly onto the lips (and covers a good amount around the lips) and doesn't slide around. It's left on for 10 to 20 minutes before removing. It does have a slightly sticky texture afterwards that I simply removed with water. I could definitely feel the difference, softer, smoother, and a little plumper. I sealed in this effect with my favourite lip balm and it kept it kissable smooth for the entire day. I didn't see long-term effects, I think this would be a mask you need to apply a few times a week to see permanent results? It retails for $2.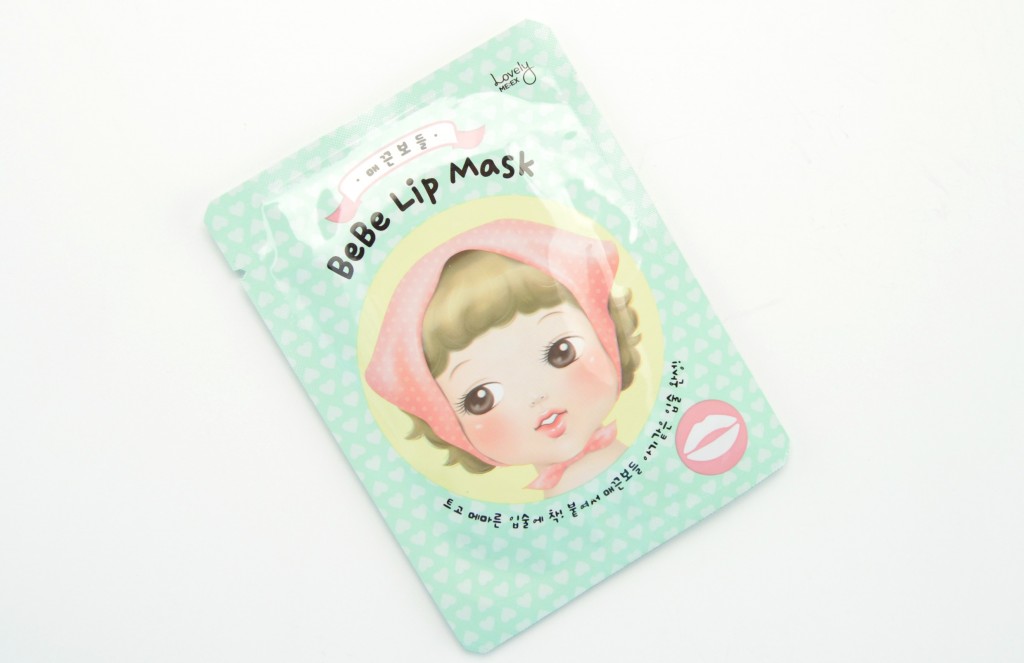 THEFACESHOP Rice Water Bright Cleansing Cream is a moisturizing, brightening and detoxifying cleansing foam that's made with rice water and Moringa oil to keep your complexion clean and clear. It has a rich, whip cream-like texture that helps to remove all traces of makeup, dirt, oil and impurities without any irritation to the skin. It's your first step in your daily nighttime routine. Simply massage a small amount over the entire face for about 1 to 2 minutes before rinsing with water. It starts off as a white creamy texture, but turns into an oil once massaged into the skin. It rinses clean away with no oily residue or greasy film, which means it's perfect for all skin types and won't clog pores or cause breakouts. It also isn't drying on the skin like other cleansers and has a light and refreshing rice scent that isn't too strong or overwhelming.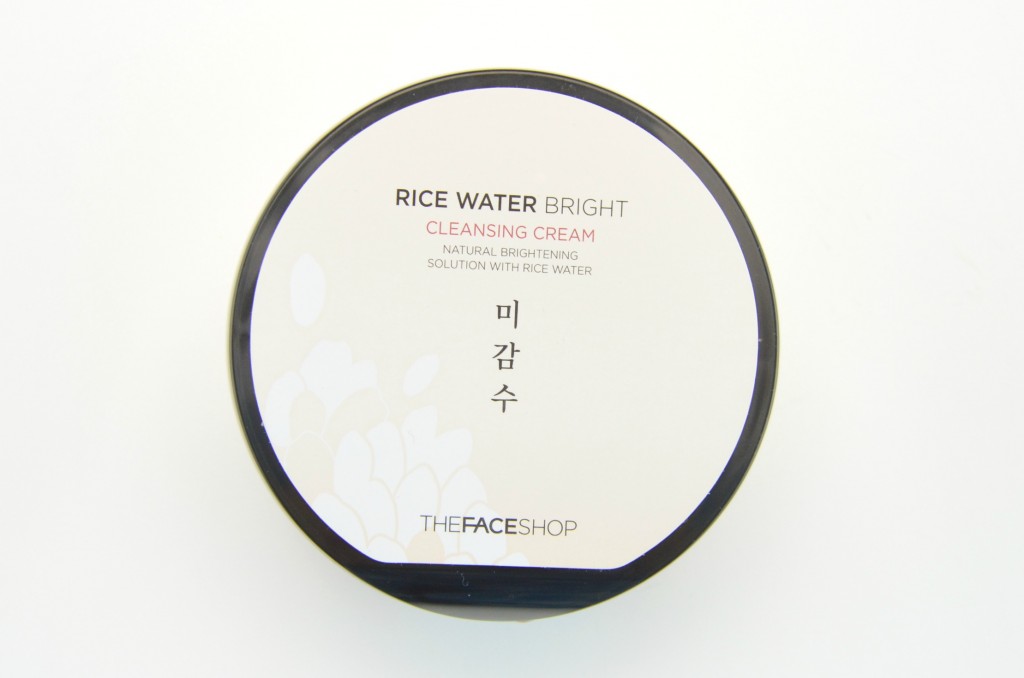 For someone that wears makeup on a daily basis, it's extremely important to remove all traces of it at the end of the day. Before I use my daily cleanser, I usually use a cleansing oil to thoroughly remove my makeup to avoid unnecessary blemishes and breakouts. Sometimes your cleanser just isn't enough. THEFACESHOP Rice Water Bright Cleansing Cream does an excellent job at removing even the hardest of makeup, this includes waterproof mascara and full coverage foundation. It instantly transforms into a milky texture that immediately breaks down and dissolves all makeup. I love that it washes clean away with no oily residue or leaving my eyes blurry or stinging. It leaves my skin squeaky clean, hydrated, soft and smooth, even before my daily cleanser. The only thing I'm not impressed with is the packaging, I hate having to scoop out product, a pump style would have been so much easier. It retails for $10 for 200ml.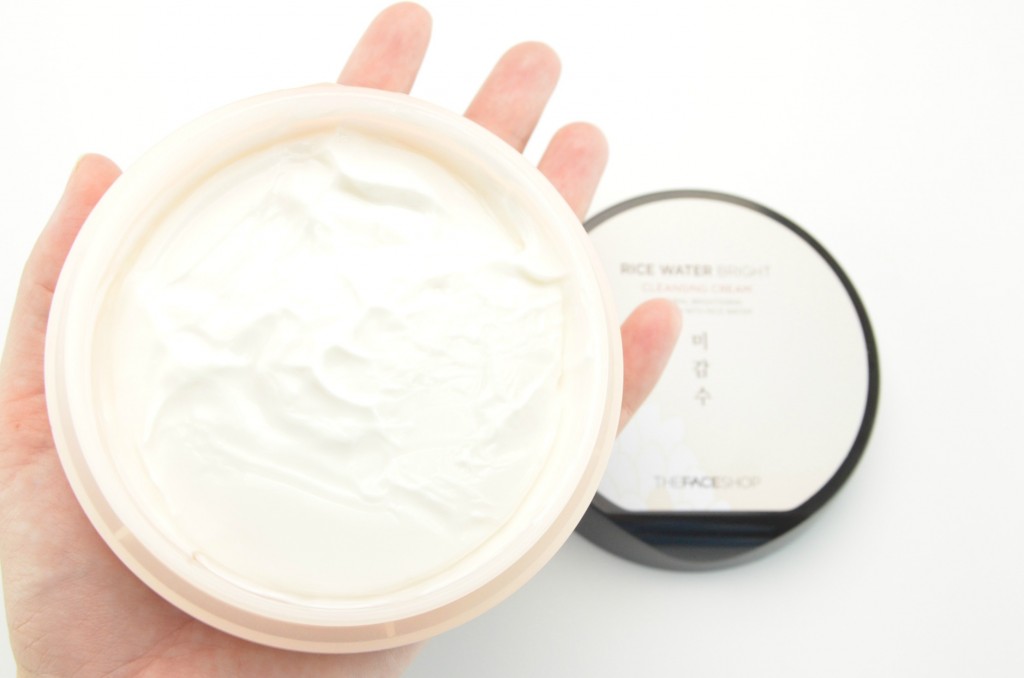 THEFACESHOP Rice Water Bright Rice Cleansing Water is a fresh cleansing oil that helps to cleanse skin of makeup and impurities with light touch. It contains natural rice bran ingredients and is mineral oil free. It comes in a convenient and easy to dispense pump style packaging with a lightweight, white opaque milky, slightly watery consistency. Simply dispense a pump or two onto a cotton pad and gently wipe the entire face.

On the days I'm really lazy, I've been using this THEFACESHOP Rice Water Bright Rice Cleansing Water instead of the THEFACESHOP Rice Water Bright Cleansing Cream. I find it quicker and easier to use. I don't even use the cotton pad as suggested. I simply apply a pump or two into the palm of my hand and apply directly to my face. Of course it is a little runny, so you have to be careful, but I don't seem to have a problem applying it this way. After lathering and gently rubbing it into the skin, I just simply use my regular cleanser, before rinsing. It does a wonderful job at removing all traces of makeup, besides waterproof mascara, so its best used on days when you have less makeup on. It retails for $10 for 145ml.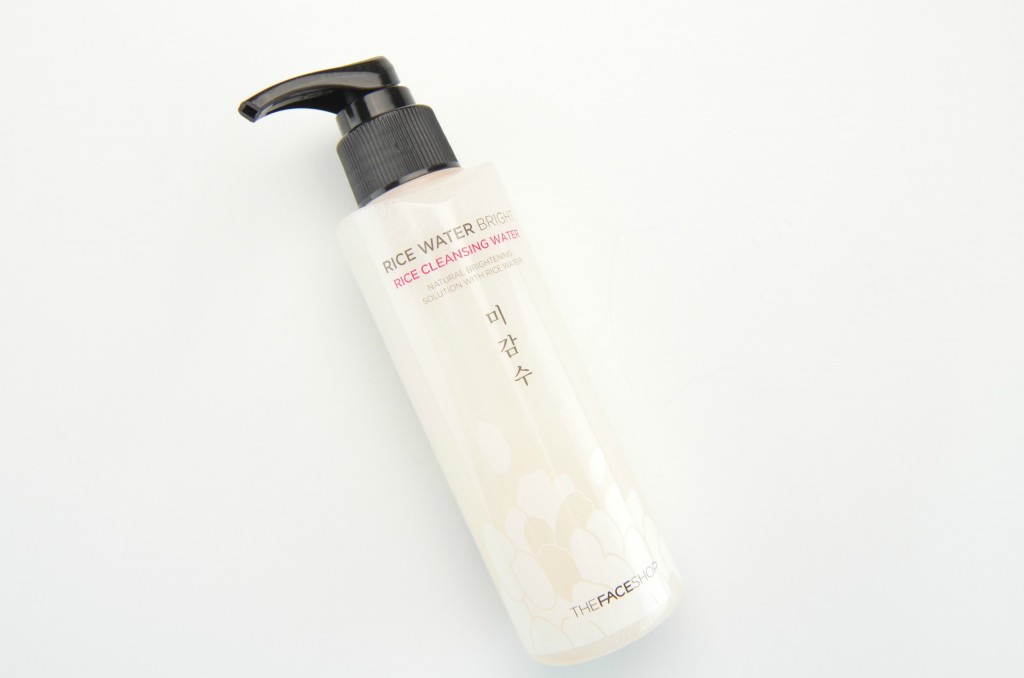 THEFACESHOP Charcoal Phyto Powder in Cleansing Foam is a deep cleaning facial foam with black sugar to help gentle cleanse skin and remove impurities and makeup residue. It instantly leaves skin refreshed and radiant. It comes in a squeeze tube for easy application and has an extremely thick and creamy black texture. It instantly foams up once in contact with water and gently cleanses the skin. It rinses clean away without feeling greasy or oily. There is a slight fragrance that I can't quite put my finger on, but I enjoy it.
Although THEFACESHOP Charcoal Phyto Powder in Cleansing Foam may look scary when you first squeeze it out, as you work it into your hands and onto the face, it turns lighter. It does a wonderful job at gently exfoliating my skin, removing an excess makeup or dirt and helps unclog pores for a cleaner, smoother, soft appearance. It retails for $8 for 170ml.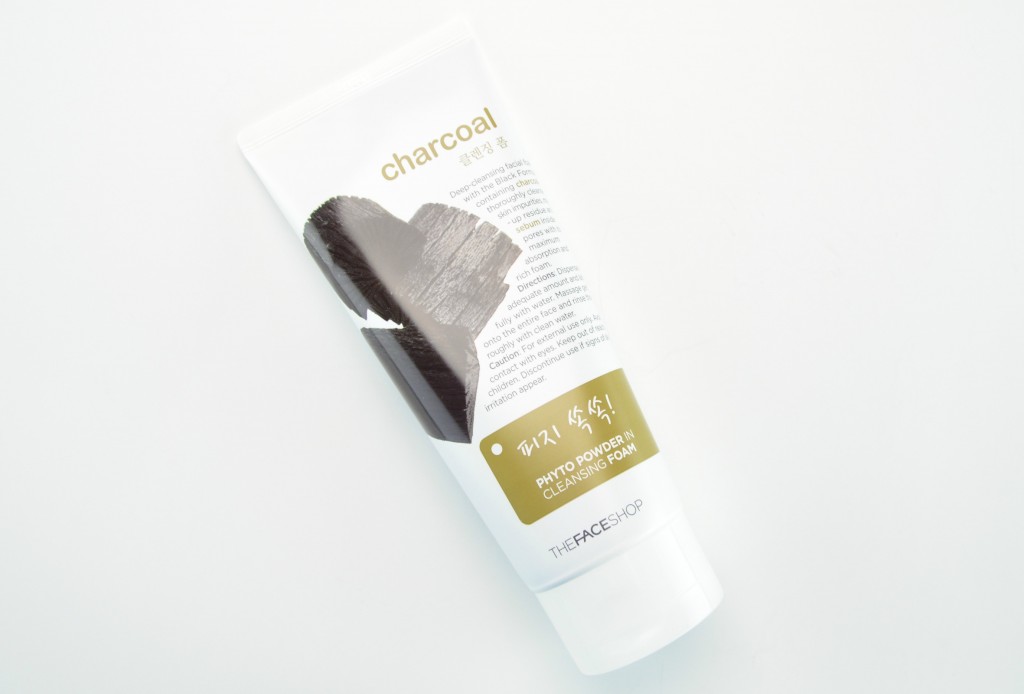 THEFACESHOP Nature's Herb Water Powder Mist is a mattifying spray that contains tea tree leaf and rosemary extracts to help keep skin moisturized while reducing excess oil. Simply spray onto the face and lightly tap it into your skin to allow it to fully absorb. It helps to calm the skin and reduce redness after applying your makeup. It's also perfect when your skin is feeling a little dehydrated and needs an extra boost of moisture. It gives instant moisturize to your dry, dull skin and keeps it refreshed and hydrated throughout the day. It retails for $15.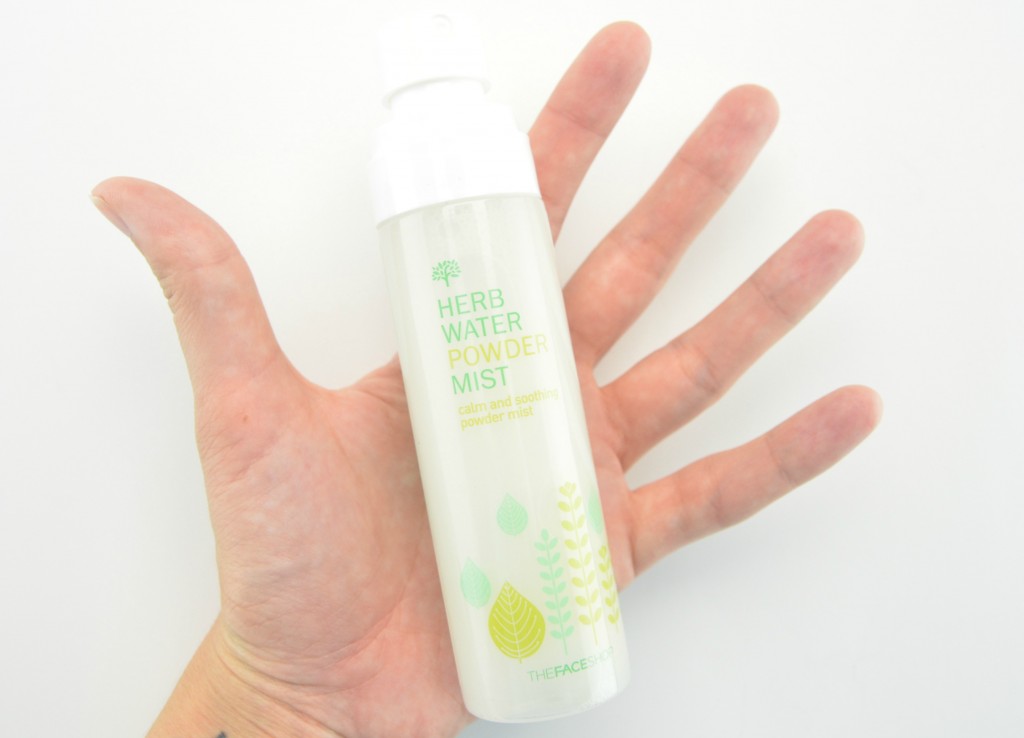 THEFACESHOPIt Artist Finger Gloss is a brand new multi-action lipgloss. It's a cross between a lip-tint, lipgloss and a lipstick. It has the long-wearing benefits of a lip tint, the shiny, luster and moisturizing benefit of a lipgloss with the opaque, high pigmented properties of a lipstick. This 3-in-1 liquid lip stain can be gently taped on the lip for a light tin, swiped over the lips a few times for a high-shine, glossy finish or glided over the lips 3 or 4 times for a full coverage, extremely opaque look.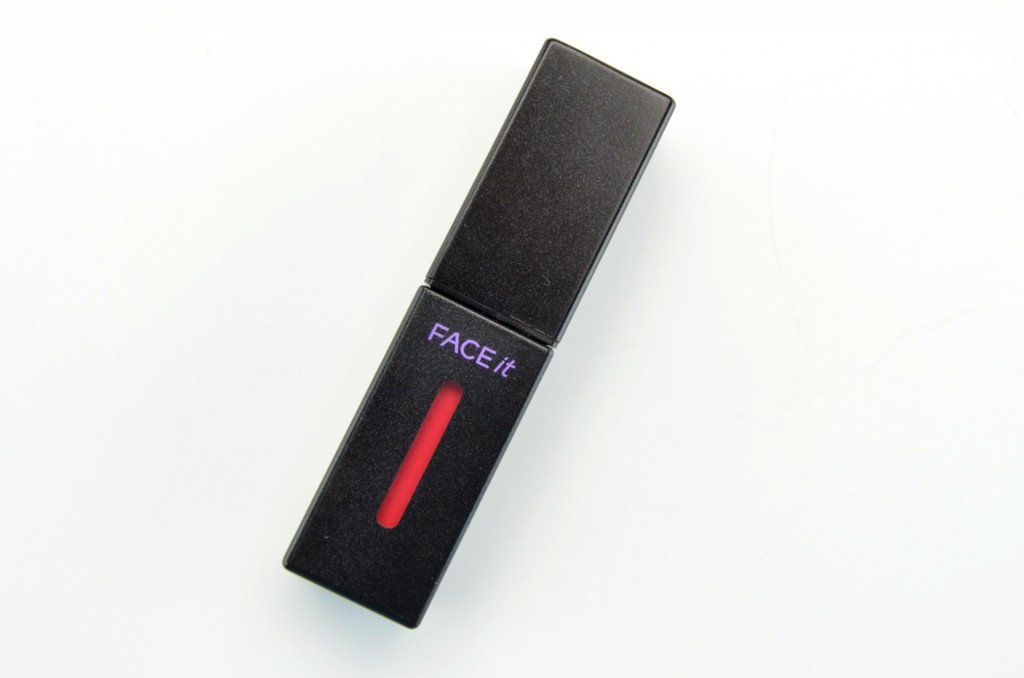 THEFACESHOP Face It Artist Finger Gloss comes in a black square tube with doe-foot applicator for easy application. It has a lightweight, yet rich, creamy and velvety smooth formula that glides onto the lips with ease. It applies smoothly and evenly with intense pigmentation that's truly opaque in a few swipes. It provides lips with a vibrant, glossy finish that wears into a beautiful, even stain. It's extremely hydrating, never tacky or drying and lasts for a solid 8 hours, even with eating and drinking. It comes in 8 beautiful shades for $15 each.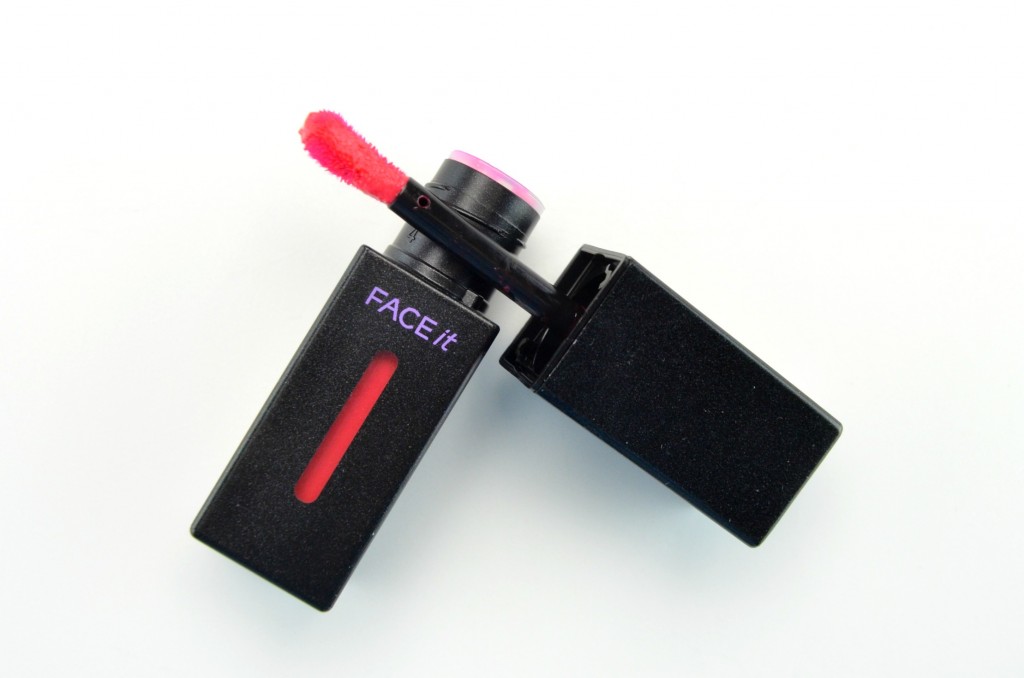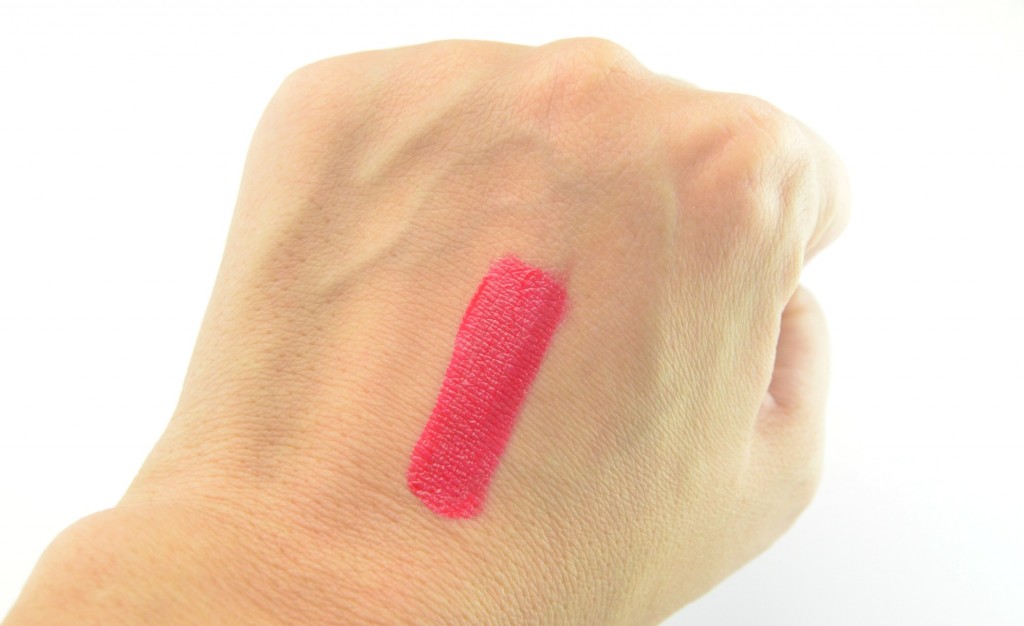 THEFACESHOP Face Ace It Gel Touch Nails has the perfect, somewhat flat rounded brush for easy application and delivers a high shine finish in one single coat. Its highly pigmented, really couldn't believe one coat was enough. It's fairly quick drying and provides a streak-free finish (probably because you only need one coat). It actually stayed on my nails for a solid 5 days before chipping and starting to lose some of its shine. It comes in 15 glossy shades for $7.