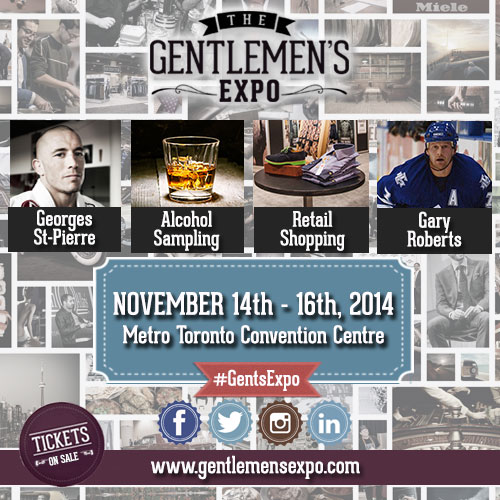 Athletes, celebrities, entertainers, oh my
Although it's not Monday, I'm still placing this under Manly Monday as this is definitely something for the fellows. As much as we may think that men do not like to shop, new research has proven this isn't the case. Men like to look and feel good just as much as the ladies and are interested in the hottest trends and want to have access to the newest items on the market today.

The Gentlemen's Expo, happening November 14th to 16th at the Metro Toronto Convention Centre, strives to entertain and educate both men and women in everything gentlemanly by incorporating fashion, cars, food, entrepreneurship, technology, sports, music, grooming and much more. This expo is the re-invention of the consumer show, putting experience, content and entertainment at the forefront and is something you're not going to want to miss out on. It will feature top and niche brands from across Canada in a fun, sophisticated and interactive setting.
Derek and I will be there and want to offer one of my followers the chance to win a pair of weekend passes, which allows you to access The Gentlemen's Expo all weekend long, along with 15 drink tokens per ticket (5 per day). These tickets are valued at $65 each, $130 in total. Would love to see you and your partner there.

The expo has a huge lineup of guests from amazing athletes, celebrities, entertainers, including some of my personal favourites, GSP, a Canadian professional mixed martial artist and UFC world champion, Bruce Croxon, Ex-Dragon and Entrepreneur and Dr. Jess O'Reilly, Sexologist and Relationship Expert.
And the winner of the weekend passes to the Gentlemen's Expo is….. Paresh Pandya