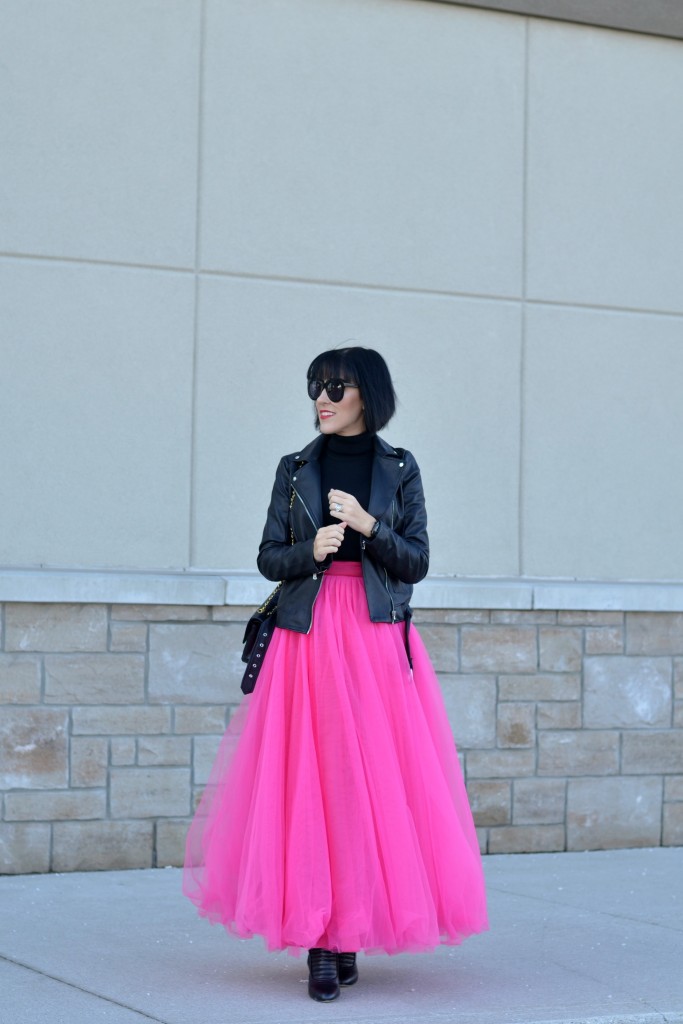 Rocker Chic
This isn't my first time wearing this hot pink tutu, and it won't be my last. The number one question I get asked, when wearing it, is…how to wear a tutu without looking like a little girl. It's important to look like you're not playing dress-up or pretending to be a ballerina. When styled correctly, it can be really figure flattering.
Carrie Bradshaw made the tulle skirt incredibly popular when she paired it with a simple white tank in the opening sequence of the Sex And The City. This is a super easy look to recreate and looks amazing in the hot summer months. To give it even more personality, try a statement necklace.
Another option for the warmer temperatures is to pair it with a cropped T-shirt or form-fitting blouse. This is a flirty alternative to the traditional tank top and would look amazing for a fun Birthday party.
For an understated look, try the monochromatic look. This might be a little too bold with this hot pink tutu, but a classic white, black or even grey skirt, it would look elegant and chic. Sticking with neutrals will give it a more grown-up appeal without the feel of it looking like a costume.
Looking for a more preppy approach, try a striped tee or a sailor inspired shirt.
I love the idea of turning a slightly country inspired denim shirt with a brown leather belt, with a feminine tulle skirt. It gives a whole new look to the traditional cowgirl look.
My personal fave, this rocker chic look. Style it with a badass moto jacket, a sophisticated black turtleneck, to keep you warm in the winter and killer booties.
What I Wore- Turtleneck- The Gap, Faux Leather Jacket- Zara, Watch- c/o Bulova, Chanel Purse- Luxe Touch Consignment, Pink Tutu- c/o Pastel Dress, Booties- Vince Camuto