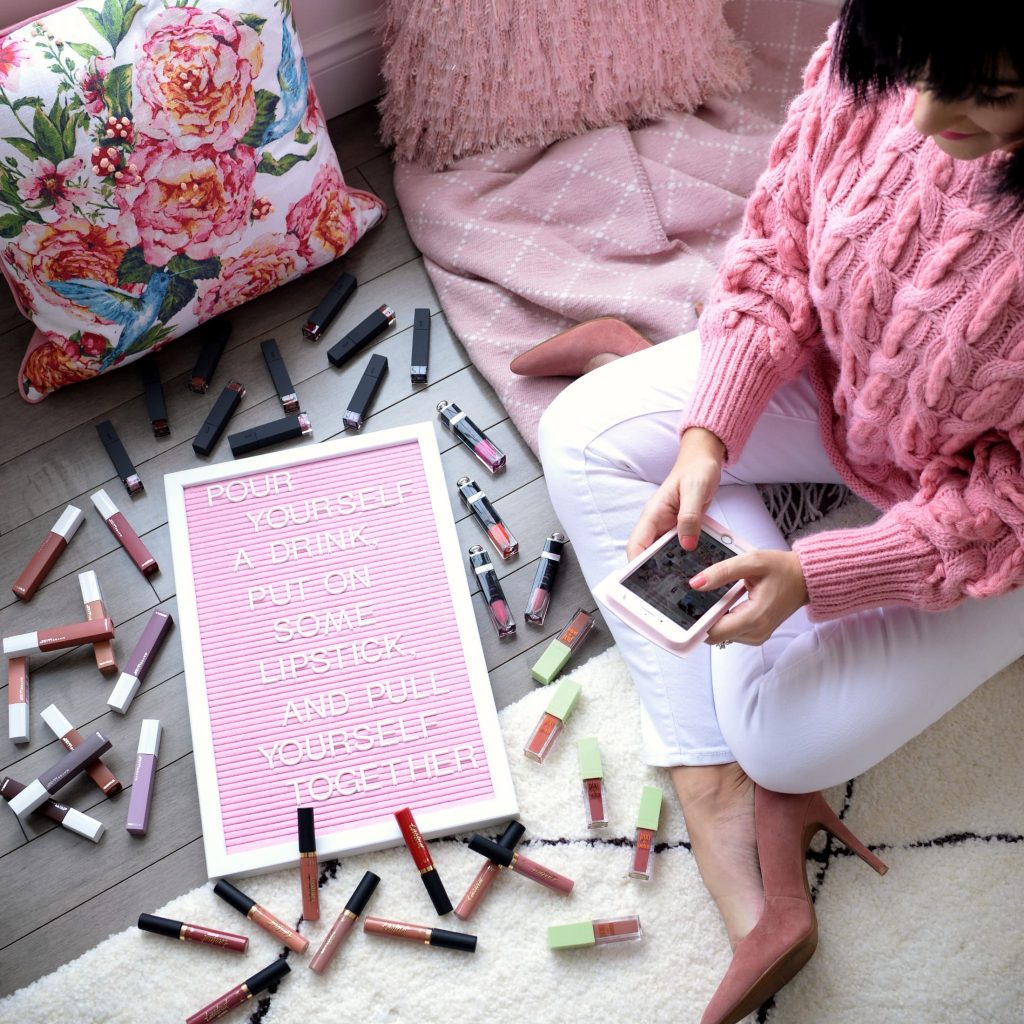 Liquid Lipsticks
A girl needs options, am I right? From barely-there nudes to bold, intense brights, spring is the perfect time to experiment with colour. If you're intimated by colours in your clothing, a fun pop of colour on your lips is the perfect way to liven up your complexion. Like finding that perfect pair of jeans, shopping for a new lipstick is equally as challenging. From the different formulas, to finishes and hues, the lipstick aisle can be a little overwhelming. Depending on your skin tone, to how long you want your lipstick to last, and what you want your lipstick shade to say about you, the key to finding that ideal lippie is having a game plan before you shop. From sheer glosses for the minimalist, to rich and naughty hues for the risk-taker, to holographic for the trendsetter, to metallics for those looking to have fun, there's a lipstick formula that's perfect for you. Liquid lipsticks are definitely a favourite by many, thanks to its intense pigmentation, long-last formula and easy application.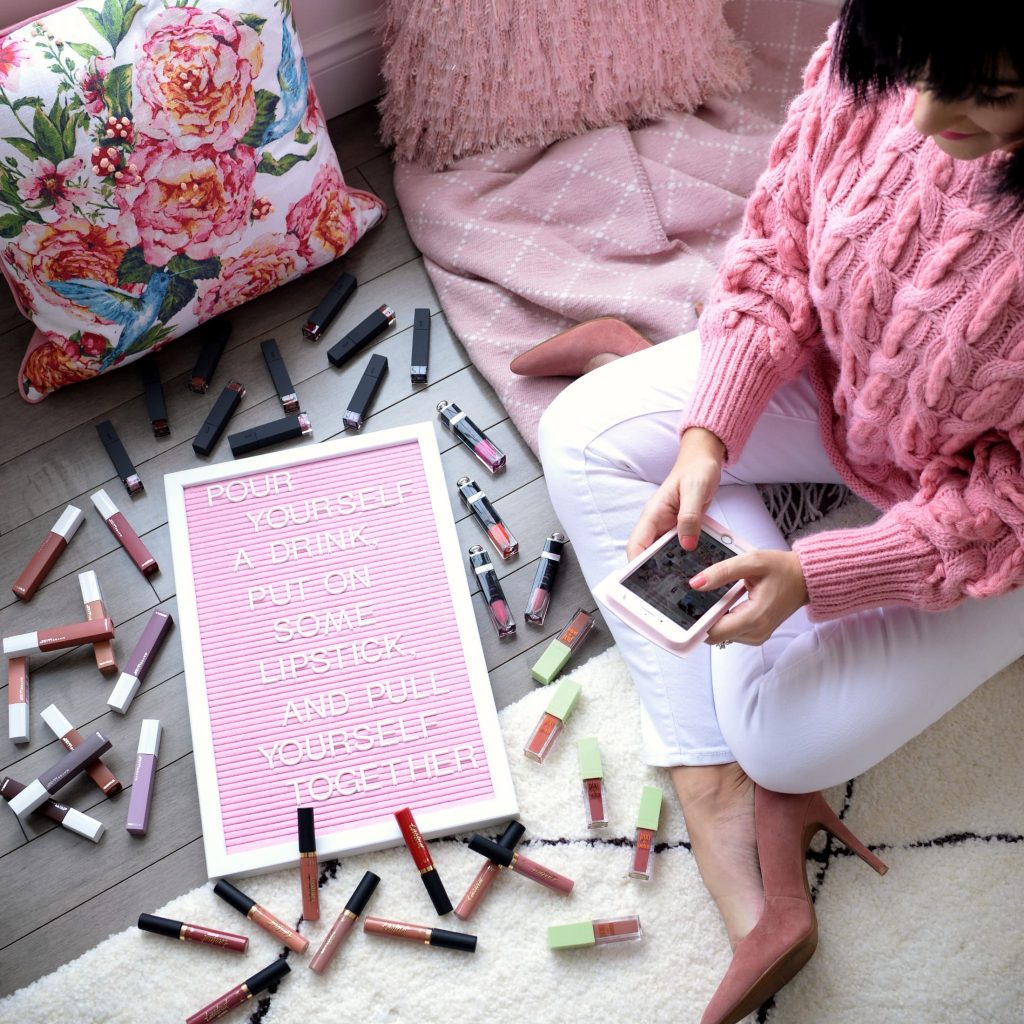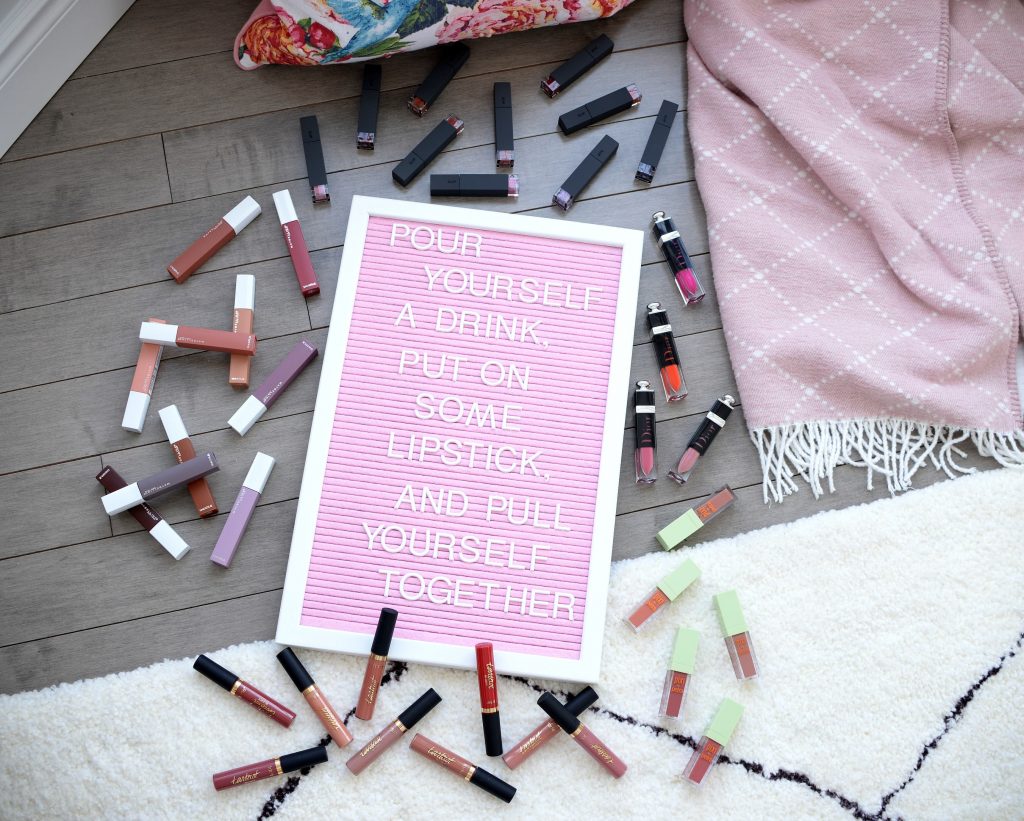 Maybelline SuperStay Matte Ink Liquid Lipsticks quickly took the beauty world by storm last year and is still one of my favourite liquid lipstick formulas to date. Its unique doe-foot applicator that features a tiny reservoir in the centre that helps lay down just the right amount of product is just one of the many reasons why it became so popular. Pair that with its lightweight texture that starts off quite mousse, but quickly melts into the skin for a silky-smooth and matte finish and it's a match-made in heaven. This season, the brand has released its Superstay Matte Ink Un-Nude Collection, a lineup of 10 unconventional neutral shades that are totally unexpected, yet so wearable. Like the previous shades before them, its silky formula glides on smooth and evenly, sets and dries within seconds to a completely matte finish and stays in place for upwards of 16+ hours without creasing, smudging or fading.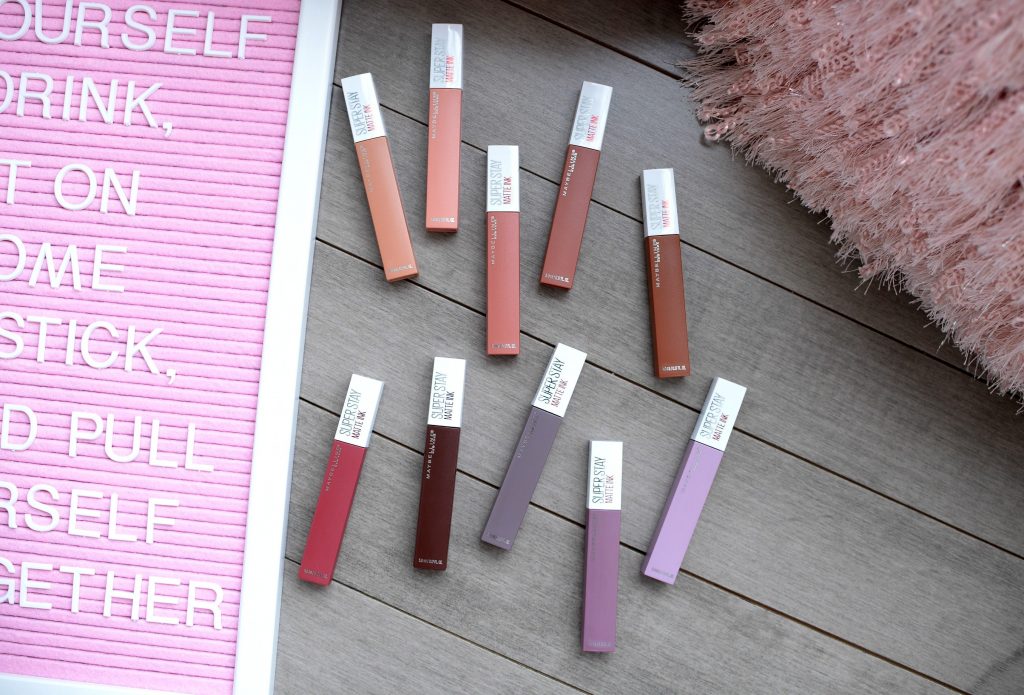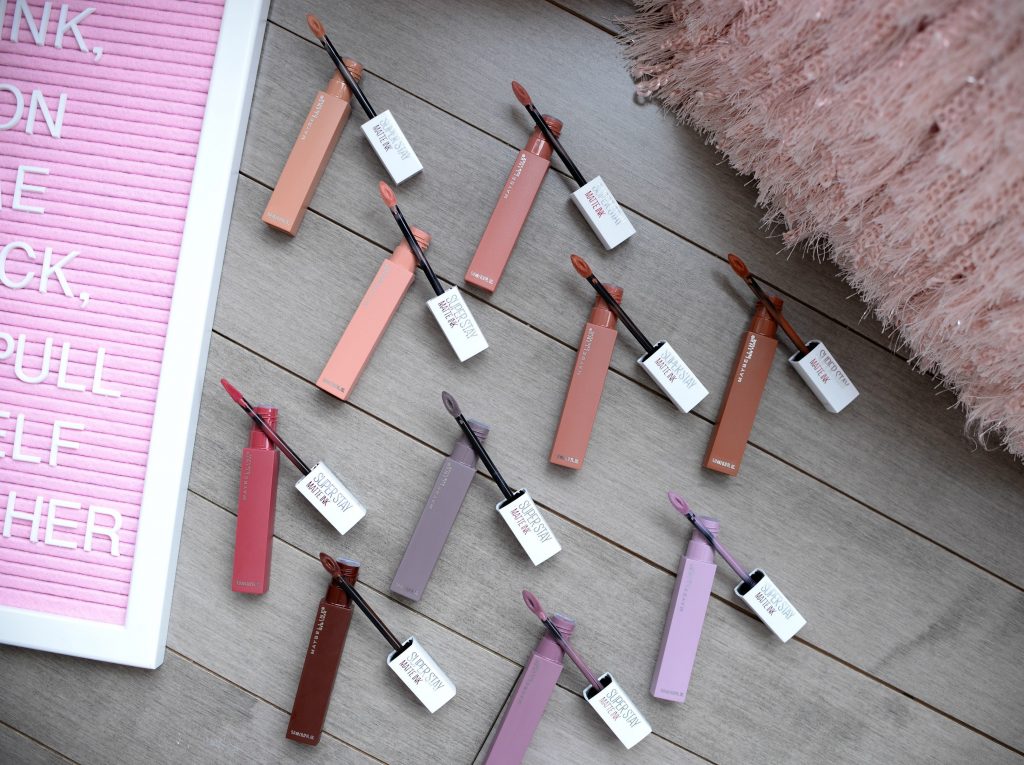 Maybelline SuperStay Matte Ink Liquid Lipstick Un-Nude Collection features an array of beautiful nudes, browns, grey lavenders, muted pinks, mauves, and everything in between. Its exclusive, almost whipped and creamy texture is unlike your traditional matte liquid lipstick yet provides the high-pigmented formula that's truly opaque in a single coat that you'd expect from a high-end lipstick brand. Its weightless texture feels completely invisible once applied to the lip and is extremely comfortable to wear the entire day. You'll immediately be able to achieve an intense, bold pop of colour in a single swipe and rest assured the colour stays true to its hue throughout its wear time. It doesn't bleed outside the line, nor does it fade or crease. Its flawless finish holds up beautifully, even through several meals and endless glasses of water. It retails for $11.99 in 10 shades.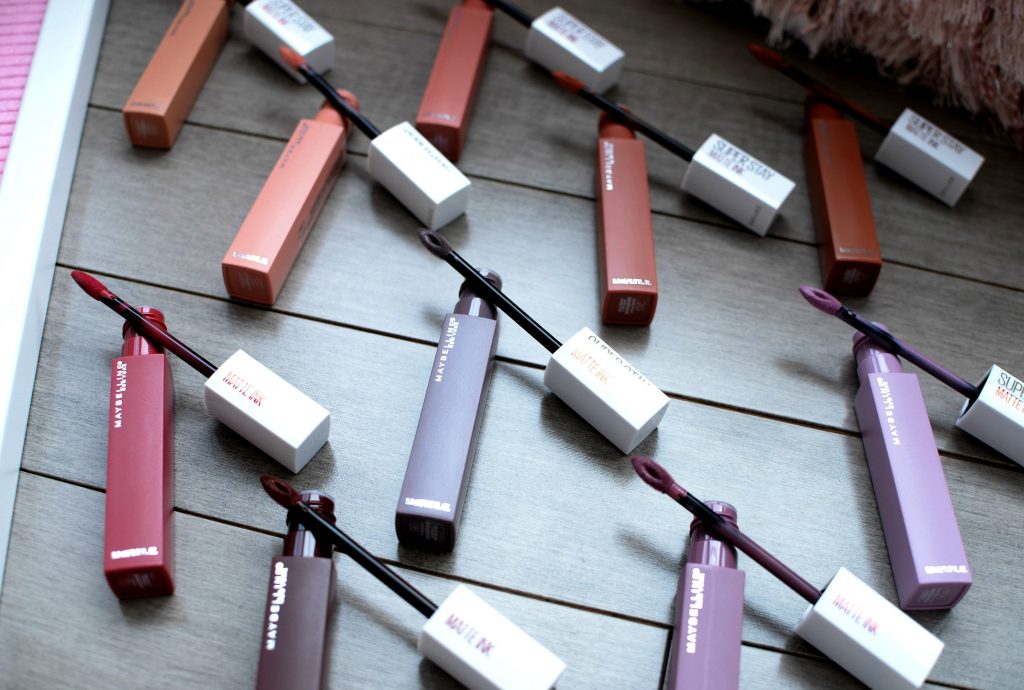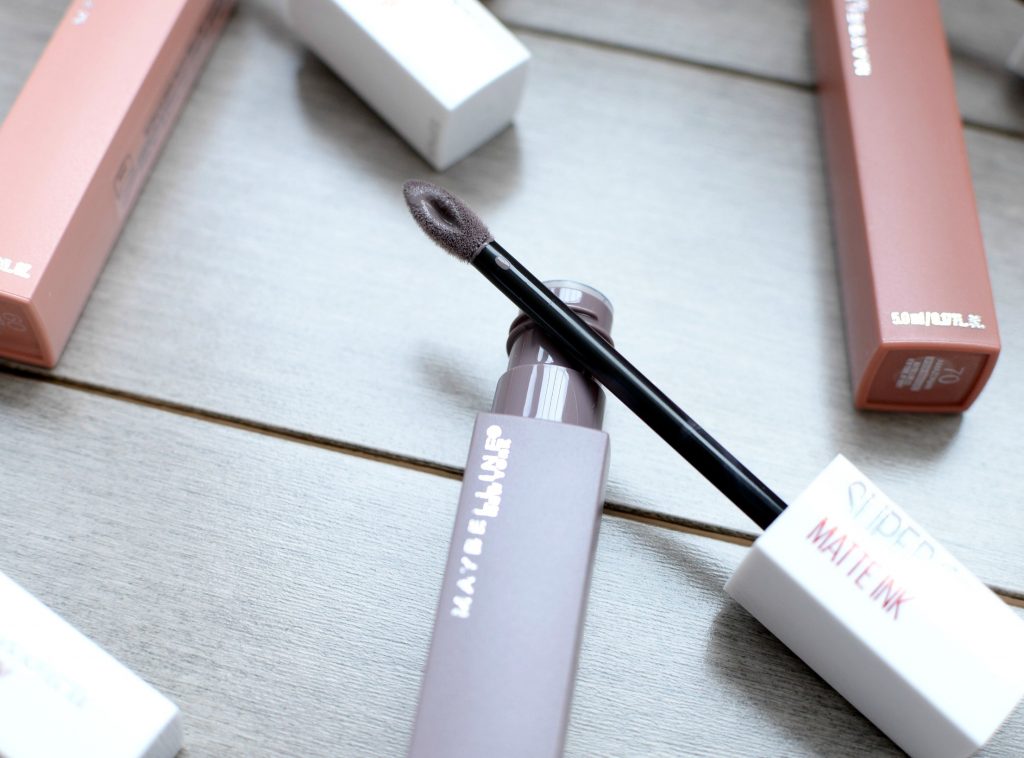 Maybelline SuperStay Matte Ink Liquid Lipstick in Driver, Poet Seductress, Amazonian and Fighter.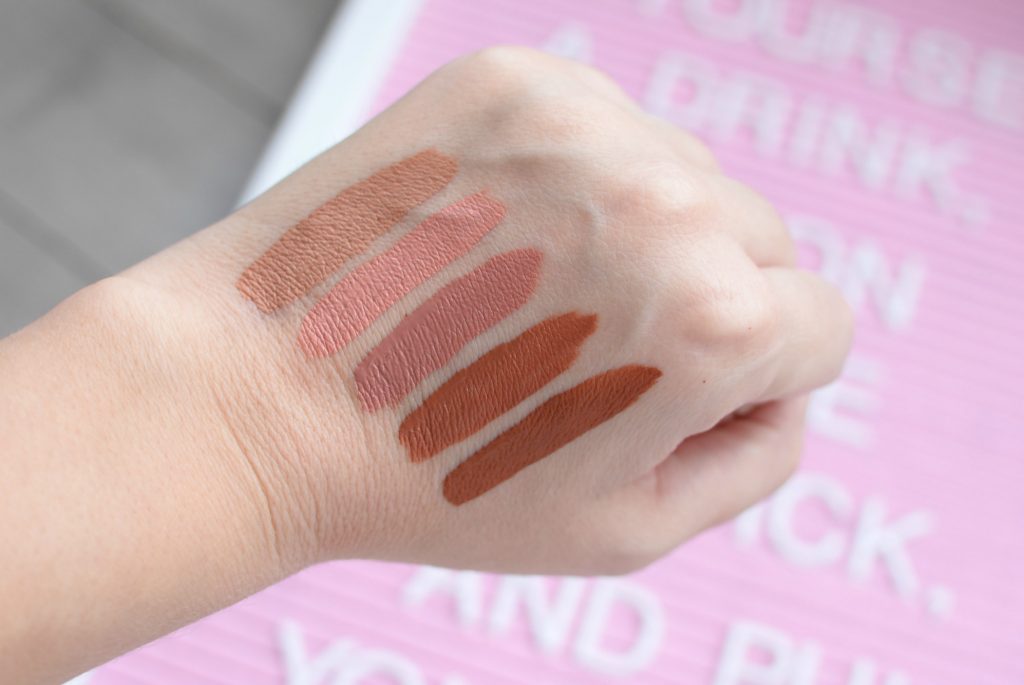 Maybelline SuperStay Matte Ink Liquid Lipstick in Ruler, Protector, Huntress, Visionary and Philosopher.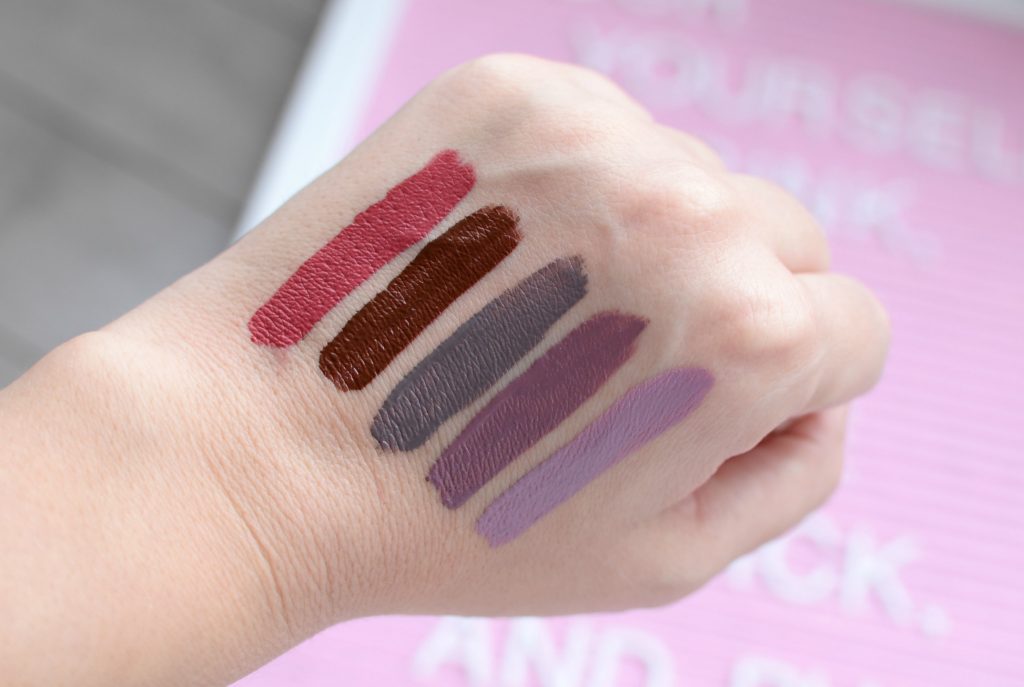 Another affordable liquid lipstick option would have to be the new Pixi MatteLast Liquid Lip. This kissable-soft lippie is infused with rosehip oil to ensure all day comfort. Its pointed tip applicator helps to precisely outline the lips, while the slanted side lays down the perfect amount of product for an even coverage. Its extremely creamy formula glides on quickly and easily for a perfectly smooth and even colour in a single stroke. It's more intense than a lipstick, more comfortable than a long-wearing liquid lipstick and yet more saturated than a traditional gloss.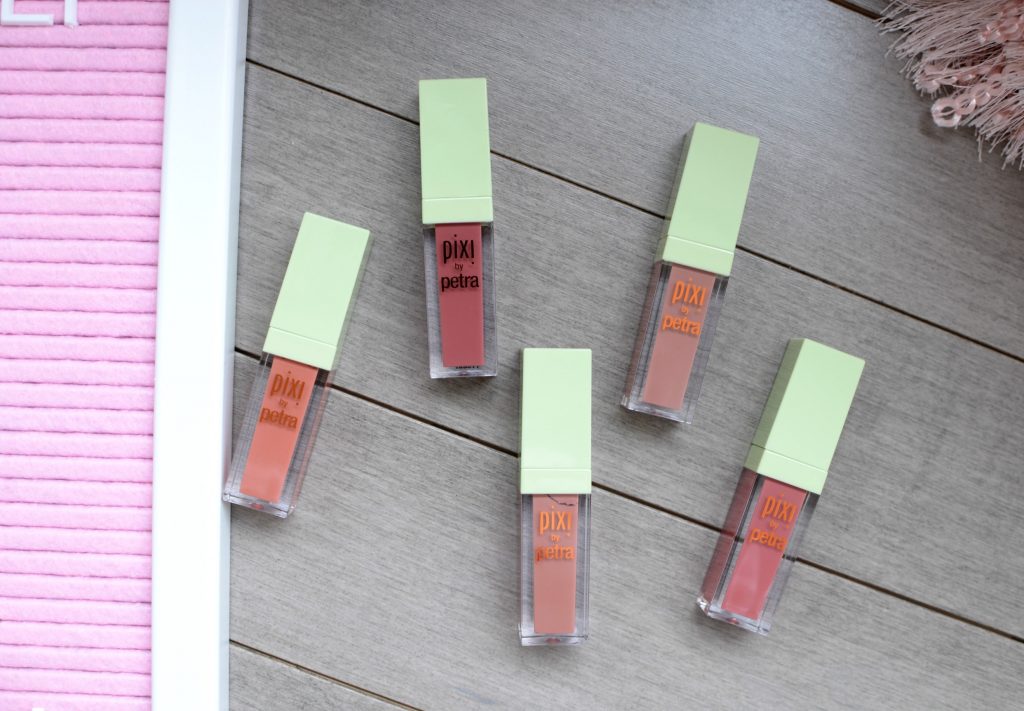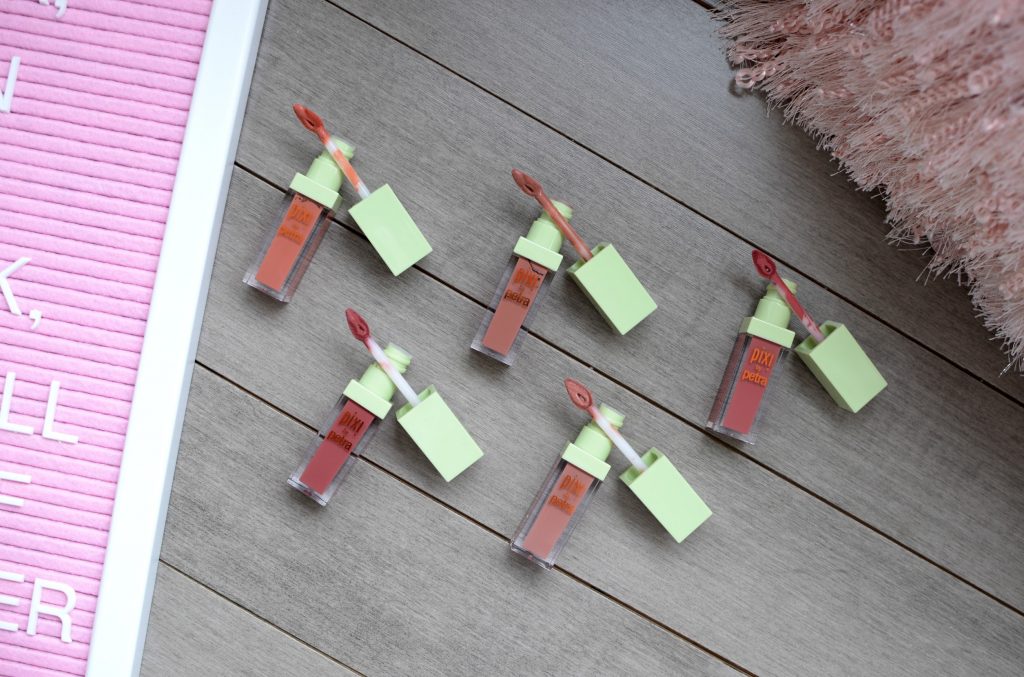 Although the Pixi MatteLast Liquid Lip don't necessarily dry down completely, this helps ensure your lips stay hydrated and comfortable all-day long. Its longwearing formula helps to smooth, define and nourish the lips, while creating a vibrant, bold pop of nude-y colour to the lips. Its incredibly lightweight formula feels almost invisible once applied to the lips. It still manages to provide a full coverage, completely opaque appearance to the lips in a single swipe. You'll immediately be able to achieve an intense and bold pop of colour thanks to its pure pigment formula. If you're looking for a lipstick that's totally transfer-proof or budge-proof, I'd recommend the Maybelline SuperStay Matte Ink Liquid Lipstick, but if you just want something that isn't too drying and wears beautifully throughout the day, you'll love this formula. It retails for $18 in 5 shades.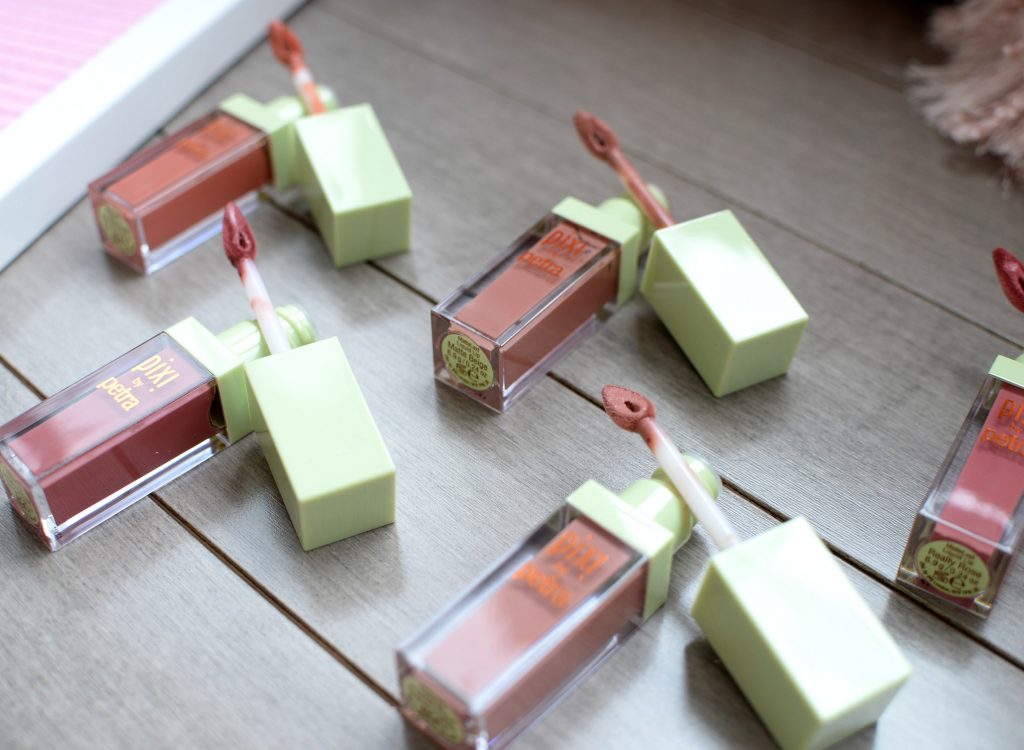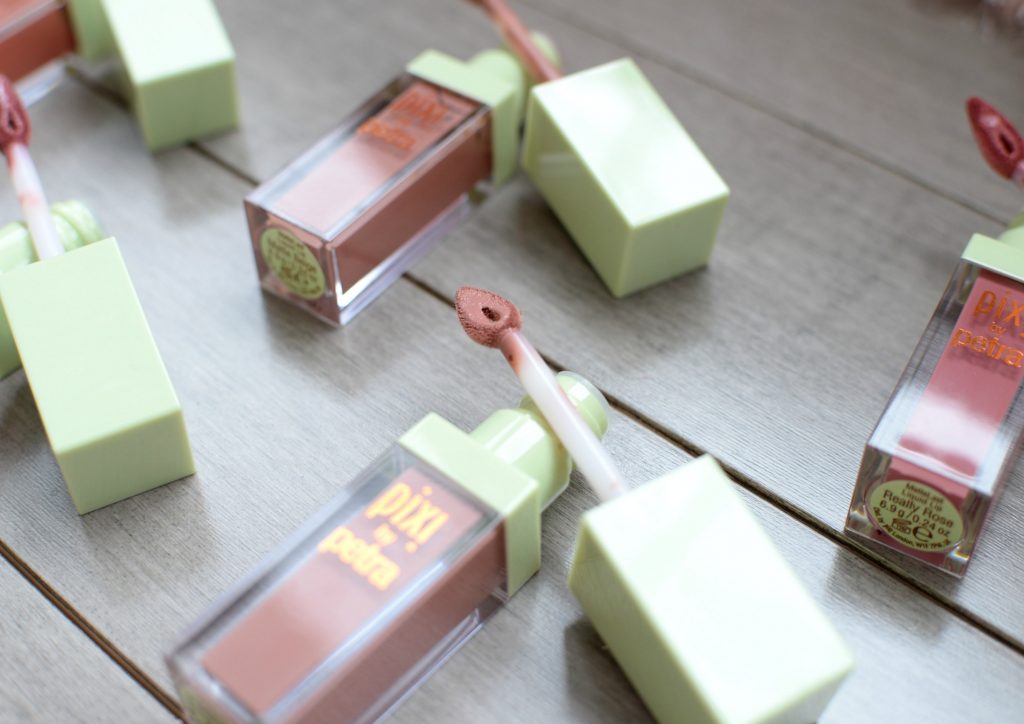 Pixi MatteLast Liquid Lip in Au Naturelle, Evening Rose, Matte Beige, Pastel Petal and Really Rose.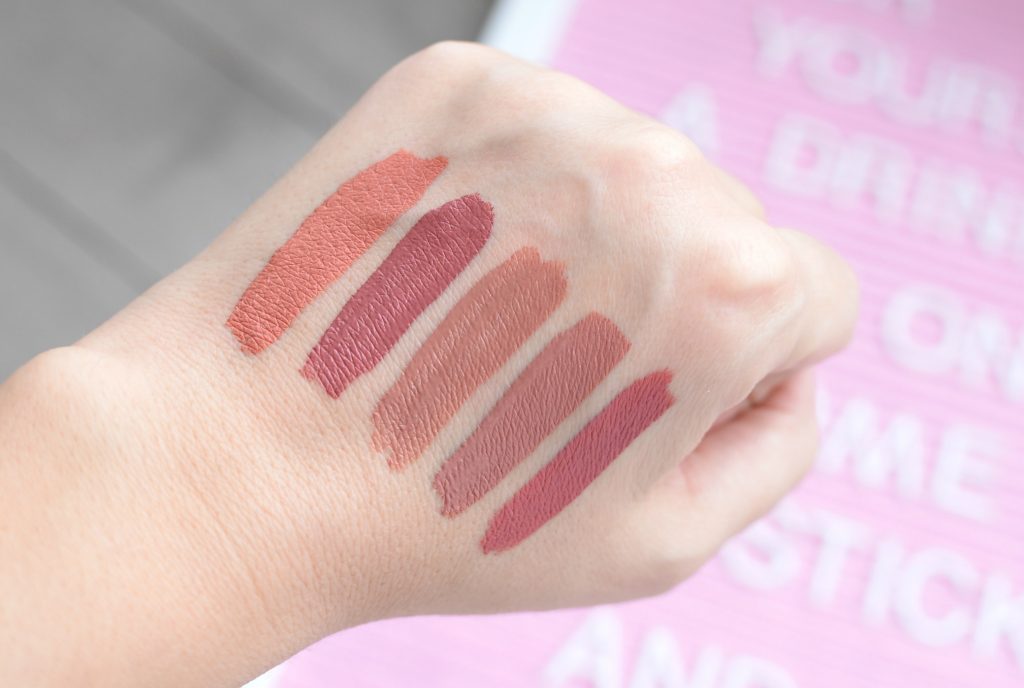 We all desire beautiful, soft and full lips, but heading to the clinic every few months to achieve this through fillers might not always be an option. Augmenting the lips with injections may create a youthful appearance, but the new Dior Addict Lacquer Plump can also help add volume and increase moisture levels in a single application. Its unique plumping technology not only provides intense, long-wearing colour, but it helps to shape and add fullness to the lips. Its innovated oil-in-water formula is enriched with pigments, hibiscus extracts and hyaluronic acid, to help plump and moisturize the lips for all day comfort. Think of this as a hybrid between a liquid lipstick and an high-end skincare product. It instantly tints the lips with a bold, opaque coverage, with the added bonus of added hydration.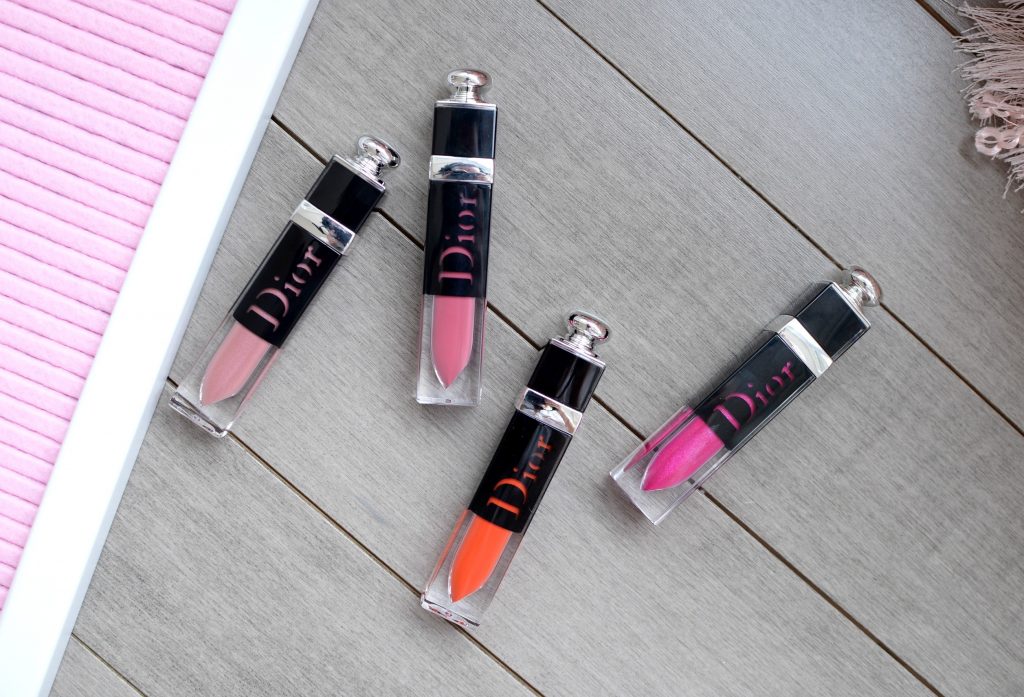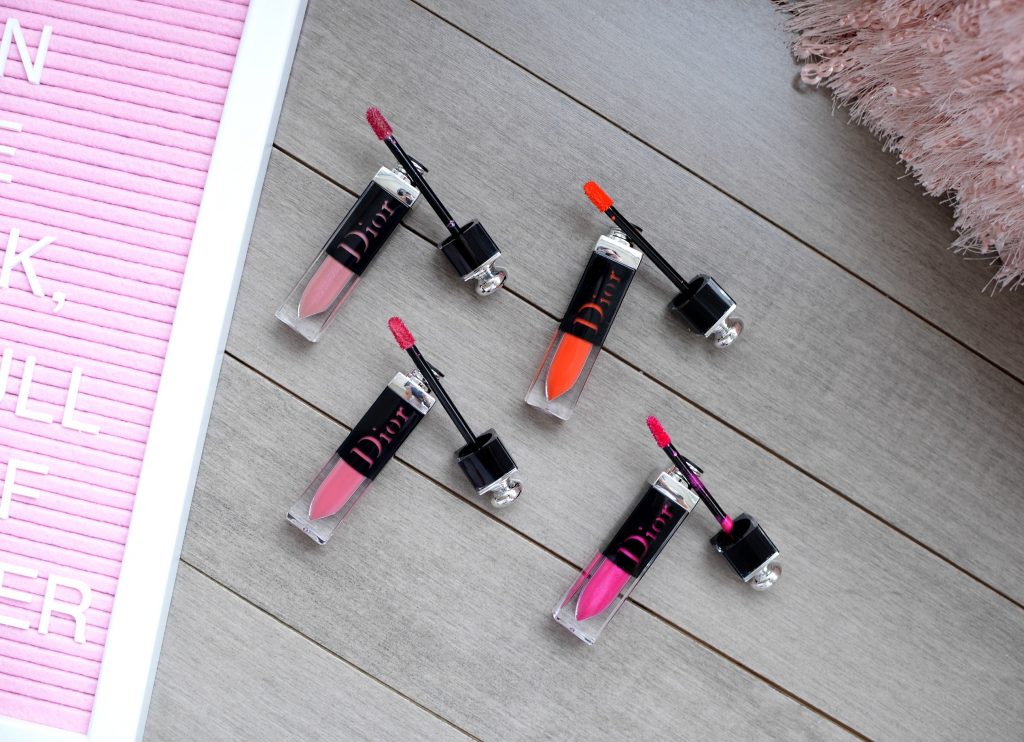 Dior Addict Lacquer Plump is a true breakthrough in the makeup world. It's the first liquid lipstick to truly plump and hydrate the lips. Whether you're looking for a little fullness and shine, or rich, opaque coverage, this lippie can do it all. Its plumping complex paired with its hyaluronic acid formula immediately provides a slight plumping effect that's also incredibly hydrating. It begins to tingle upon first application, creating the illusion of fuller looking lips. It does an amazing job at filling in fine lines, for a healthier, smoother, firmer-looking appearance. It provides an intense pop of colour that's lustrous and youthful. It helps to keep lips soft, supple and nourished the entire day and wears upwards of 8+ hours.  Its an excellent way to pump up the volume and fill in lines without lip injections. It retails for $43 in 18 shades.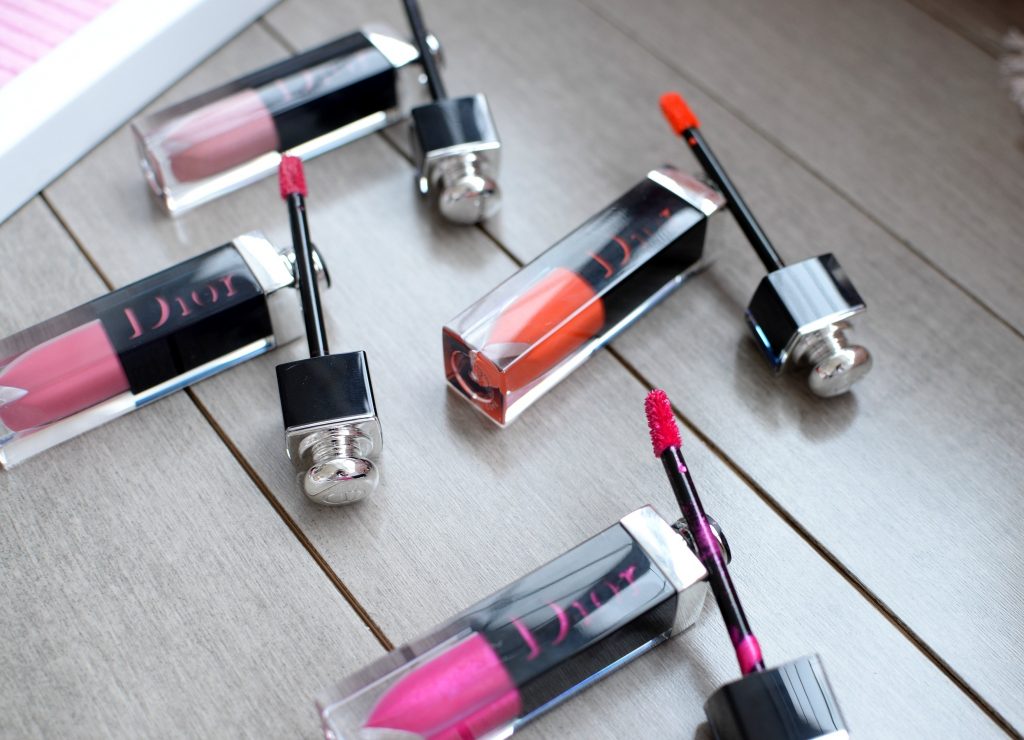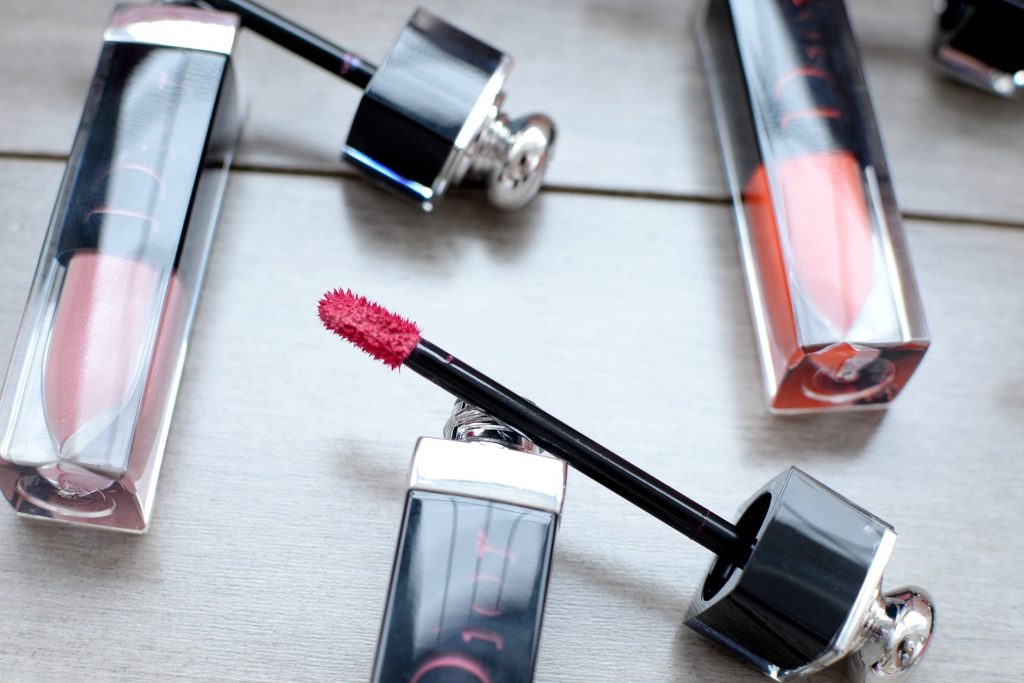 Dior Addict Lacquer Plump in Glitterati, Dior Pretty, Dior Pulse and Disco Dior.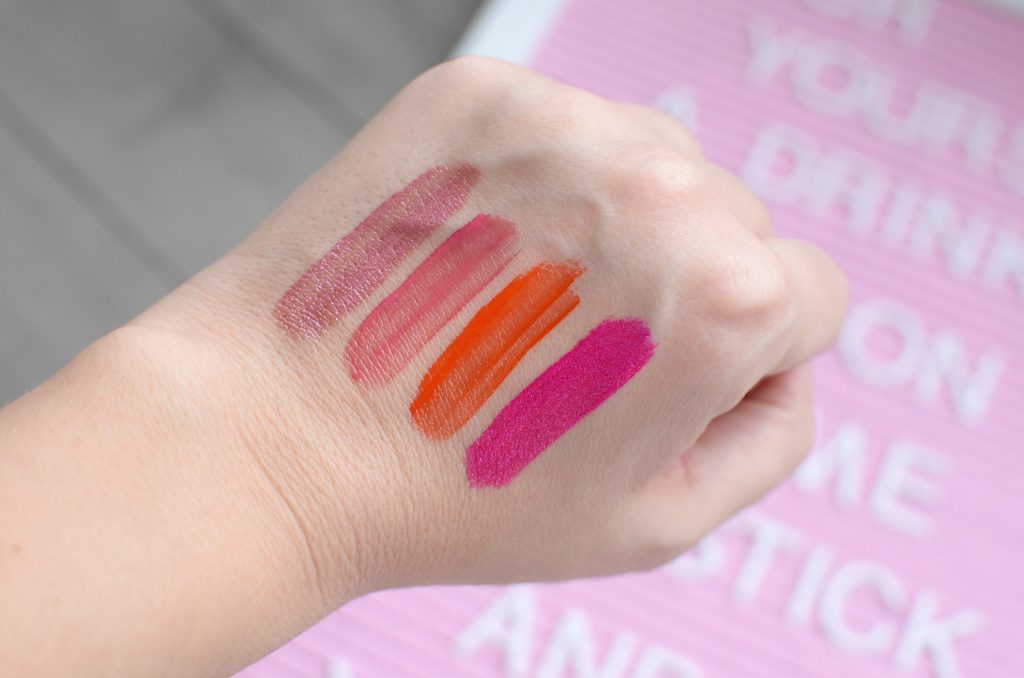 When a brand dedicated its entire existence to one particular product, you know its going to be perfection. Bite Beauty is best known for their iconic Amuse Bouche Lipsticks, but this season they have released an exclusive and limited edition Amuse Bouche Liquified Lipstick Unearthed Collection. It features an array of stunning highly pigmented, intensely moisturized, liquid lipsticks that play off their award-winning lipstick formulation. The lineup is done in rich neutral, gritty shades inspired by young root vegetables just picked from the Earth. Done in a juicy, satiny, almost semi-glazed finish, these luxurious shades amplify your lips with a touch of sheen. You can easily line and contour your lips, as well as fill in your entire lips in one easy swipe thanks to its magical wand. Its sweet, almost fruit snack smell just screams summertime fun!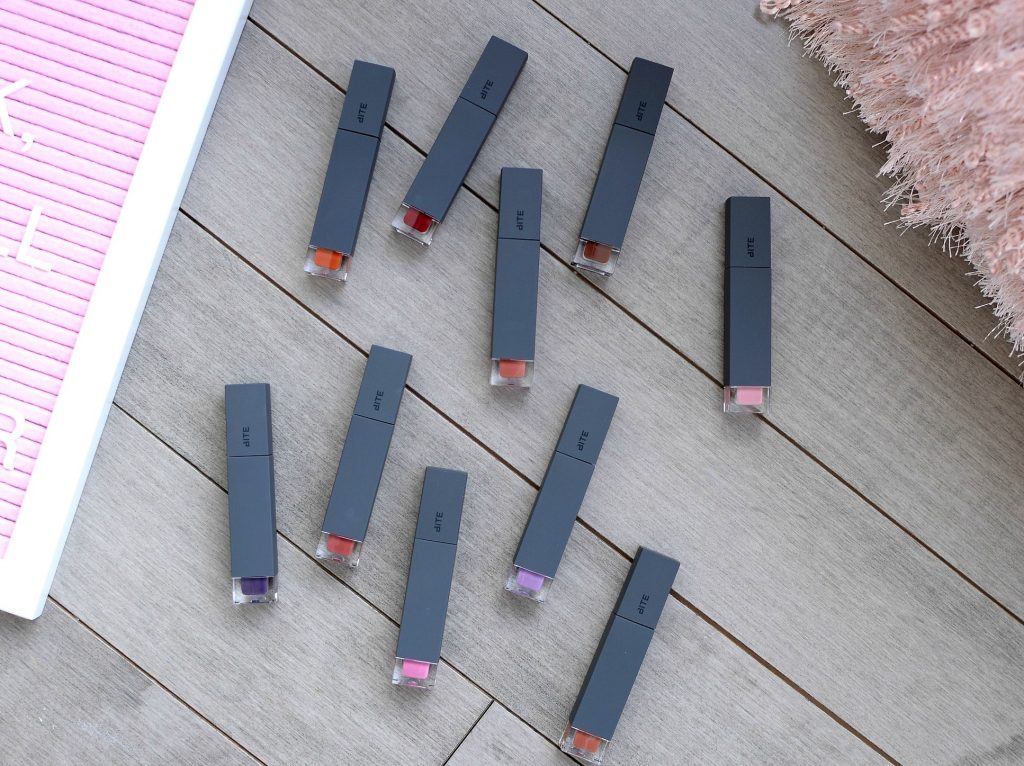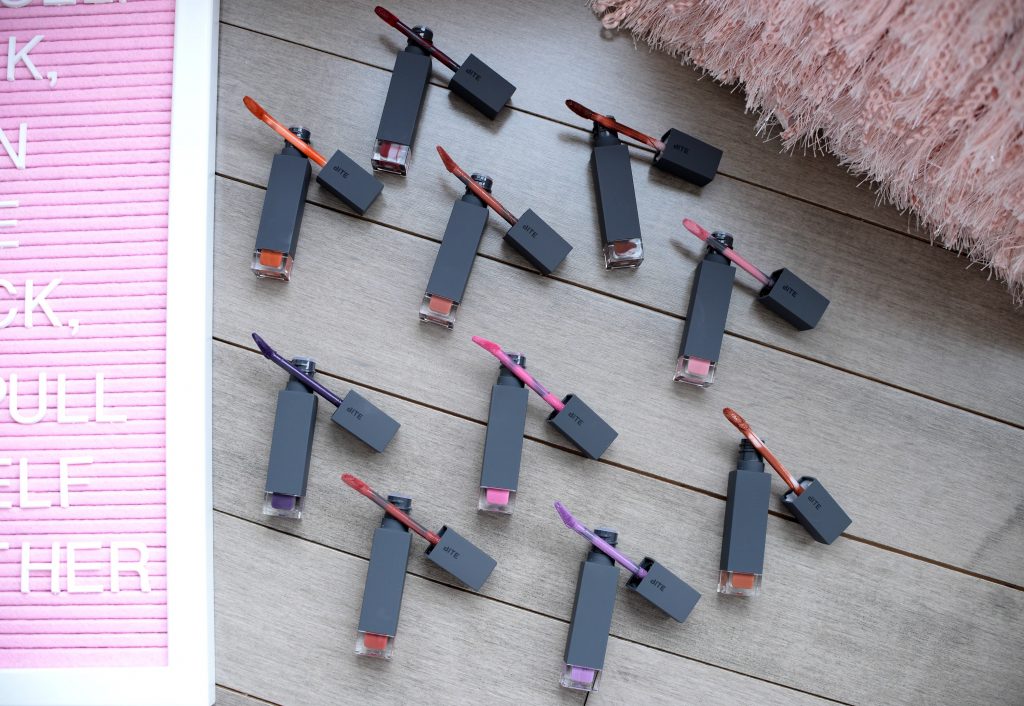 Forget everything you heard or remembered about liquid lipsticks. The new Amuse Bouche Liquified Lipsticks offer the same nourishing properties as the OG Bite lipsticks, only liquified. Unlike traditional liquids that feel uncomfortably dry, impossible to achieve an even coverage and disappear after your morning coffee. Not only do these lippies drench your lips in a dose of high-impact colour, but its rich and creamy formula helps to nourish the lips for all day comfort. Its unique applicator not only lays down the perfect amount of product, but it's done with total control and precision. Its silky-smooth texture glides onto the lips with ease, and it seems to almost melt into your skin thanks to its mono butter and coconut oil formula. In a single swipe, you can achieve a smooth, even and fully saturated colour payoff. It creates a lovely satin finish that stays put the entire day without fading. It retails for $28 in 10 shades.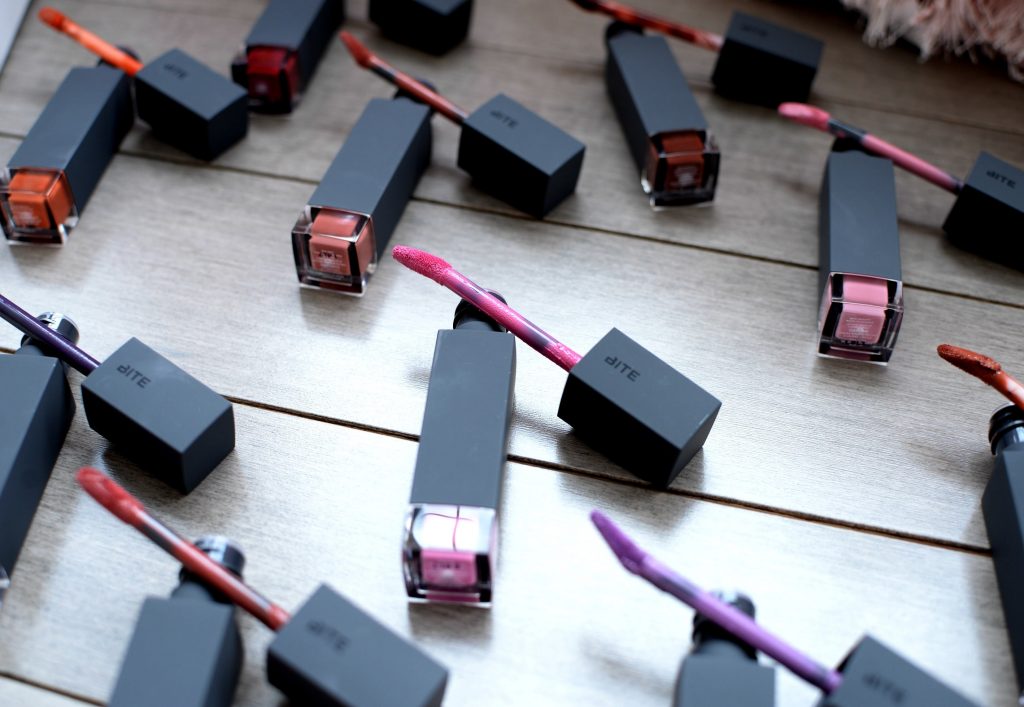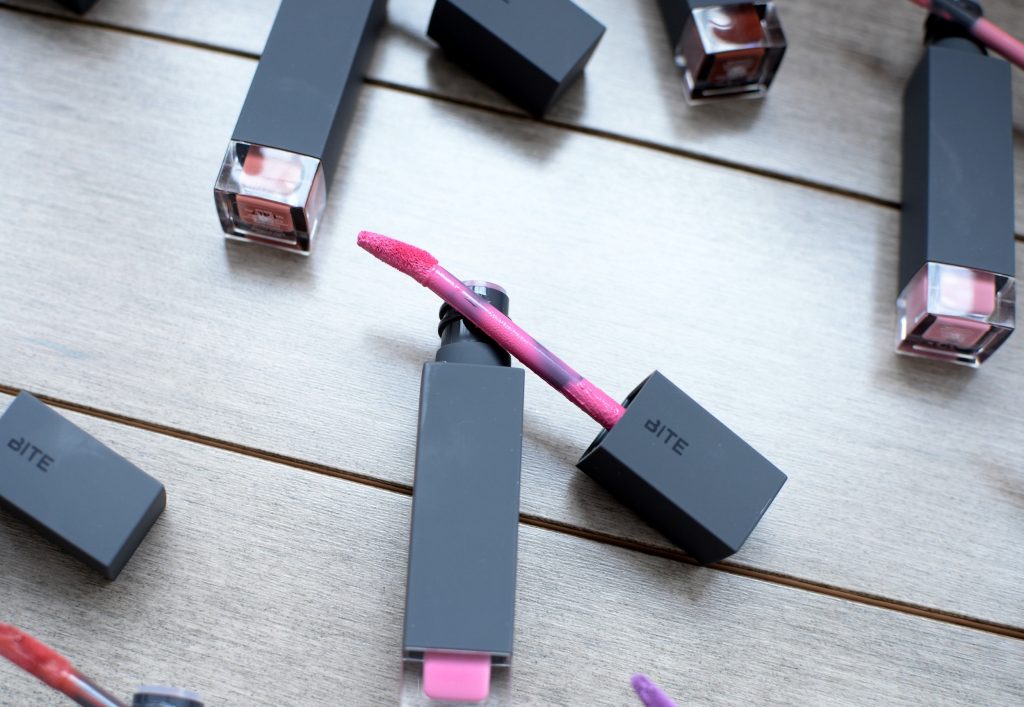 Bite Amuse Bouche Liquified Lipstick in Arrowroot, Cassava, Chicory, Clove and Daikon.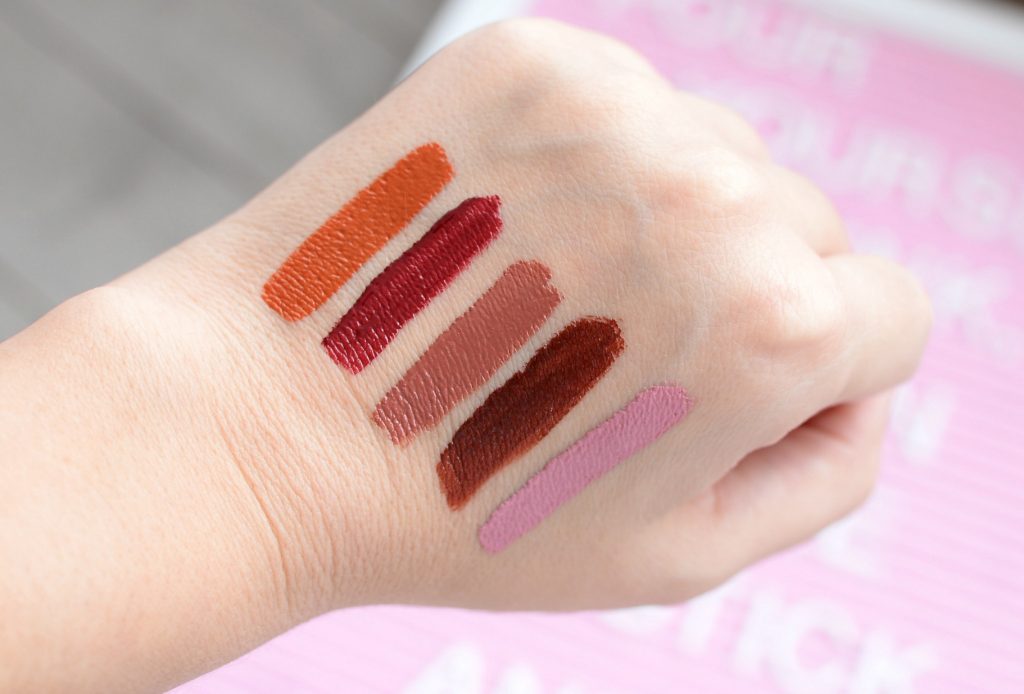 Bite Amuse Bouche Liquified Lipstick in Jicama, Kholrabi, Lotus Root, Sugar Beet and Yucca.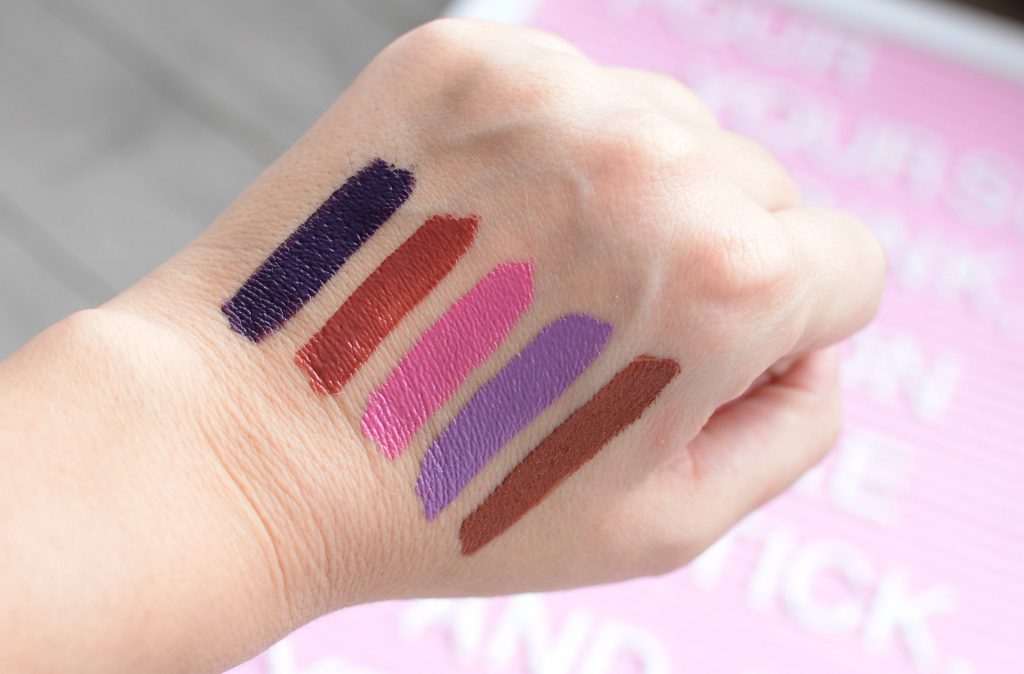 And because we tend to get wrapped up in all the hot, new releases and forget about some cult faves, I wanted to remind you about the tarte Tarteist Quick Dry Matte Lip Paints. These quickly became some of my favourite liquid lipsticks, thank to its concentrated mineral pigment formula. It immediately drenches your lips in super rich, lip-soothing colour that's incredibly opaque and full-coverage in a single swipe. Not only is it quick drying, setting to a budge-proof finish in the matter of seconds, it manages to stay both hydrating and moisturizing on the lips.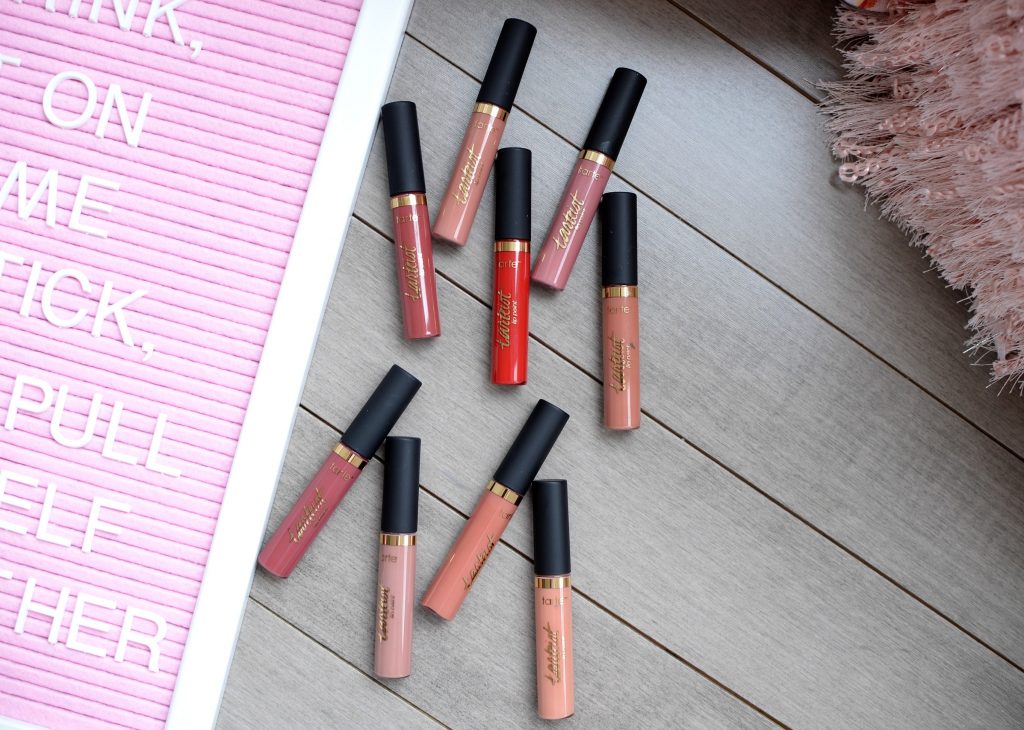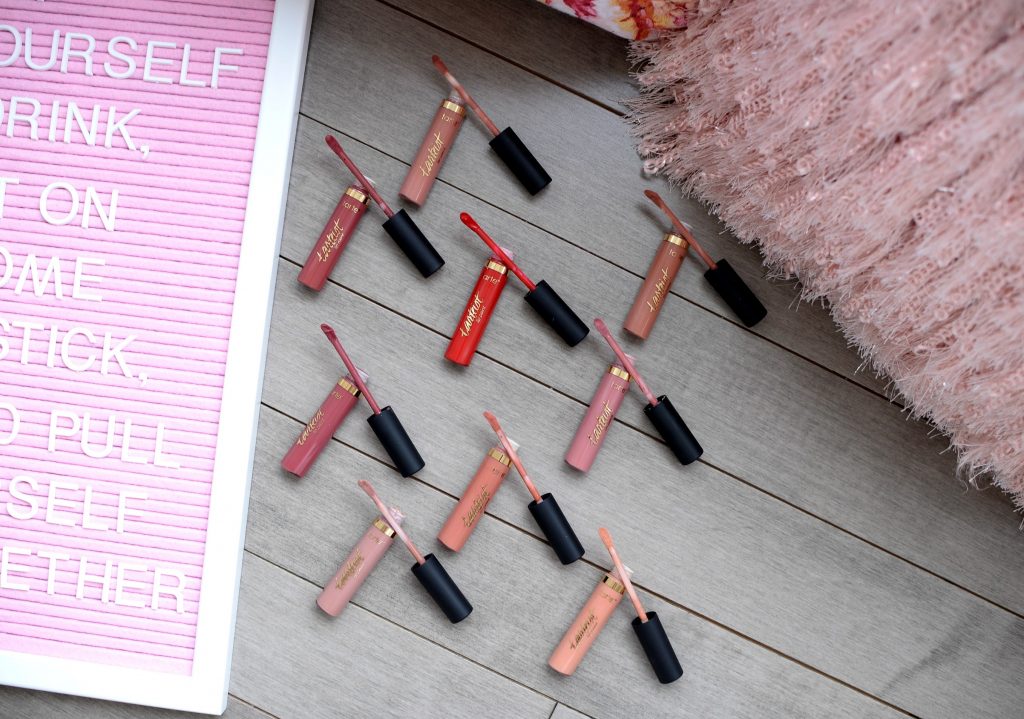 tarte Tarteist Quick Dry Matte Lip Paint features a doe-foot applicator with a small divot in the centre that holds just the right amount of product. It applies easily and effortlessly, and its slightly thick, yet rich and creamy consistency glides across the lips smoothly for a seamless application. Although its completely matte, its innovated formula stays weightless on the lips. You almost forget that you're wearing an extra long-wearing lipstick. It allows your lips to breathe and move naturally thanks to its nourishing and softening properties. It stays in place for hours on end without becoming too tight or dry. It doesn't crack, bleed or feather outside the lines, just a wearable, comfortable formula that's completely transfer-proof. No matter how much you have to eat or drink throughout the day, the colour stays true. It retails for $25 in 26 shades.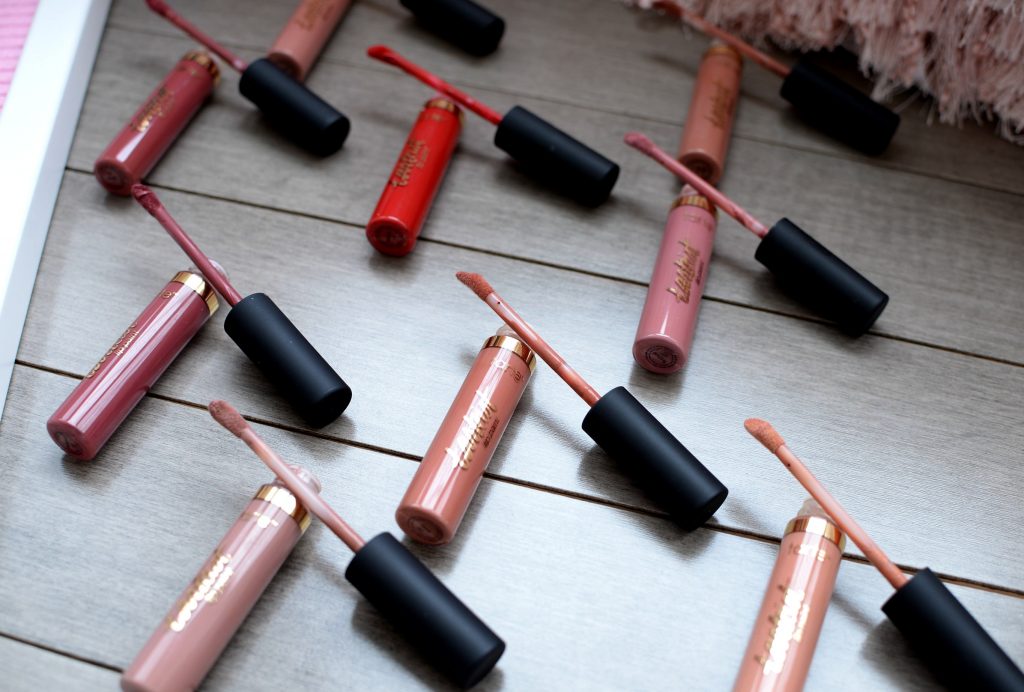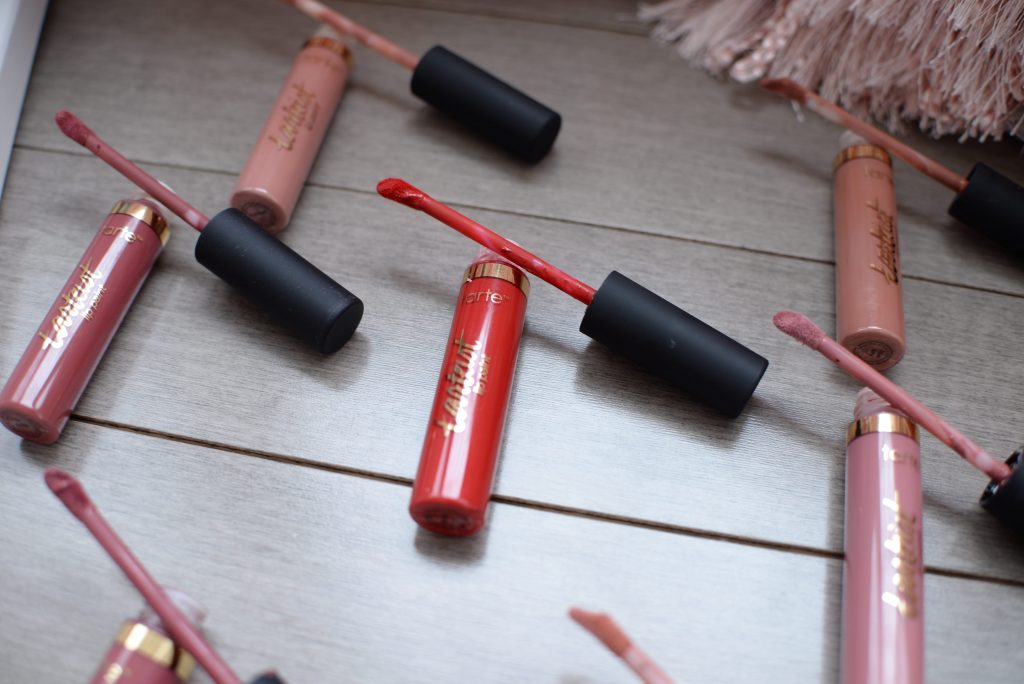 tarte Tarteist Quick Dry Matte Lip Paint in Bling, Exposed, Extra, Festival and Low Key.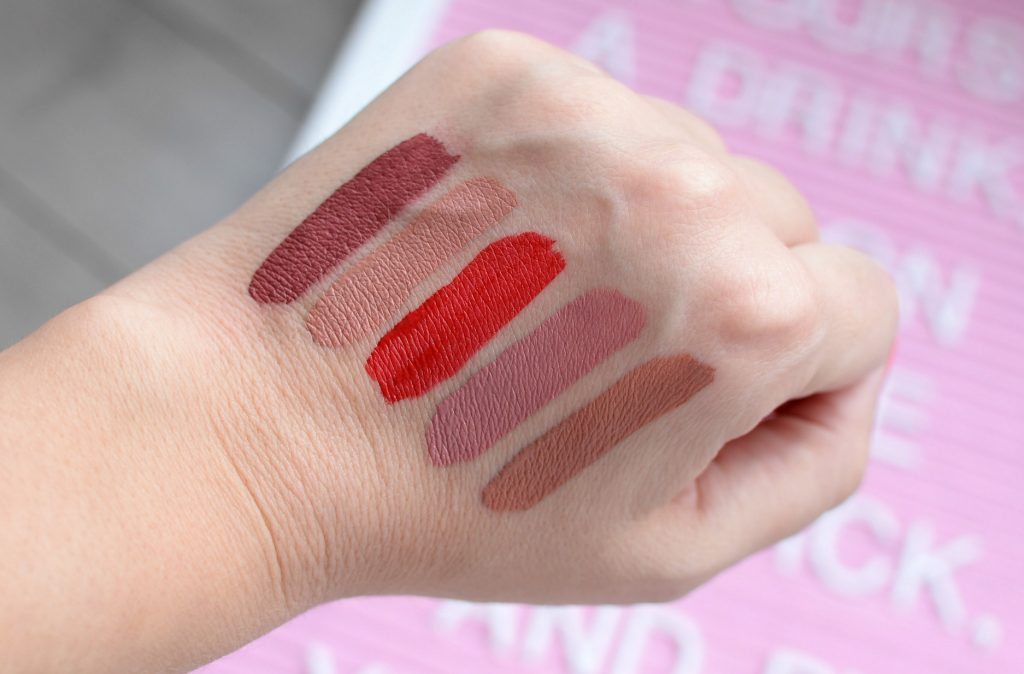 tarte Tarteist Quick Dry Matte Lip Paint in Obsessed, OG, Rose and Salty.