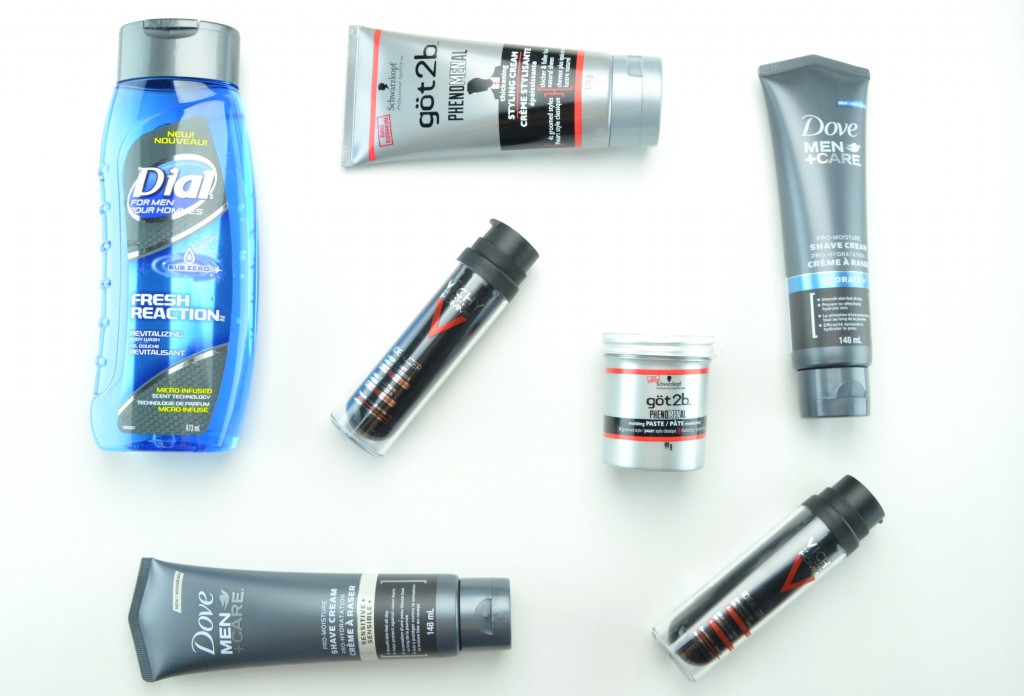 Derek's faves
Contrary to popular belief, men are in fact concerned with their appearance and Derek has no shame in admitting it. Although the men's market is relatively new (and small), the products they do offer, are truly innovated and unique. Since it's been too "cold" to take pictures outside (notice how I'm still taking my daily style pictures though) for Manly Monday, Derek's been busy testing out and experimenting with new beauty and hair care products. Although he's tested many in the past few months, he's narrowed it down and ready to share his favourites. 
Derek's first step in the morning, a quick shower to wake him up. He looks for a shower gel that not only gets him squeaky clean, but awakens his senses and leaves him ready to take on the day. The new Dial for Men Fresh Reaction Body Wash in Sub Zero is a non-drying, clean-rinse wash that helps to re-energize the skin. Its micro-fused scent, that's inspired by the top trends in make fine fragrances, ensures the fresh scent stays with him all day and doesn't wash down the drain.
Dial for Men Fresh Reaction Body Wash in Sub Zero has a gel-like texture that helps to cleanse the skin of manly dirt and oil, but rinses clean away for those guys that don't like to be in the shower forever. It doesn't leave a greasy or sticky residue behind and gives an extra boost of hydration for those guys that never moisturize on a daily basis. Skin is left squeaky clean, silky smooth and soft with a refreshing, light scent that does linger on the skin for a few hours. Also perfect for the gentleman that doesn't like to wear a cologne, but still wants to smell great. It also comes in a fresh Alpine scent and retails for $6.99 each.


Fresh out of the shower, while the steam from the shower has his skin soft and supple, Derek begins to shave. His shaving cream of choice, Dove Men+Care Pro-Moisture Shave Cream Hydrate+ Shave Cream. It's clinically proven to deliver moisture he can actually feel. The advanced formulation softens stubble on contact and enables a smooth razor glide to reduce shaving discomfort and razor burn.
Dove Men+Care Pro-Moisture Shave Cream Hydrate+ Shave Cream has a rich and creamy texture that applies more like a lotion, as it doesn't foam up like a traditional shave cream. Because of its thick texture, and the fact that it doesn't foam, you can actually see where you are shaving, creating the closet shave possible. The razor effortlessly and easily glides across the skin, never pulling or tugging on the skin. Derek says he doesn't have to worry about the risk of nicks, cuts or razor bumps because it is such a close shave. The cream washes clean away and leaves skin feeling silky smooth, highly hydrated and with a closer shave than you never thought possible. It has a fresh and almost sporty scent, if that makes sense?

Although Derek doesn't have a beard, he shaves daily and is always on the hunt for a product that will keep his skin hydrated, smooth, and razor bump free. Let me introduce you to the new Vichy Homme Idealizer Multi-Action Moisturizers. These are designed to adapt to men's shaving habits, whether your guy rocks a beard or prefers a clean, cut shave like Derek, his skin will never be dry, dehydrated or bumpy again.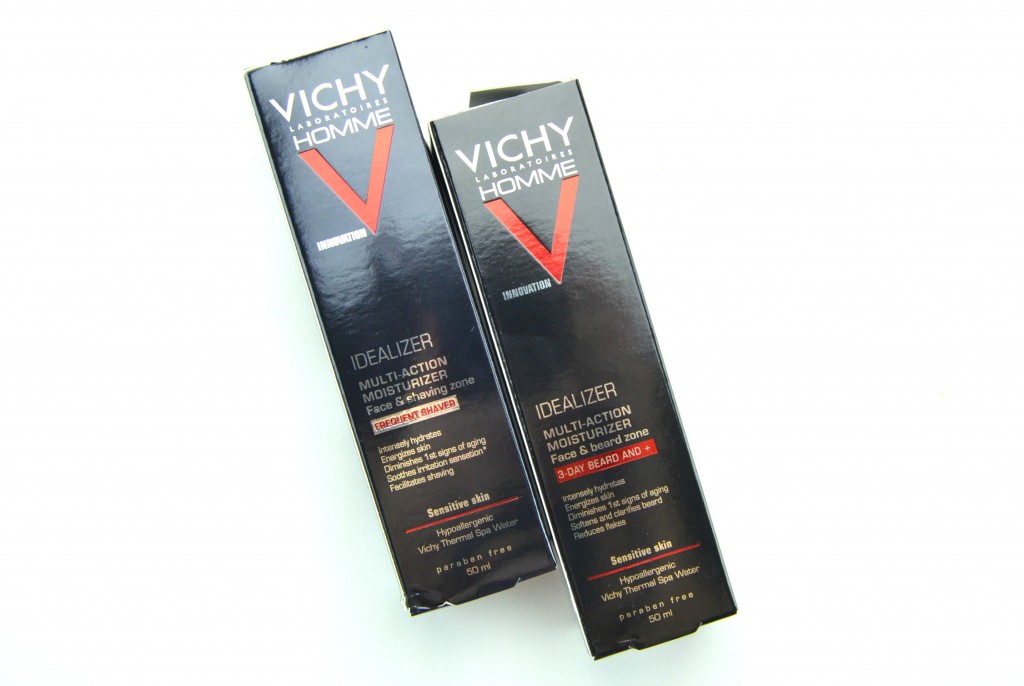 Derek's been using the Vichy Idealizer Frequent Shaver for the past month and has been loving it. It's formulated with hyaluronic acid to help trap water within the epidermis for an instant and plumping effect, adenosine to help diminish wrinkles and reduce signs of aging, caffeine to help reduce fatigue, like dark circles and puffiness, along with calmosensine to help reduce skin irritation and limit inflammation. Talk about a miracle worker.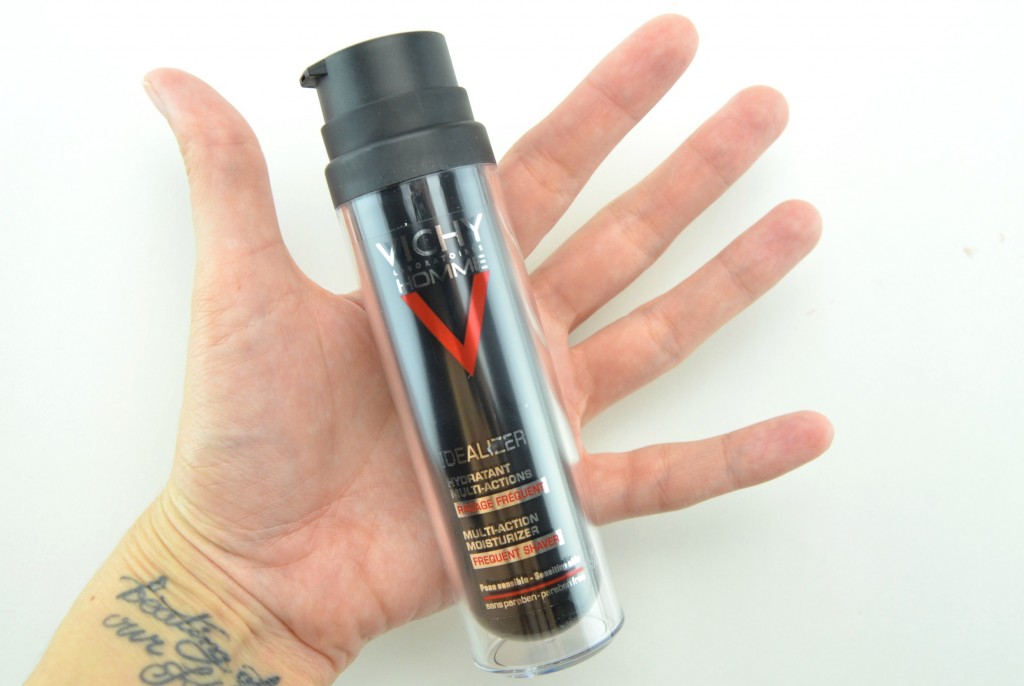 Vichy Idealizer Frequent Shaver is a multi-action moisturizer that has a comfortable gel cream texture that applies evenly and absorbs within seconds. It's not greasy, tacky or oily and leaves absolutely no residue. It penetrates deep into the skin to provide instant moisture and all day hydration. It leaves skin incredibly soft, smooth, soothed and ready for the next shave. Derek's been using it as an aftershave to help soothe irritated skin and cut down on razor bumps. It retails for $25 for 50ml. For those with a beard, try the new Vichy Idealizer 3-Day Beard And + that retails for $29 for 50ml.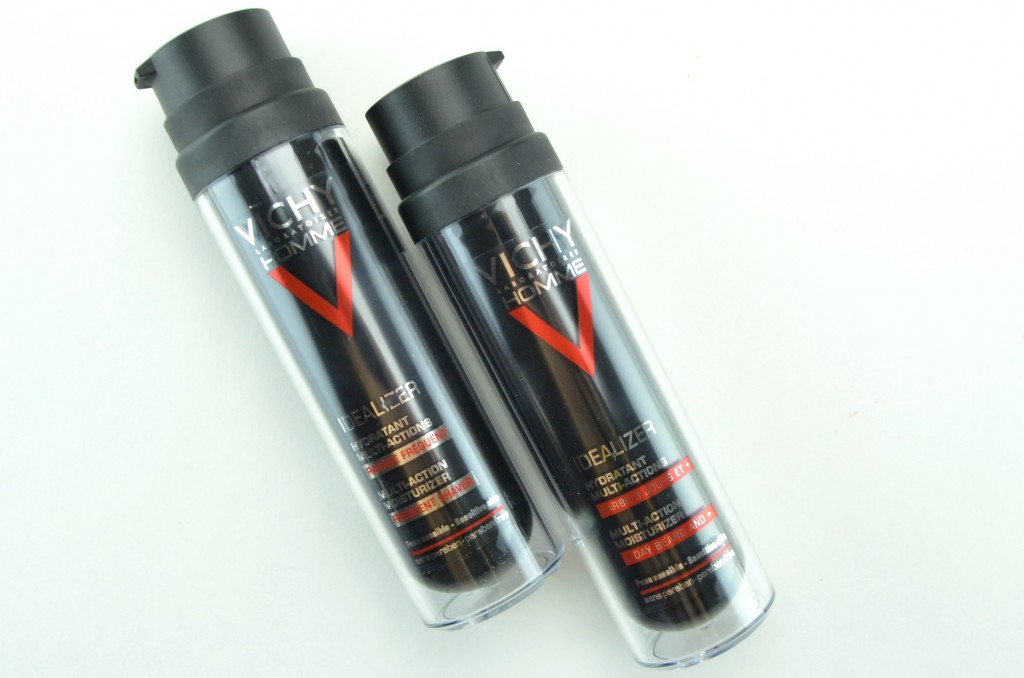 Last step, the hair. This is where Derek spends more of his time, but thanks to two new products, he's out the door a lot sooner. The new göt2b Phenomenal line features optimum styling polymers and patented powder technology to leave hair noticeably thicker in a single use. göt2b Phenomenal Thickening Styling Cream has a lightweight, thick, creamy texture that works into dry or damp hair to provide a thicker, groomed style. Derek hasn't really noticed any thickening to his hair, but it does give volume and fullness to the hair, which gives the appearance of thicker hair. It looks and feels extremely natural, with movement and bounce and without looking sticky or dry. It doesn't feel hard or brittle, it just remains flexible, soft and resilient. It retails for $7.99.
For the finishing touch, Derek's been applying göt2b Phenomenal Moulding Paste to help set and shape his hair style. This shaping pomade provides thickness, hold and style with only the smallest amount. Derek says it's almost like a wax, paste, and cream in one. It helps control unruly hair and gives a natural, just out of bed, yet polished look to his short hair. It also does a wonderful job at texturizing and setting his style in place without looking or feeling crunchy or stiff. It retails for $7.99.