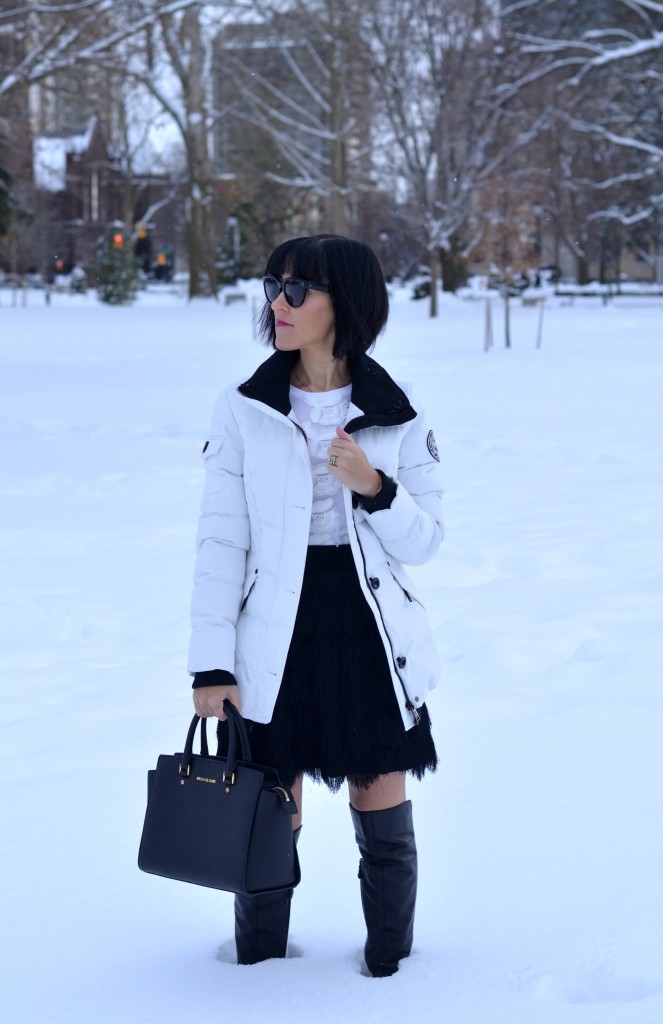 We all wish for a white Christmas, and it looks like we're going to have one. A refreshing way to incorporate a little white into your daily look, is with a winter white coat. It's the perfect way to stand out in a sea of black. Although a little intimidating at first, if you choose the correct cut, length and material, it can be just as easy as styling a black coat. Its crisp, clean and extremely versatile. 
I know what you're thinking, I'm going to have to carry around a Tide To Go pen 24/7 in case I spill. If you pick out a fabric that's machine washable, like this Nozie jacket, you'll be able to get a little dirty without the fear of damaging the jacket. This coat is so easy to wipe down and the water seems to just bounce off the jacket. I love how it instantly helps to add a touch of glamour, chicness and sophistication to any look I pair it with.  
The key to effortlessly styling a winter white coat this season, without looking like a polar bear, is to stick to neutral colours. A white on white look instantly creates a cool, chic and monochromatic look, whereas black and grey hues tend to give it a more dramatic and edgier feel. If you're looking to experiment with colour, try combining your white coat with other shades done in accessories. Pale blue and fuchsia are some of the trendier and stylish options of the season, along with pastel shades like mint, peach, lilac and lemon. Metallic details also seem to pair beautifully with winter white, as do textures like feather, leather, lace and velvet.
What I Wore- Lace Blouse- H&M, Winter White Jacket – c/o Noize, Celine Sunglasses- c/o Smart Buy Glasses, Purse- Michael Kors, Watch- c/o Bulova, Bracelet- c/o Thomas Sabo, Skirt- Banana Republic, Boots- c/o Geox