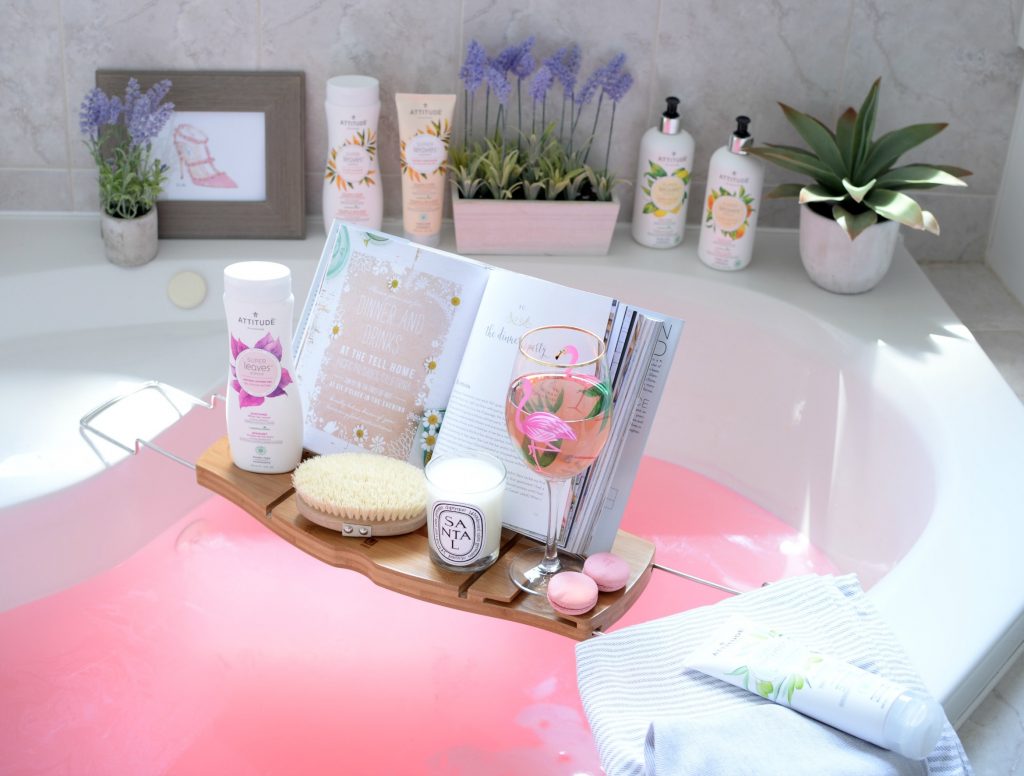 I think it's safe to say, we've all reached a point in our lives where we're starting to pay closer attention to what we put into our bodies. It's no secret that leafy greens are beneficial to our health, as is the products we apply to our body and hair. We're now more aware of labels and ingredients, in both our food and beauty products, and looking for products that are more natural. Did you know that watercress and Indian cress leaves are high in minerals, vitamins and growth factors? These powerful elements help to strengthen and revitalize the hair, from the root to the tip, along with promoting healthy, glowing and radiant skin.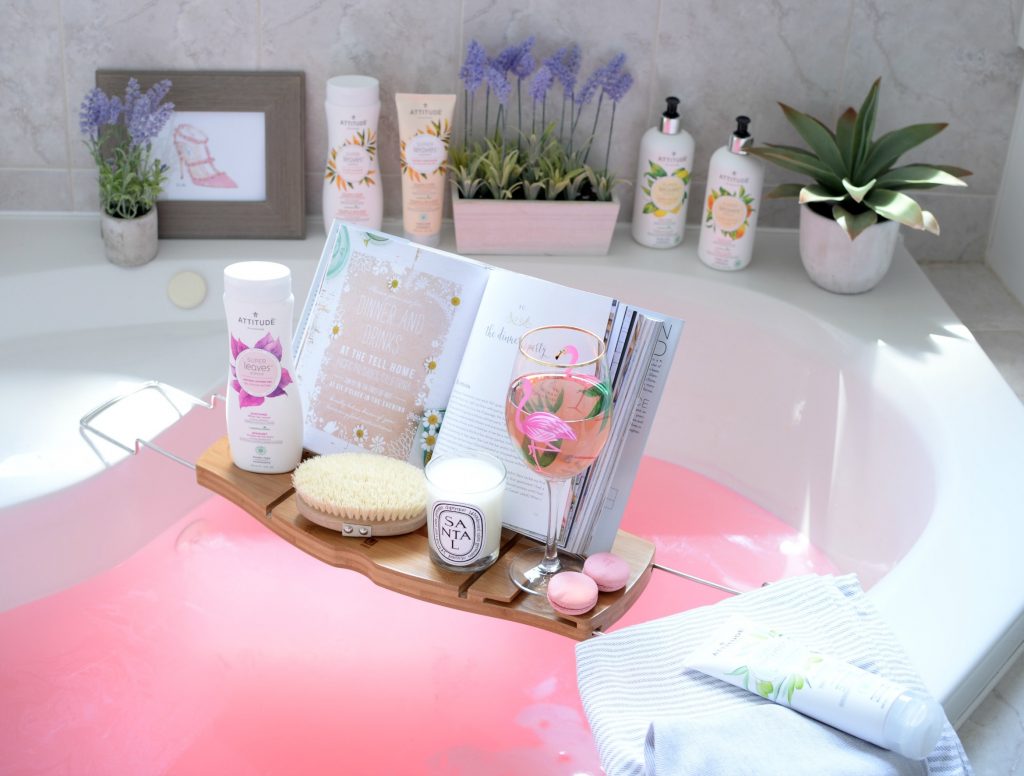 They say, you are what you eat…but have you ever thought about the ingredients that get absorbed into our bodies daily? We're told to never eat something with ingredients we can't pronounce, so what makes us think it's okay to use these in our beauty products? The products that we apply to our skin and hair will eventually get absorbed into our bodies, exposing our body system to serious harm and danger. Many think that making the switch to chemical-free, organic or even plant-based products is difficult or expensive, but it doesn't have to be.
ATTITUDE Super Leaves Collection features natural ingredients, with no harsh chemicals added and is also EWG verified. This Canadian company has harnessed and extracted super leaves to provide you with all the beneficial properties in a single product. Since chemical free products tend to work better than those filled with harsh ingredients, you'll end up using less product, yet achieving better results.  Not only will you not experience dryness, irritation or redness, you'll find them to be gentler, hydrating, moisturizing and even more effective. The brand is cruelty-free, vegan, hypoallergenic, made from mineral and vegetable based sources, recyclable, sustainable and Canadian made. Doesn't get any better than that.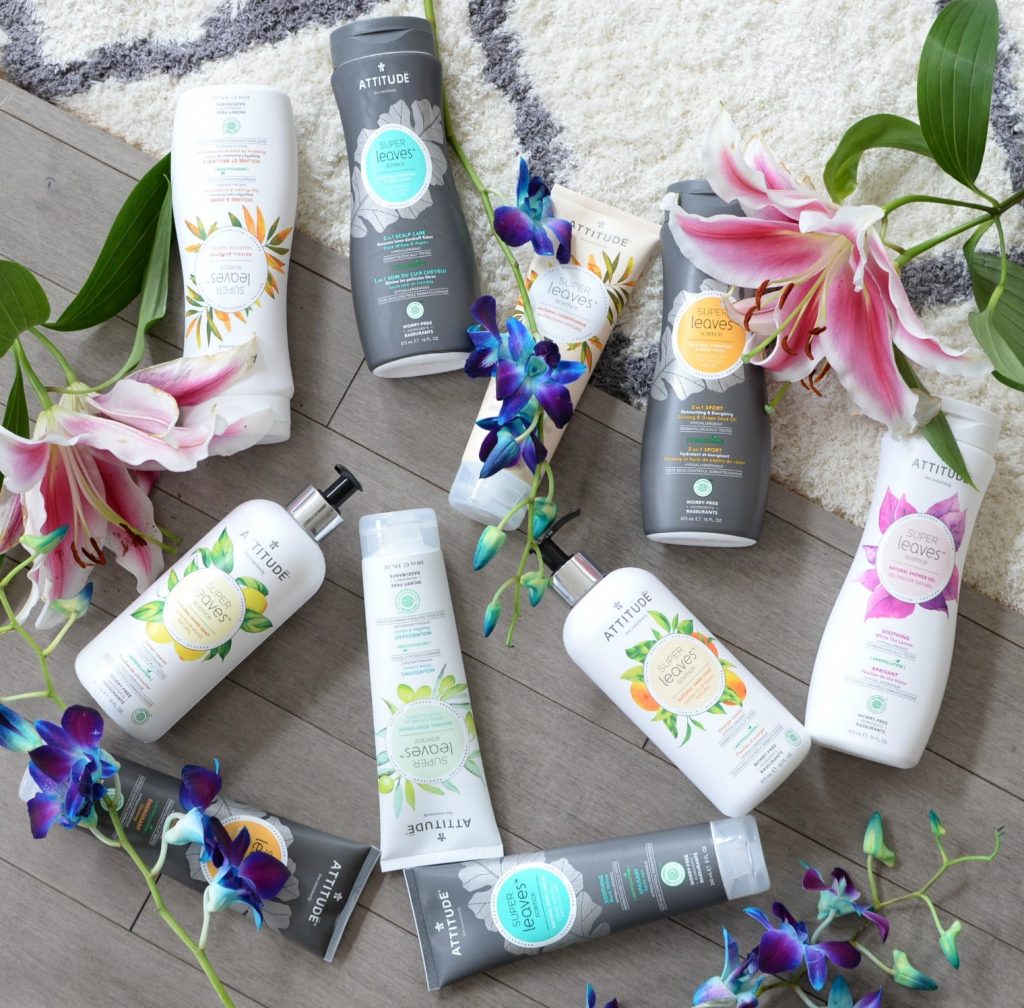 Looking for soft, touchable and voluminous hair, try ATTITUDE Super Leaves Volume & Shine Shampoo. It features soy, cranberry extract and moringa seed extract to help increase the natural protein in your hair for thick, lustrous and strong strands. Its soft, silky and smooth consistency creates a decent amount of lather without weighting your hair down or leaving it looking or feeling greasy. It does a wonderful job at removing product buildup and daily grime, while retaining moisture. It instantly leaves hair feeling silky smooth with less static and frizz. It helps to add both body and bounce with incredible volume and shine. Its light, airy and refreshing scent of orange and cardamom is quite invigorating in the AM. It retails for $9.95 for 473ml.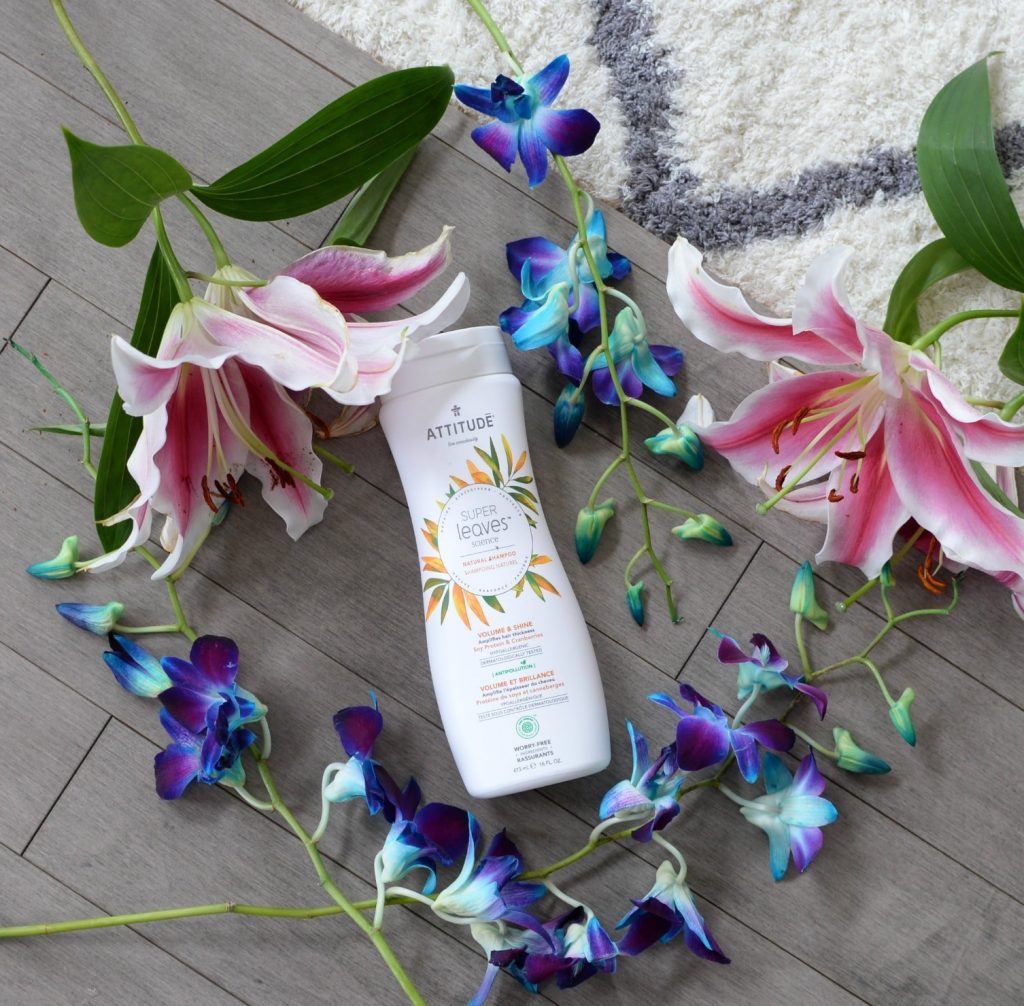 ATTITUDE Super Leaves Volume & Shine Conditioner features the same great and beneficial ingredients and goes hand in hand with the shampoo. It features a slightly thicker, richer, creamier texture that applies smoothly and is easy on the hair. It helps to bond to the outer layer of the hair to help protect it during blow-drying, styling and heat damage. Allow a few minutes for it to fully absorb and penetrate deep down into your strands for mega volume and shine. Its weightless formula rinses clean away without feeling too heavy. It instantly leaves hair nourished, conditioned and more manageable. It helps detangle, control fly-a-ways and leaves hair touchably soft. It retails for $9.95 for 240ml.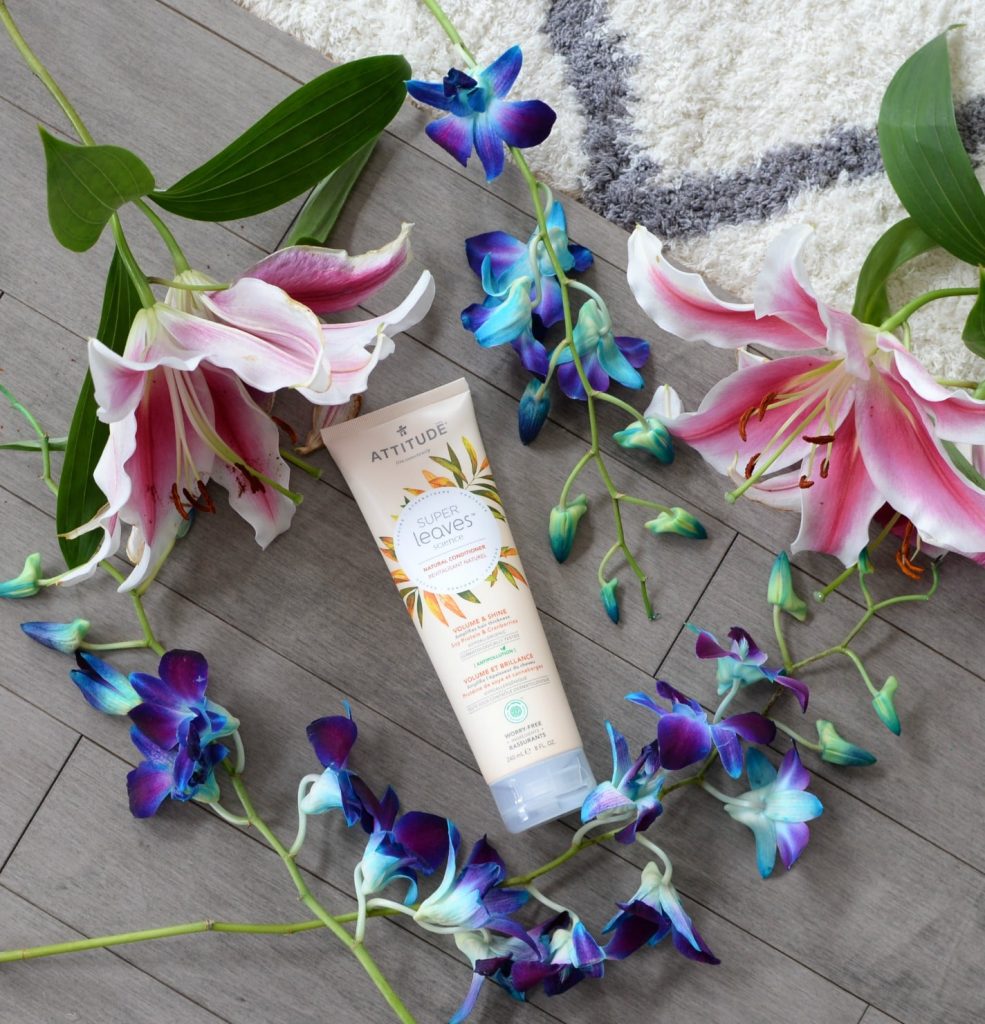 If there's one thing this girl loves, it's her baths in the evening. It helps me to relax and unwind, and get ready for some ZZZ's. I truly believe healthy looking skin begins in the shower and ATTITUDE Super Leaves Soothing White Tea Leaves Shower Gel has been my go-to shower wash of choice for the past few weeks. Unlike traditional shower gels, that are full of fragrances that irritate the skin and strip your natural oils, this one features white tea leaf extract to help calm and soothe dry skin. Its rich and luxurious formula not only cleanses the skin of all dirt, oil and daily grime, it helps to hydrate and moisturize the skin, even before your daily body lotion. It comes to a nice lather, gently cleanses the skin, yet washes clean away without any nasty residue. It leaves skin feeling fresh, healthy and squeaky clean. It's lightly scented with natural guava and berries to provide a fresh, crisp and juicy aroma on the skin. It retails for $9.95 for 473ml.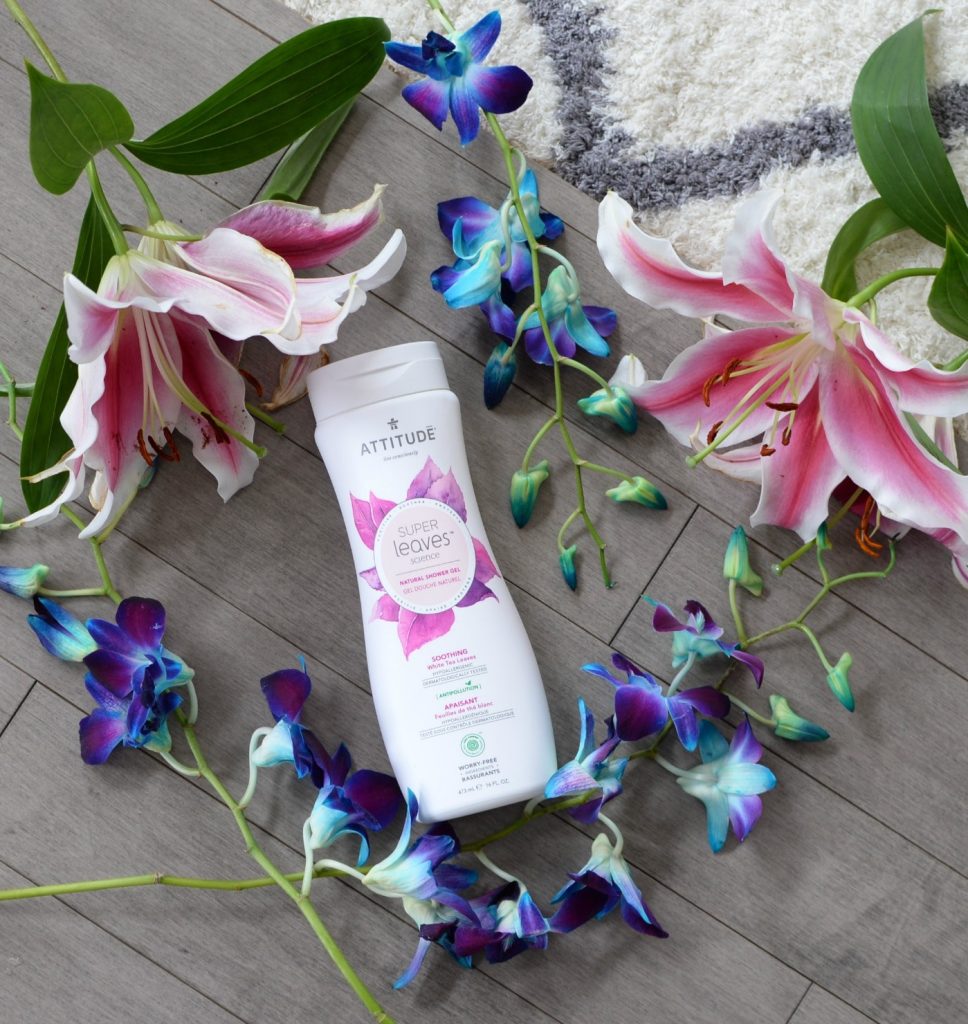 Immediately after getting out of the shower, while your skin is still slightly damp, apply a generous amount of ATTITUDE Super Leaves Nourishing Olive Leaves Body Cream. Having somewhat moist skin will not only help the rich and creamy lotion apply more effortlessly, it will help the lotion to penetrate deeper. It's formulated with the goodness of olive leaf extract to help hydrate and soothe the skin all day and night. It absorbs into the skin within seconds, allowing you to get dressed without a greasy, sticky or tacky residue. It instantly helps to calm and soothe irritation and is prefect for post-shaved legs. Overtime, it helps to diminish redness, tiny red bumps or any scaly patches you may be experiencing. Soft, silky smooth skin that's radiant and nourished. It retails for $14.95 for 240ml.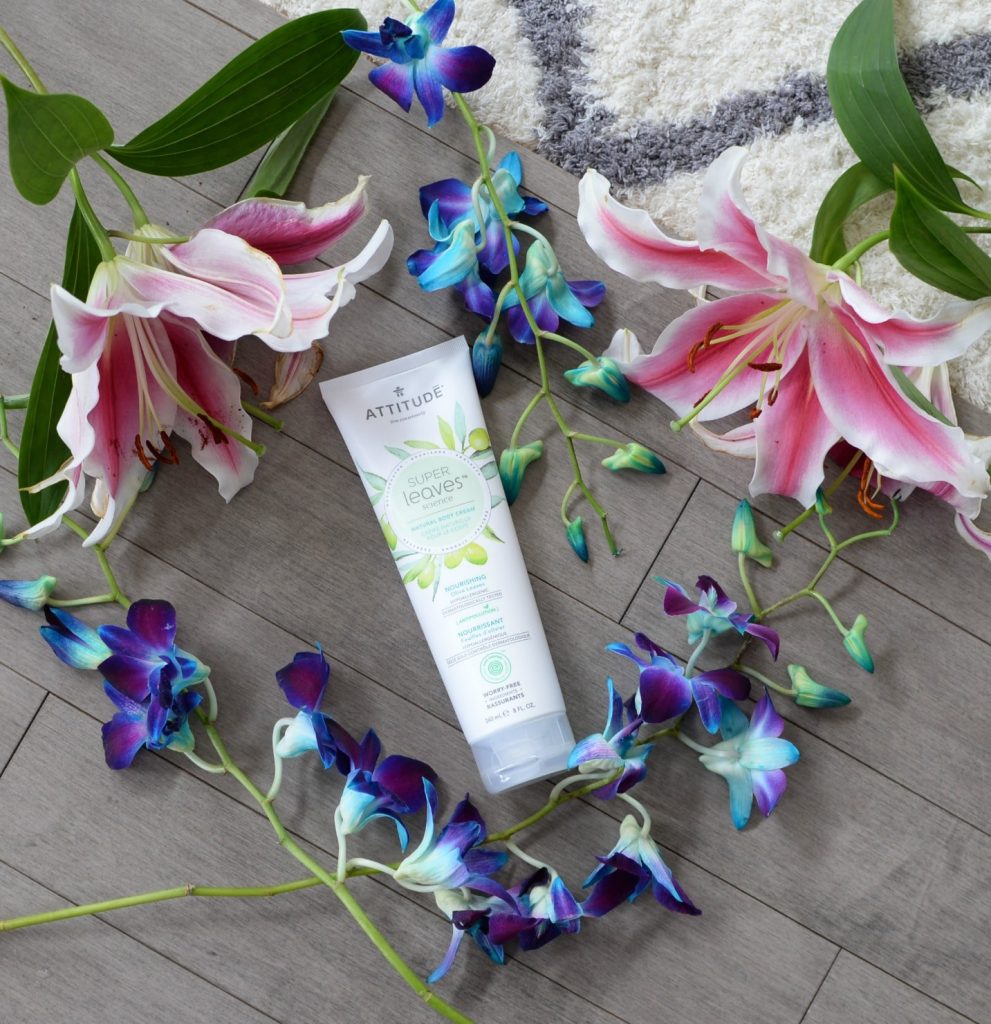 I have to admit, I'm a hand soap junkie. I wash my hands at least 10 times a day. Derek says, he thinks I was a surgeon in a past life. Excessive hand washing tends to dry my skin out, which is why I'm always on the hunt for a hydrating one. ATTITUDE Super Leaves Natural Hand Soaps not only come in the chicest and glamourous bottles, that you'll want to display and show-off, it puts the power of nature to work, to help promote clean and healthy hands. The brand offers 4 scents, White Tea Leaves, Olive Leaves, Orange Leaves and Lemon Leaves (orange and lemon being my favourite). Its lightweight, extremely rich and creamy soap gently cleanses the skin in a foamy lather, while leaving skin feeling baby soft, smooth and hydrated. No cream needed. Crisp, refreshing, energizing with the scent of fresh fruit. Each retail for $5.95 for 473ml.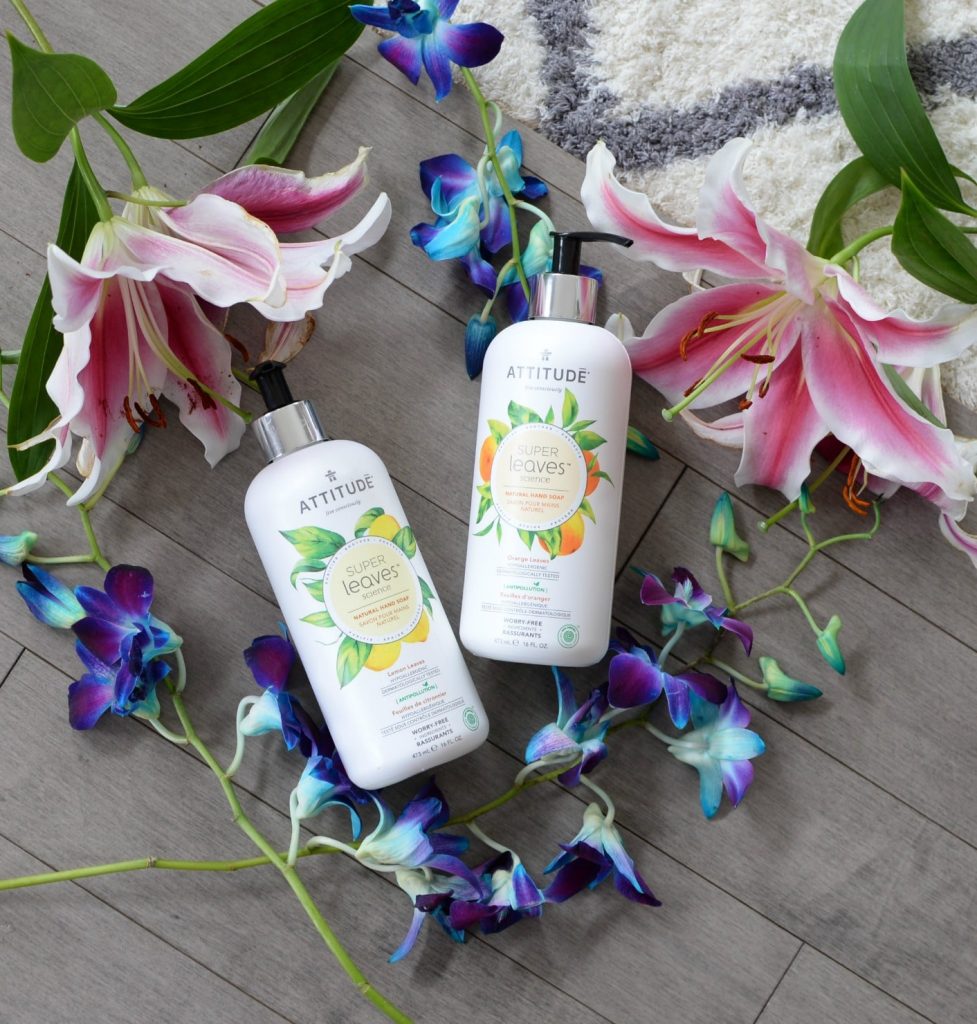 If your man is anything like Derek, he's probably always dipping into your skincare and haircare goodies. ATTITUDE features an entire lineup of products designed and created for the gentleman in your life. Their 2-in-1 shampoos and body washes are perfect for the busy guy on the go. In two formulas, Scalp Care, designed to help remove dandruff and Sport for those with normal hair, it helps to cleanse both the skin and hair. Its rich and creamy texture provides added moisture during cleansing and comes to a decent lather in both cases. It helps to soothe, calm and cleanse in a fresh, yet manly scent. Each retail for $9.95 for 473ml.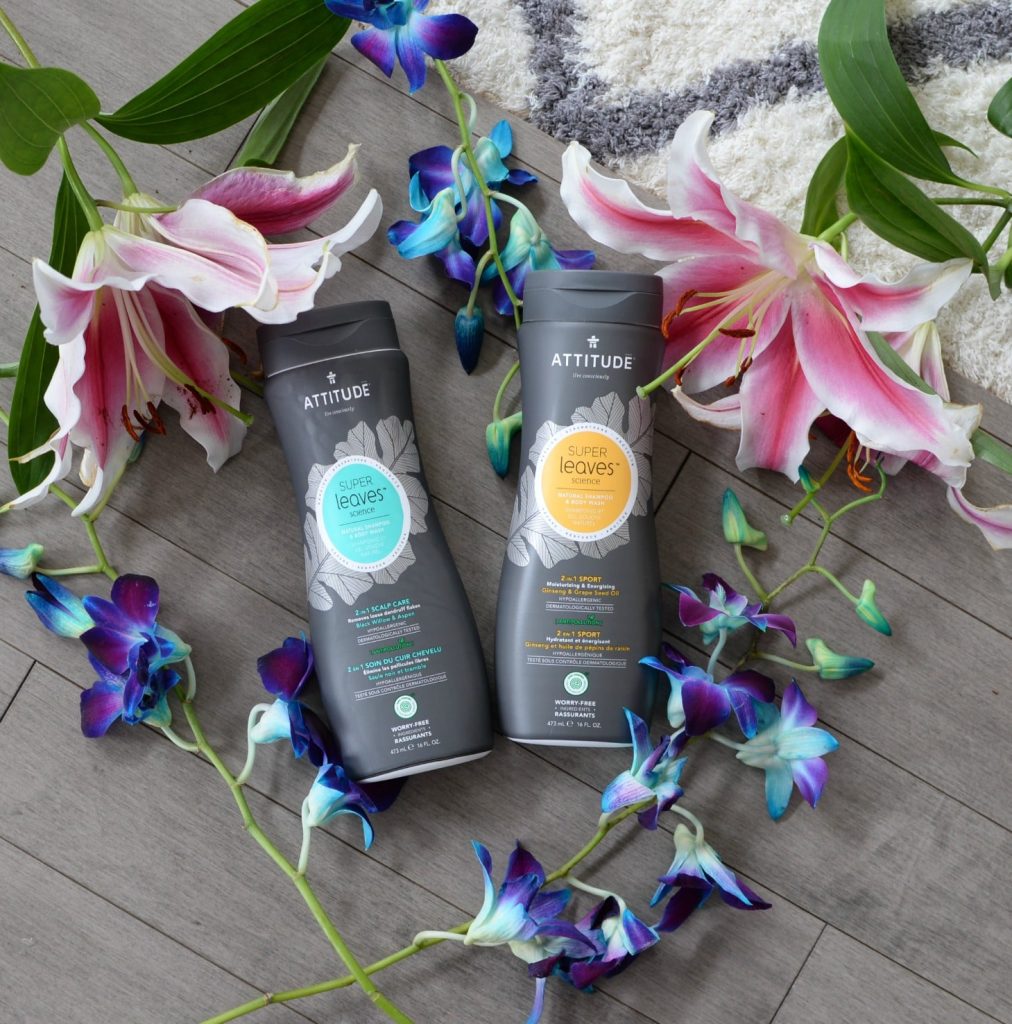 I think the main reason why men don't like to moisturize after the shower, is because of the thick and greasy residue a lot of body lotions leave behind. What if I told you ATTITUDE created two body lotions that feature an ultra-lightweight texture, formulated just for men. It provides all the same benefits, as body lotions I mentioned above, but with a slightly robust and rugged musky scent. Think white cedarwood, neroli and bergamot or lemon zest and pea. Both ATTITUDE Super Leaves Soothing Body Cream and ATTITUDE Super Leaves Energizing Body Cream retail for $9.95 for 240ml.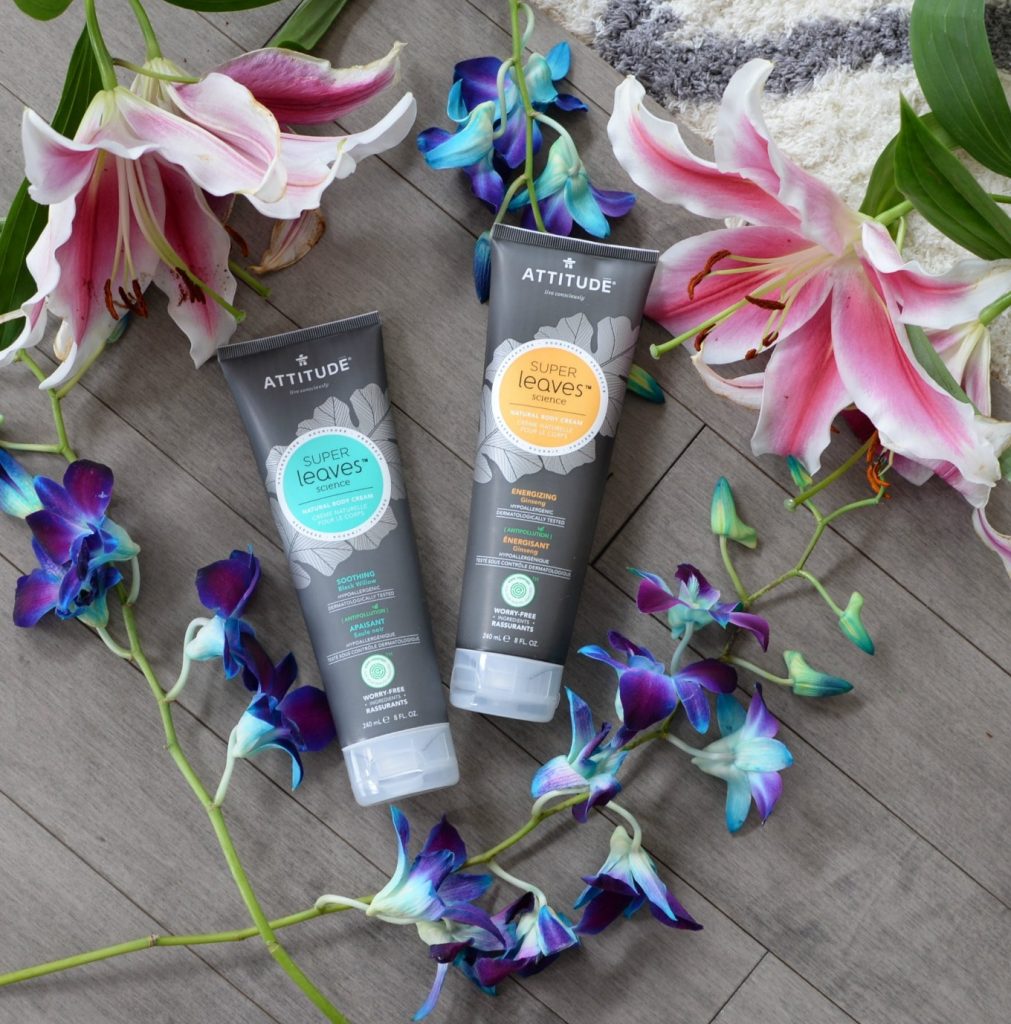 ATTITUDE is available at your local London Drugs or online at ATTITUDEliving.com
GIVEAWAY
And the winner of the basket full of my favourite ATTITUDE Bath & Body Products is………. Jeanne Dempsey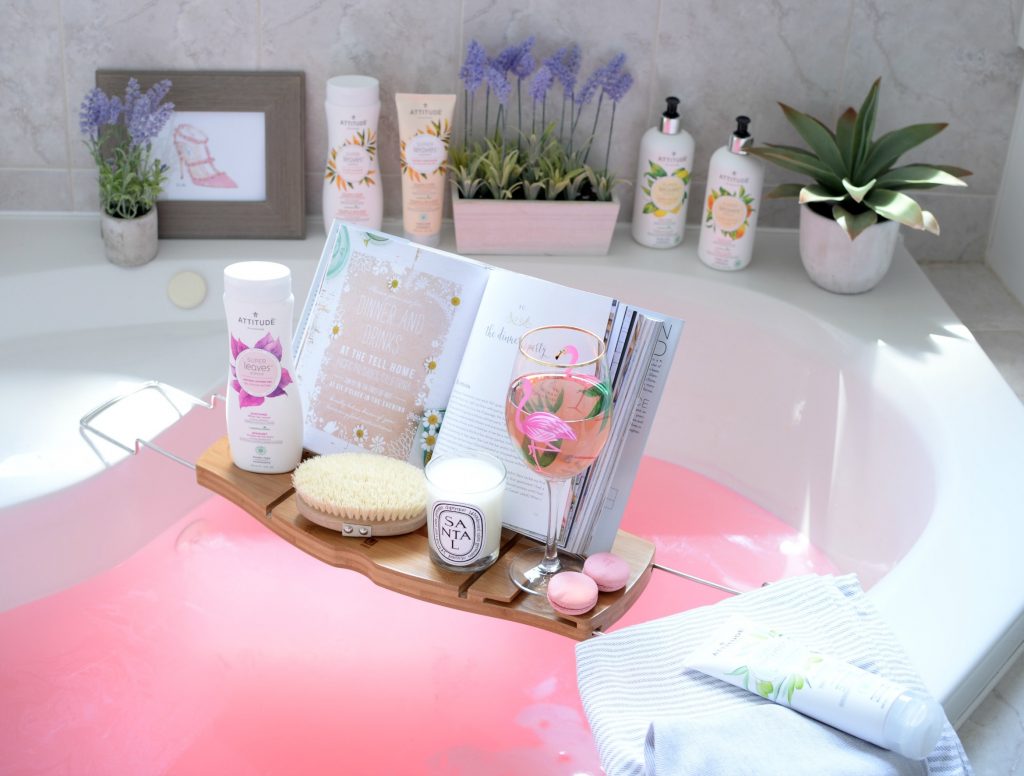 "Disclosure: This post was sponsored by ATTITUDE, but all opinions on this blog are my own. I also want to thank you for supporting the brands that support my blog."