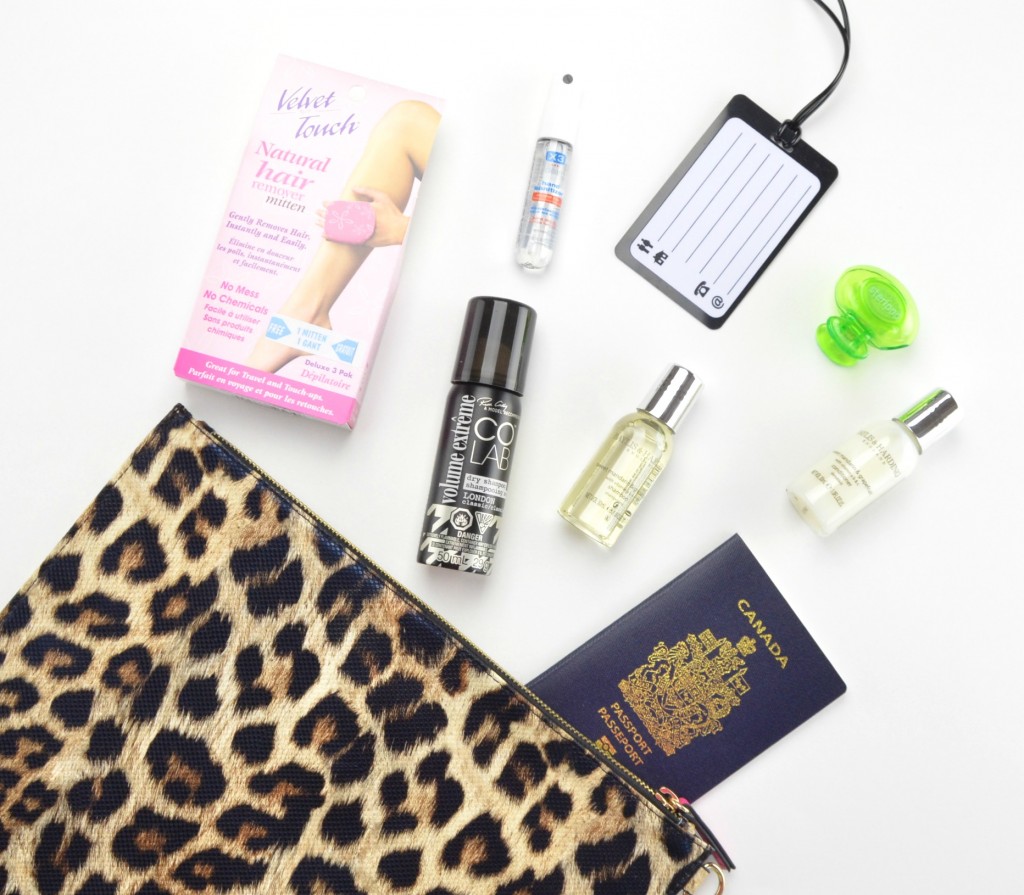 Farleyco
Summer is all about mini getaways, whether that's a weekend trip to the cottage, a few days spend at the beach, or a weeklong vacation to your favourite city, we all need mini travel essentials to make the best out of our holiday. Farleyco is your one stop shopping for all things travel-sized, from dry shampoo and hair removal, to sanitizers, conditioners and toothbrush holders, they have you covered. I've rounded up a few of my must-haves for making the most out of your travels. 
Summer is all about bare legs, but we don't want to spend every other day shaving our legs. Velvet Touch Natural Hair Remover Mitten features an ultra-fine grit that gently buffs away hair the natural way, while exfoliating, leaving your skin silky soft. Simply rub in circular motions until your legs are smooth. This convenient little mitten is perfect for quick touch ups on the go, or going over areas that your razor may have missed. It retails for $11.99.
I've talked about Colab dry shampoo on the blog before, but it also comes in a mini travel-size for refreshing the hair on the go. Colab Extreme Volume Dry Shampoo does have the same invisible formula as the other versions I've tried in the past, but it does come with a plumping powder for instant back-combed volume, texture and lift. You can easily achieve the tasseled, straight from the beach look, no matter where you are. It retails for $5.49 for 50ml.
You're not having fun, unless you get a little dirty. Washing your hands isn't always possible while travelling, which is why I always carry a hand sanitizer. X3 Alcohol-Free Pocket Hand Sanitizer ensures your hands will always stay clean, when soap and water are not available. I love that its alcohol free, which means it doesn't dry my hands out, forcing me to apply moisturizer after each use. It comes in a pack of 3 for $5.99.
The item I'm most excited to share with you is the Steripod Toothbrush Sanitizer that not only conveniently clips onto your toothbrush for easy traveling, but it releases an antibacterial vapour to help kill bacteria that's gathering on your toothbrush. Mind-blown, I know. I've actually been using this in my bathroom on my toothbrush for the past week and I'm highly impressed. Not only does it smell minty, it keeps my brush fresh and clean and only needs to be replaced once every 3 months. It comes in a pack of 2 for $6.99.
Finally, no one wants to carry around large bottles of shampoos and conditioners, and when on vacation, we all want to indulge a little, which is why I've been loving Baylish Harding Shampoo and Conditioner. The Sweet Mandarin and Grapefruit line is light, refreshingly scented with citrus, and contains natural orange oil with vitamin A, B and C to help restore and nourish the hair.