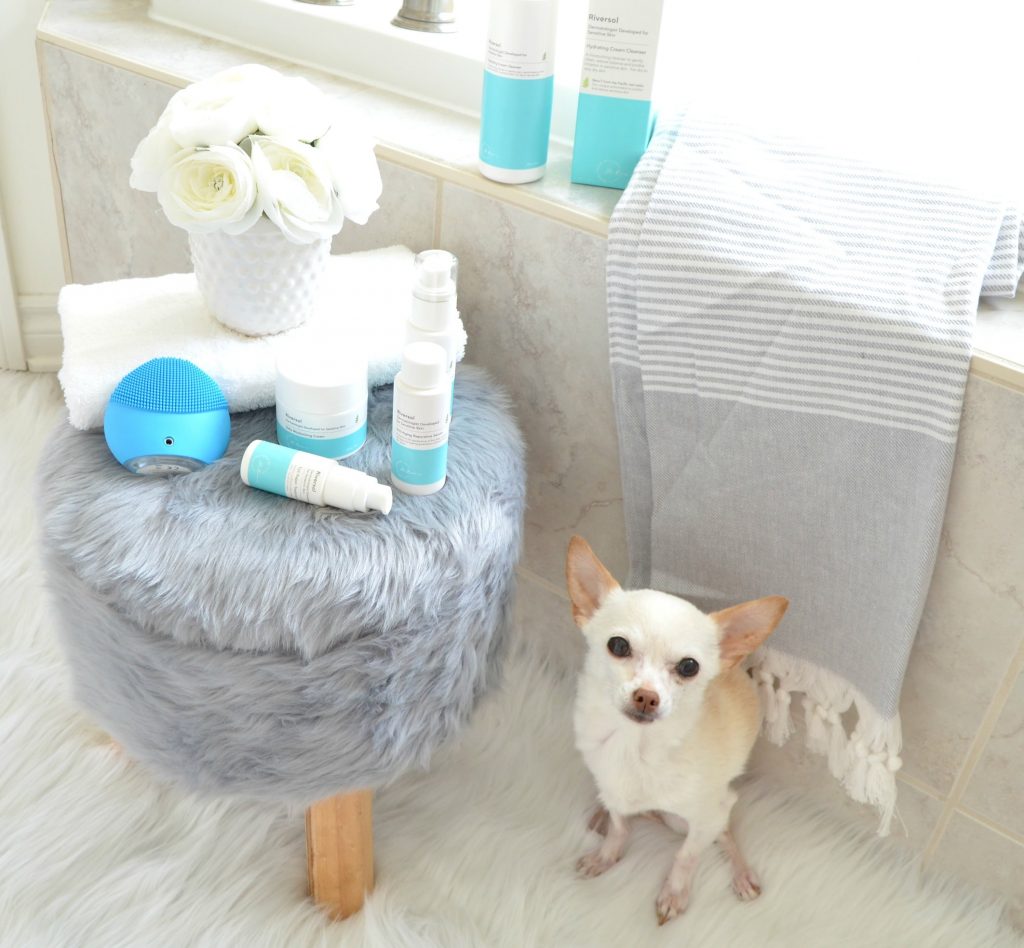 Riversol
It's not often that you come across a brand that feels so strongly about their products, that they're wiling to give it to you for free. I can't tell you how much money I've spent on products that either didn't do what they claimed or didn't work with my unique skin texture, tone and type. I always thought, wouldn't it be nice to sample a product before I purchased it. One of Canada's leading dermatologist, Dr. Jason Rivers, was sick of recommending over-processed products that were filled with dyes, fragrances, sulphates and formaldehyde. Many people suffer from sensitive skin, myself included, and these dangerous ingredients can do more harm than good. Determined to care for the needs of his patients, he went to work creating his own collection. An entire lineup of skincare products targeted towards those with sensitive skin.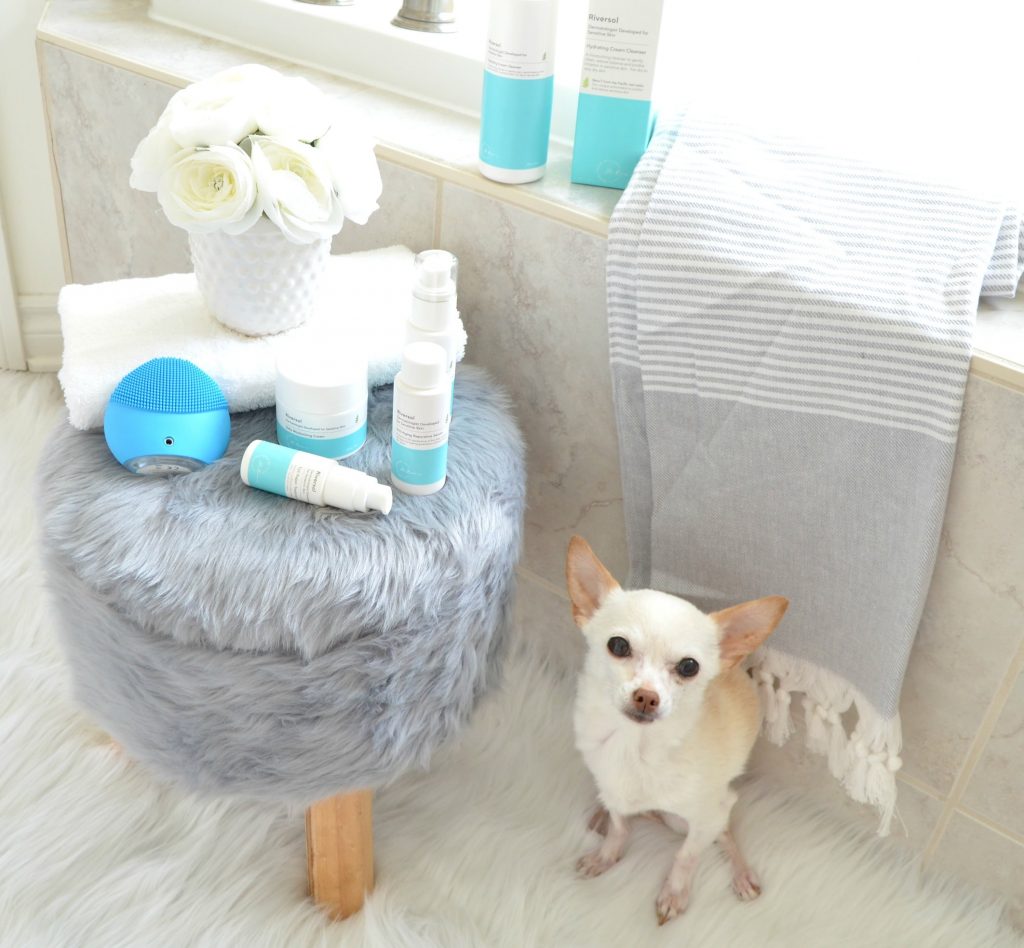 Dr. Rivers used his university medicine degree and his 30+ years of experience to create a one-of-a-kind collection of skincare products targeted towards those with sensitive skin. I should start off by mentioning, he feels so passionate about his brand that he offers a free 15-day trial to all his customers. This ensure you'll fall in love with each product before purchasing it. Each product is unique in the fact that it's formulated with Beta-Thujaplicin (Also known as Beta-T), something you don't often see in skincare products. This potent anti-oxidant is a derivative from the Pacific Red Cedar Tree and helps to reduce sun damage and improve skin's clarity and texture.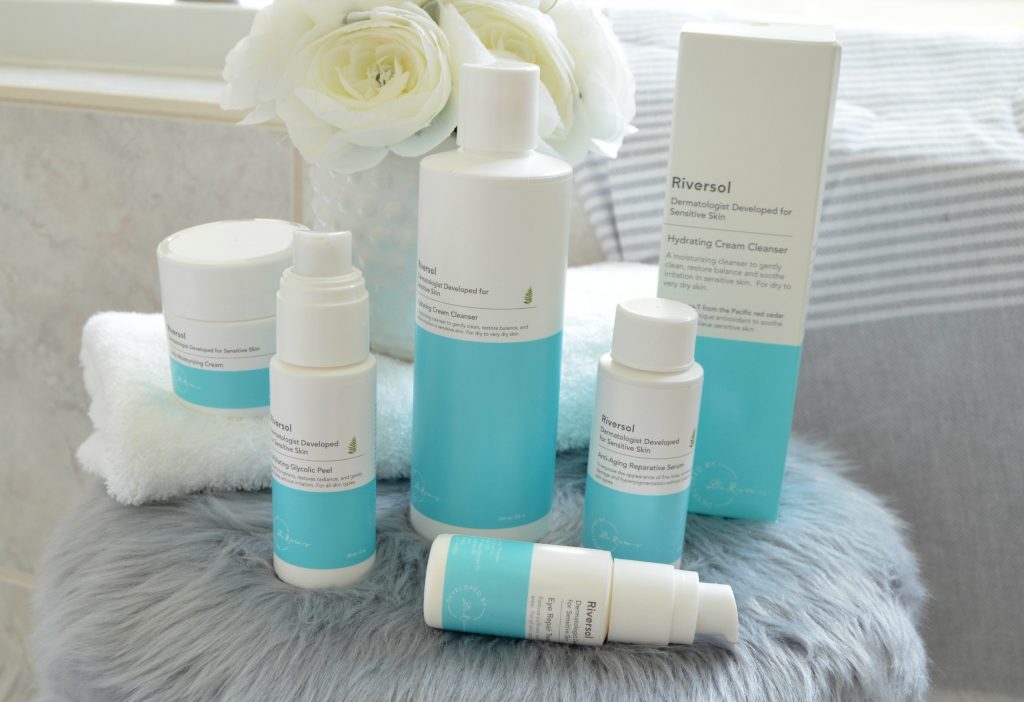 The thing that intrigued me about Riversol is the fact it's based around minimal products. Instead of trying to sell you an entire lineup of products, Dr. Rivers created a simple and easy to use plan. You first start off by using just a cleanser and moisturizer once a day for a week. This allows enough time to give your skin time to adjust and adapt to the new highly concentrated products. On week two, you can slowly introduce an anti-redness or anti-aging serum a few times a week. On week three you can continue using the cleanser, serum and moisturizer once or twice a day. Depending on your skin concerns, you can also introduce an eye treatment or facial mask. You can get your free 15-day sample kit here. 
My three main skin concerns are, dryness, sensitivity and breakouts. I tend to find hydrating creams too thick, which cause breakouts, or acne treatments, which in return, dry my skin out. It's an on-going battle, but I've found less is more. I used to lather on 7 to 8 different products in hopes to balance out my skin. Turns out, all I needed was 3 simple products and 2 "treatment" products a few times a month for heathy, radiant, hydrated, blemish-free skin.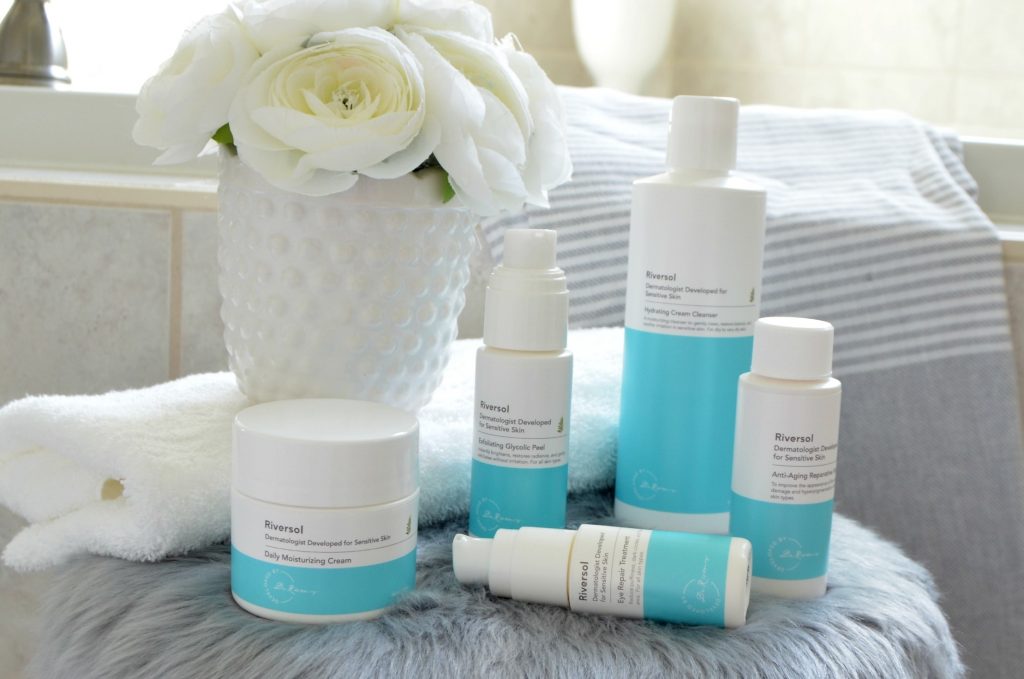 I start my morning off with Riversol Hydrating Cream Cleanser. Its rich, creamy, slightly milky texture, gently, yet thoroughly cleanses the skin and washes away all traces of dirt, oil and makeup. It's formulated with that special Beta-Thujaplicin formula, along with Allantoin, a botanical extract to help calm and soothe the skin. It instantly helps to reduce any redness in my skin, while relieving irritation. It intensely nourishes and moisturizes my skin, giving it a boost of hydration that my skin so desperately needs. My skin is left glowing with a squeaky-clean feel. 
Riversol Hydrating Cream Cleanser is perfect for those with extra dry skin. Its incredibly thick, yet silky and velvety texture is ideal for anyone suffering with dry, itchy and irritated skin. Its rich, lotion-like formula glides over the skin with ease and gently removes all traces of foundation. It leaves skin feeling refreshed and hydrated, ready to take on the day. It doesn't strip your skin of its natural oils, leaving it tight or dry. Your skin will feel supple and smooth after its very first wash. Overtime your skin will become more soft with more hydration, even before your daily moisturizer. It retails for $29 for 240ml.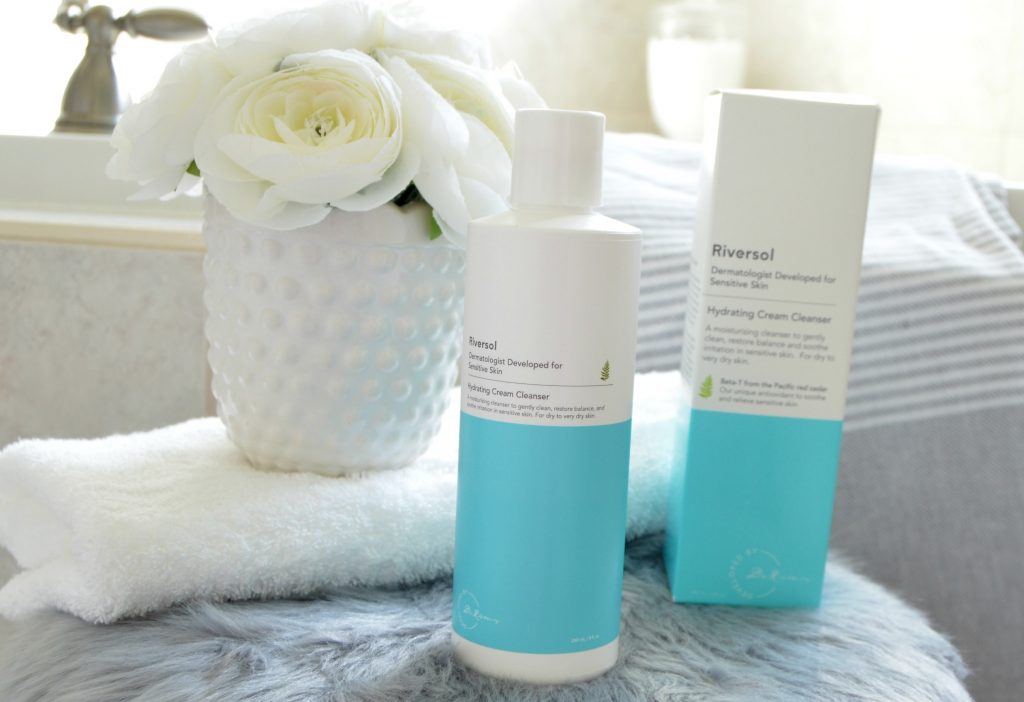 Next up, Riversol Anti-Aging Reparative Serum. It features a strong dose of both vitamin E and C to help combat the appearance of fine lines, wrinkles and discolouration. We all know I received Botox last week, in hopes of reducing the signs of aging and now I have a product that can help prolong my treatment. It has an incredibly silky texture that I've been using both day and night. The serum helps to immediately rejuvenate the appearance of my skin within seconds. It quickly goes to work revitalizing lackluster skin so it can look healthier and younger.
Riversol Anti-Aging Reparative Serum is gentle enough for me to use twice a day, yet strong enough to see it working within a few short weeks. It applies evenly and smoothly, covering my entire face with only a dime size amount. It doesn't look or feel greasy on my skin, and it works beautifully under my foundation. My skin is instantly left feeling smoother, softer and suppler. It helps to replenish moisture loss and keep my skin fresh and dewy all day. The serum also helps to provide somewhat of a radiant and healthy glow without clogging pores. It retails for $79 for 60ml.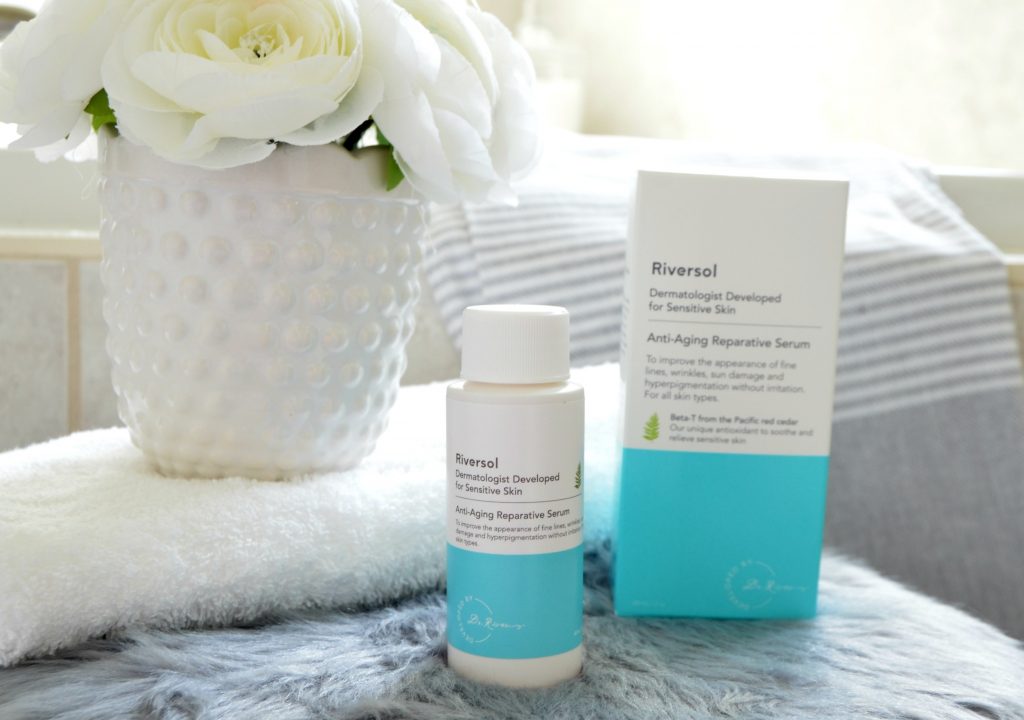 Third step, moisturize. Riversol Daily Moisturizing Cream is designed and created for those with extremely dry skin, like myself. It too is formulated with both vitamin C and E to help encourage collagen growth and deeply hydrate the skin. This moisturizer helps to strengthen your skin and restore your skin's natural moisture barrier. It also helps to relieve irritation and inflammation, while firming and protecting the skin.
Riversol Daily Moisturizing Cream features a rich and creamy texture that's incredibly lightweight and doesn't cause breakouts. It does an amazing job at sealing in moisture, without feeling too heavy. This is my last step in my morning routine before applying my makeup. It's the perfect daytime moisturizer as it absorbs into the skin within seconds. It also doubles as an over-night treatment mask if you apply a slightly thicker layer. I wake up to smoother, plumper, more radiant and glowing skin by morning. Makeup seems to apply smoother as I have less dry patches and flaky areas around my nose and jaw line. It helps to keep my skin nourished and hydrated the entire day without clogging my pores. My complexion has never looked so youthful and healthier. It helps to reduce dry, dull and flakey skin, without looking greasy or feeling tight. It retails for $49 for 60ml.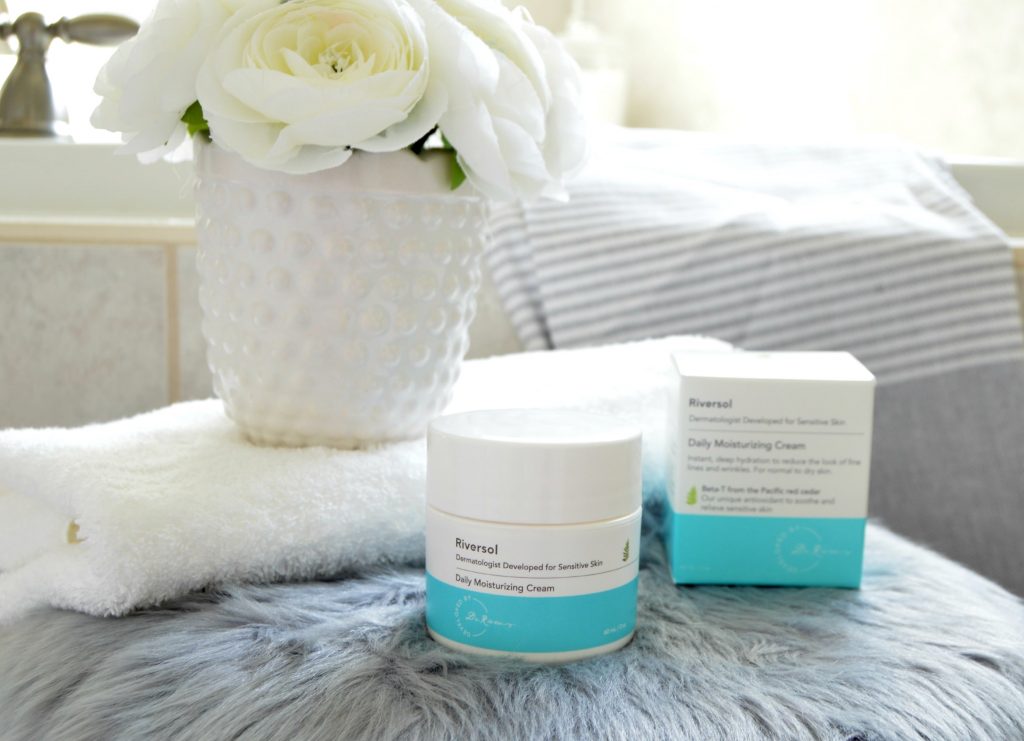 Delicate under-eye area is where we tend to see aging the most. It's extremely important to start with a rich eye cream in your early 20's, but if you haven't already, there's no better time than the present. I'm not going to lie, I always thought this was an unnecessary step, until I started using one. Riversol Eye Repair Treatment promptly goes to work in reducing puffiness, dark circles and fine lines.
Keeping my eye area hydrated with Riversol Eye Repair Treatment helps ensure I see less trips to the doctor for Botox. This ultra-lightweight cream locks in hydration, absorbs within seconds and helps soothe and reduce puffiness in the morning. Its slightly cooling effect immediately awakens the eye areas and helps keep them looking fresh and young. I'm not sure it actually helps to reduce wrinkles, after you already have them, but it will help keep the fine lines at bay with regular use. It helps to bring new life to dull, tired eyes in the morning. It retails for $59 for 240ml.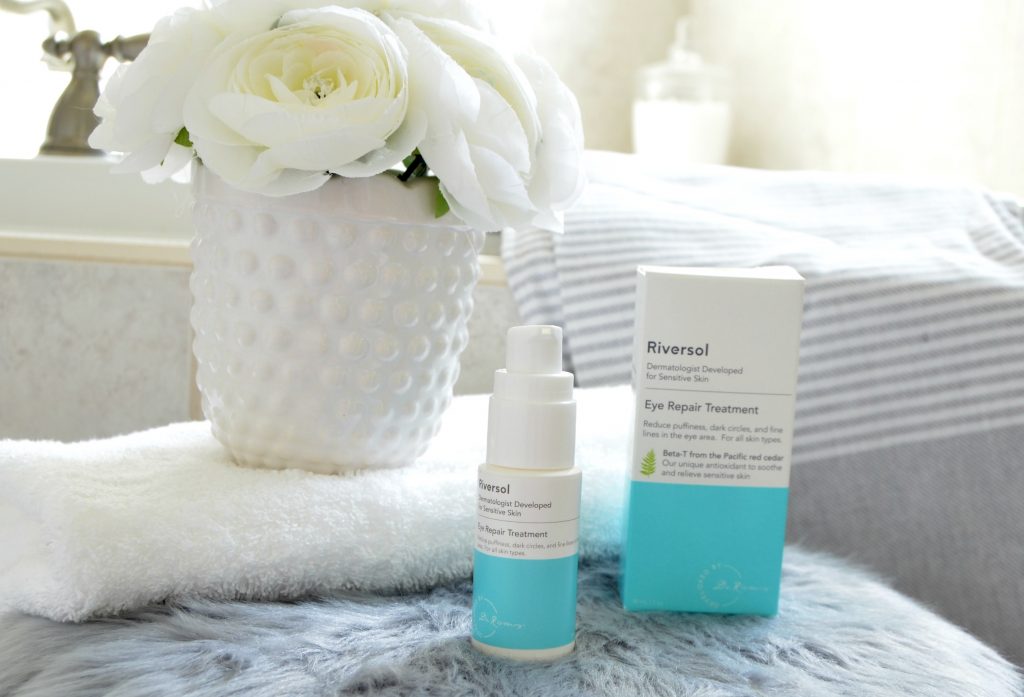 Once a week, to help keep my skin bright and youthful, I apply Riversol Exfoliating Glycolic Peel. It's formulated with glycolic acid to gently exfoliate and remove dead skin cells, while vitamin E helps to hydrate the skin. If you're suffering from a dry, dull complexion and in search of a boost of radiance, this is the mask for you. In as little as 15 minutes, with only 4 to 5 pumps, you'll be on your way to healthy, glowing skin.
Riversol Exfoliating Glycolic Peel rich and creamy texture applies evenly and smoothly on the skin. I leave it on for upwards of 15 minutes, once a week, and it immediately smooths and brightens my skin. It helps to slough away any dead skin or dry patches I may be experiencing, for a fresher, healthier complexion. It boosts radiance while diminishing the dark spots, sun damage and hyperpigmentation. I've also been seeing fewer breakouts, less redness and irritation these past few weeks. My skin is more even, smooth and baby soft. It's extremely important to wear a high SPF when out in the sun to help maintain the texture and quality of your new skin. It retails for $55 for 60ml.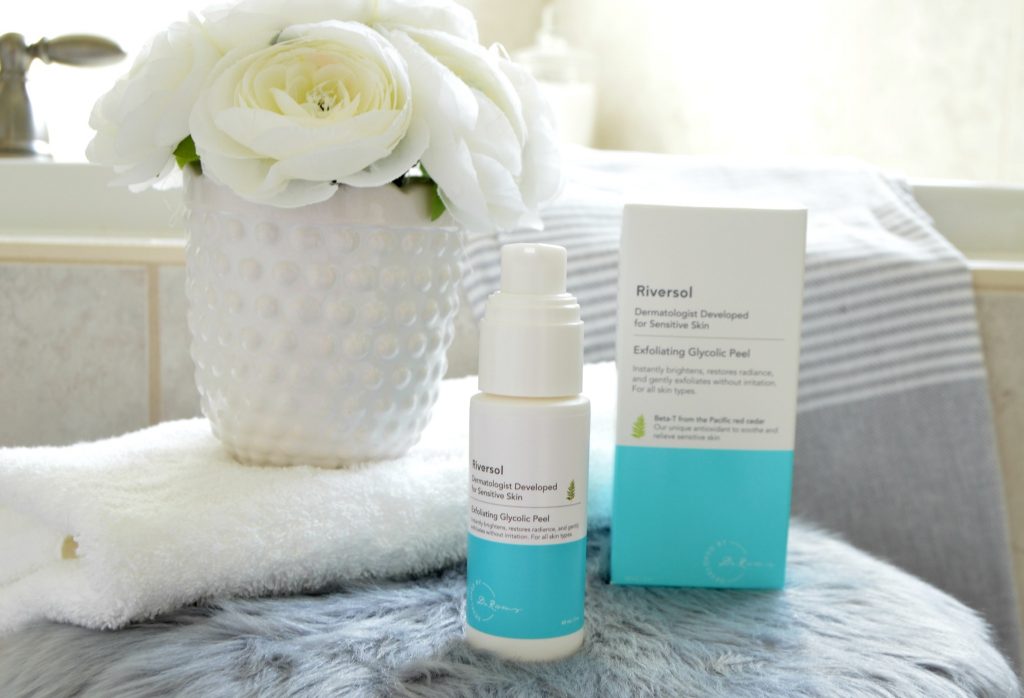 GIVEAWAY
And the Riversol Anti–Aging Trio Kit (Cleanser, Serum, Moisturizer) + Glycolic Peel + Eye Cream (a value of over $250+) winner is…….. Julie Barrett
 "Disclosure: This post was sponsored by Riversol, but all opinions on this blog are my own. I also want to thank you for supporting the brands that support my blog."