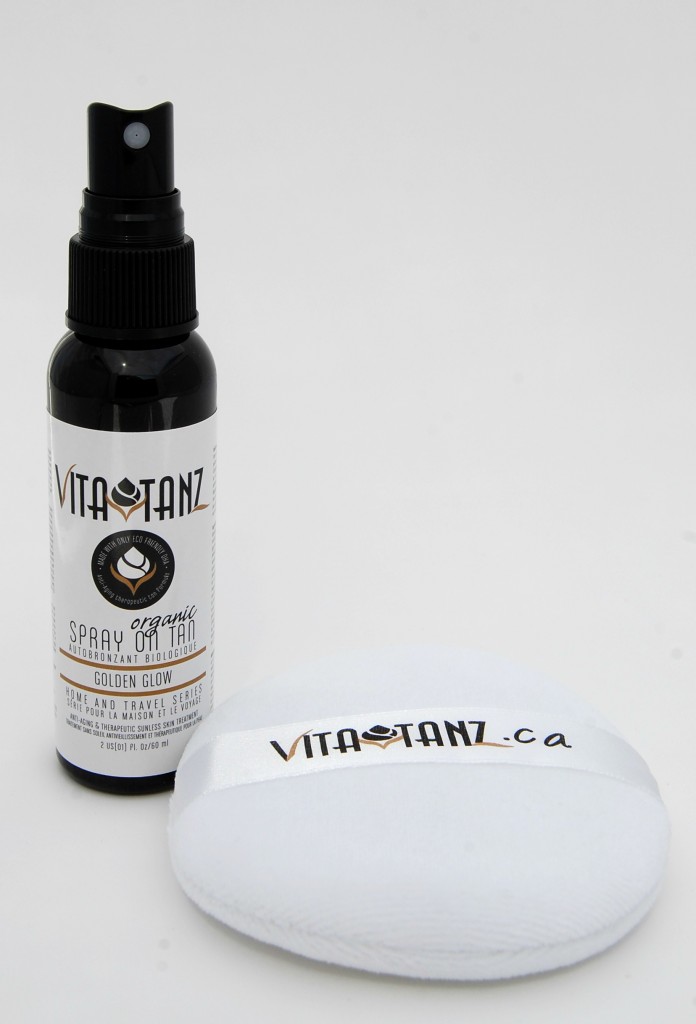 Who's ready for summer? It's coming, I can feel it, although we had a chilly week in Southern Ontario this week, high of 8, really is that a high for the end of May? Beginning of the week everyone was out in shorts, by Friday I saw people with their winter coats and boots back on, gotta love Canadian weather. Either way, people are looking forward to summer and having a sun-kissed glow to their ever so pale skin. Like many people, I don't want to have the harsh UV from the sun, always looking for other options, safer options to get a healthy looking tan.
"Vitatanz is the world's first and only Anti-Aging and full body skin therapeutic treatment. It leaves your skin with a beautiful, deep, dark, Golden glow. Vitatanz spray on tan was developed to help fight the signs of aging with such trace elements as magnesium, iron, zinc and copper. Green tea and other anti-oxidants also help protect skin against free radical damage."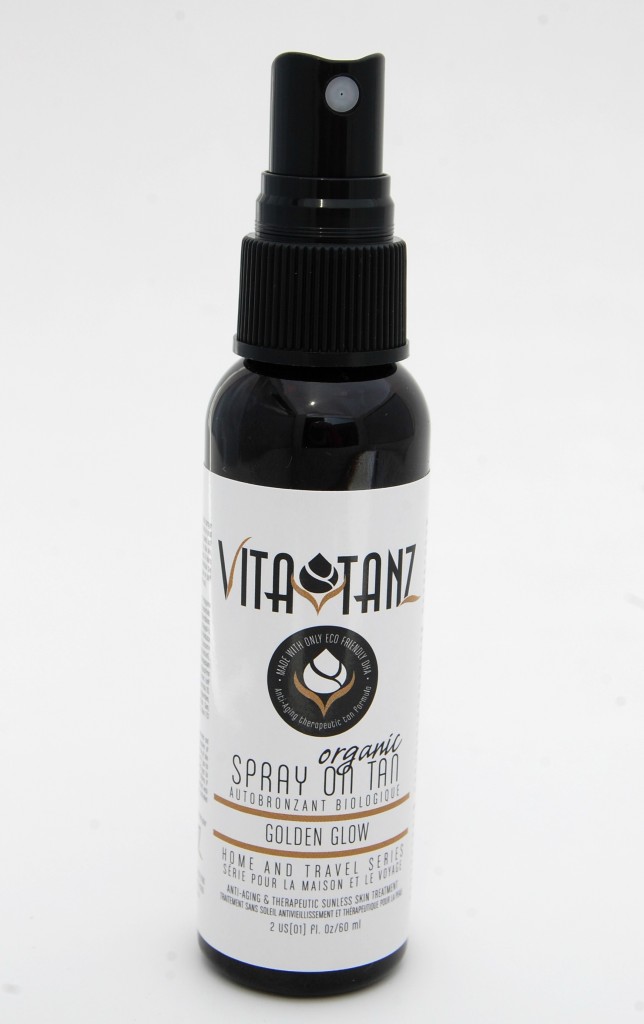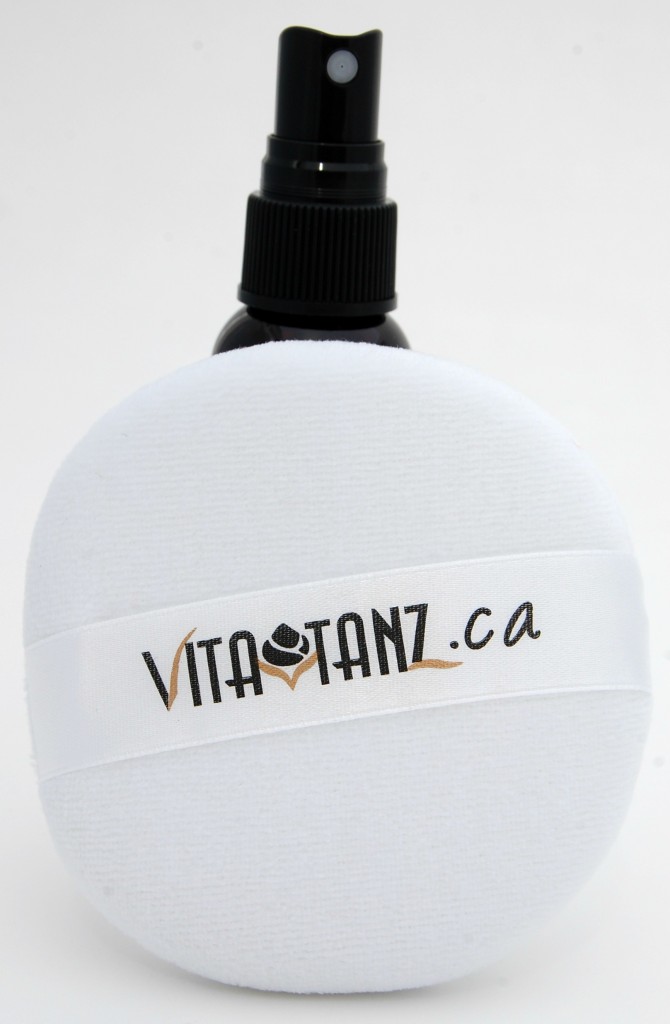 I was sent Vitatanz Home and Travel Kit which includes their organic liquid sugar-based, oil and alcohol free spray bottle that contains 2oz of product in it, a pair of gloves and a body blending puff that will be used to buff the product into your skin. The vitatanz is a lovely shade of bronze, with no orange tone to it at all. It has almost a natural scent to it; I couldn't really smell anything when applying it, even when I placed the product right under my nose. I hate the smell of pretty much all the self-tanners I've tried, the scent seems to linger for way too long after; I'm not sure how they did it, but Vitatanz seems to have eliminated that weird scent, now why can't all products be like this?
The application couldn't be easier, but like with any good self-tanner you need to start with a good, clean, hydrated base. After you've showered and exfoliated you're going to want to apply body lotion to extra dry places like your heels, ankles, knees, elbows and wrists so that the self-tanner doesn't soak up too much of the colour making it really obvious that it's a fake tan. You're then going to want to place an old towel down on the floor where you'll be applying the tanner, since this was my first time applying a self-tanner in a spray form I didn't realize how much product I was actually spraying on the floor until I looked down. I ended up with product on the floor and on the lower counters, probably when applying it to my lower half of my body, I did go into panic mode thinking it wasn't going to come off but to my surprise it came off with no trouble using only the smallest amount of water. Next time I'll just place a towel on the floor for easy clean-up.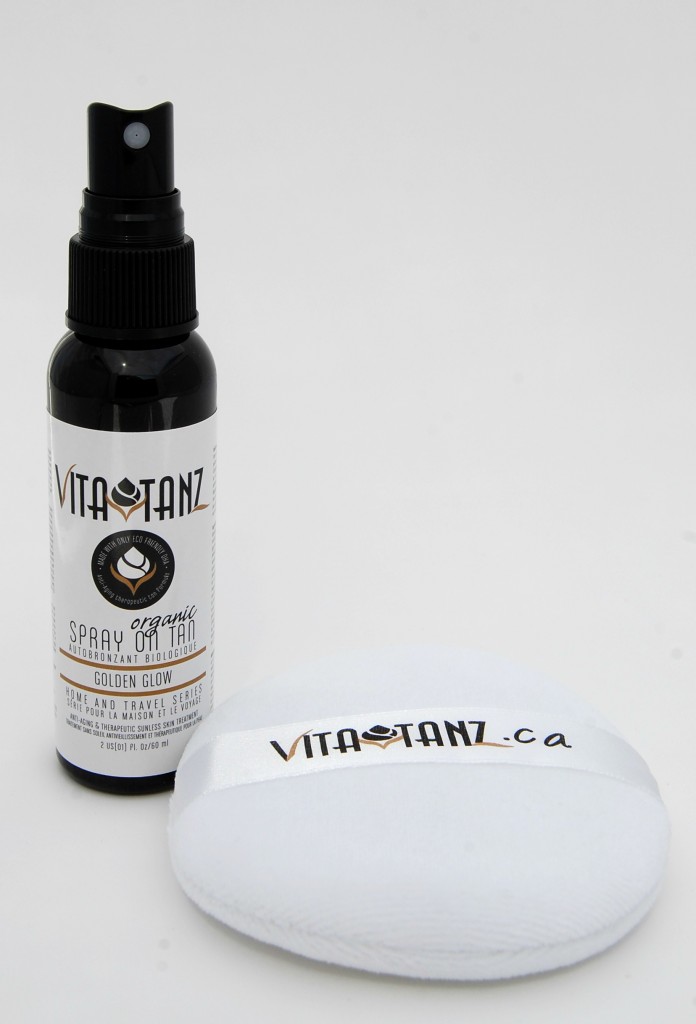 Now onto the fun part, the tanning process; you're going to want to start off by putting on your gloves so you don't get the dreaded orange palms and be prepared to move quickly. Work in small sections and one at a time, don't try to do the full arm all at once, break it up into at least 4 sections and take your time really buffing the product into your skin in circular motions using your body puff. The buffer really helps blend out the product making for a clean, even application every time. Start by holding the spray bottle about six to eight inches from your skin and spray a small amount onto your first section (I started from the bottom and worked my way up). The colour guide wasn't as dark as other self-tanners I've tried, so it's not as scary when applying it to your skin and you would be able to leave the house without looking crazy. You're recommended to wait at least 6-8 hours before showering so I usually get "my tan on" right before bed so I don't have to worry about it.
Overall I think Vitatanz spray on tan would be great on most skin tones, its dark enough to deliver colour on medium skin tones, but looked natural on my very fair skin. It gave my skin a streak free, naturally brownish golden glow that lasted around 7 days. To tell you the truth I didn't even really notice it was gone; it faded gradually over the course of the week, almost the same way a natural tan would. The application was easy, didn't feel sticky on my skin, didn't have a smell and dried very quickly. As a bonus it also didn't rub off/ stain any of my clothes or bedding. I loved that it didn't have a strong DHA scent like most self-tanners; some are so bad you don't even want to leave the house even after several showers. My skin was left feeling soft and moisturized and looked as though I was at the beach for hours, nothing fake about this tan that's for sure.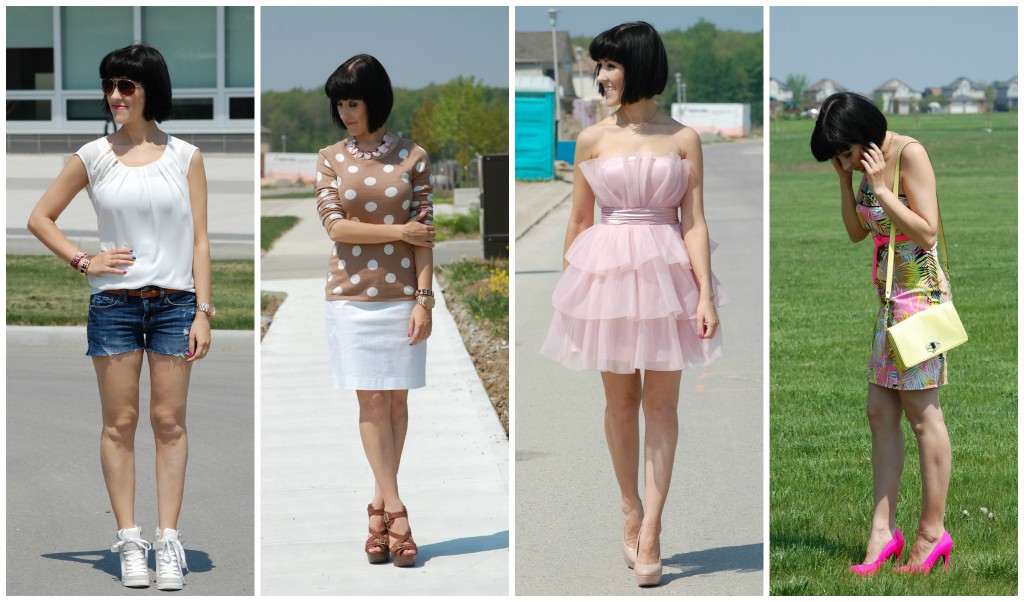 I probably should have taken more up-close pictures of myself for you to really see the tan, but if you look closely at my legs I think you'll be able to see the golden glow that's going on?

 ***Disclosure: product was sent to me for review consideration, all opinions are 100% mine and I was not paid to do this review!***