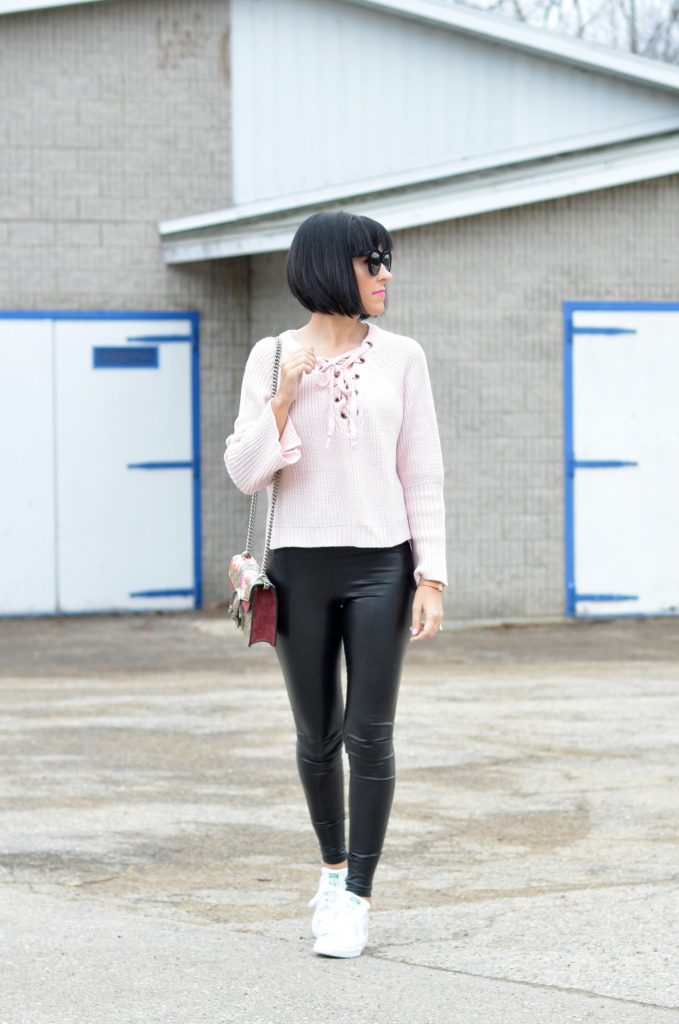 Wilfred Free Daria Pants from Aritzia
I'm in no way a vegan, I am, however, vegetarian and care a lot about our furry friends. Although one day I hope to become a vegan, for now, I'll just do my small part for our planet. I hope our future generation says, "they used to eat animals", but until that time, I'm just looking for sustainable alternatives for my handbags and clothing to be more "animal friendly". Vegan leather is becoming more widely available and has come a long way since their high-shiny, plastic-looking days. Most cases, you can't even tell it's "fake". Not only is it easier on the planet, it doesn't hurt our furry friends.
So, what exactly is vegan leather? In most cases, it's made up of polyurethane, a polymer than can be made into pretty much anything. Think shoes, boots, handbags, clothing, heck, even seat covers for your cars. It can be sparkly, matte, glossy, sheen and saturated into any colour you desire. This cruelty-free material not only looks good, but it's a feel-good material. No animals are harmed in the making.
These Wilfred Free Daria Pants from Aritzia have been a favourite of mine since last year. Although I did drop a $150 on them, they've been incredibly versatile, and I've already got a ton of wear out of them. The thing I love about them the most, besides the fact they are made from incredibly stretchy vegan leather material, is that it contours to my unique body shape without bagging out. I don't say it often, but these are honestly an excellent investment and one of my favourite purchases last year.   
What I Wore- Sweater- Shein, Sunglasses- Karen Walker, Purse- Gucci, Watch- c/o Daniel Wellington, Bracelet- c/o Keep Collective, Vegan Leather Leggings- Aritzia, Sneakers- Adidas