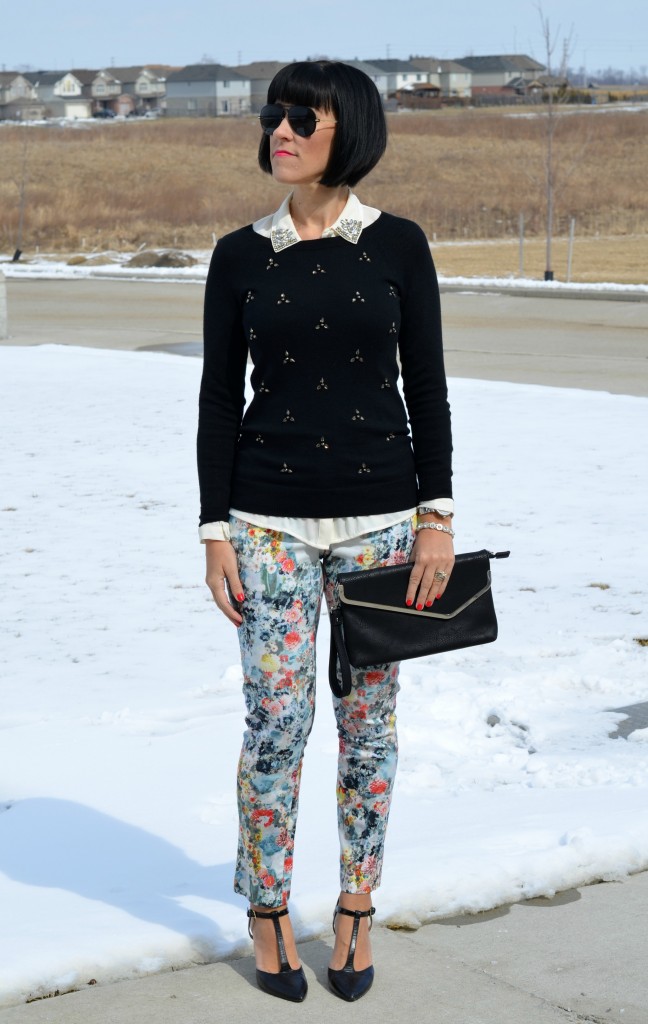 I often get asked, what does a day in the life of a blogger actually look like? If you follow me on snapchat (CanFashionista), you have probably already seen the behind the scenes of my daily life, and if you haven't, why aren't we snap friends? Running a fashion blog isn't as glamourous as you may think. It doesn't consist of drinking champagne, browsing pretty dresses online, or attending one fabulous event after another, in fact, most days are spent behind the computer in my pj's… fancy, I know. In all seriousness, one day can be extremely fun (shooting outfits of the day and playing with pretty makeup), but just as quickly as the seasons change, it can take a turn for the worse and be extremely stressful. Take last week for example, my server crashed, as did my site, and it took an entire week of back and forth phone calls, endless amounts of emails to my tech guys and one too many vodka on the rocks. As much as I try to stay positive, all I could do was complain last week. I hate not being in control, not being able to fix the problem myself and having to rely on others for help.
Anyways, if I had to give you a quick breakdown on what a "typical" day in the life of a blogger consists of, it would be.. get up around 7:30, but continue to lie in bed and scroll through IG, Twitter, Snap and of course, check out what some of my favourite bloggers are up to.
By 8AM, I "try" and drag myself out of bed, usually because I have to pee and I need a coffee. I tend to sit at the kitchen table, enjoy my coffee and spend a little quality time with my fur babies.
By 9AM you can find me in my office, trying to tackle my inbox. My emails tend to be quite long, cause one of the best things about being a blogger, to me, is all the amazing people I get to communicate with on the daily. I love hearing about my PR gals' daily lives and getting the inside scoop on new product launches, hottest trends coming for that season, and these gals are usually "in the know" before anyone else.
10AM is spent writing blog posts, usually my outfit of the day, from the previous day. Inside tips, my daily looks are usually a day behind. What you see on the blog on Wed, is usually what I wore on Tues. I then spend time quickly editing photos- another insider tip, I don't use photoshop. I truly believe if the photos are taken correctly in the first place, you don't need to edit. I usually just brighten the background, crop and save. I don't use filters for my complexion, "erase" any breakouts I have, make myself look "thinner" cause that isn't real life. We all have our "imperfections" and that's what makes us truly beautiful.
Around 11AM is when I usually start to work on my beauty posts. I sit down and decide which makeup, hair care or skin care products I want to share that day, and then get writing. I tend to stop for lunch around 12:30, catch up on a TV show or two and back to work.
I head downstairs around 2PM to use my handy lightbox to take photos of the beauty products I just wrote the review for.
By 3PM, I usually try and get ready for the day. Although this may seem like a late start, since Derek doesn't get home till around 4:30, which is the time I take my ootd photos, I want my outfit to be freshly pressed and my makeup to be "on point". We spend the next 20 minutes or so taking photos, cause let's get real, after 5PM in the winter, it's almost completely dark outside.
Back in the house for 5PM and start to prep for dinner. Now one would think my day is complete at that time, and although I promised myself starting in the New Year, I would shut my office door around 5/6, this has yet to happen.
Since most days I "try" and create 2 beauty posts, I still have another blog post to write and more photos to take. I also have to answer all emails from that day, since the last time I checked my inbox was in the morning. Before I know it, its 10PM and I'm still on the computer. I'm learning to take more time for myself, and of course, this 14 hour work day isn't every day, cause there are evenings when I spend time with Derek running errands, or out with my girlfriends shopping, coffee dates or dinner.
So now I want to know, what does your typical day look like? And PS… these photos were taken almost 2 weeks ago, before my server crashed (which is why you see snow).
What I Wore- Blouse- Forever 21, Sweater- Smart Set, Sunglasses- c/o Polette, Clutch – Charming Charlie c/o Bramalea City Centre, Bracelet- c/p Pearls for Girls, Watch- Wittnauer, Pants- H&M, Pumps- Nine West