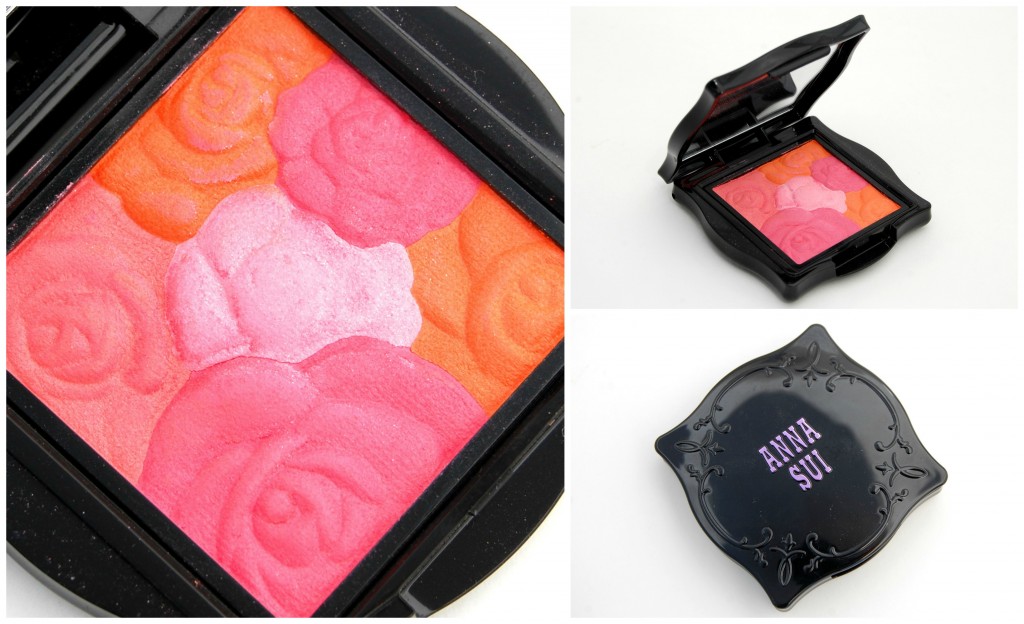 I attended the Anna Sui Launch Event back in July and been dreaming about the Anna Sui Rose Cheek Color ever since. It combines 4 colours, ranging from vivid, deep hues to soft pastels that are reminiscent of a bouquet of roses. You can apply each colour separately or combine multiple shades to create your own custom shade and look. Moist powder base enhances clear colour development with a long-lasting pearly sheen and a blend of highly transparent oil-mix and clear sliding powder helps the colour to retain a dewy and glossy finish.

These come in 6 new amazing cheek colours in shades of pink, orange, coral, red, brown, lavender and a beautiful blue for highlighting.

100 Mystic Rose is a bright translucence and luminescence of ice blue, pale lavender, orchid white and misty purple.
300 Romantic Rose is cute with a hint of sensuality with fuchsia pink, rose-pink, sweet pink and shell pink.
301 Dreamy Rose is magical and feminine with hot pink, bright orange, candy pink and peach pink.
400 Anna Rose is passionate, dramatic and bold with bright red, cardinal red, coral pink and pale pink.
500 Antique Rose is a retro cool sparkle of reddish-brown, smoky rose, cinnamon brown and warm beige.
600 Sunny Rose is a sunshine-kissed pastels with vivid orange, apricot orange, golden orange and champagne beige.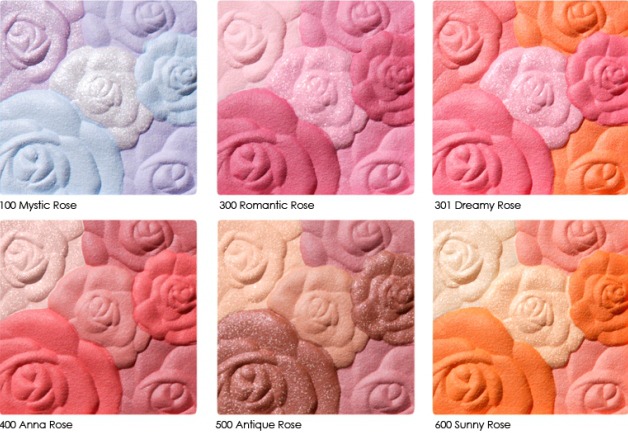 Anna Sui Rose Cheek Color comes housed in a sleek, square, polished, black plastic compact with the signature Anna Sui floral motifs and embossed logo in purple on the front with a mirror on the inside lid. The blush itself is embossed with a mixture of flowers and has a soft, smooth, highly pigmented texture. Each shade is easy to blend, buildable for stronger colour payoff and applies almost effortlessly to the skin. When you first open the compact, there is a strong signature rose scent, but as soon as you apply it to the cheeks, it disappears. The scent of roses in the air touches the blooms in your heart, casting an exotic sensual spell. So much of the Anna Sui heritage is based on the rose – its feminine charm and unique instantly recognizable beauty perfectly encapsulate the essence of Anna Sui. Every Anna Sui product is infused with the scent of tea rose.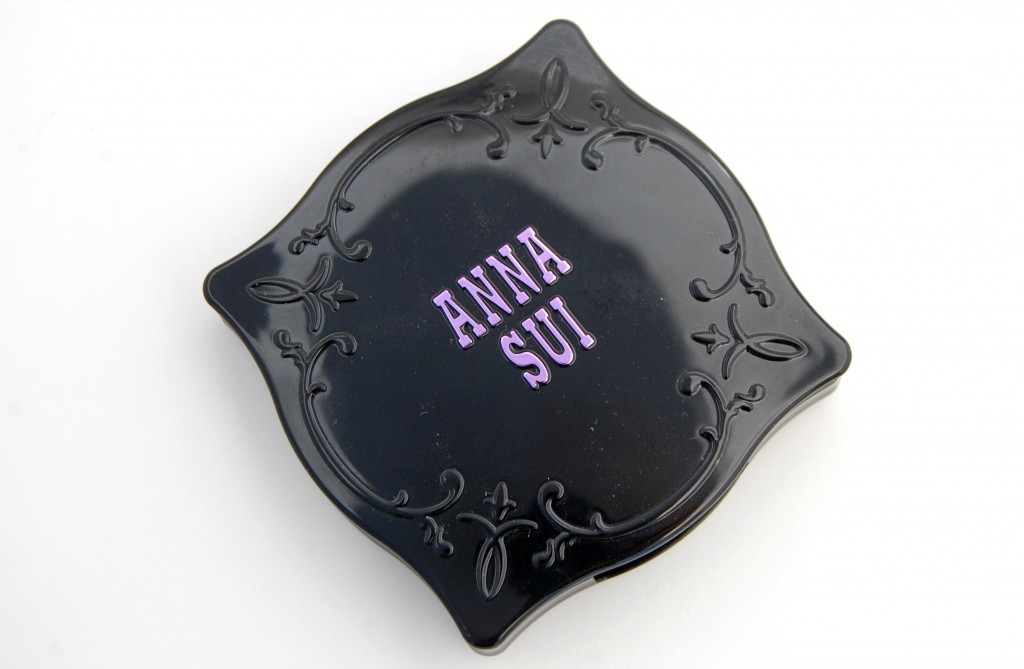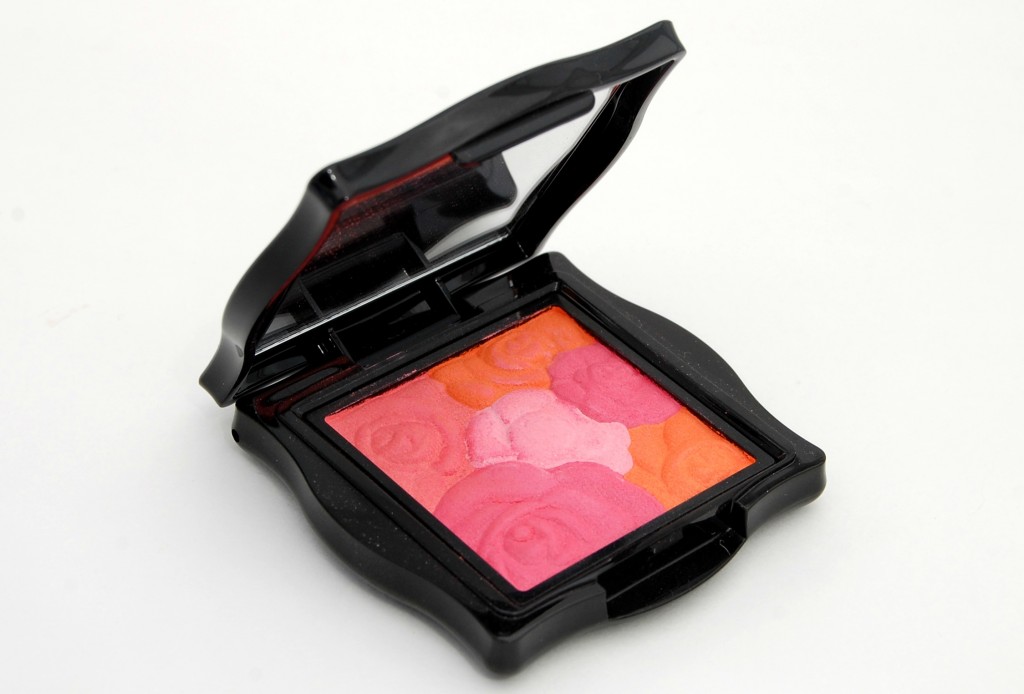 Anna Sui Rose Cheek Color in 301 Dreamy Rose has beautiful shades of pinks and oranges that all complement each other beautifully. The pale pink rose in the center doesn't deliver that much colour payoff and is the only rose that has shimmer to it, the other shades are all matte. I love that you can pick up each colour individually, using a small brush, or use a larger brush to swirl around the entire pan to get a lovely combination of peachy-pink with a just a hint of shimmer. It gives a stunning, fresh and glowy effect to the cheeks that has now become my signature look.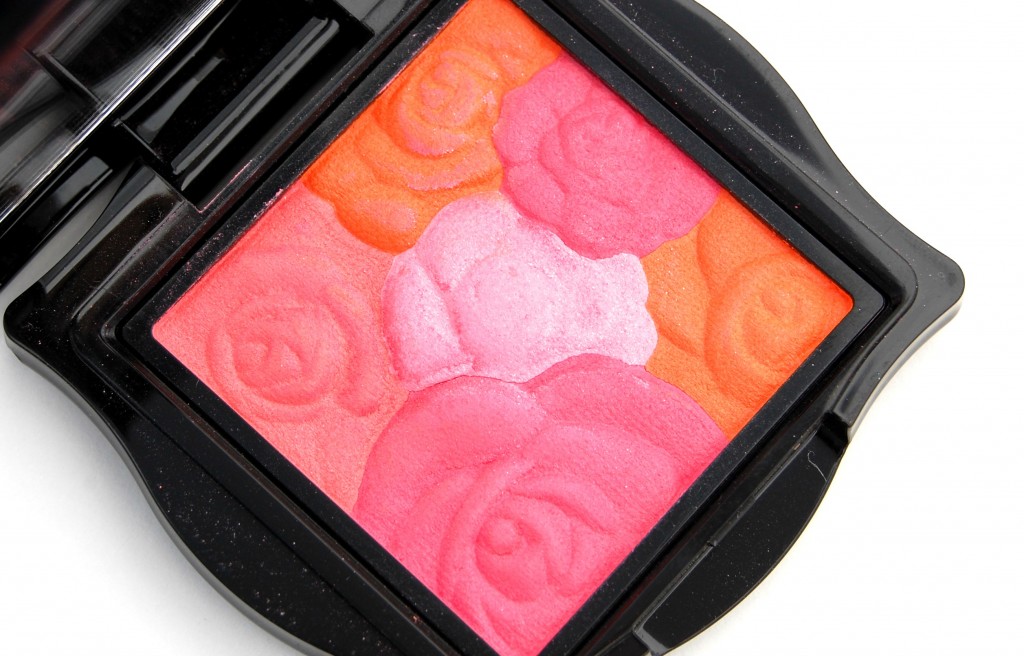 Anna Sui Rose Cheek Color retails for $36 and is available at Shoppers Drug Mart, Murale and at 4 Bay locations (Eaton Centre, Yorkdale, Sherway and Downtown Vancouver).