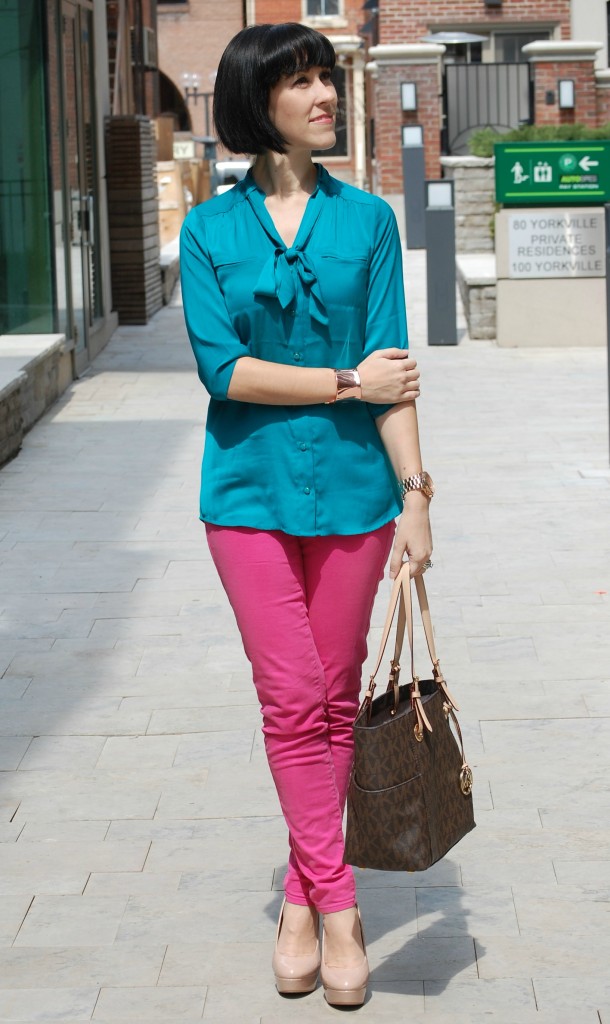 What better way to spend a sunny afternoon than celebrating 150 years with Bourjois Paris Spring/ Summer 2013 launch party at the oh so chic Lux-Spa in Yorkville? I had the honors of attending Bourjois Paris Sixties Remix Event, and without giving out too much information, as I'll have a full blog post on the event shortly, I did get to test and learn about some of this seasons must have items from Bourjois Paris new collection.
I had the chance to get my nails done using their So Laque Nail Polish & Easy Nail Art; I picked a bold teal green to match my shirt with a cute little bird on each ring finger. I was then off to get a faux tattoo, with so many options to pick from it was hard to pick only one; I ended up getting a floral print and placed in on my right foot, it again matched with my pants and really drew attention to my shoes/ feet. Finally I got a 60's inspired makeup application done, with a bold eye, a pop of colour on my lips and finished the look off with Bourjois new faux and fabulous false lashes!
Everyone was extremely friendly, got to see 2 of my favourite bloggers, Dee from Liner Glitter Gloss & Sandra from Mom's Makeup Stash, munch on some sweets and just get pampered. It was the perfect afternoon in Toronto and I can't wait to tell you all about the new products that are coming up/ are out for Bourjois Paris Spring/Summer Collection.
Top- Smart Set- $35- Dec 2012
Pants- AE- $49.50- Nov 2011
Watch- Aldo- Gift from the hubby
Cuff- Cocoa Jewelry
Purse– Michael Kors Logo Print Signature Tote -$225- in stores now
Shoes- Target- $35- in stores now