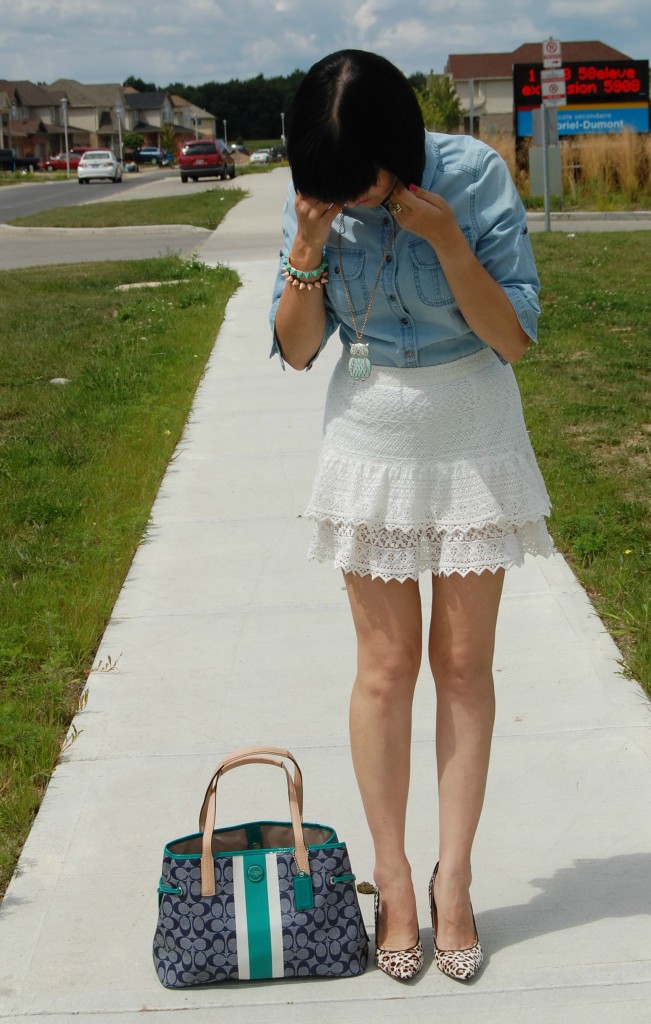 Denim and lace, two of my favourite materials and together equal one of my favourite fashion combos this summer. Lace, a very womanly fabric that will never really goes out of fashion and denim which use to be only considered for a causal look can really be dressed up and complete a look. I remember when I first bought this denim shirt, I thought to myself, I bet I'll only wear this one and it will sit in the back of my closet, turns out this is my 7th time wearing it and I'm still loving it.
Also can we take a minute to say how fabulous this new Coach purse is?
Thanks to my husband's Birthday and our trip to Niagara Fall, we got to stop in at the Coach outlet and pick up this beauty on sale for only $225, pretty amazing deal if you ask me?
Shirt- Smart Set- $38- Aug 2010
Necklace- Forever 21- $12- Dec 2012
Bracelet- Aldo (set of 2)- $15- July 2013
Purse- Coach- $225 (0n sale)- in stores now
Skirt- H&M- $30- May 2013
Shoes- Nine West- $80- July 2013