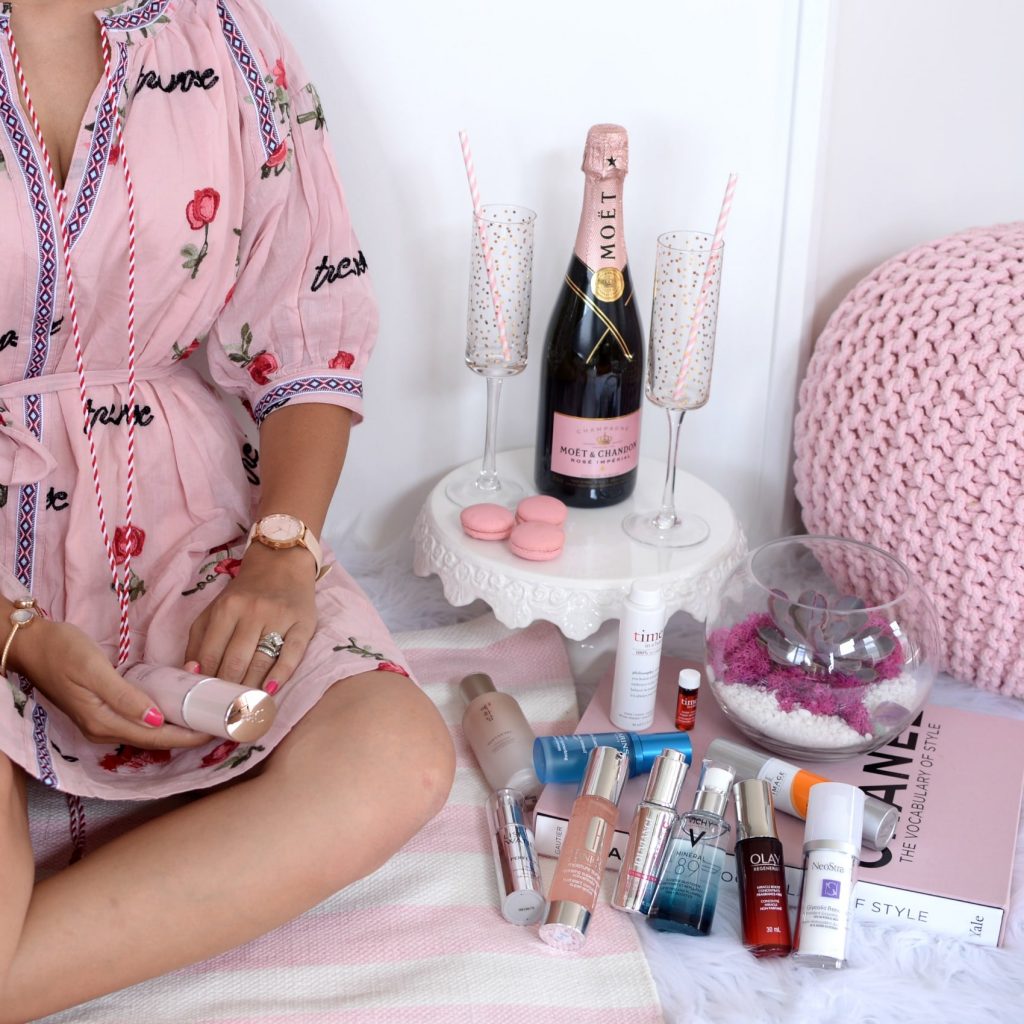 Facial Serums
Skincare is all about layering. Adding a lightweight serum into your daily routine can make a huge difference in the overall appearance of your complexion. A face serum is much like a lightweight moisturizer that penetrates deeply into the skin to deliver active ingredients. Using a daily serum can help firm, smooth, hydrate and minimize the appearance of pores. There are so many options on the market, anything from antioxidants, vitamins and moisturizing agents, it can be a little overwhelming and intimidating.
Antioxidant serums can help neutralize the environmental free radicals that cause hyperpigmentation, hydrating serums can help deliver an extra layer of hydration, whereas exfoliating serum can help dissolve dead skin cells. Wrinkle and firming serums help target advance signs of aging, such as lines and sagging skin, brightening serums can help even out skin tone and fade dark spots, while multitasking serums can do it all… combat aging, add hydration and add luminosity.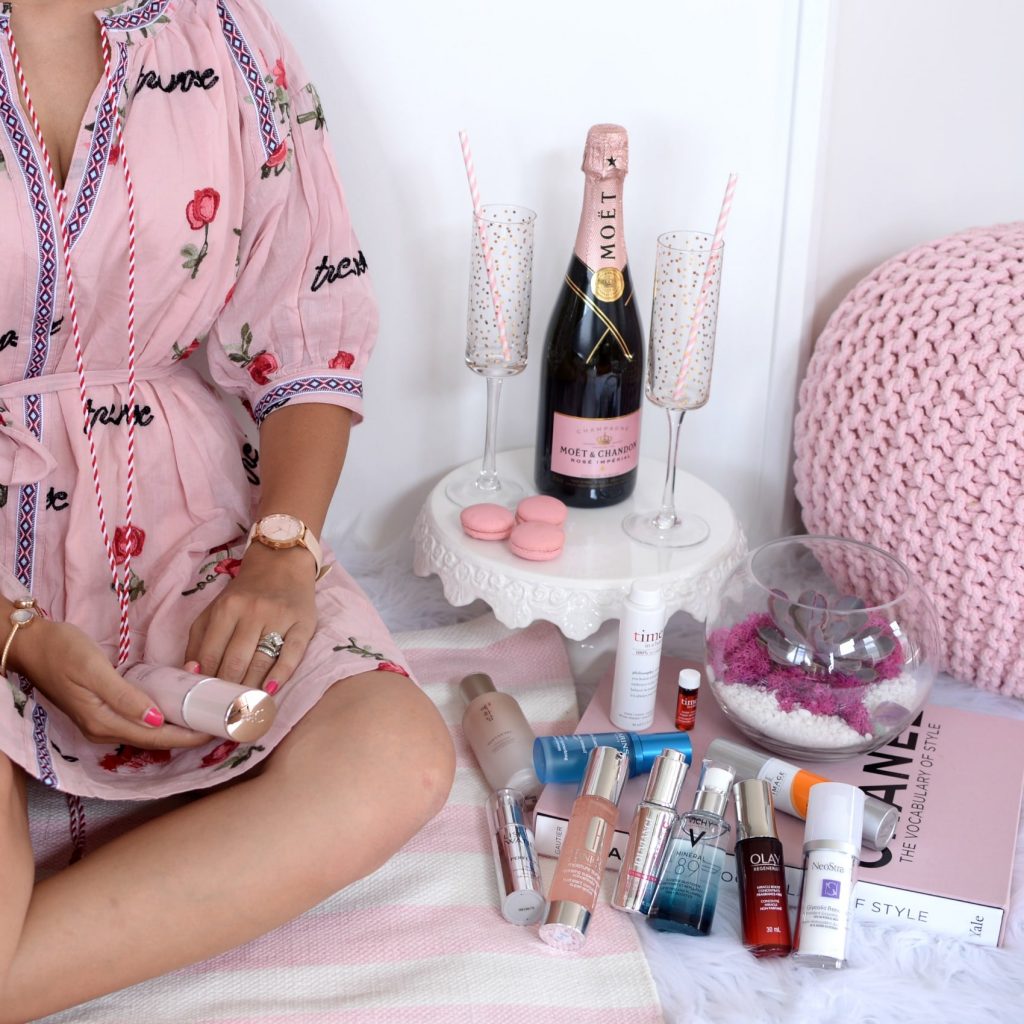 A great budget-friendly and drugstore option is Olay Regenerist Miracle Boost Concentrate. This lightweight serum instantly smooths texture and reduces the look of fine lines and wrinkles. It boosts skin's natural cell regeneration and deeply hydrates and nourishes the skin deep down within the skin's surface. It's designed to boost the penetration of anti-aging actives of your moisturizer to increase skin cell metabolism and renewal for a stunning, youthful appearance. It has a clear, slight thick, yet watery consistency that glides over the skin effortlessly, blends out beautifully and absorbs into the skin within seconds. It provides an noticeably dewy and refreshed finish that looks beautiful and smooth to the touch.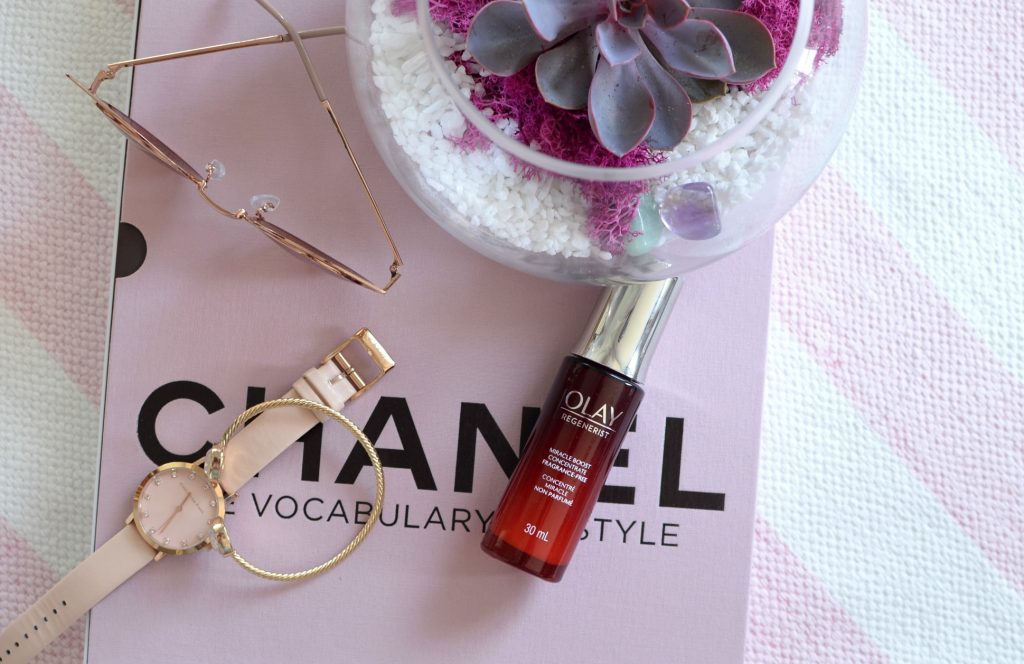 Vichy Mineral 89 is your skin's daily boost of strength this summer. This new pure and powerful formula is concentrated with 89% Vichy mineralizing thermal water and hyaluronic acid. It helps to act as a protective barrier between your skin and the harsh environment. Its innovated liquid-y texture is fast-acting, quick-drying and perfect for teaming up with all your favourite skincare products. If you're a fan of the brands Mineralizing Thermal Water, you're going to love this even more. It takes the power of that and combines it with glycerin and hyaluronic for even more hydrating benefits. It applies smoothly, sinks into the skin instantly and leaves the skin feeling fresh, moisturized and slightly plump. It retails for $39.95 for 50ml.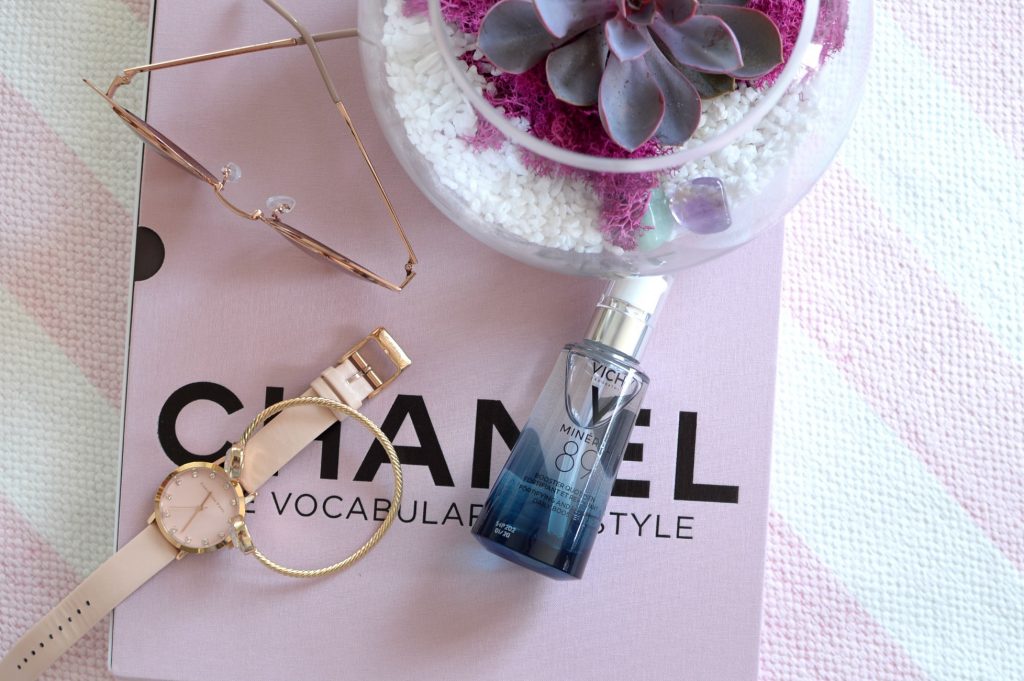 NeoStrata Glycolic Renewal Smoothing Lotion 10% not only helps to keep skin moisturized, it gently exfoliates dead cells on the skin's surface for maximum skin renewal. This daily lotion will help reveal smoother, more radiant and visibly younger skin in a few short weeks. It has a light and creamy texture that absorbs into the skin quickly and its high concentration of glycolic acid instantly provides a more luminous, radiant and glowing appearance. Overtime, it dramatically reduces enlarged pores, prevents future breakouts and diminishes dark spots and hyperpigmentation. Its silky smooth, hydrating formula helps to keep skin slightly moisturized, while gently exfoliating the skin. Added bonus, makeup will apply smoother and more even with each use. It retails for $42 for 30ml.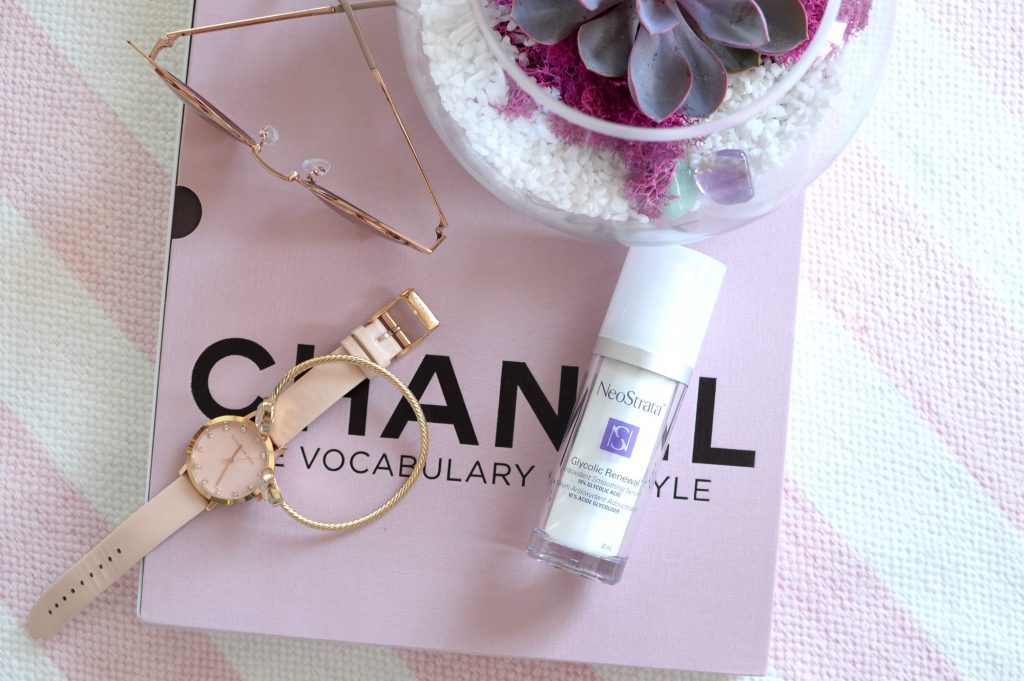 The new Clinique Moisture Surge Hydrating Supercharged Concentrate instantly boosts your hydration levels and quenches dry, dull, dehydrated skin. Its unique liquid-sphere technology combines water-binding ingredients with encapsulated antioxidants that burst once in contact with your skin. It helps to break the cycle of dryness and environmental stress that can lead to premature aging like fine lines and wrinkles. It's a hybrid between a serum and essence, this watery consistency with a gel-like texture that absorbs into the skin immediately. As the spheres burst open, the formula turns from a weightless gel to water, helping to lock in moisture and hydration for upwards of 24 hours. It retails for $46 for 48ml.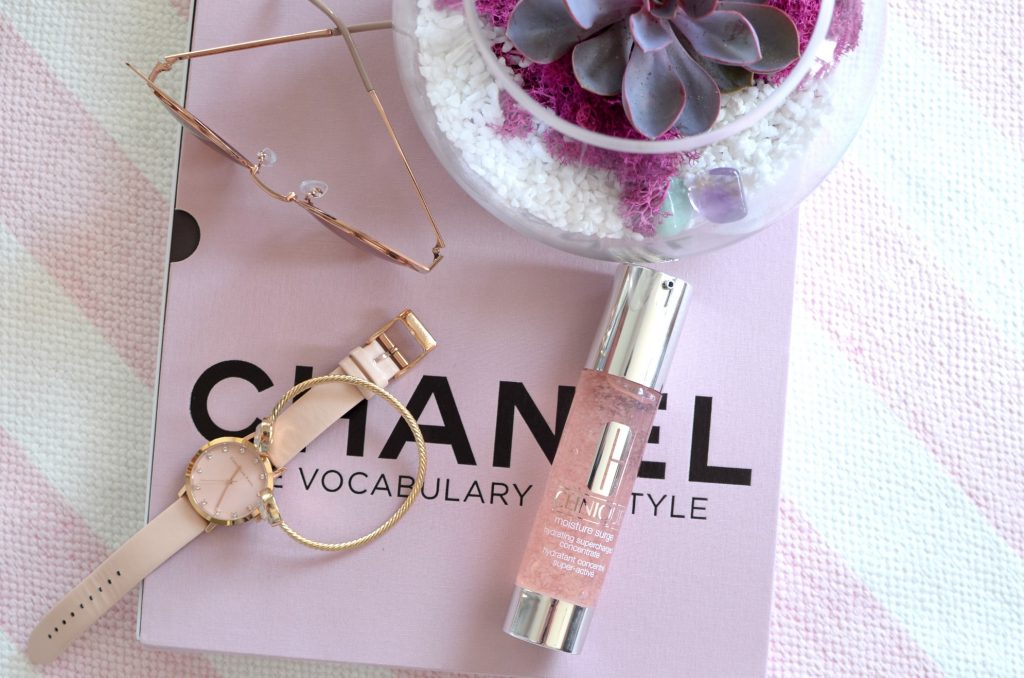 Skin in need of a boost of hydration, Clarins Hydra-Essentiel Bi-phase Serum will be your new BFF.  Organic leaf of life extract is the secret ingredient that goes straight to work, boosting your skin's hyaluronic acid production to instantly quench the skin. It immediately helps to refresh, plump, soften and moisturize the skin. Its weightless texture absorbs into the skin within seconds and is comfortable to wear on its own or under a moisturizer. Its water-y, gel-like consistency helps to refine skin's texture and smooth its surface and drenches skin in extreme moisture. It deeply nourishes the skin and clears up any dry patches or irritated skin. It helps to restore a youthful appearance for a vibrant and radiant glow. It retails for $56 for 30ml.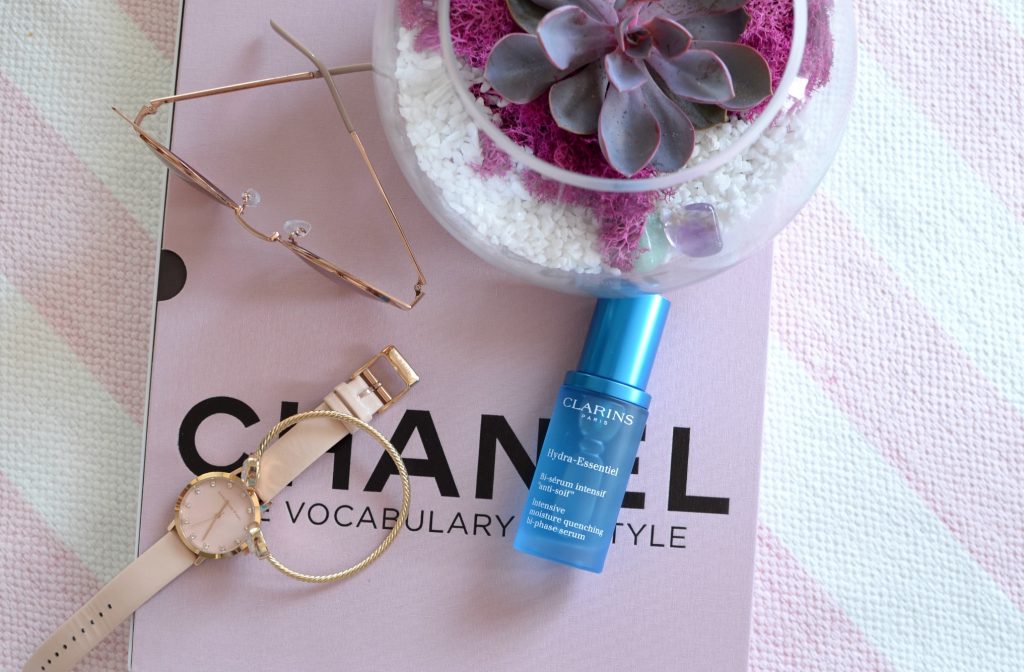 Lise Watier Perfexion Anti-Aging Serum Corrector is the perfect balance between moisture and anti-aging benefits. Its unique Cosmetic Drones technology helps to correct and reduce the appearance of fine lines, wrinkles and enlarged pores. It features caviar lime extract, a gentle AHA that helps improve cell renewal to create a natural glow. Sea buckthorn helps to nourish and energize the skin allowing it to look more radiant, healthy and youthful. Vitamin C boosts your skin's luminosity, while lentil extract helps to tighten pores and refine skin texture over time. Its lightweight texture glides onto the skin with ease, absorbs into the skin instantly and works hand in hand with your favourite moisturizer. It retails for $65 for 30ml.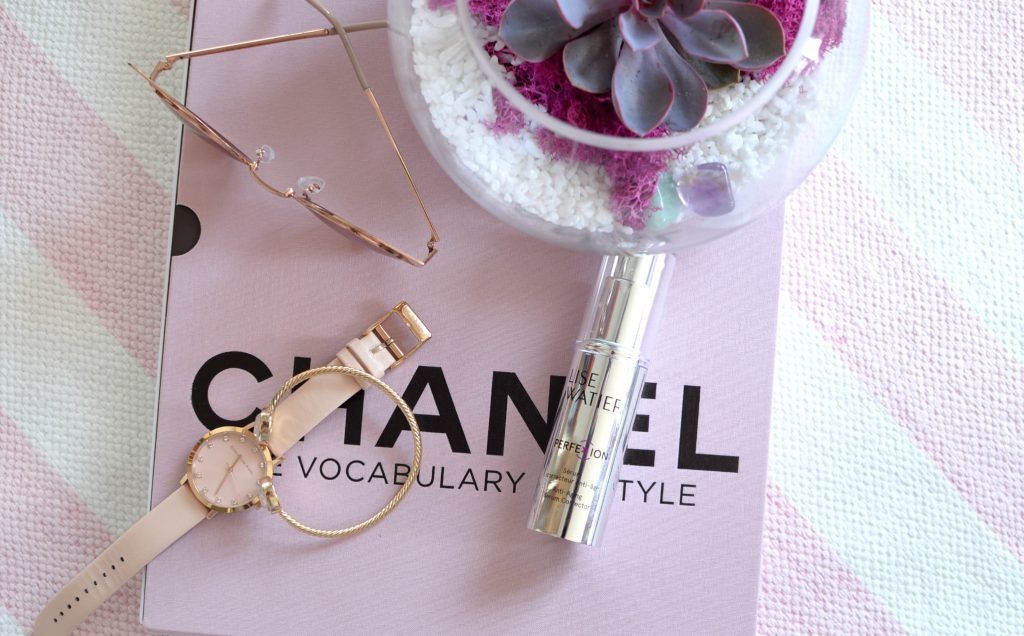 Turn back the time while you sleep with the new Jouviance Youth Boosting Night Serum. Since skin renews and repairs itself while you sleep, it features a unique blend of active ingredients (vitamin C and E and hyaluronic acid), that adapt to your skin's biorhythm overnight, to help promote optimal skin balance and health for upwards of 24 hours. It stimulates collagen for smoother, brighter and firmer-feeling skin by the morning. Skin is left more toned and with visibly less wrinkles and fine lines within a few short weeks. The serum also helps to reduce hyperpigmentation spots and even out your complexion, for a more youthful, radiant and glowing complexion. It retails for $65 for 30ml.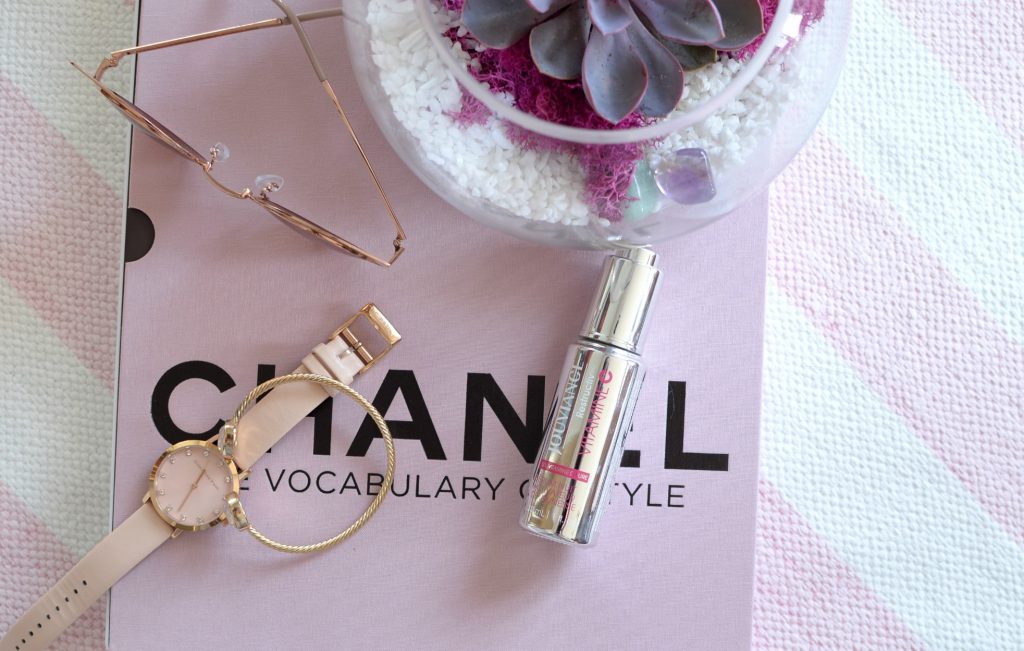 The Face Shop's YEHWADAM Heaven Grade Ginseng Regenerating Serum is ideal for anyone looking to slow-down the aging process. This anti-aging serum helps to improve overall skin health from the inside out. In addition to the ginseng, It's also formulated with natural pine mushroom extracts, rich in antioxidants, minerals and vitamins to help hydrate and nourish the skin. This incredibly lightweight serum draws and locks in moisture into the skin to help make fine lines and wrinkles disappear, even more effectively than hyaluronic acid. It also helps to brighten dull and tired skin in as little as a few weeks, creating a youthful and healthy glow to the skin. It retails for $82 for 45ml.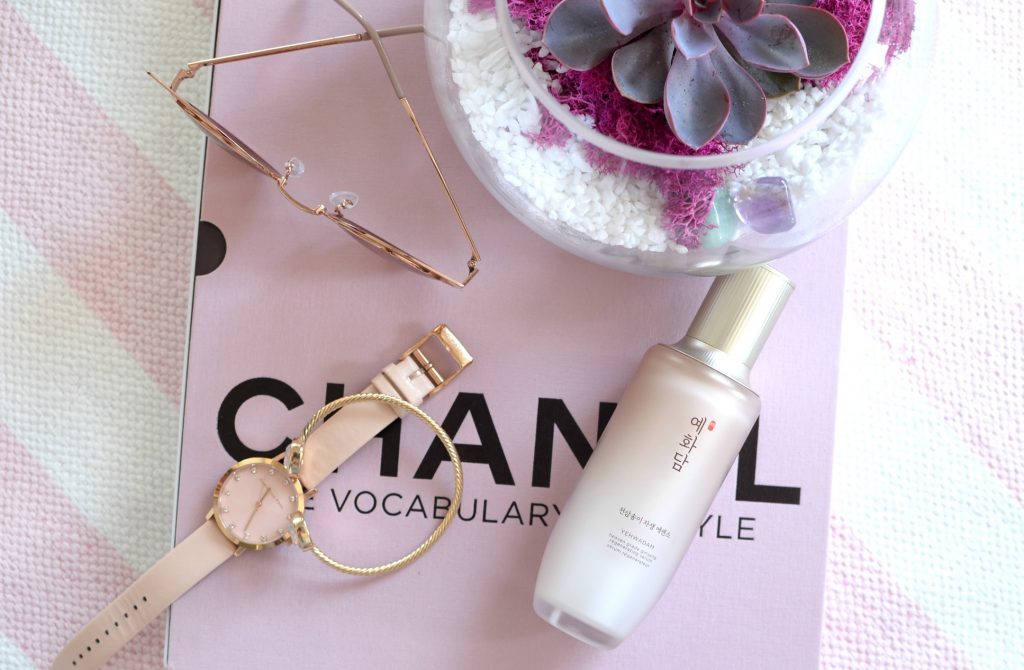 Philosophy Time in a Bottle 100% In-Control Resist Renew Repair Serum is an unique concept, in the fact that you need to pour the bottle of High Potency Activator, which contains pure vitamin C, red rice extract and red grape ferment extract into the serum to activate it. The serum will instantly turn a light pink, after shaking for 20 seconds, to let you know it's ready to use. It quickly goes to work stimulating the skin's natural repair functions to help repair skin damage. It then neutralizes damaging free-radicals to help renew skin's protection from daily aggressors. Finally, it helps to reactivate skin's natural age-resisting mechanism to reduce fine lines and wrinkles. It also helps to even out skin tone and texture, improve firmness and add a healthy, radiant and youthful glow to the skin. It retails for $85.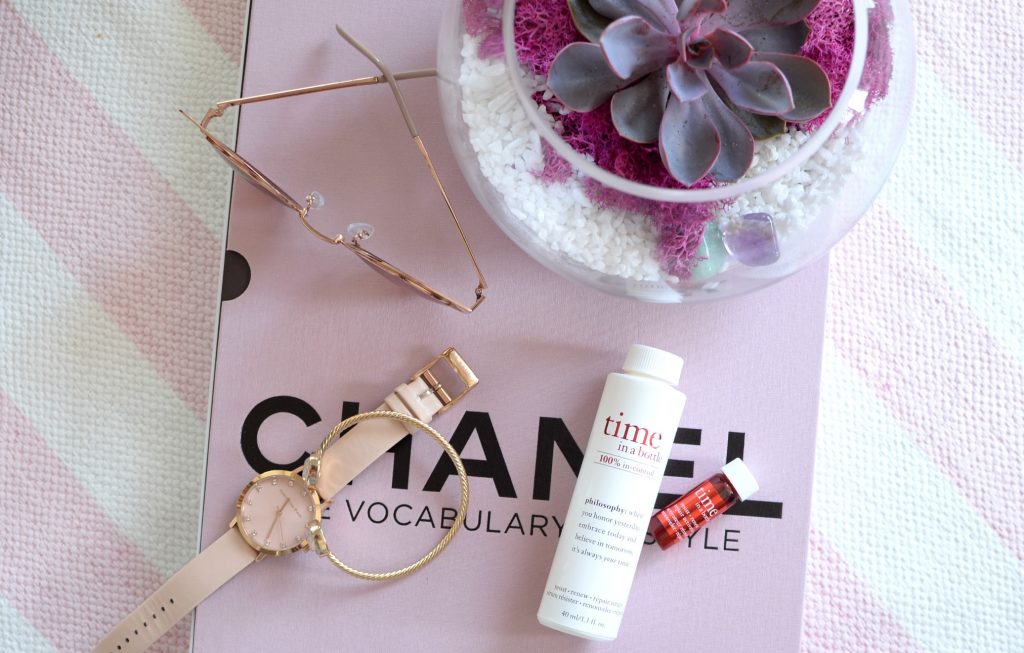 IMAGE Skincare Vital C Hydrating Anti Aging Serum is perfect for those that have been out in the sun a little too much this summer. It features a heavy dose of vitamin C that's known to help stabilize the healing of sun damage and promote new skin cell turnover. Its unique peptide formula helps to stimulate collagen and elastin production to increase elasticity and firmness. Its extremely rich and creamy texture helps to improve dehydration, while still managing to be incredibly lightweight on the skin.  It visibly soothes and moisturizes the harmful environmental damage and nourishes the skin for a youthful and healthy glow.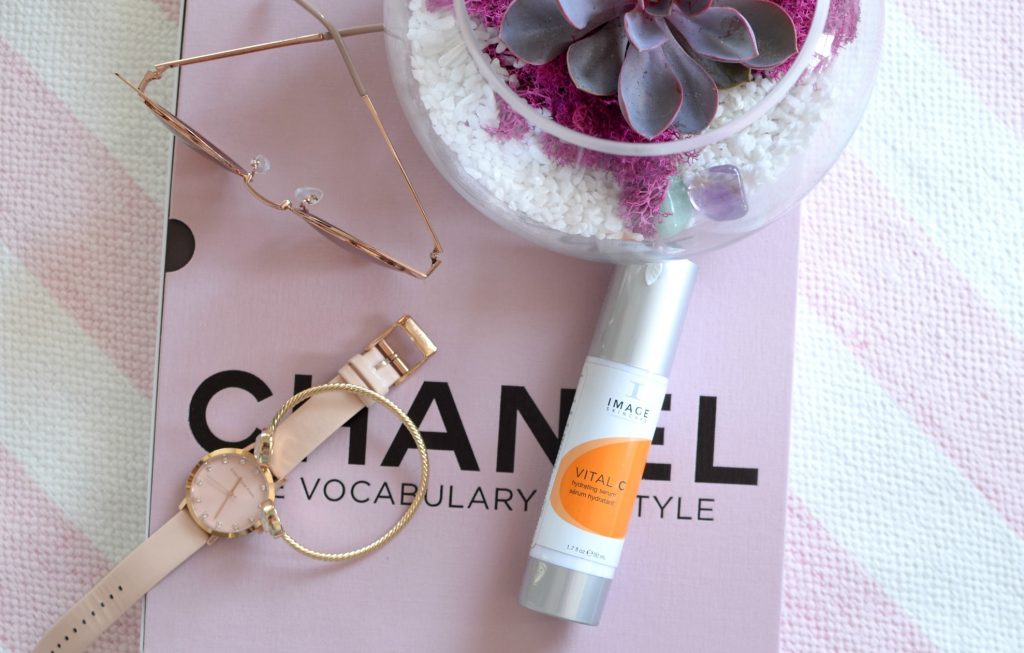 DIOR Capture Totale Dreamskin has been an iconic staple in women's beauty cabinets for years, and now it comes with a new and improved advanced formula. It comes with an even greater correction benefit and boosts radiance and blurring effect even further. DIOR Capture Totale Dreamskin Advanced is a hybrid between a skincare product and skin perfecting serum. It works on both the surface and well below the skin for a flawless complexion. It helps to fight the signs of aging, boost radiance, and correct dark spots, redness, enlarged pores, as well as target wrinkles. It features 2 key components, optical perfecting properties and biological ingredients to make up this unique serum. A complex blend of biomimetic mineral powders such as mica platelets help diffuse light for a radiant glow and diffusing hollow silica microspheres gives a blurring effect and helps to even out texture and tone. Overtime it helps to firm, plum and correct all skin imperfections. It retails for $185 for 50ml.