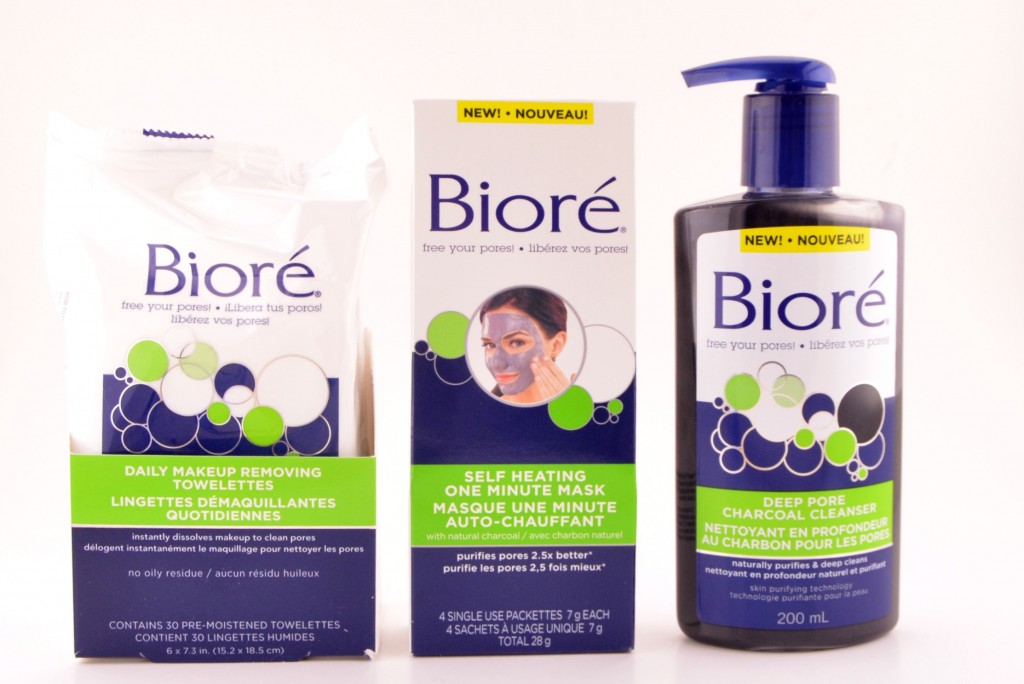 We all remember Bioré infamous pore strips that help remove blackheads and how unsatisfied we'd be if we didn't see anything on the strips when finished. You may also know how important and beneficial charcoal can be in your everyday skincare routine, its the secret to beautiful looking skin, as it acts as a magnet to pull out all the toxins trapped under the surface of your skin. Bioré Charcoal Collection features a Deep Pore Charcoal Cleanser, Self Heating One Minute Mask, Deep Cleansing Pore Strips and Daily Makeup Removing Towelettes.

Bioré Deep Pore Charcoal Facial Cleanser is infused with Japanese skin Purifying Technology that naturally purifies the skin removing all dirt and impurities. This oil-free black cleanser foams up white and rinses clean away giving you instant results in just one use.
I've been using Bioré Deep Pore Charcoal Cleanser and it may look a little scary when you first pump it into your hands, but as you work it into your hands to create a foam and apply it to the face, it instantly turns white and washes clean away. It gives a tingling sensation for a few seconds, does an excellent job at exfoliating my skin without feeling harsh and provides me with a fresh scent of citrus. I've been using it at night for the past 3 weeks and it does an excellent job at removing any excess makeup and dirt that my makeup remover didn't get. It helps to unclog pores for cleaner, smoother, softer skin. It retails for $7.99 for 200ml.

Bioré Self Heating One Minute Mask will help to melt away stress, dirt and oil. This thermal mask heats on contact with the skin and opens up pores to draw dirt out to purify pores in just one minute. It's infused with natural charcoal and can be worn on its own or mixed with water to increase the heating action by 2x. It finishes with a cooling sensation for tingly-smooth skin and the cleanest and healthiest sensation ever.
Bioré Self Heating One Minute Mask can be used 2 to 3 times a week to cleansed skin. You start with a wet face, as it's activated by water, open the single use packette with dry hands, dispense the content into the palm of your hand and begin applying the mask to the face. Massage into the skin for about a minute and watch as it starts to heat up, for more heating action you can apply more water, this also helps in the spreading of the mask. The mask will never dry or harden making it super easy to remove, just rinse with water to remove the mask. Instantly after removing the mask, your face will be glowing. Skin is left feeling clean, soft, smooth, refreshed and hydrated. I love that it comes individually packaged (4 in the box), so you're not wasting any product by pumping out too much. It retails for $7.99 for 4 packs.

Bioré Daily Makeup Removing Towelettes instantly dissolve pore-clogging makeup, dirt and oil without leaving a greasy residue behind or without rinsing. It's perfect to fight daily build-up at home and on the go, strong enough to lift waterproof mascara and great to use before exercising to help reduce the chances of getting post-workout blemishes.
I love me a good makeup remover wipes and these Bioré Daily Makeup Removing Towelettes are some of the best I've tested out so far. Once on contact with the skin, it instantly melts and thoroughly dissolves all traces of makeup, dirt and grime. I love that no rinsing is required, you don't have to rub hard to remove makeup and it doesn't leave my skin feeling tight or dry. It has a fresh, clean scent, keeps skin hydrated and moisturized and it doesn't clog pores or cause breakouts. It retails for $7.99 for 30 towelettes.


Bioré Deep Cleansing Pore Strips instantly provide a deep clean thanks to its selective bonding ingredients that act like a magnet to lift away deep down dirt in an easy to use, pore strip. It gets rid of pore-clogging build-up, dirt and oil that can cause blackheads and when used regularly you will have fewer clogged pores which will help reduce the appearance of enlarged pores.
We all know how to use Bioré Deep Cleansing Pore Strips, wet nose, peel and apply to nose, smooth sides down, and press to ensure good contact with skin, wait 10 to 15 minutes, until stiff, and slowly and carefully peel off starting at the edges. I find these have a stronger adhesive compared to the originals, which offer a deeper clean and pulls out even more junk from the pores. It retails for $7.99 for 6 strips.