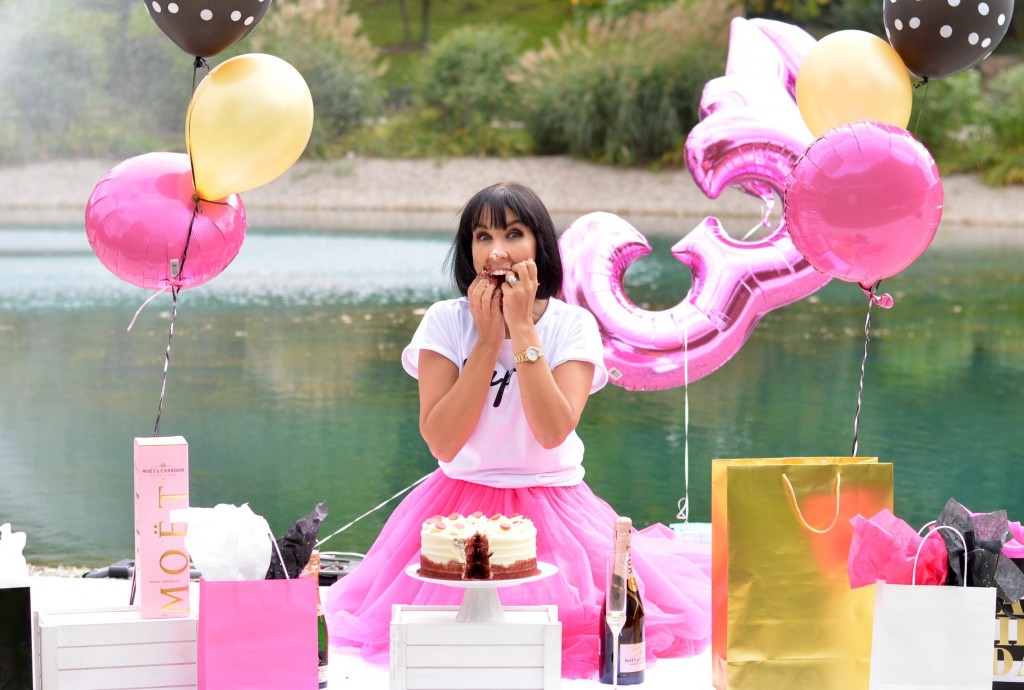 I wasn't into the cake-in-the-face when I got married, but that being said, I can't help but smile when I see baby's first birthday that includes cake smashing. Something about half naked babies in cute costumes paired with tiny personalized cakes, no shame and not the best fine-motor skills just seem to go hand in hand. No matter how many Birthdays I celebrate, I'll always be a kid at heart. I wanted to do something fun and creative for my 34th and what's more playful than dressing up in girly tutus, creating a whimsical background and then smashing a cake in your face? Who said only kids can have fun?
The first step in creating perfect photos is to set a theme. This may be set around your favourite TV show or movie, the decade you were born, a favourite superhero or fairy-tale princess or in my case, my favourite colours. The possibilities are endless, but sticking with simple and classic hues will really make the cake pop. I went with pink, black, white and gold.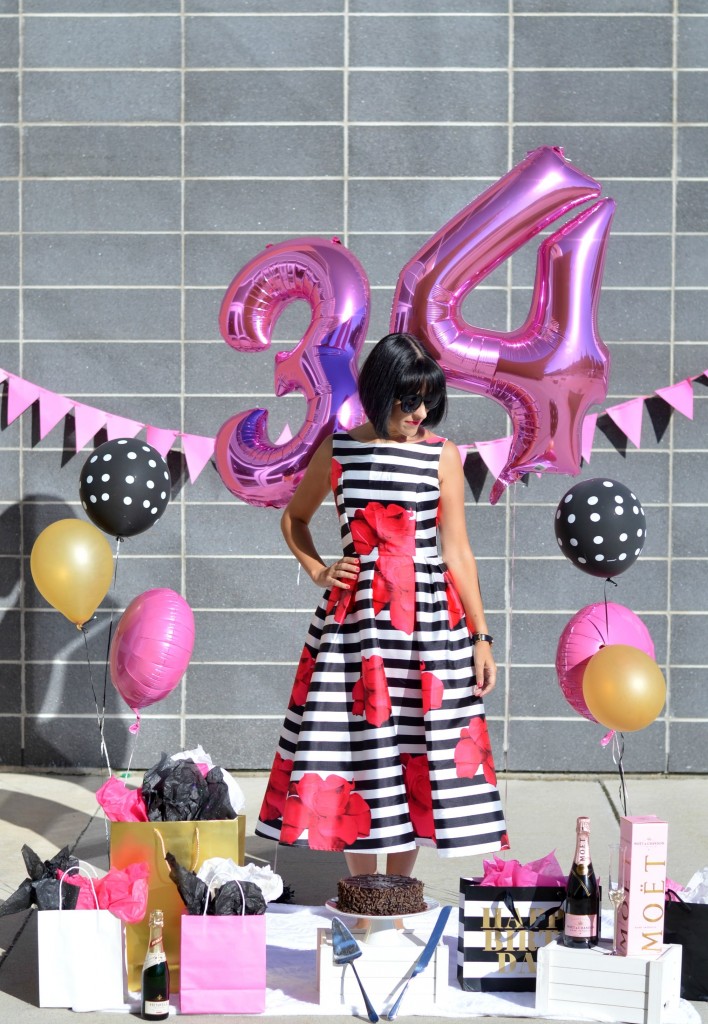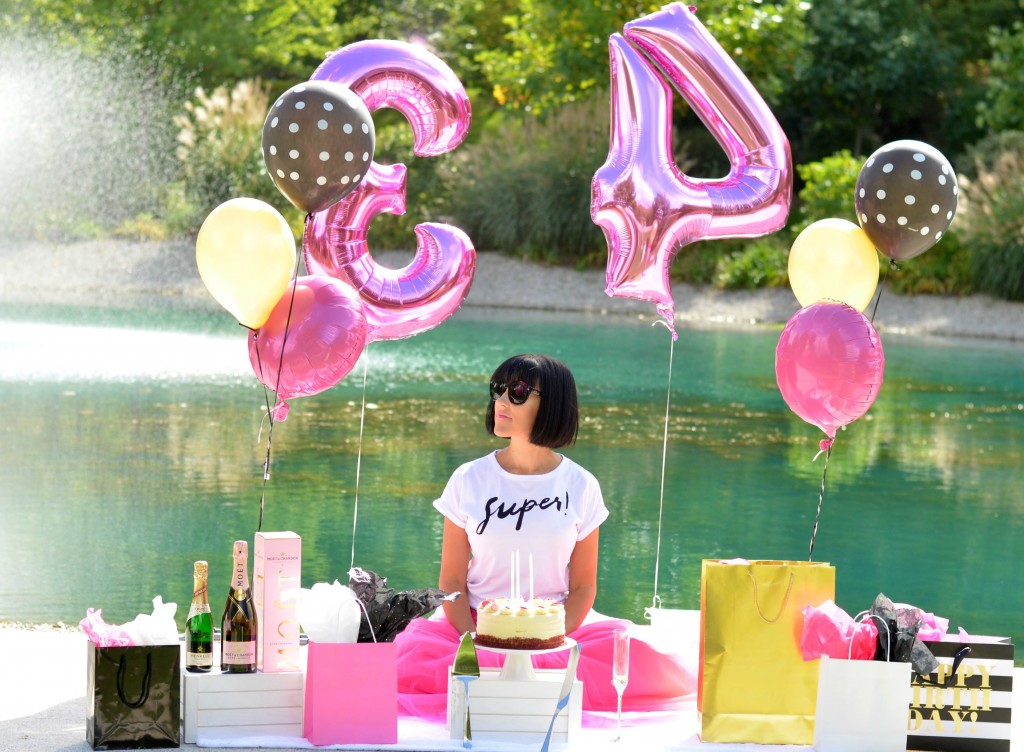 Next up, finding the perfect location. Since I celebrate my Birthday all week long, I decided on two different spots with two different looks. I knew I wanted it to be feminine, dainty and girly, so we went with grey wall for the first look and a stunning, almost magically pond for the second look. Don't forget props, think gift bags with tissue paper, cake stand and serving sets, wall décor, balloons and the oh-so important champagne.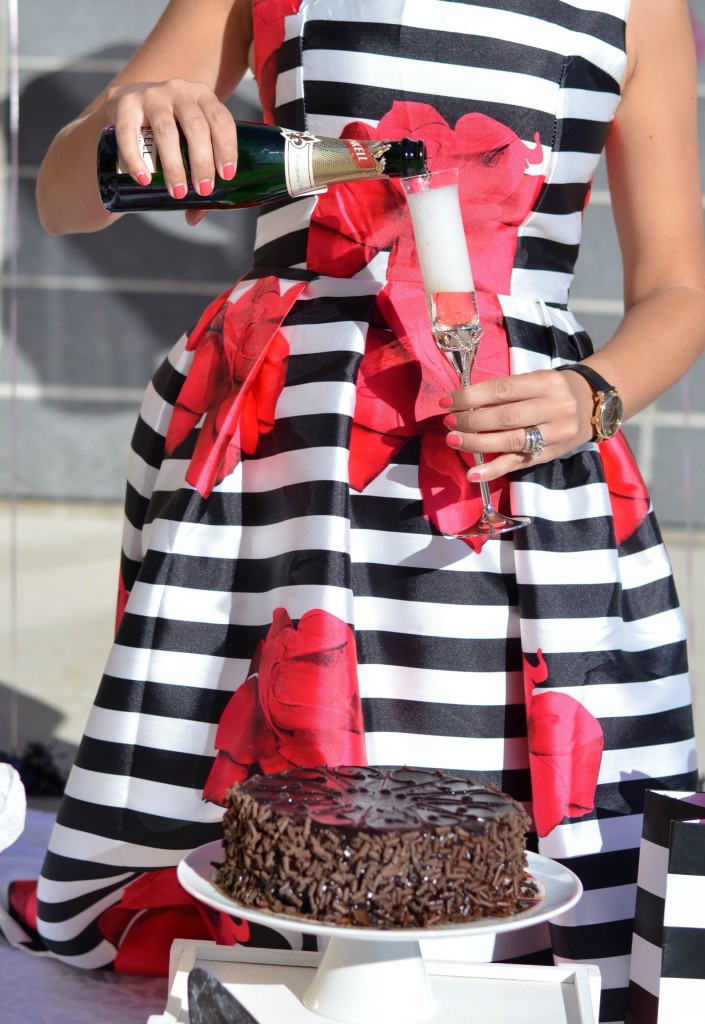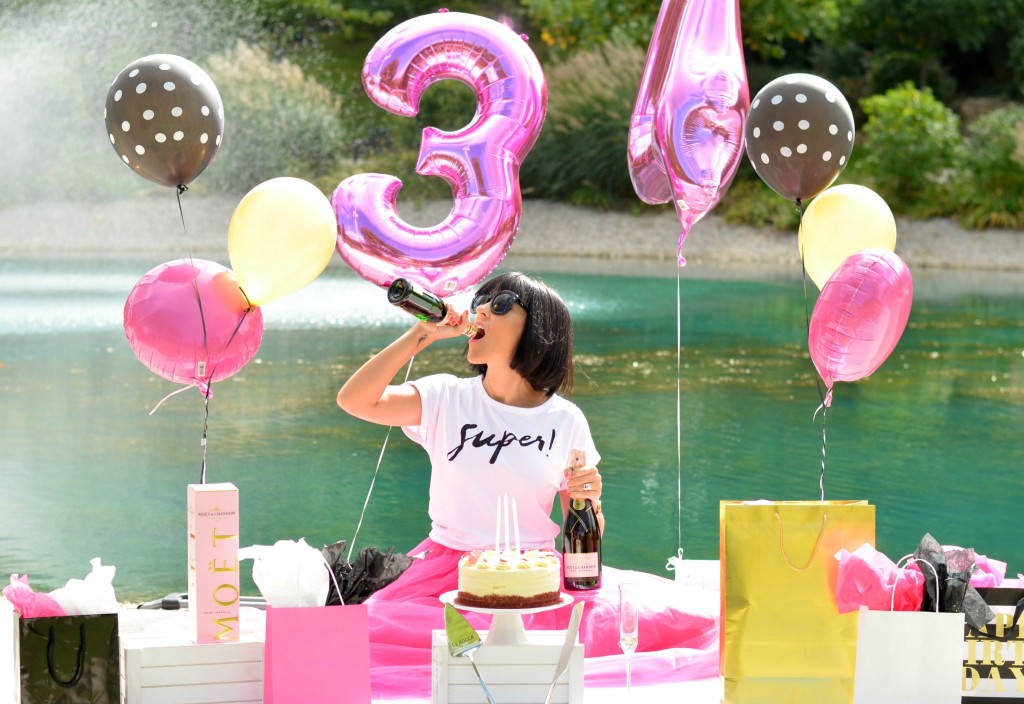 Of course, the most important aspect of the cake smashing session is the cake itself. La Rocca Creative Cakes, Canada's largest private and best-selling cake bakery, is celebrating 30 years of dedicated, mouth-watering dessert making here in Canada and I knew I had to celebrate with them. How does a girl pick just one cake for her Birthday…she doesn't… which is why I ended up with 4.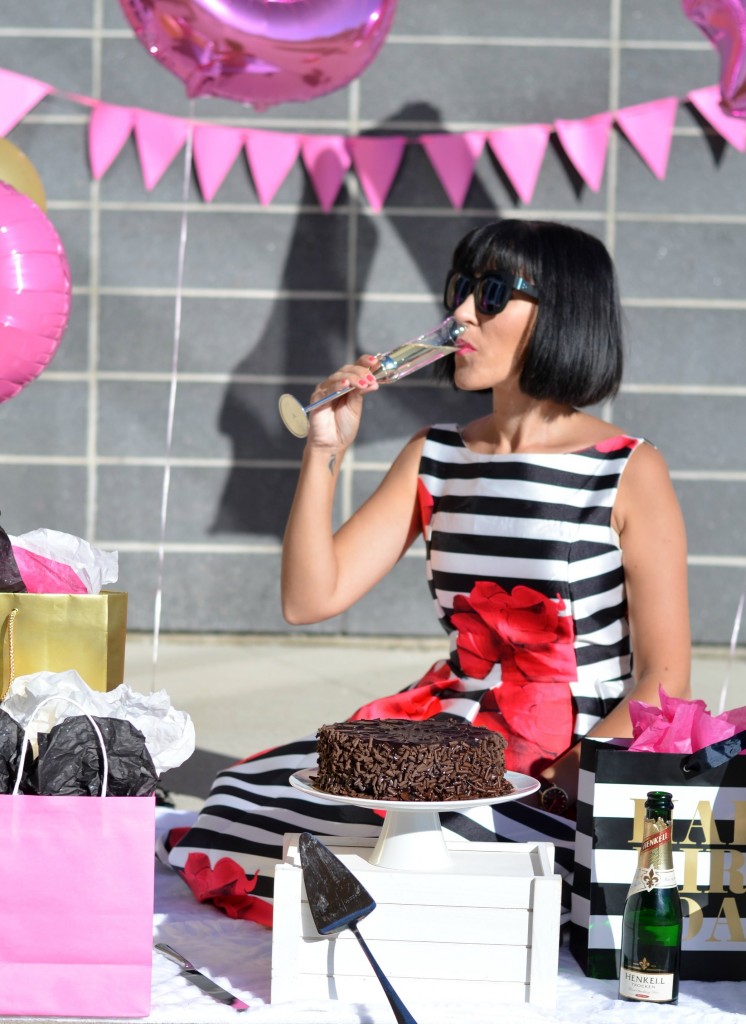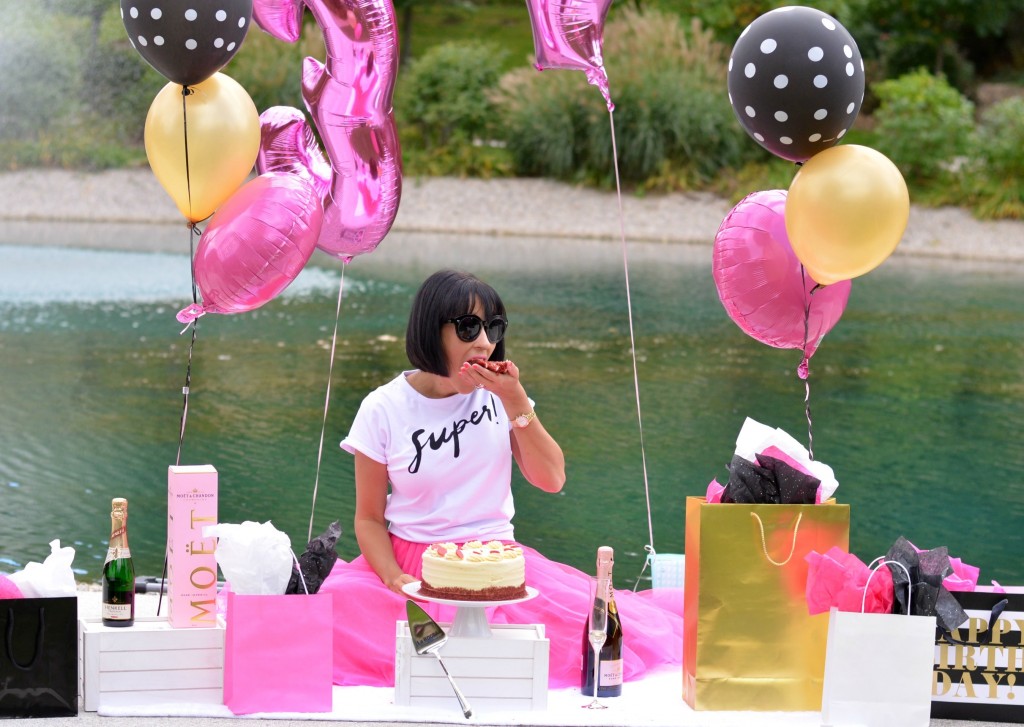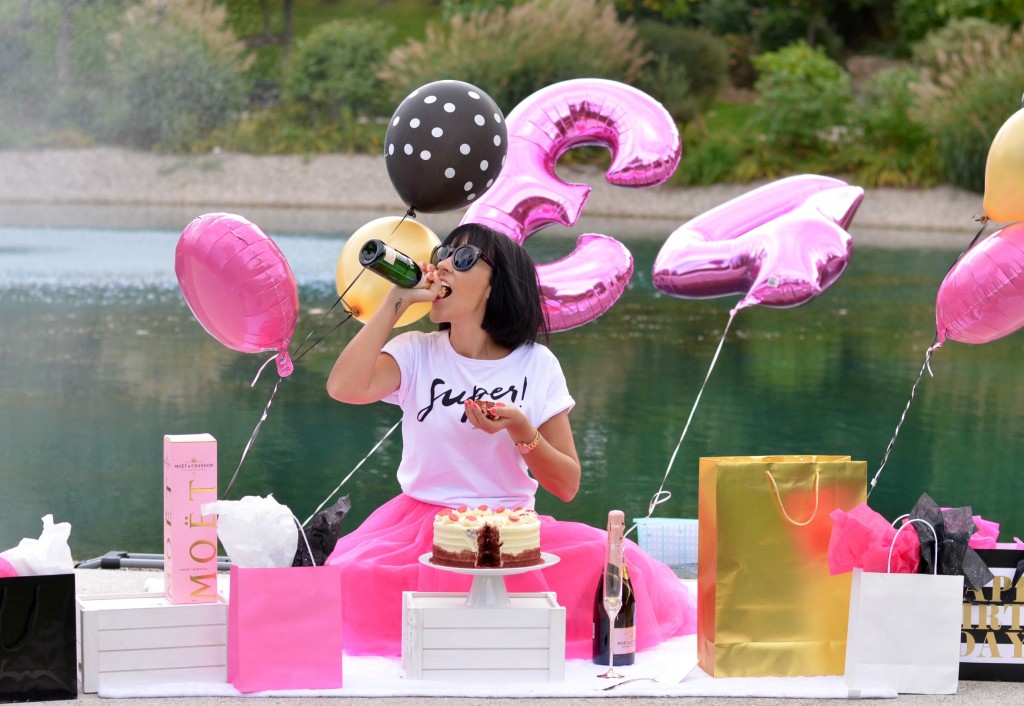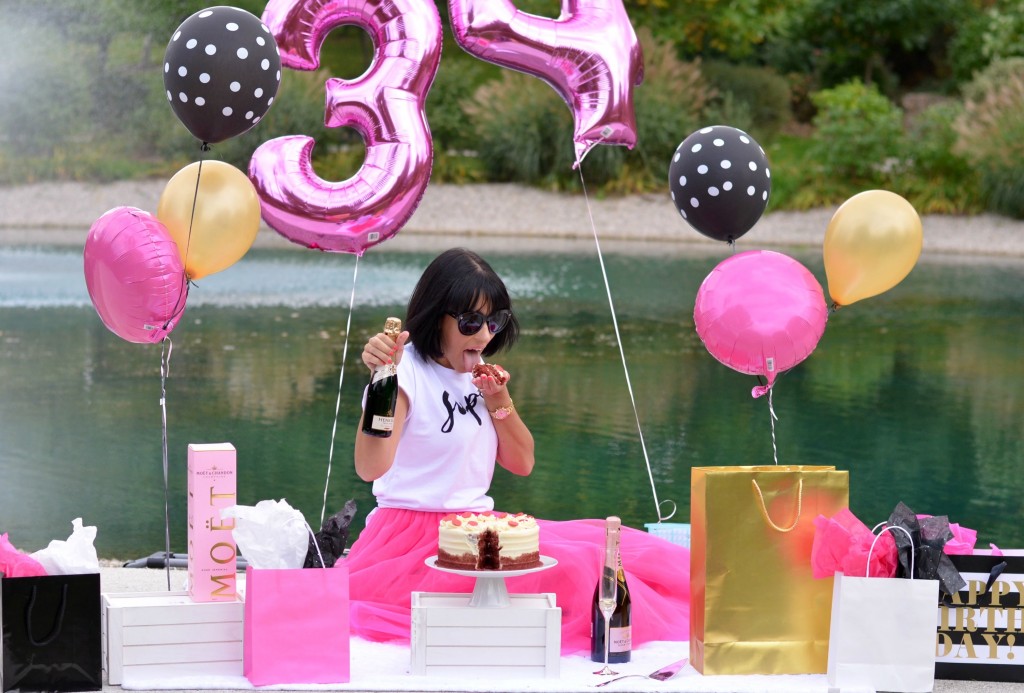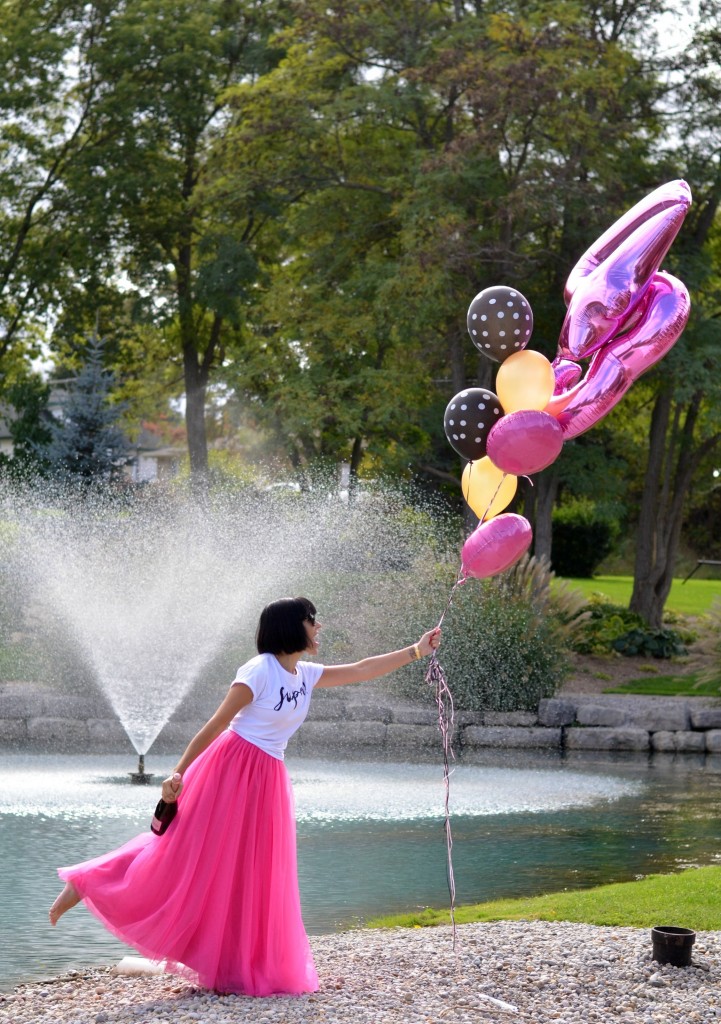 Frist up, La Rocca 'Greatest Hits Cake' which was created in honour of their 30th anniversary and features decadent chocolate sponge cake layered between white chocolate truffle, crunchy almond meringue, dark chocolate truffle, scrumptious red velvet and then topped with cream cheese frosting with vanilla flavoured edible pearls. It really is the greatest cake you'll ever have and just maybe the best cake I've ever had? It looked so good in the box that I couldn't wait for my cake smashing session and may have eaten the entire cake in less than 2 days. It features 5 layers of their best-selling cakes rolled into one mouth-watering, delicious cake. Get it while you can, it's only available till December at your local Longo's, Farm Boy, Loblaw and Metro. I'll be picking up a few more of these for the holidays that's for sure.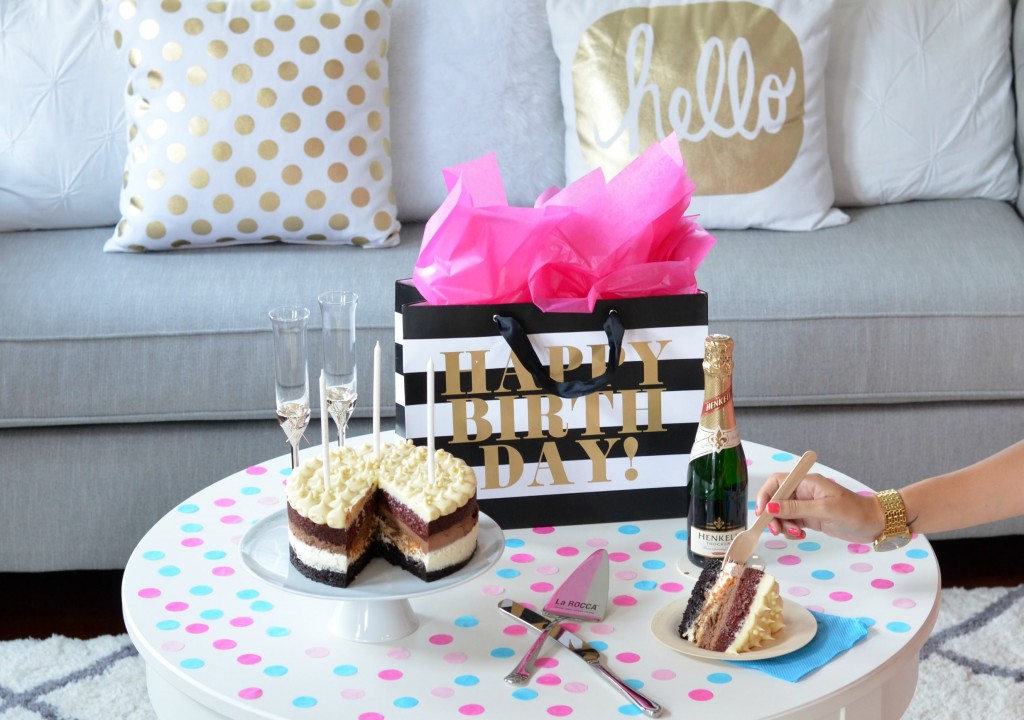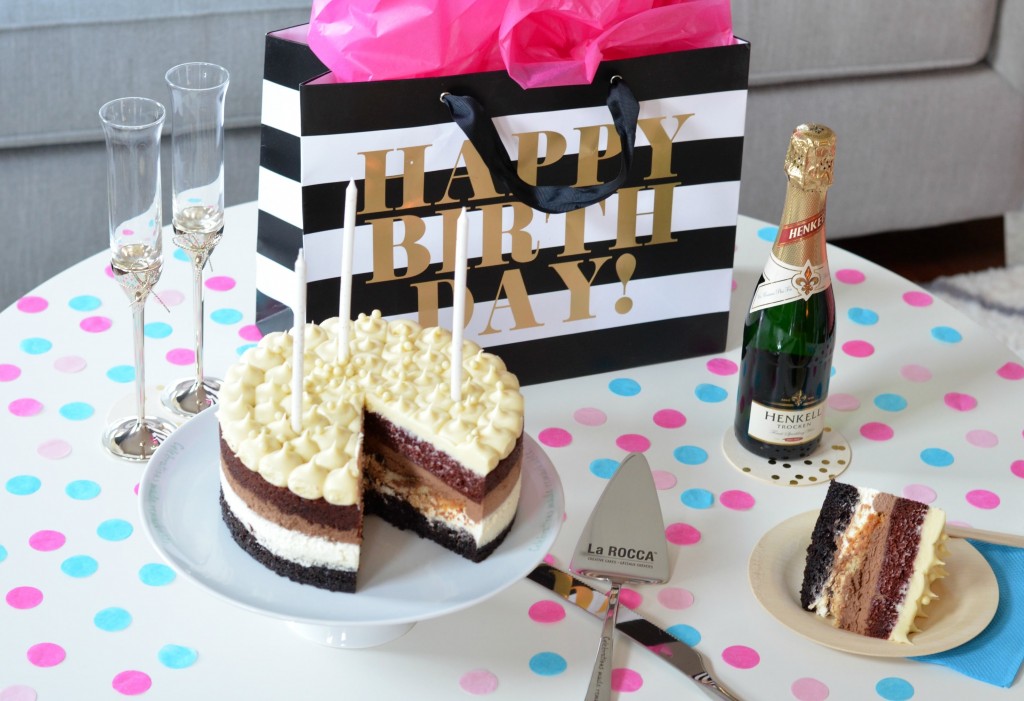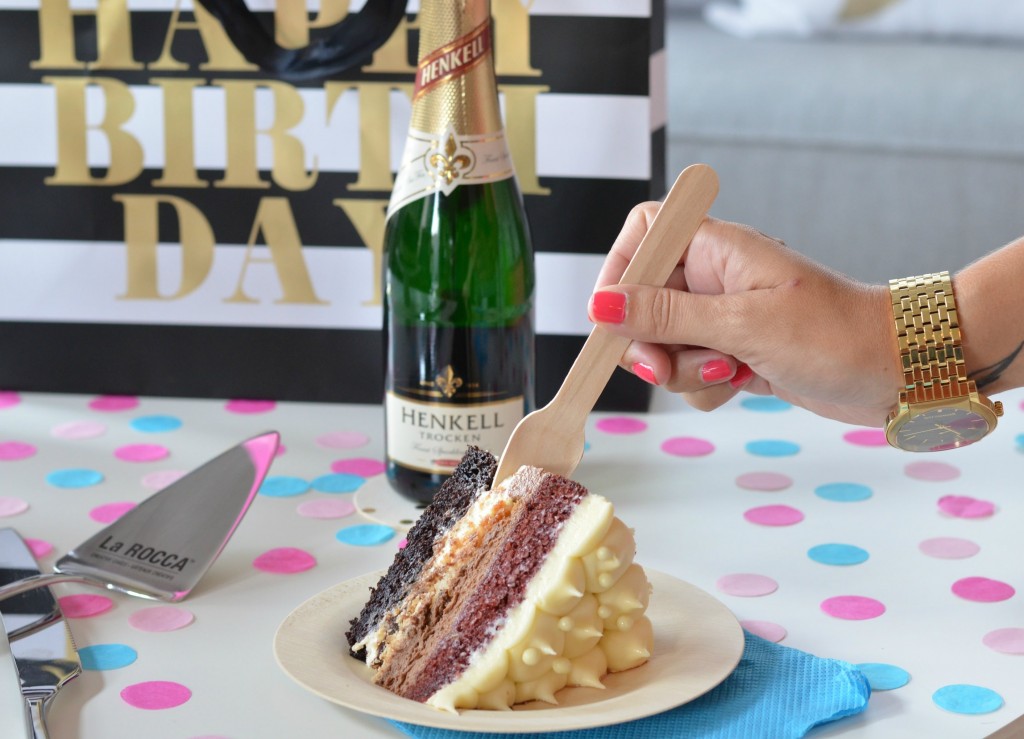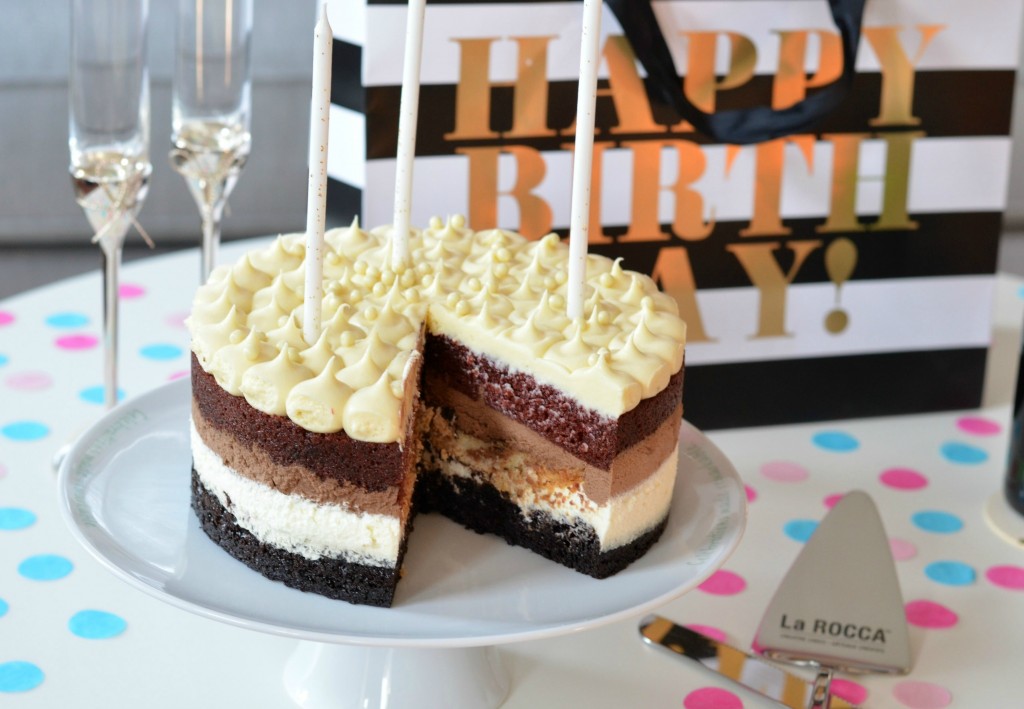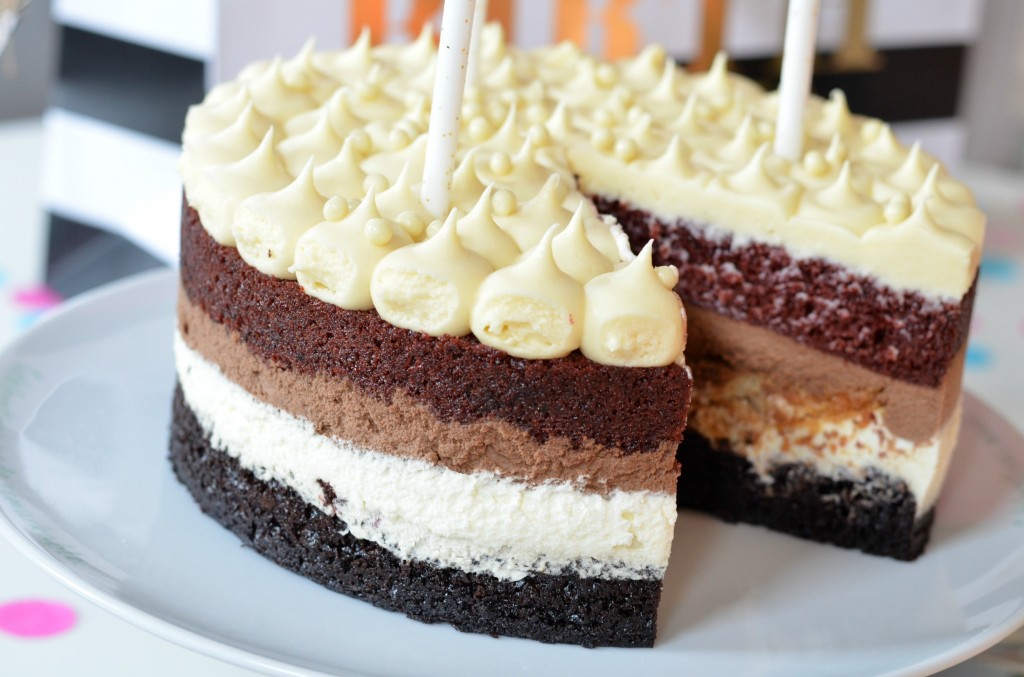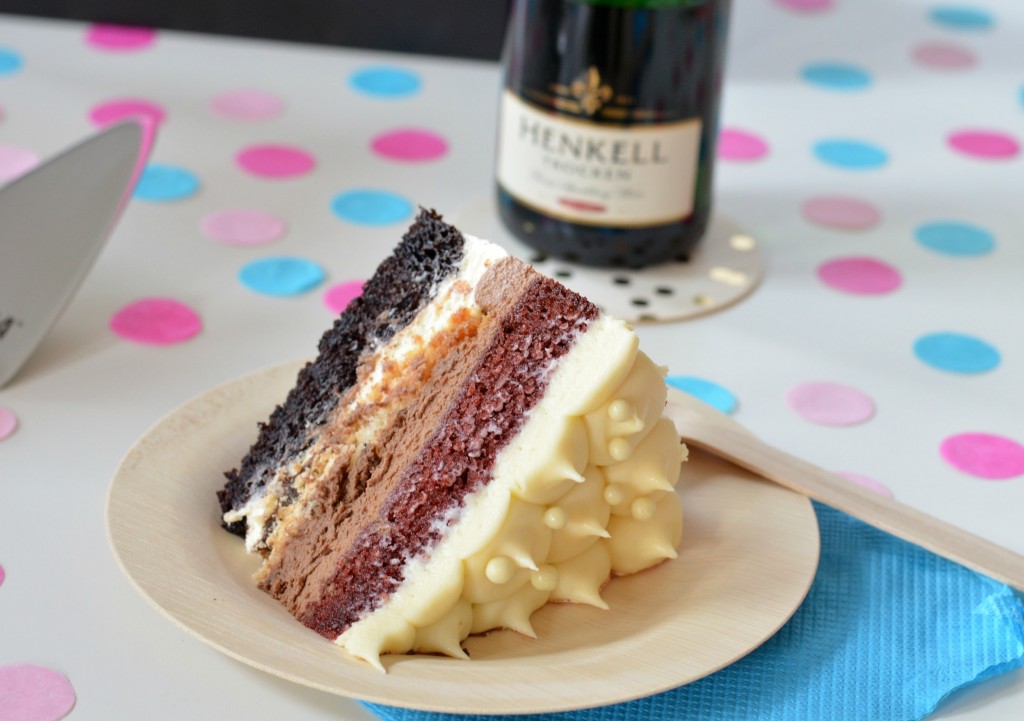 Since women need chocolate (I'm pretty sure it's a scientific fact) and the fact I'm not addicted to chocolate, chocolate is addicted to me, my first cake smashing cake was La Rocca's Chocolate Truffle. Like all La Rocca's cakes, it's made with fresh eggs, flour and cream sourced from local Canadian farms, but its creamy, hand-folded chocolate truffle is from top tiered vendors from across the globe. I love that it's made with fresh 35% whipped cream giving it an incredibly rich and decadent taste. It's also dangerously covered with chocolate glaze to satisfy even a serious choc-o-holic sweet-tooth. It's soft, sweet, moist, and oh-so addicting.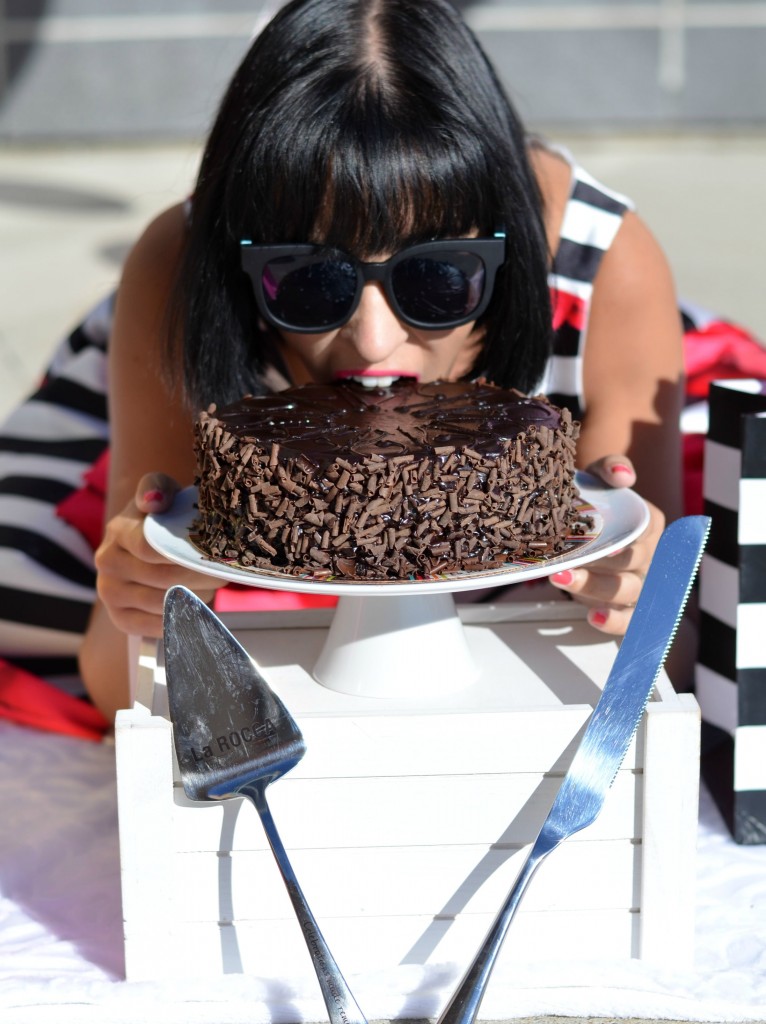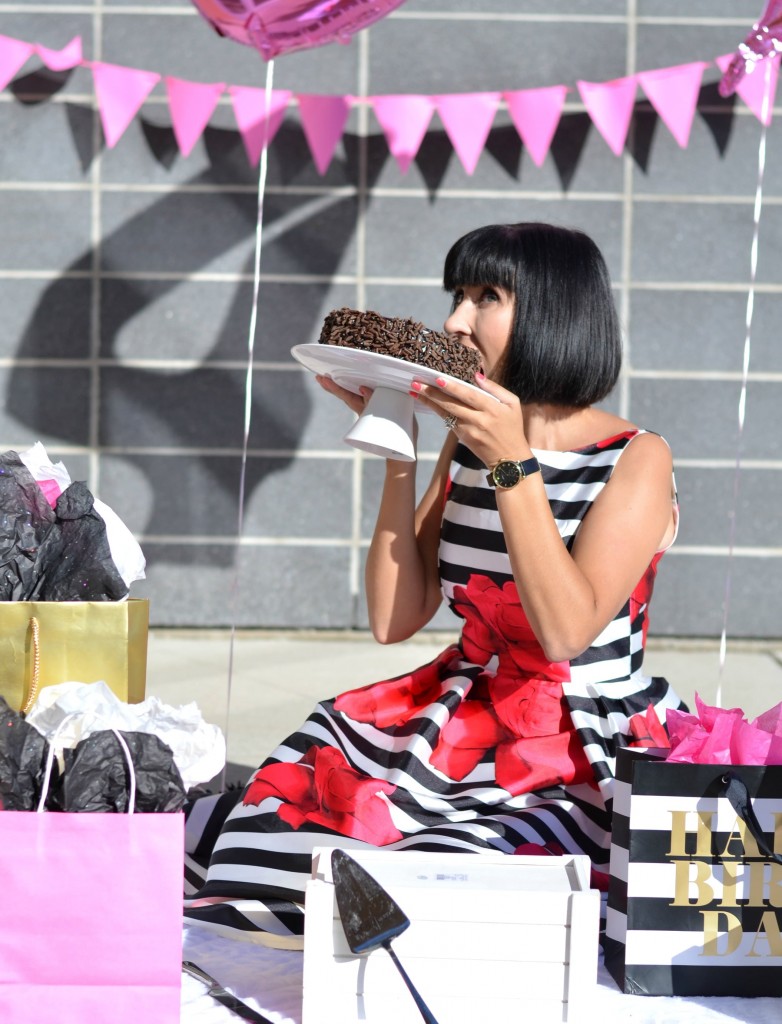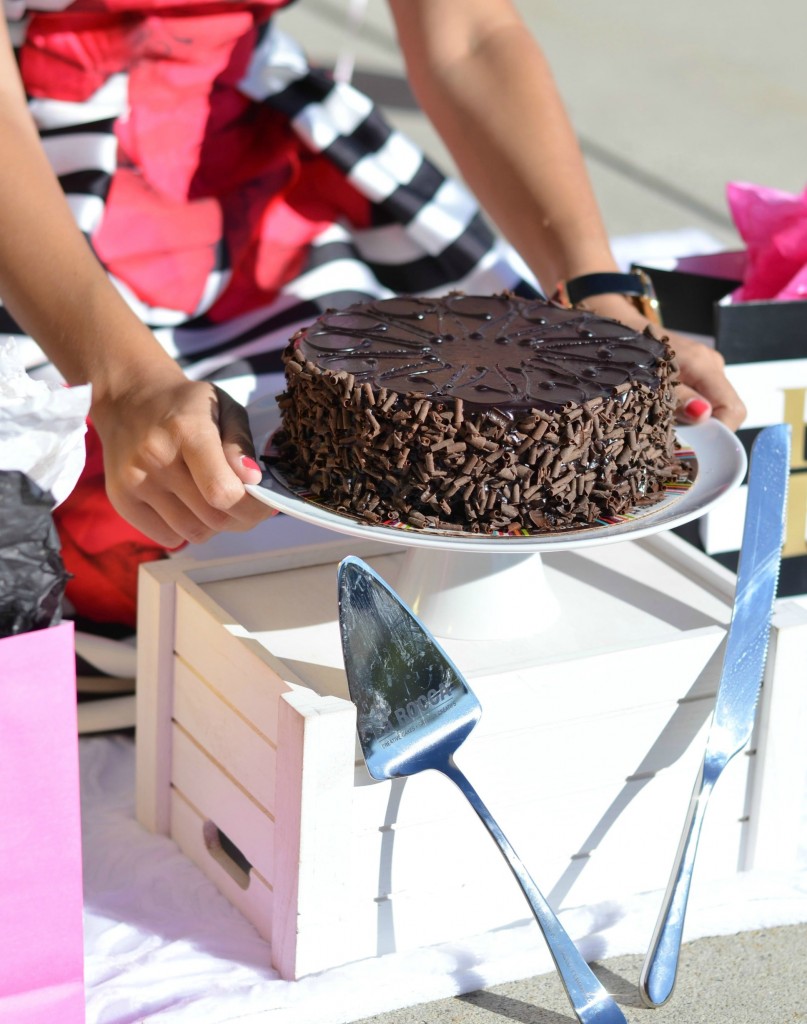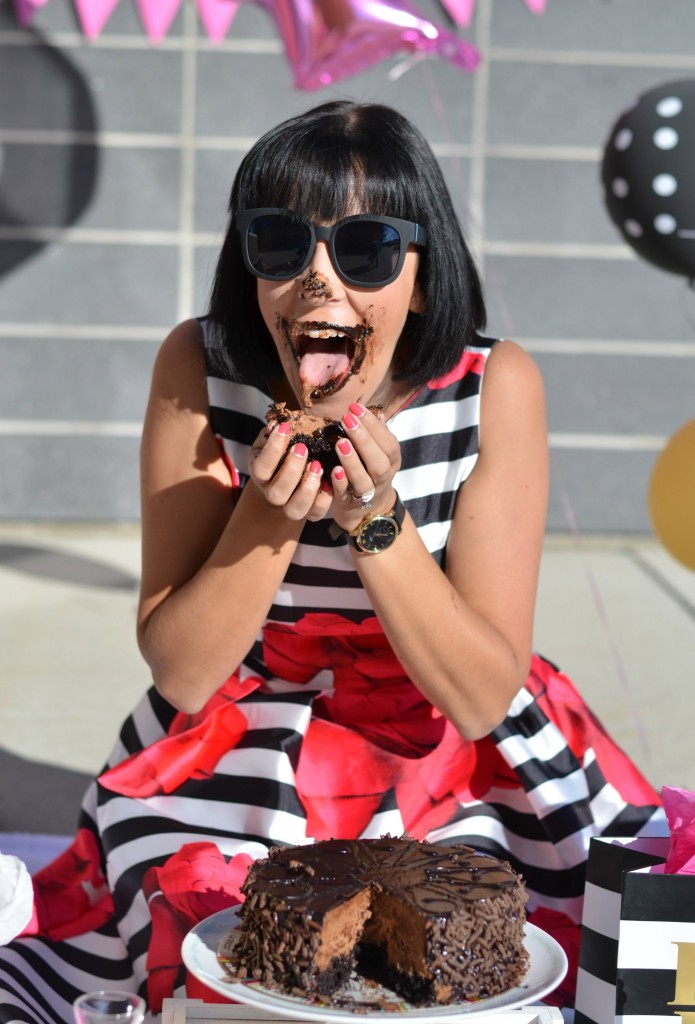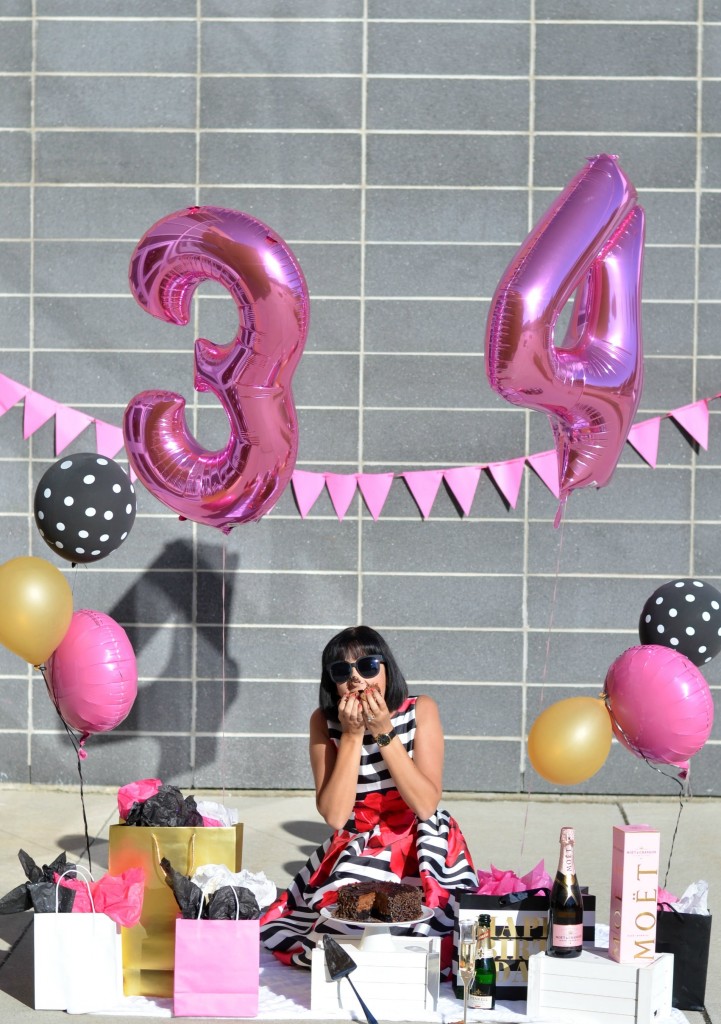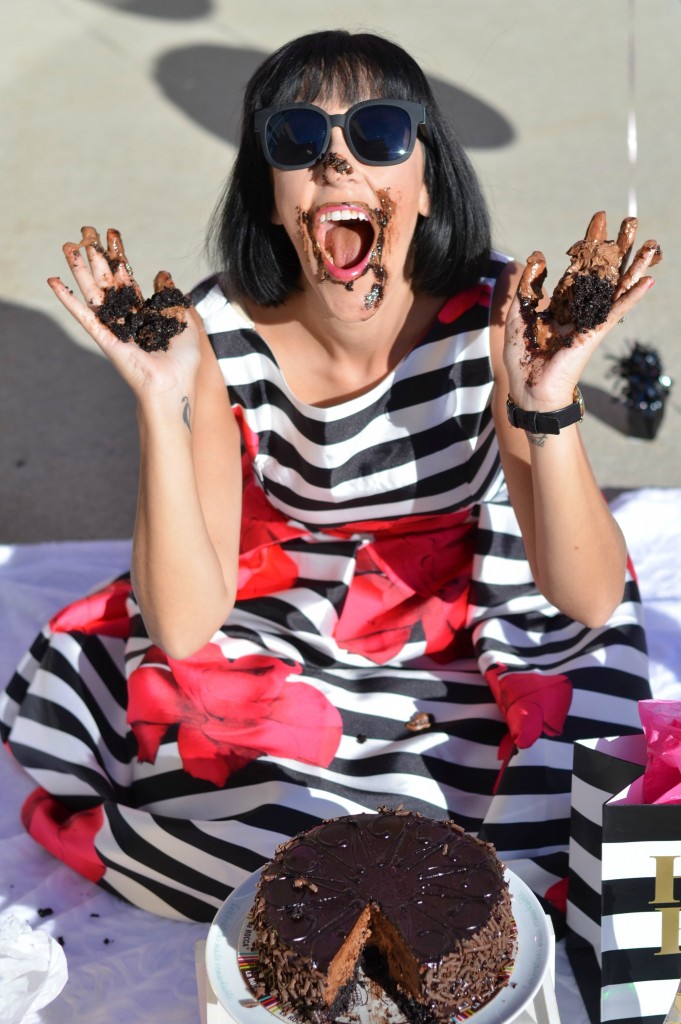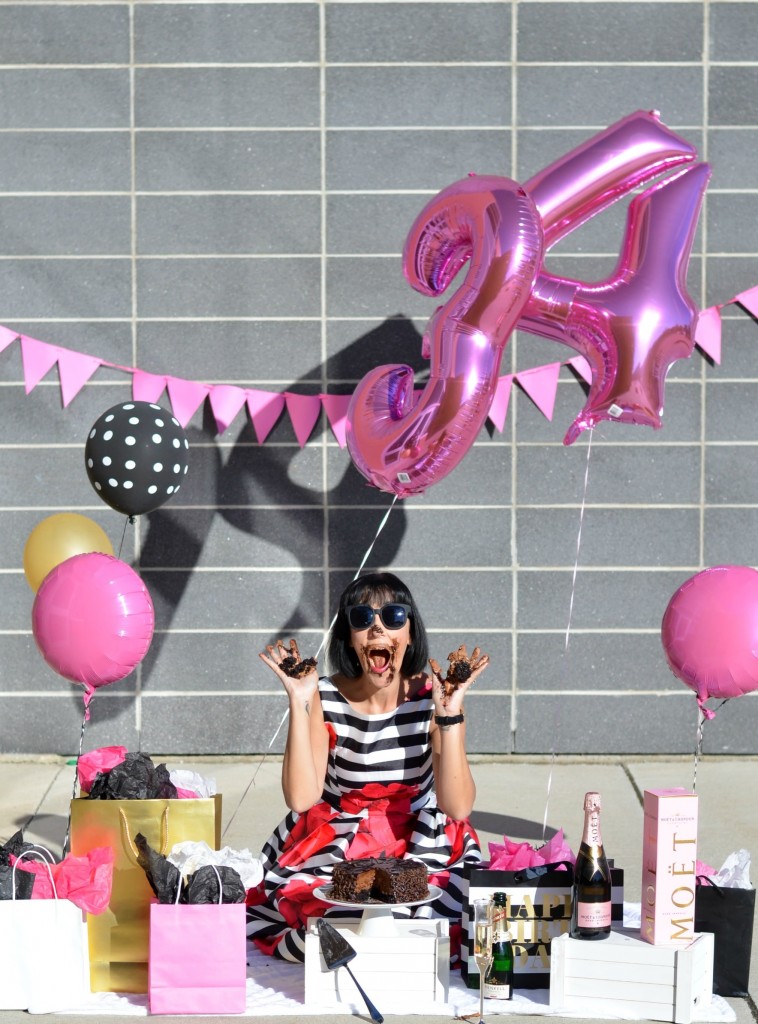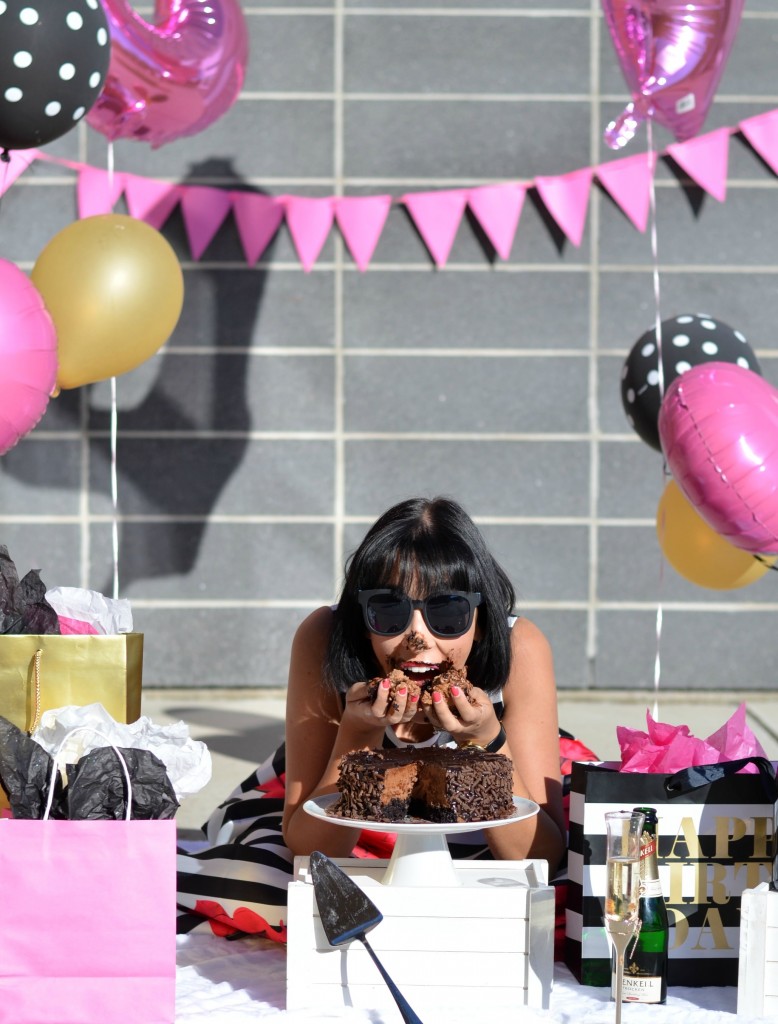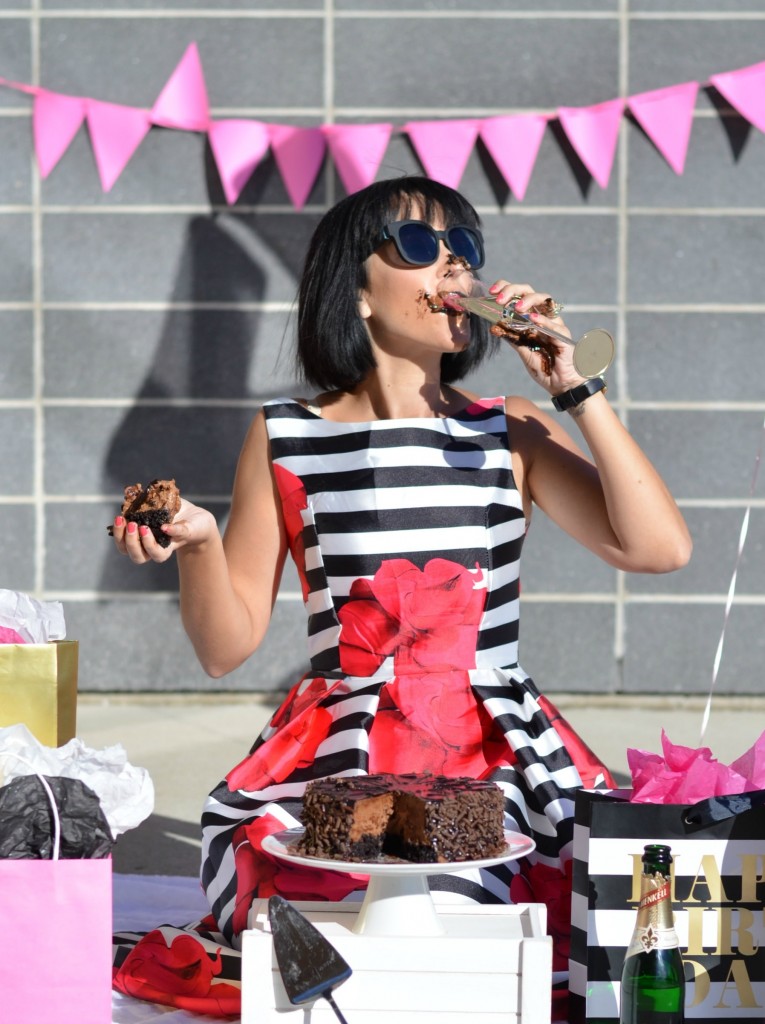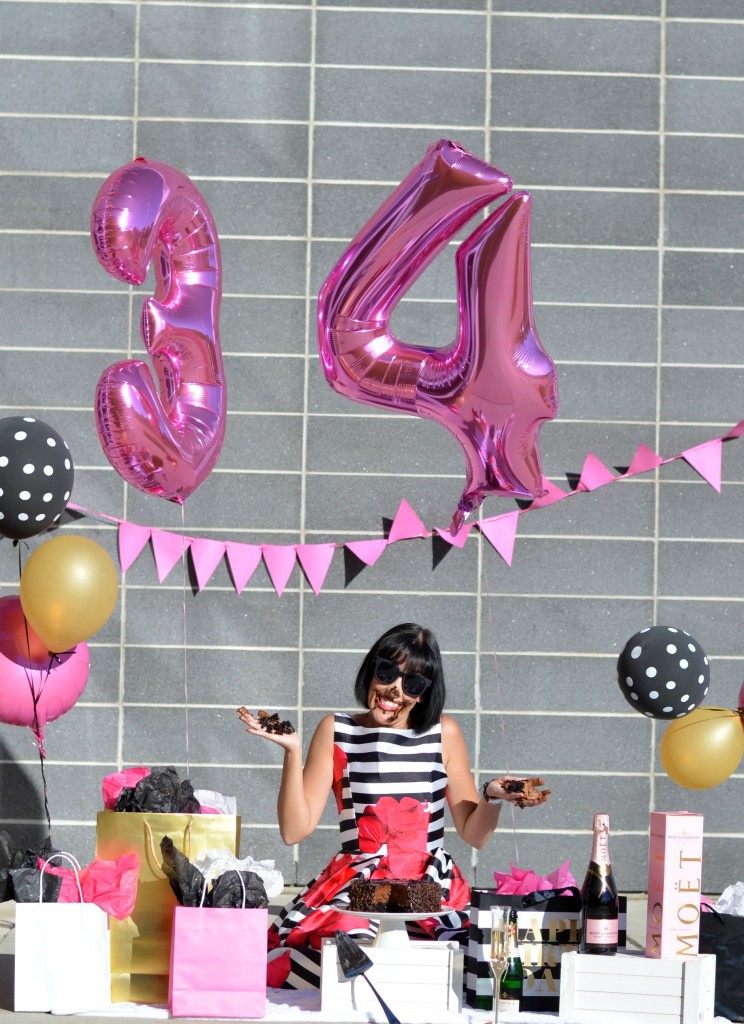 La Rocca's Red Velvet is a classic and combines two of my favourite ingredients real cream cheese icing and a touch of cocoa. It's layered between a moist buttermilk cake and topped with buttery smooth homemade icing. There's something so elegant about a red velvet cake, maybe it's the name or the bold red colour, but whenever I'm undecided on a cake, I reach for this flavour. I thought I've experienced true Red Velvet Cake that was until I tried La Rocca's. There is nothing quite like it. It's slightly chocolatey, without being too sugary or sweet and it pairs beautifully with a touch of tang from the buttermilk icing. It's super moist, melts instantly in your mouth and its signature chocolatey buttermilk red velvet flavour is to die for.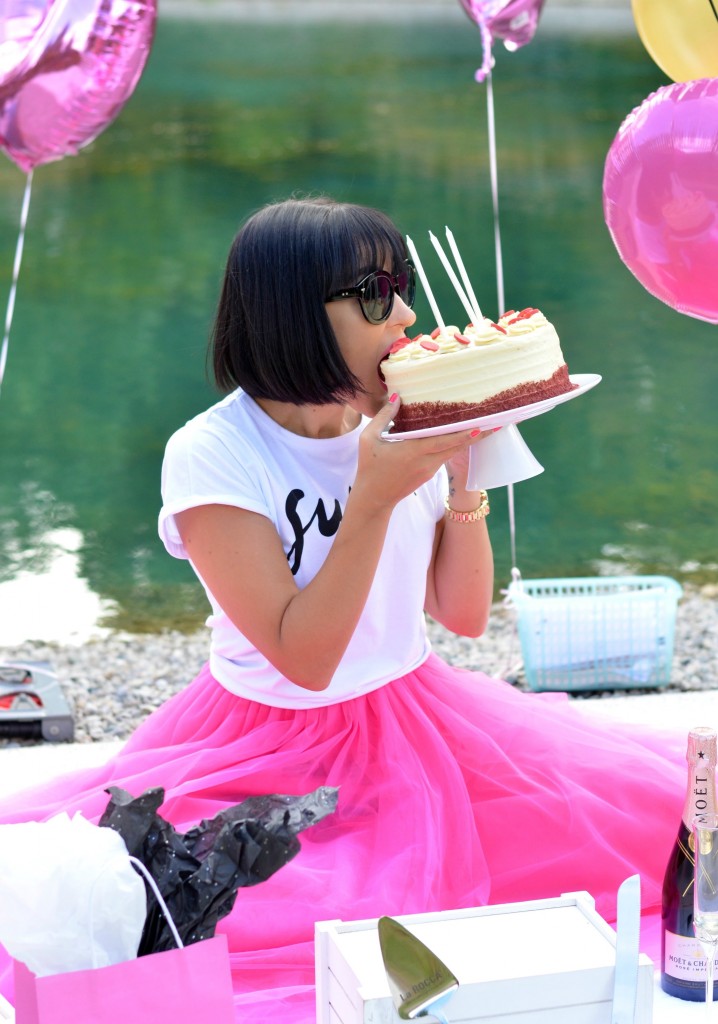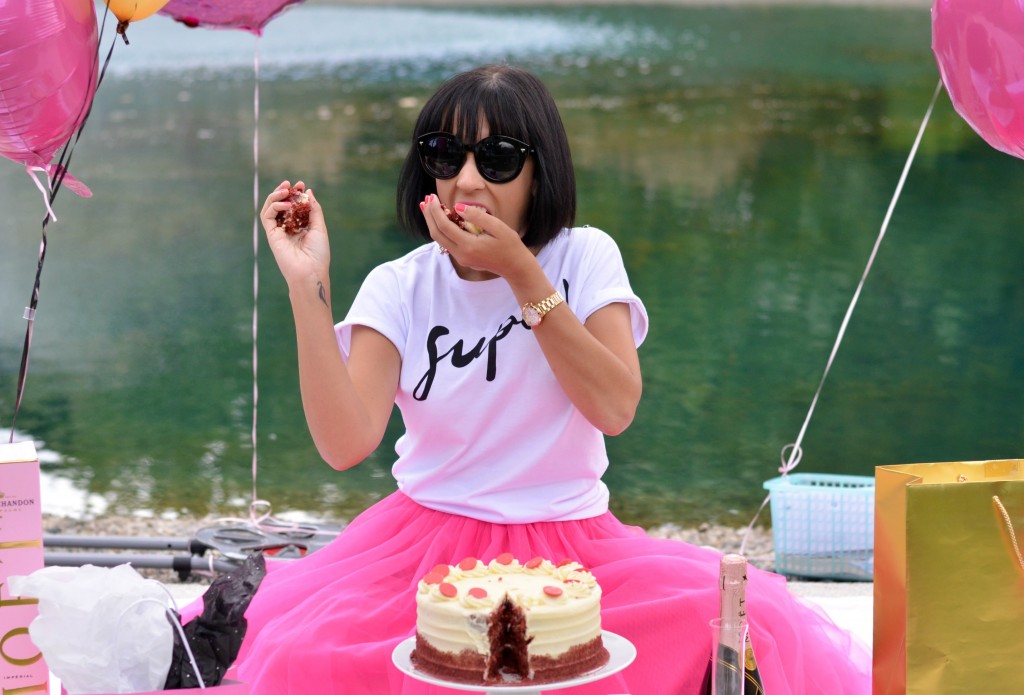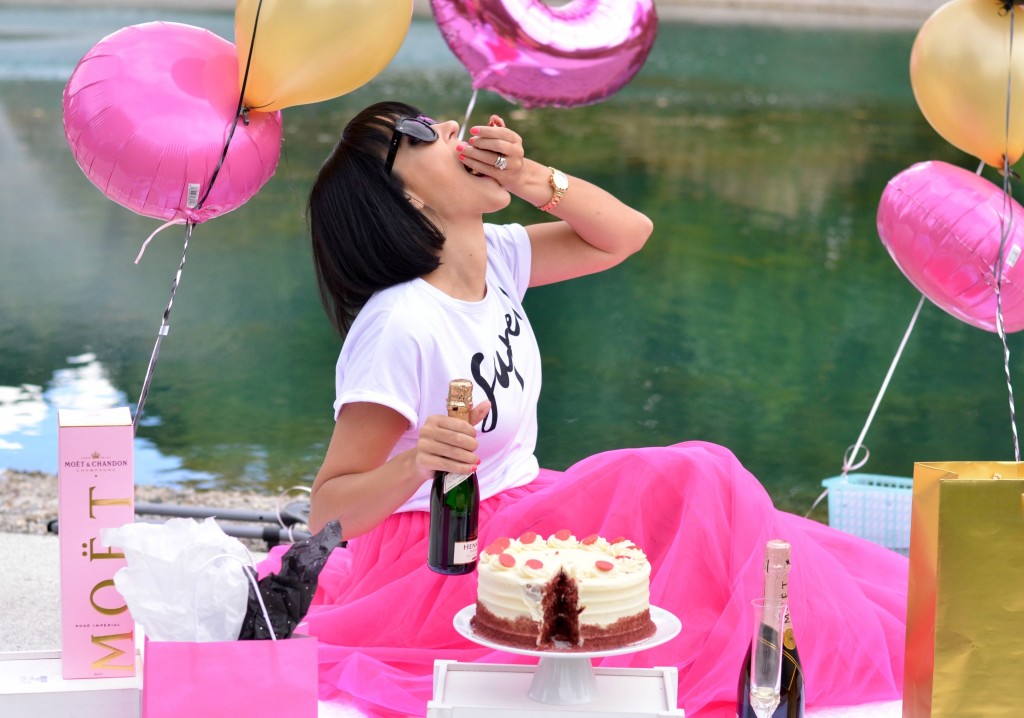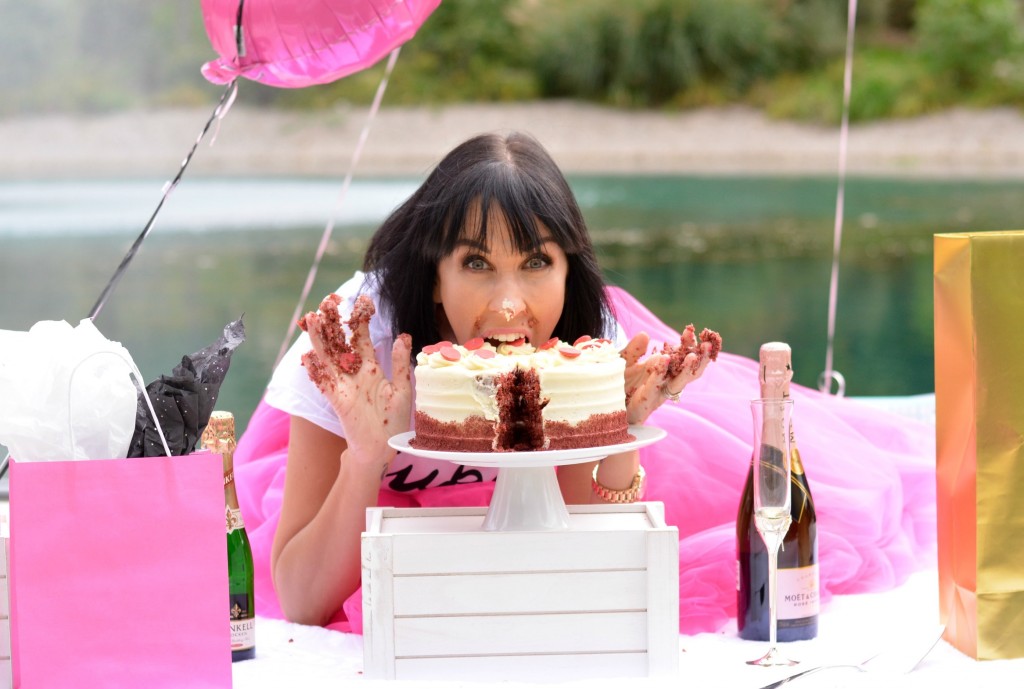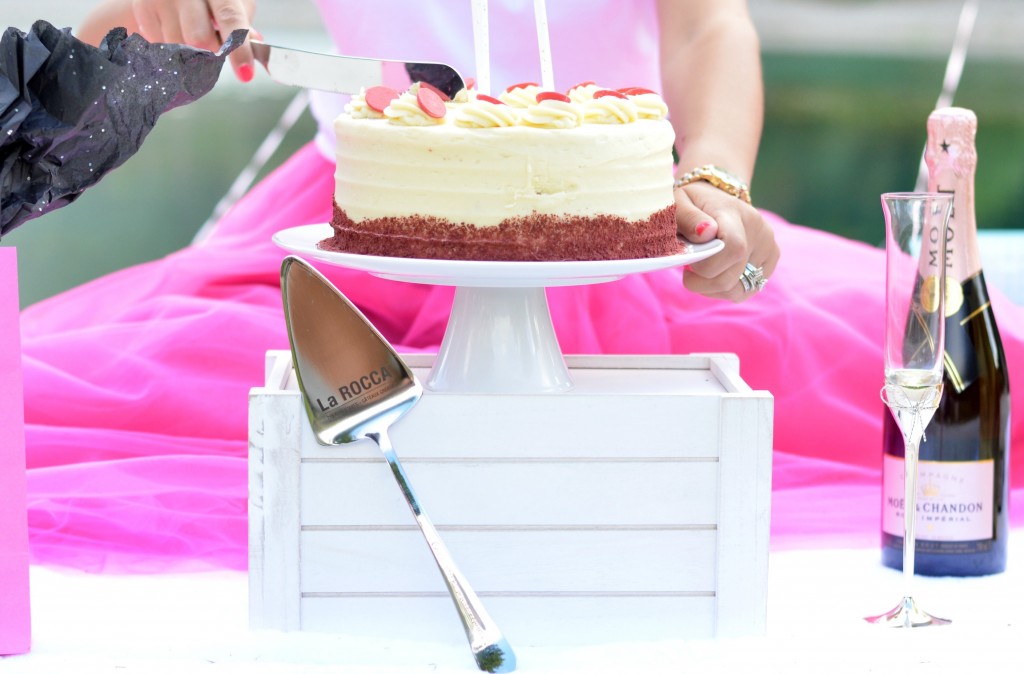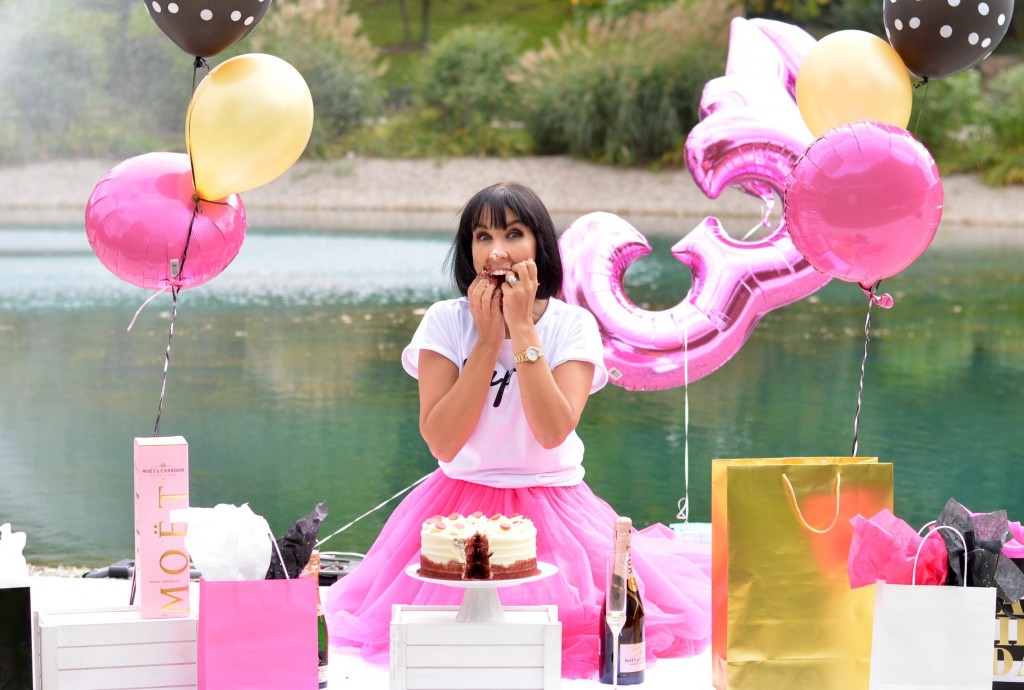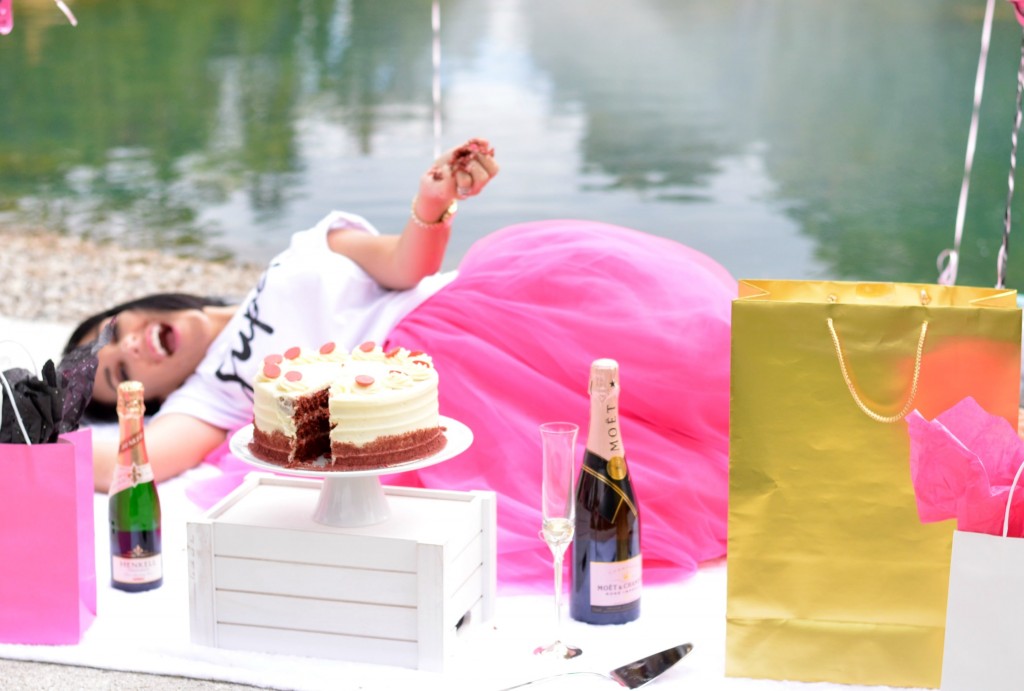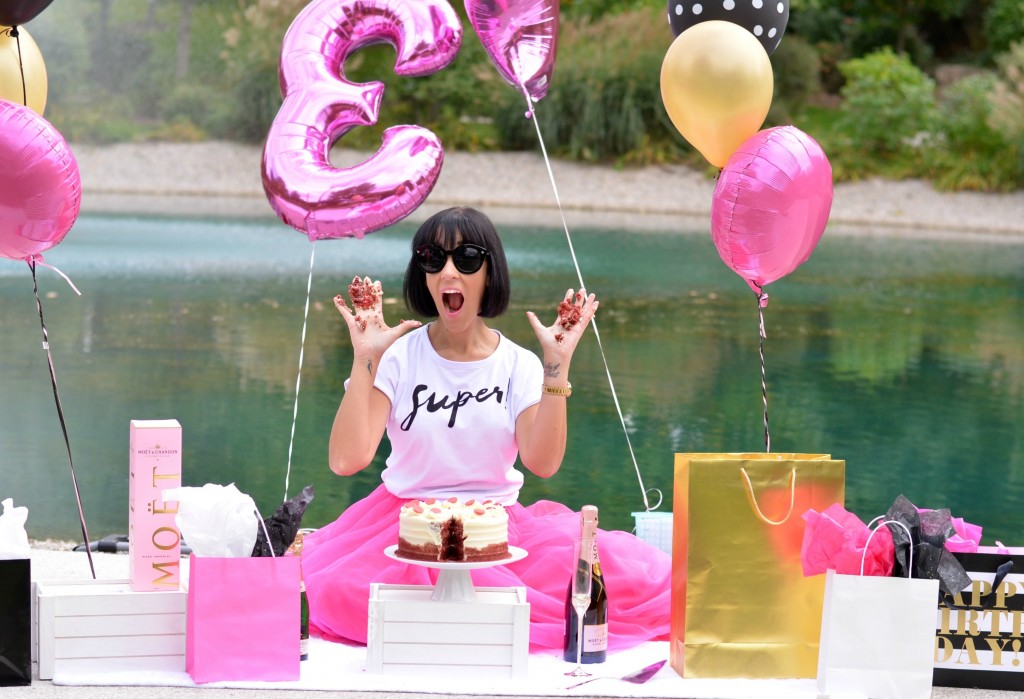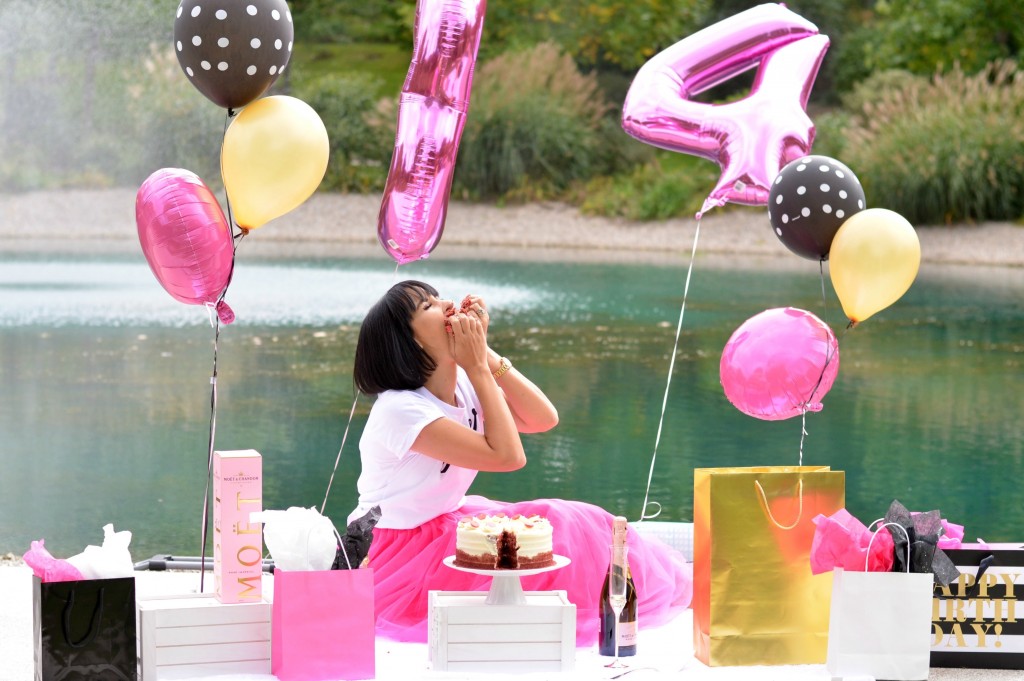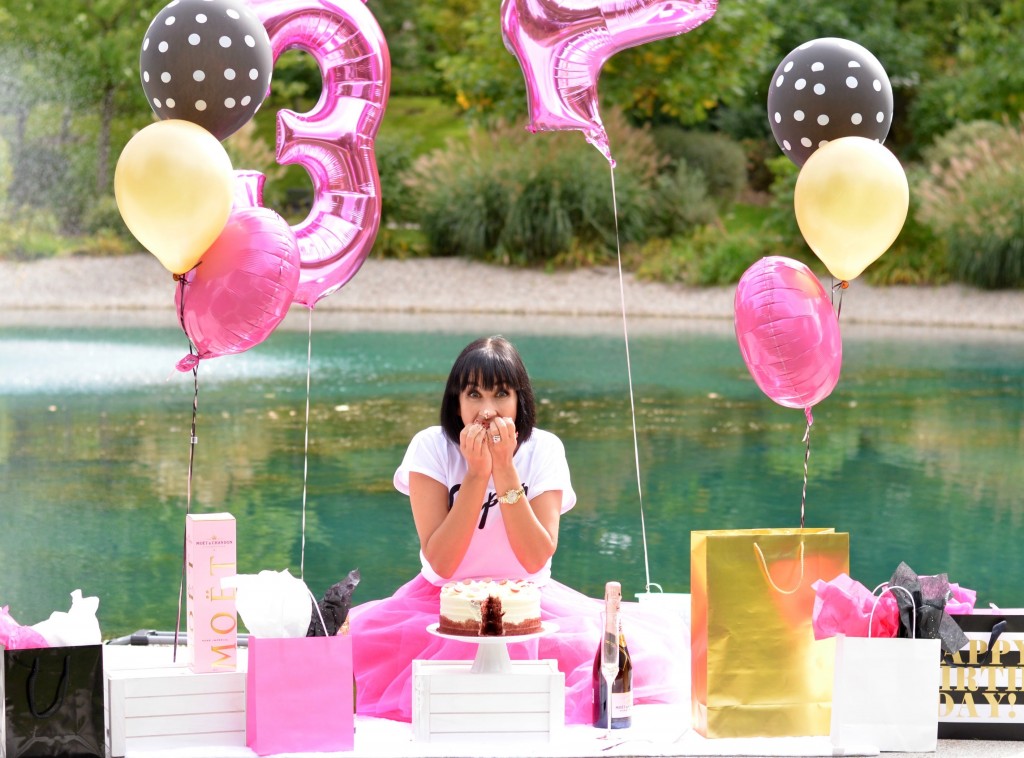 La Rocca's New York Cherry Cheesecake is another classic, is never seems to go out of style and is always a favourite. I brought this one to my girlfriend's house for my Birthday dinner and it was a real hit. It's light and airy shortbread crust is filled with rich and creamy cheesecake and then topped with sour cherries. Its smooth texture literary melts in your mouth and its creamy filling is simply heavenly. This is the richest and creamiest New York-Style Cheesecake I've ever had. It's delish.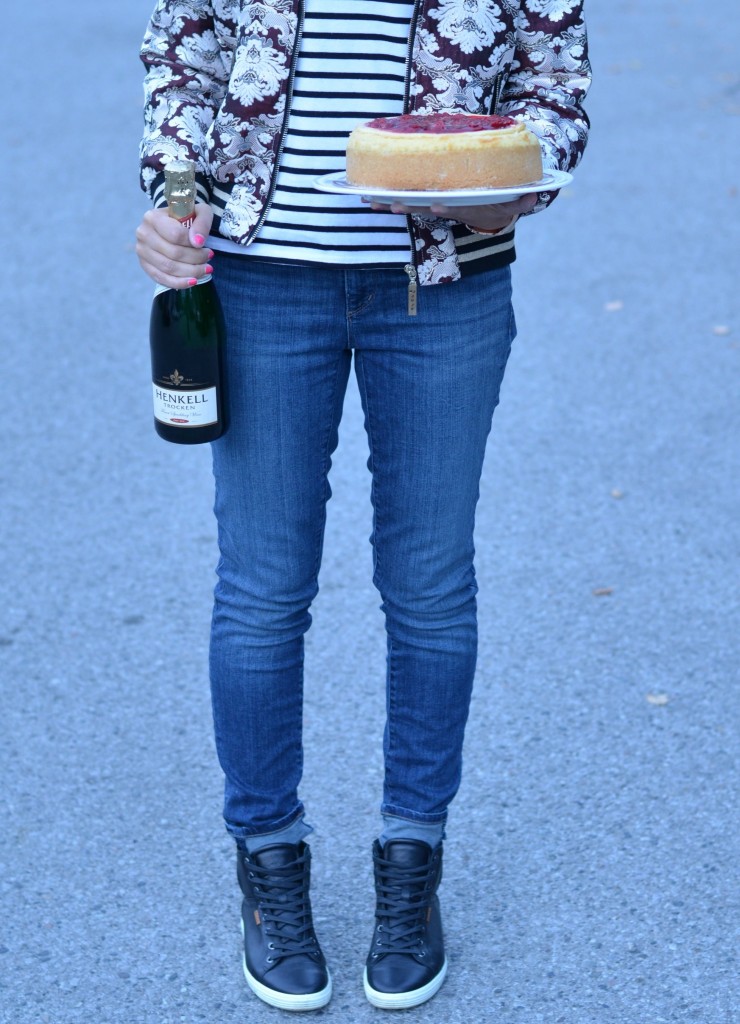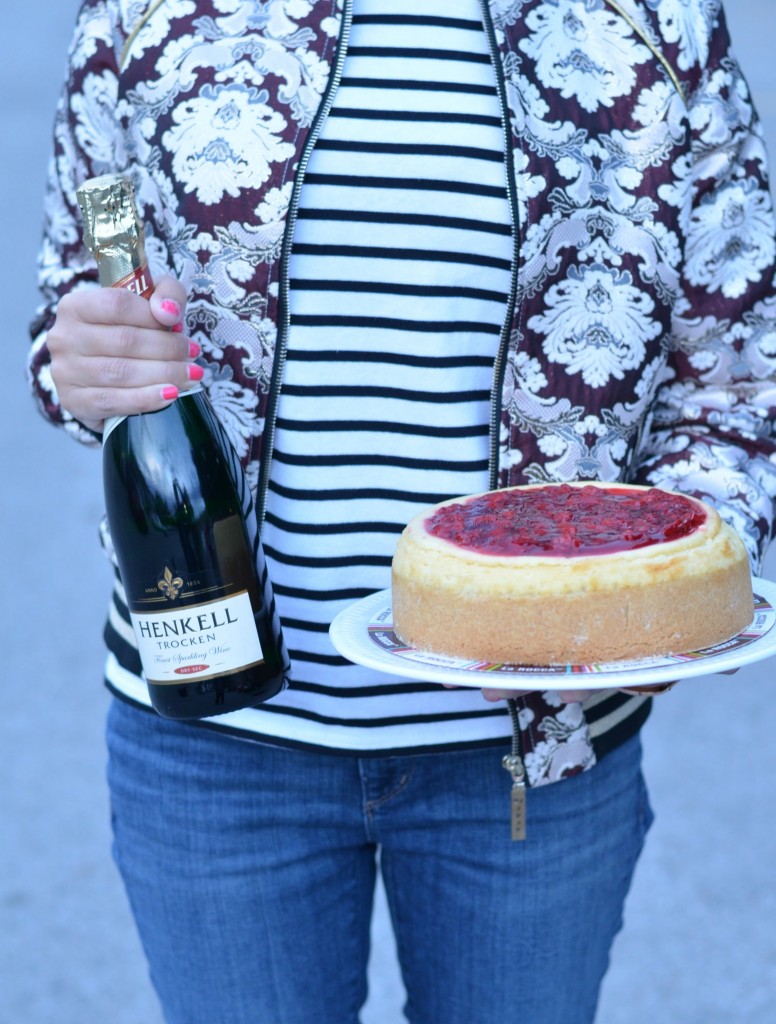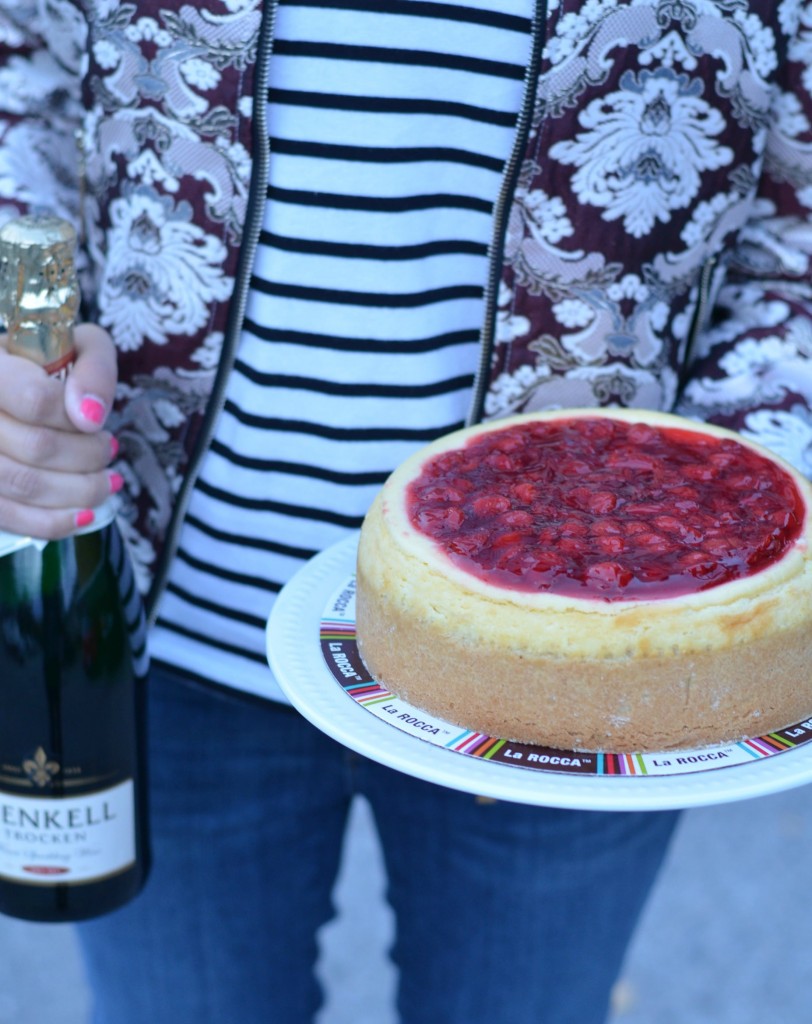 I suggest taking a few "nice" photos beforehand as things tend to get messy fairly quickly. The whole point of a cake smashing photoshoot is to get a little dirty, no? Don't be afraid to dive right in. I have to admit, it feels a little odd at first, but it quickly becomes quite amusing and entertaining. Grab a hunk of cake and get silly. Smash it, make funny faces and just have fun.
And the winner of the La Rocca  "Greatest Hits Cake" Prize Pack is………..Jill Reese
Instagram, Twitter and Facebook (must be residing in Southern Ontario)
"Disclosure: This post was sponsored by La Rocca, but all opinions on this blog are my own. I also want to thank you for supporting the brands that support my blog."