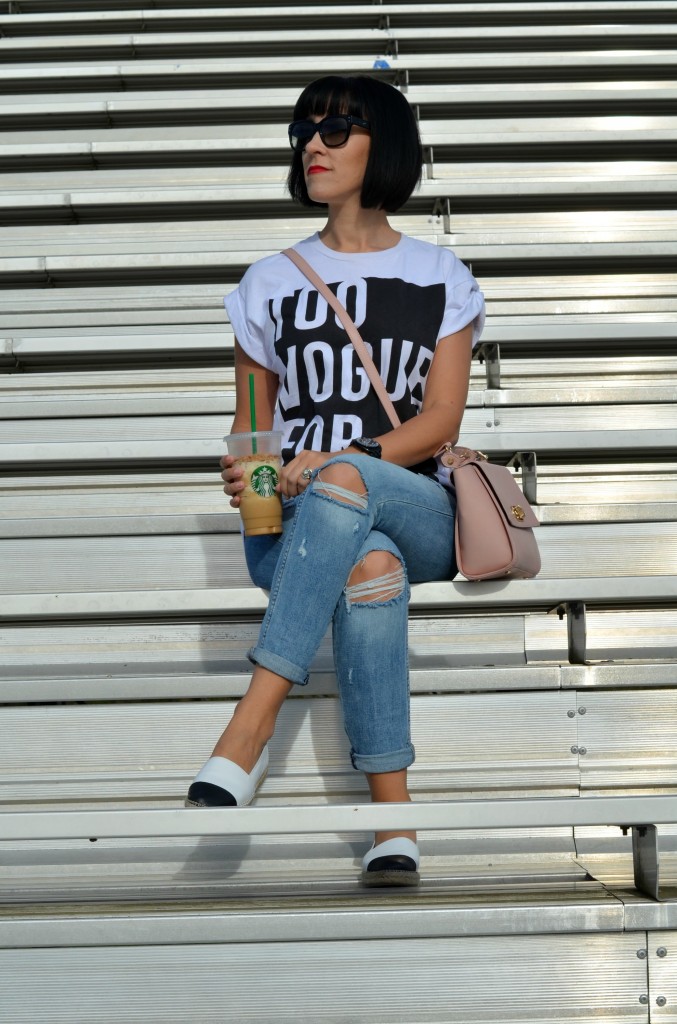 We're being lazy on this fashion blog today, cause I didn't feel like being an adult. My eye was killing, which after a quick trip to the ER turns out to be just an extreme tension migraine. Pair that with incredibly laziness and running late, and you get this casual outfit look. If you're looking for something that's super easy to put together in the morning, is comfortable, yet still chic enough to leave the house in, this outfits for you.  
This look is what I call the perfect casual outfit idea and perfect on those super lazy days. If you're running late, looking for a relaxed weekend look or even something chilled to wear on the plane, these few pieces are key.  
A graphic tee is an easy piece to incorporate into any look, not only does it instantly adds visual interest to any look, it still comfy and cozy. Try looking for a loose fitting tee, instead of a skin-tight t-shirt as it tends to look more trendy and relaxed. Boyfriend jeans are a must when you're feeling sluggish, I suggest getting them in a pre-washed denim for even more comfort. Finally, espadrilles are a girl's best friend in the summer, cute, stylish and comfortable. There you have it, a causal outfit idea that's stylish and put together, yet still relaxed and chill.
What I Wore- Tee- online, Sunglasses- Coach, Watch- c/o Bulova, Purse- Forever 21, Boyfriend Jeans- American Eagle, Espadrilles- Town Shoes