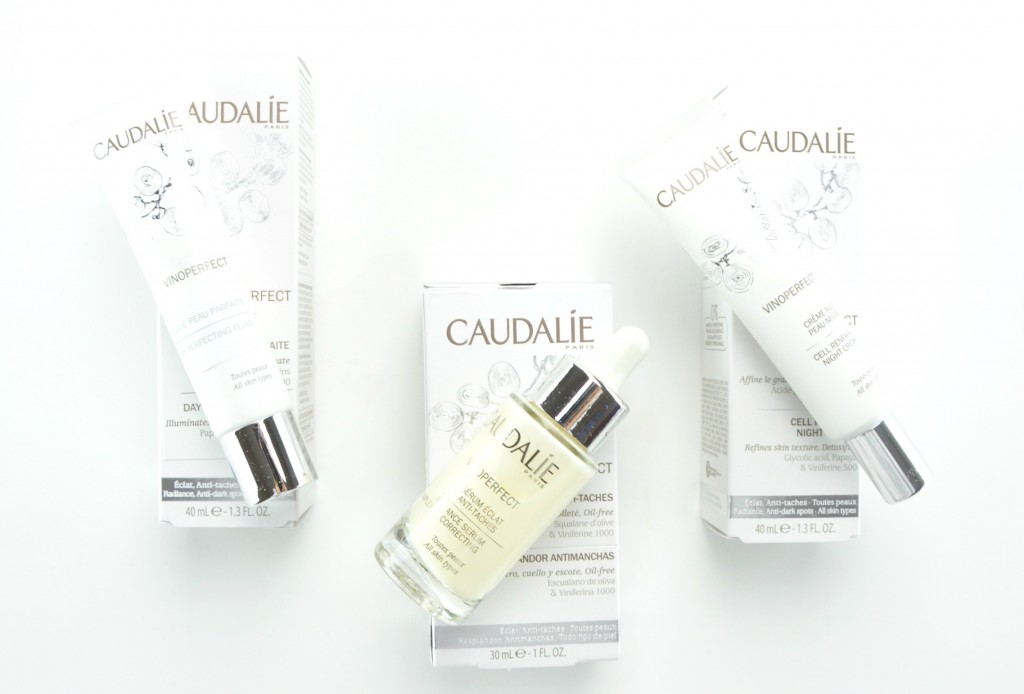 Skincare
Now that I'm in my thirty's, I'm really starting to pay attention to what I apply on my face in terms of skin care products. Being a beauty blogger has its advantages, I get to test out an array of new and innovated products each month, in hopes of finding my Holy Grail product. I often wonder what all this "testing" is doing to my skin and is it actually working, since I'm switching up my routine so frequently. As many products as I try, it's not very often I repurchase them. Partly because I'm always getting in new products, and partly because I'm always thinking something better is just around the corner. That being said, the Caudalie Vinoperfect line is something I've already repurchased and it's only been a few weeks.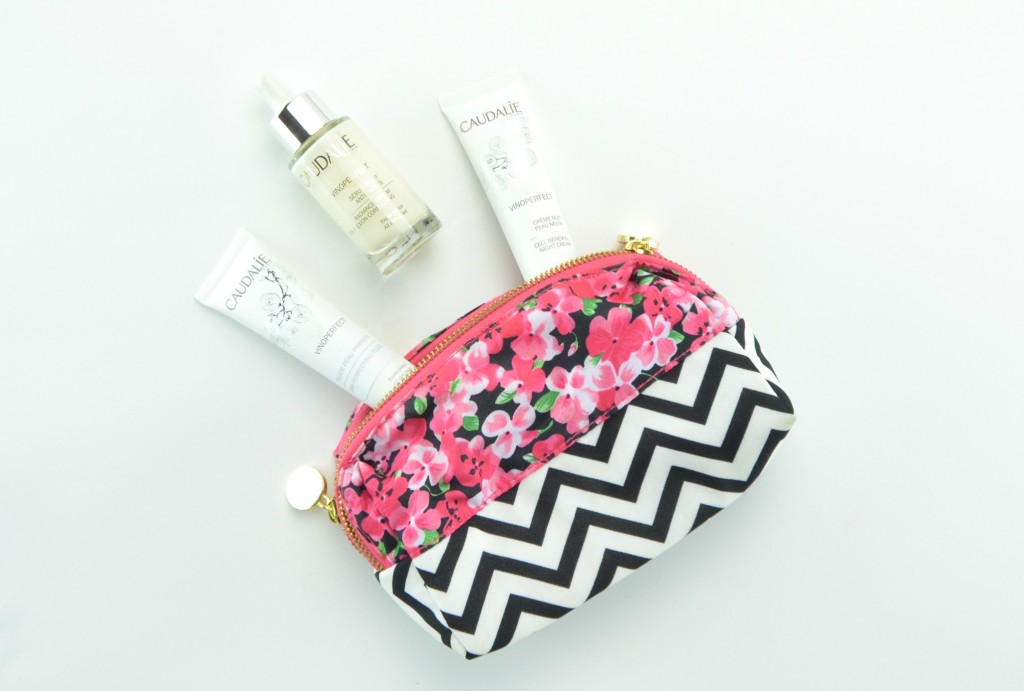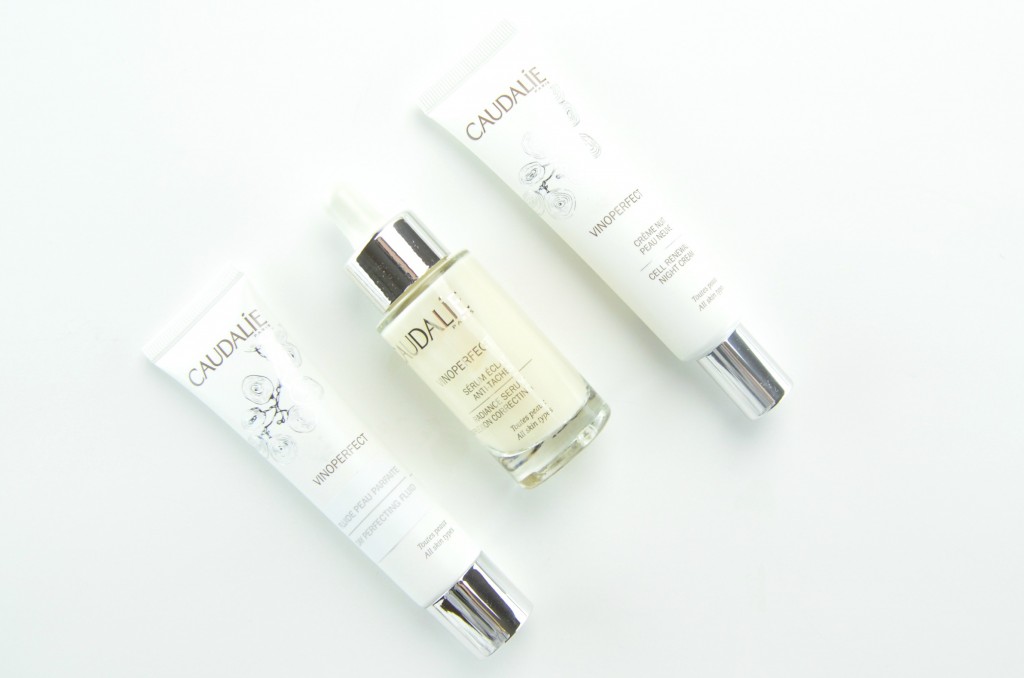 Caudalie Vinoperfect Radiance Serum is a highly concentrated, oil-free serum that helps improve the overall appearance of dark spots, such as acne marks and scars, promotes even skin tone for a brighter complexion, and helps to boost radiance. It contains Viniferine, which is 62 times more effective than Vitamin C, thus providing a high level of hydration and revealing smoother and evened out radiant skin. It comes in a glass bottle with dropper and has a lightweight, milky, satiny, liquidy texture. It applies evenly, absorbs within a few short minutes and doesn't feel sticky or oily. It's extremely hydrating and provides all day moisture, even without a daily moisturizer. It doesn't seem to clog pores and has a refreshing, sweet scent.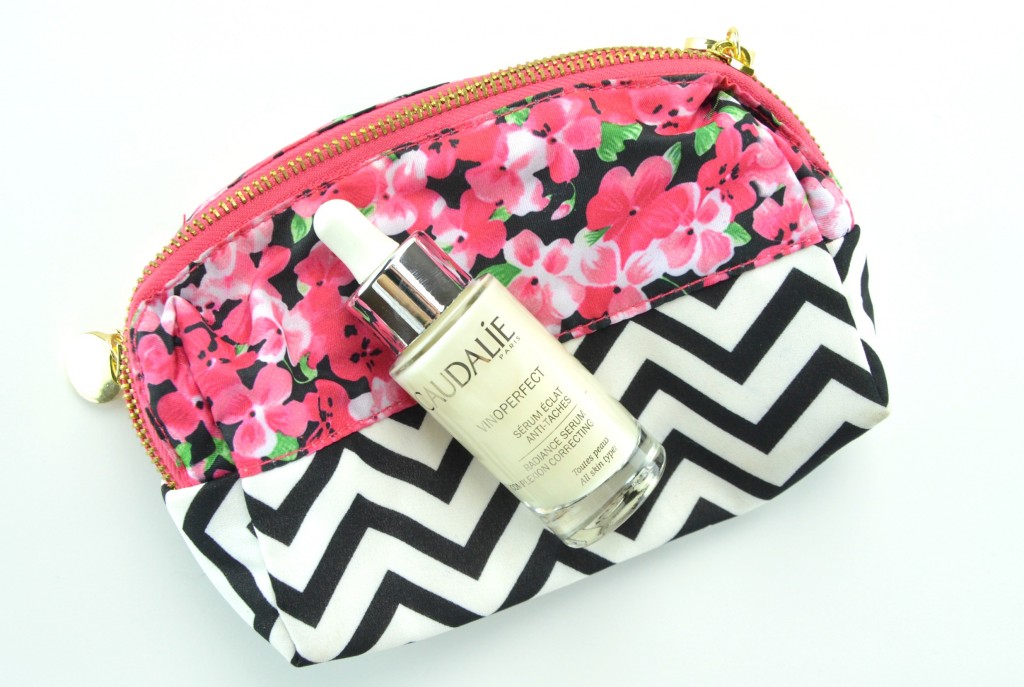 I have an extremely hard time finding a serum that doesn't make me break out. I don't actually suffer from acne, more or less, just constant blemishes, but serums are often too heavy for my skin type. Caudalie Vinoperfect Radiance Serum is so lightweight, it doesn't clog my pores nor does it irritate the skin. I'm truly impressed on how quickly it works, I started to get compliments on my skin after a few short weeks. That's when you know a product is working. It doesn't actually fade dark spots overnight, no product will, but I can see my hyperpigmentation getting lighter each day. I've been using it both day and night before the Caudalie Vinoperfect day or night cream and it leaves my skin soft, smooth and glowing. Although it's fairly hydrating, since I suffer from dry skin, I still apply a moisturizer overtop. Those with normal to oily skin, would probably be okay skipping this step. If you're looking for a colour correcting pigment serum, I highly suggest giving this a try. I promise you, you won't be disappointed. It retails for $79 for 30ml.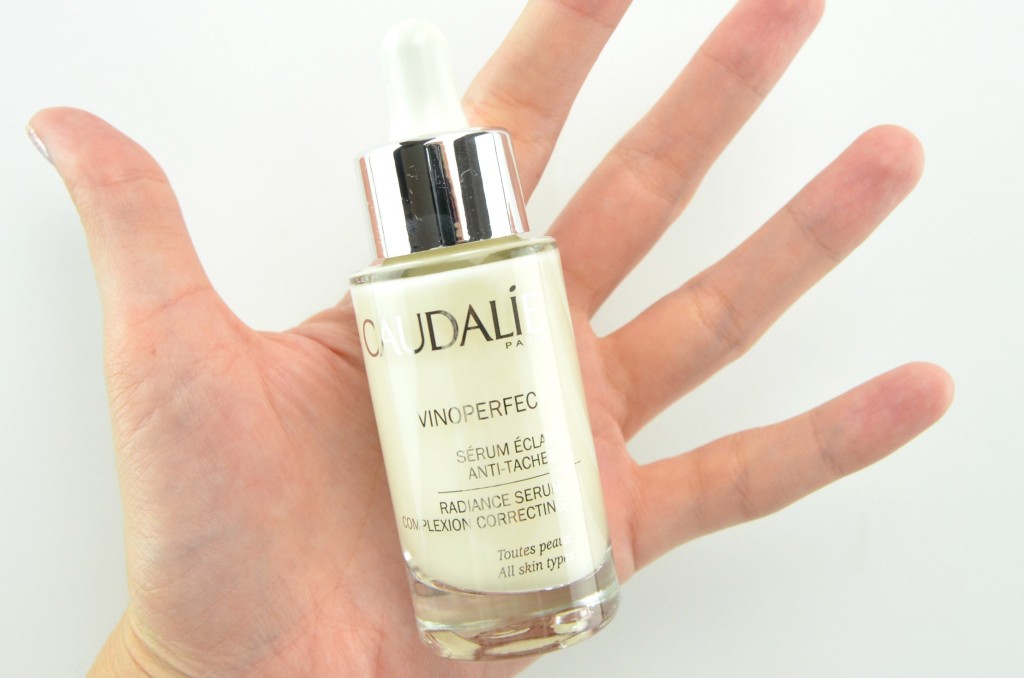 Caudalie Vinoperfect Day Perfecting Fluid is an oil-free daytime moisturizer that helps to brighten, correct and re-texturize the skin. It contains concentrated active ingredients to help treat and correct, while revitalizing the skin for a radiant, overall complexion in an instant. It too contains Viniferine, which is more effective than vitamin C. It has a creamy, very thin consistency that almost melts into the skin and absorbs instantly without feeling heavy, thick or greasy. It gives an instant soothing and refreshing effect, while keeping the skin hydrated and moisturized.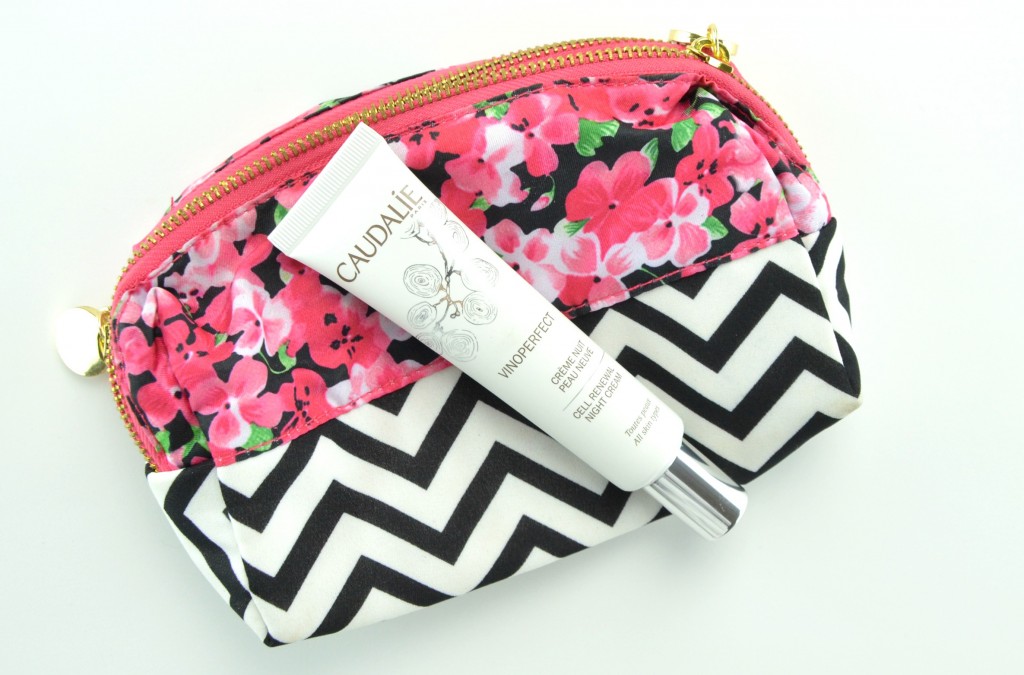 Because Caudalie Vinoperfect Day Perfecting Fluid has somewhat of a peachy tint to it, it gives an instant brightening effect once you apply it. It provides a nice smooth canvas, perfect for wearing under makeup. I've actually been skipping my makeup primer, and for those that know me, I can't live without my primers. I love that it has a built-in SPF15, although this may not be strong enough for when you're applying it with a colour-correcting serum. I typically try to wear at least a SPF30, but it's better than nothing and perfect for those days when you forget. This goes hand in hand with the Caudalie Vinoperfect Radiance Serum, day after day, it helps transform my skin. It helps to clear up imperfections and helps to diminish my dark spots. My overall skin texture is refined and my complexion becomes more even and smooth. Its dewy finish helps revive radiance and add a little life back into my dull skin, while keeping it hydrated throughout the day. It retails for $64 for 40ml.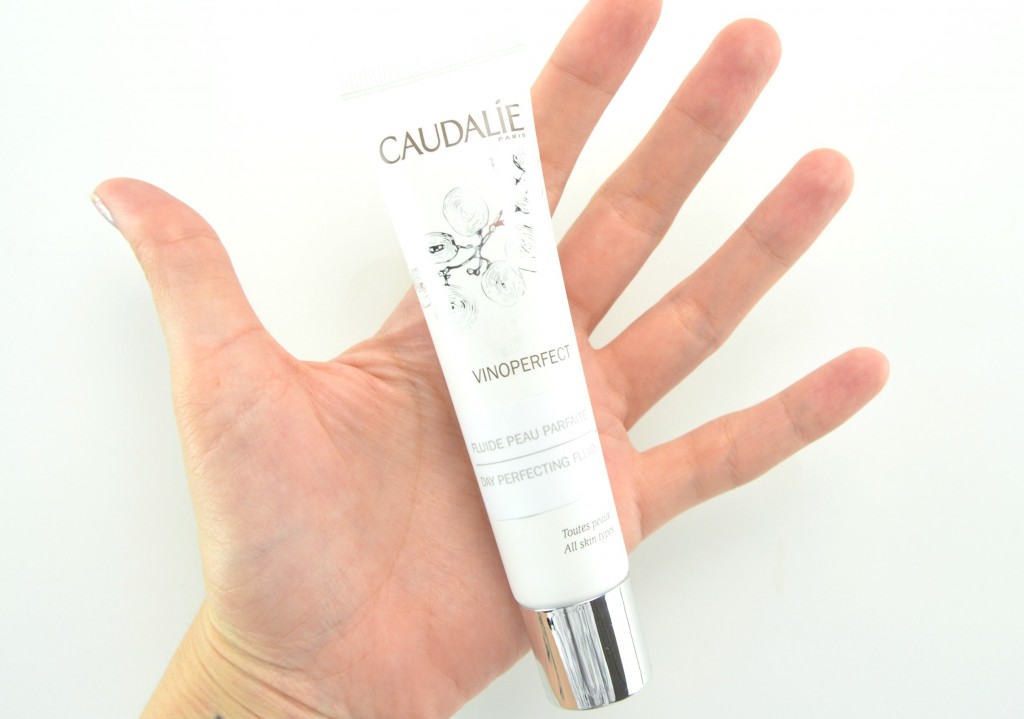 Caudalie Vinoperfect Cell Renewal Night Cream is an exfoliating night cream that works while you sleep, to help resurface, brighten and detoxify the skin. It helps to deliver gradual and continuous exfoliation for new skin effects, while visibly diminishing dark spots and imperfections. The skin texture is refined, pores are tightened and your skin will be able to breathe more freely. It, of course, is also formulated with Viniferine, along with Papaya Enzyme that helps to gently slough off dead skin cells and enforce cell renewal and hyaluronic acid which helps to keep skin hydrated and reduce the appearance of fine lines. It has a slighter thinner texture than regular nighttime moisturizers, but does a wonderful job at hydrating the skin. It's non sticky or tacky and it instantly soaks into the skin.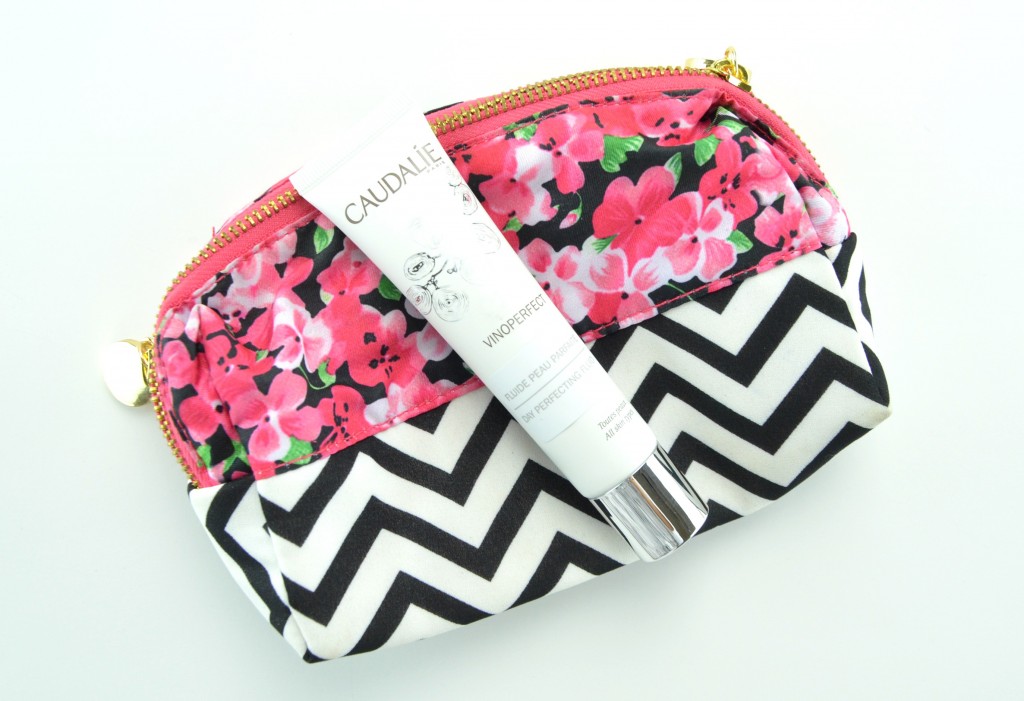 For those late nights and early mornings, Caudalie Vinoperfect Cell Renewal Night Cream will be your hero. It surprisingly not only hydrates the skin, but gives an incredibly luminous complexion in the AM. It actually gives the appearance of a well-rested night, even if you were left tossing and turning. Did it help refine my pore size, I don't think so. I say it over and over again, this is nearly impossible, and I never purchase a product solely on this. It does, however, work beautifully with the other two Caudalie Vinoperfect products, and helps to slowly fade dark spots and brighten up my complexion. My skin is smoother, moisturized and ready to take on the day. After the very first night, I noticed a drastic difference in my complexion. It gives a fresh-faced glow that looks like I got plenty of beauty sleep. It retails for $64 for 40ml.