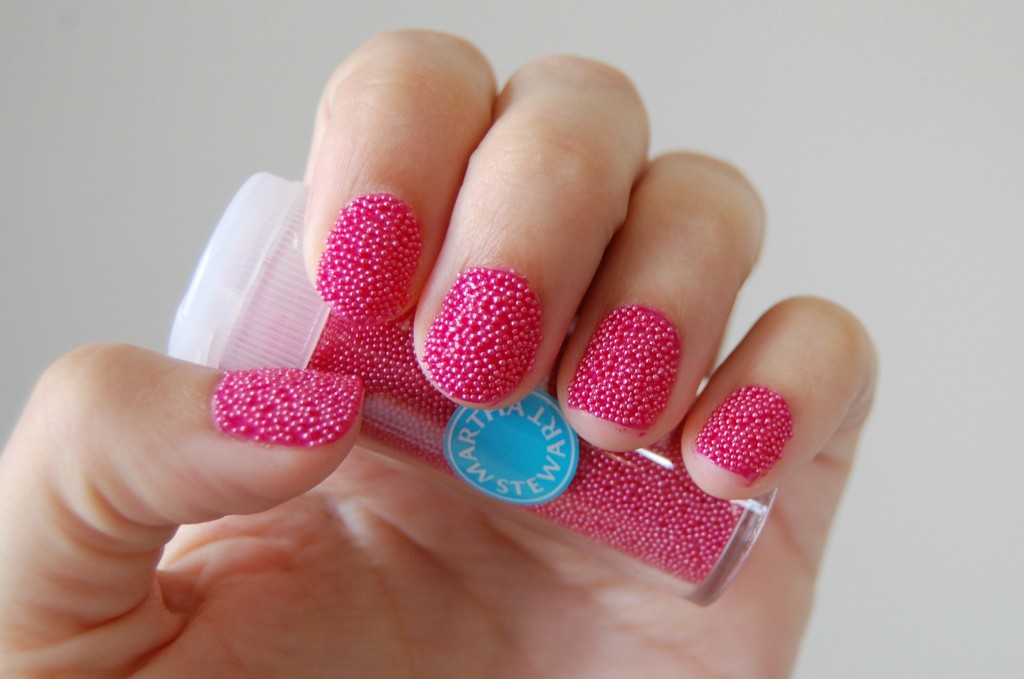 After weeks of debating if I should invest the $25 for the Ciate Caviar Manicure Nails, I thought to myself there has to be a cheaper way to do this. Really all it is, is little beads mixed in with black nail polish, how hard could that be to recreate? 
Since I'm pretty crafty I knew I would probably have something in my craft boxes or at the very least I could find something at Michaels to mix in with my nail polish to get the same look. Craft boxes….. fail, all my beads were too big so off to Michaels I went. 
Ended up picking up a box of Martha Stewart's Microbead Set with 12 fun colours for only $14 (I had a 50% off coupon) regular price was $28. What does that mean…. I already saved $10 from not buying the Ciate and I now have 12 colours to pick from instead of just the one plain black I was going to buy. 
It might take a few extra minutes to do it this way, but way way cheaper and you're going to get more of a selection and more staying power so I think its well worth it? 
1. All you have to do is add a one layer of your favourite nail polish, either try to match your nail polish to your bead colour or for a more fun, trendy look go for something bolder as your polish and a lighter colour bead on top. 
2. Next up is you're going to add your beads. You're going to want to work with one nail at a time. Apply your second coat of nail polish and pour the beads straight from their containers onto the wet nail (they will stick immediately). 
3. Tap your finger very gently to make sure they're all in place and to get rid of any loose beads that are not stuck to your nail. I just placed a small bowl in front of me to catch the beads, that way I can add any extras that fell off back into the container to re-use. 
4. I gently pressed down on the beads with my finger to make sure they were stuck in the nail polish good and tight. 
5. I used a top coat to seal everything in place (but I waited about 20 minutes to make sure the first 2 layers were good and dry).
Done! It took a grand total of about 1 hour and lasted for a good 4 days before starting to look a little warn. From what I've heard about the Ciate, it only last 1-2 days. I think this is a super fun look and I look forward to using all 12 of my new colours. 
Have you tried this caviar look, I would love to see pictures!