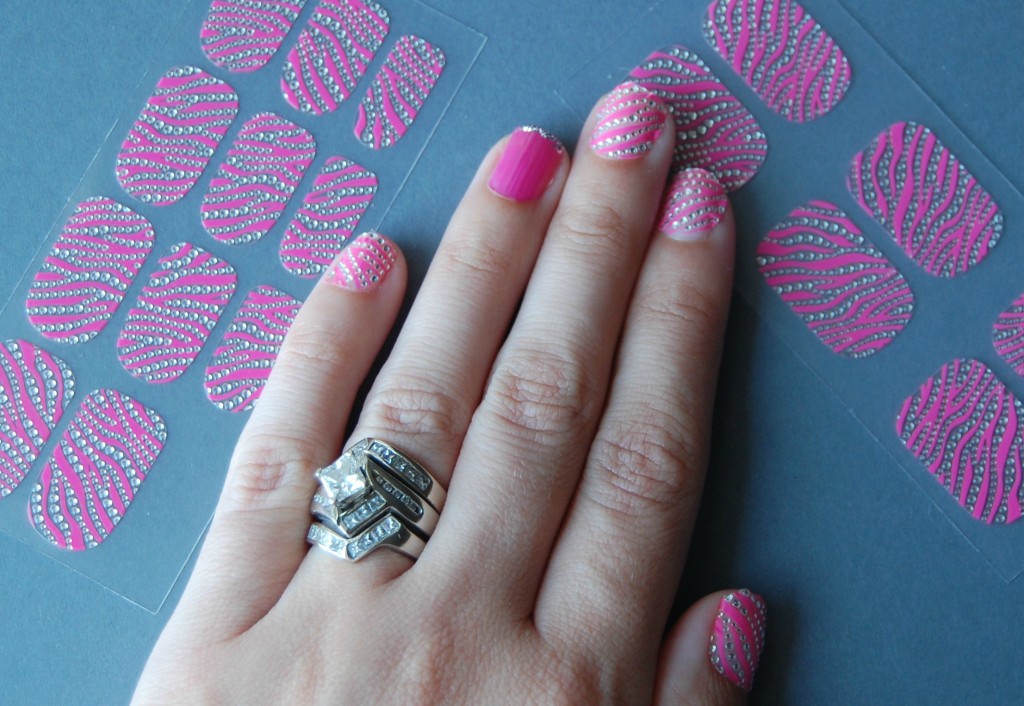 I'm a huge nail art fan but I can never find the time to go to the salon (and to tell you the truth I hate paying $30+ to get my nails done) when I can do it myself for a lot less and in less time! Kiss sent me out some Kiss Nail Dress to test out and I was super impressed with them! 
Kiss Nail Dress comes in a package of 28 fashion nail strip stickers in varying sizes so that you can match them up to your fingers and toes for the perfect fit. It also comes with an instructional booklet with other nail art ideas, and a nail buffer to help smooth and shape your nail sticker to the perfect contour of your regular nails and it can last up to 10 days. They have a built in top coat that maximizes their staying power and are super easy to put on. They have 18 different fun styles to pick from, so I will be picking up some other fun colours to test out for sure! 
The total process took about 10 minutes (if that) and all you have to do is clean your nails with nail polish remover, select a size strip that fits your nail, apply the nail dress near your cuticle and press it onto your nail, finish off by folding down the edges and file to perfection! 
They're really lightweight on your nails that you forget you even have them on. Mine did stay on for the full 10 days and looked pretty good, I bet it could have stayed on longer if my nails didn't grow so
fast. These for sure look way better than any nail polish I've tried after 10 days, easier than painting your nails and in about half the time. Plus you would never be able to paint any of the fun designs they have using basic nail polish, so that's a plus for me. 
They are really easy to take off, just peel back the strips and they come off within seconds. No sticky residue left over which I thought I would have after taking them off, that's just one less step you have to do, yippee!
Day 10: