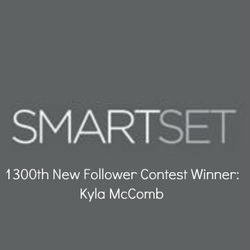 We did it; we hit 1300 followers on Facebook– yippee!  
And the winner of the 1300th fan joiner contest is…. Kyla McComb! Kyla picked out a lepoard print dress as her winning piece, maybe if we're lucky she will share a photo or two? 
I will host another draw when we hit 1400 followers on Facebook, stay tuned for more details.  
Thank you Kyla for all your support on my page and for sharing and introducing my page to your friends on Facebook! 
Just an FYI on whose names were included in the draw; anyone that shared my page with friends, anyone who shared the 1300 follower contest page with friends, anyone that commented on my daily styles these past 30 days and the past 100 new followers that joined my Facebook page.