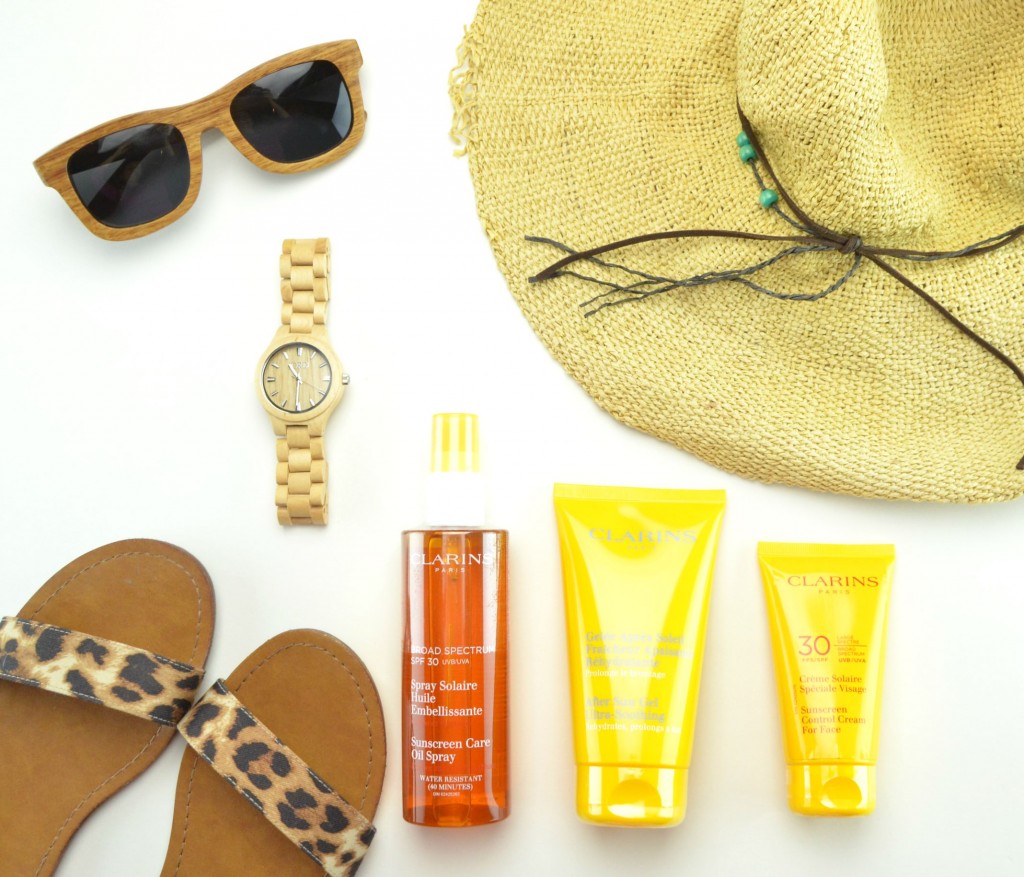 Protect your skin this summer
Protecting yourself from harmful sun rays in the summer is extremely important, we all know this, it not only helps preserve the health and beauty balance of the skin, is helps combat pre-mature aging. I'm always on the lookout for new and innovated products that will not only help protect my skin, but feels lightweight without leaving a white overcast or feeling greasy. Clarins has put together its knowledge and expertise this summer and designed a range of products that will keep both your skin and hair safe from the sun. This curated line allows you to choose the sun protection you need for your appropriate skin concerns and needs, in a variety of formulas and textures. From lotions to sprays and oils, Clarins has you covered.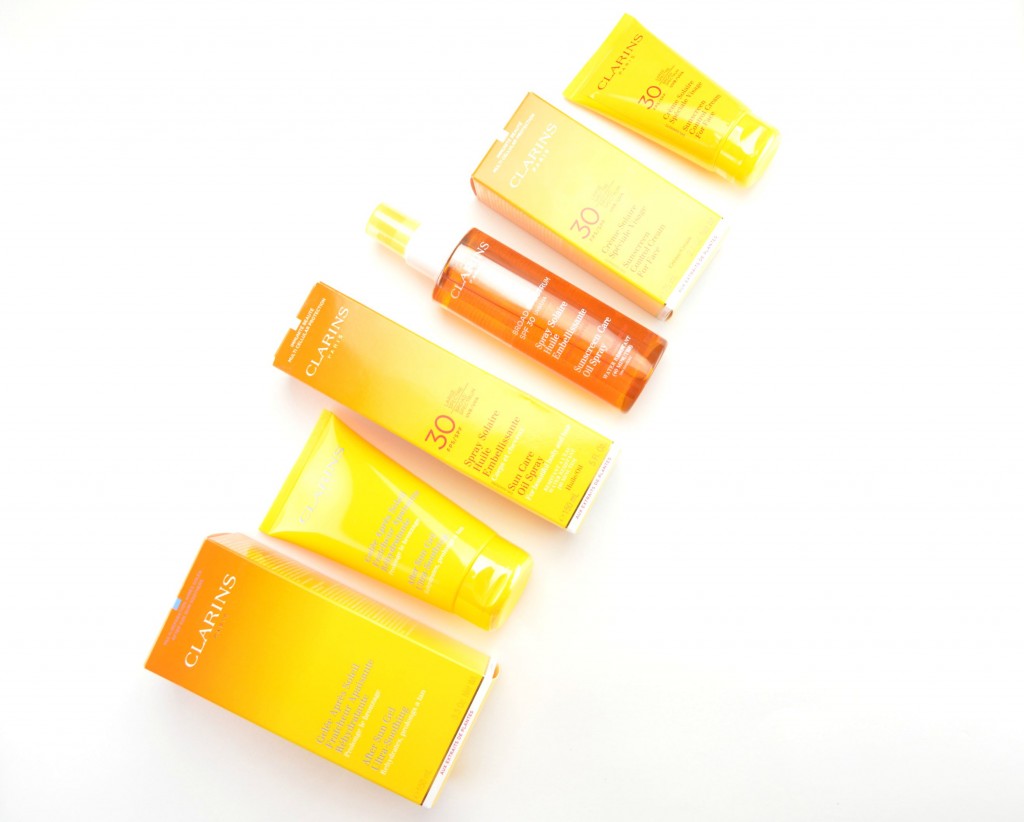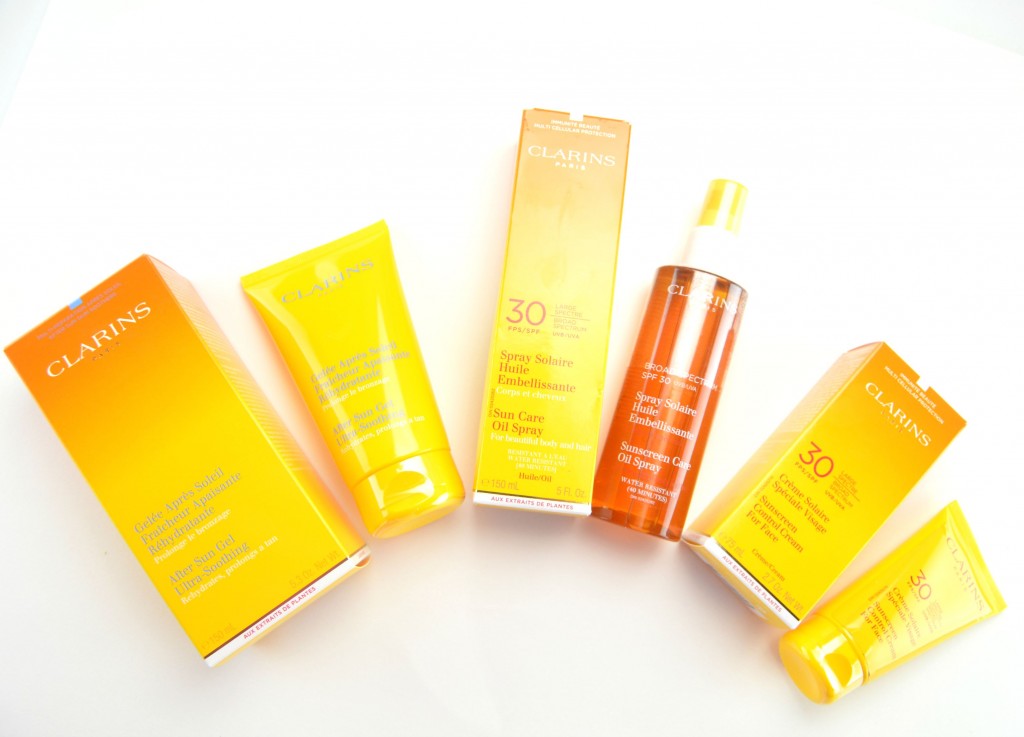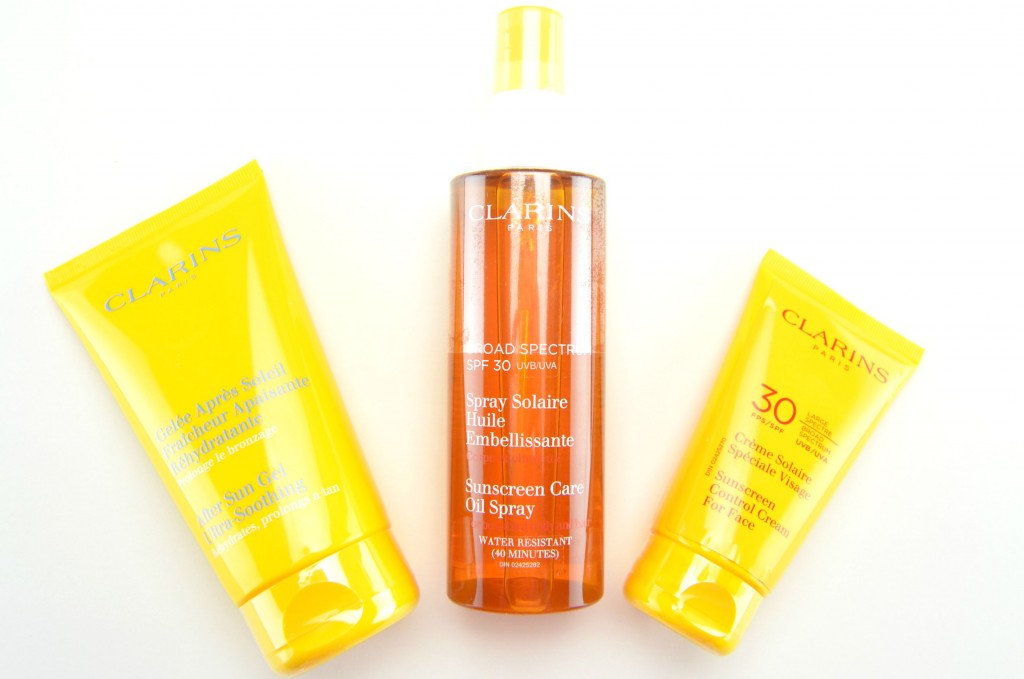 Clarins Sun Care Radiant Oil Spray High Protection UVB/UVA 30 for Body and Hair is the first of its kind from the brand and is a sun care beauty secret. This dry oil is for both body and hair and features high UVA/UVB 30 protection that's enriched with nourishing elixir to help nourish and beautify the skin and hair.
Clarins Sun Care Oil Spray SPF30 for Body and Hair comes in a handy and convenient spray bottle with an extremely lightweight, transparent dry oil. It helps to not only nourish and beautify both the skin and hair, its Senna, plant tree extract and aloe vera help to smooth and condition. Not only does it offer high protection from the sun, it gives an added boost of radiance for a richer, stronger tan. It has a captivating exotic fragrance, while giving a satin smooth finish.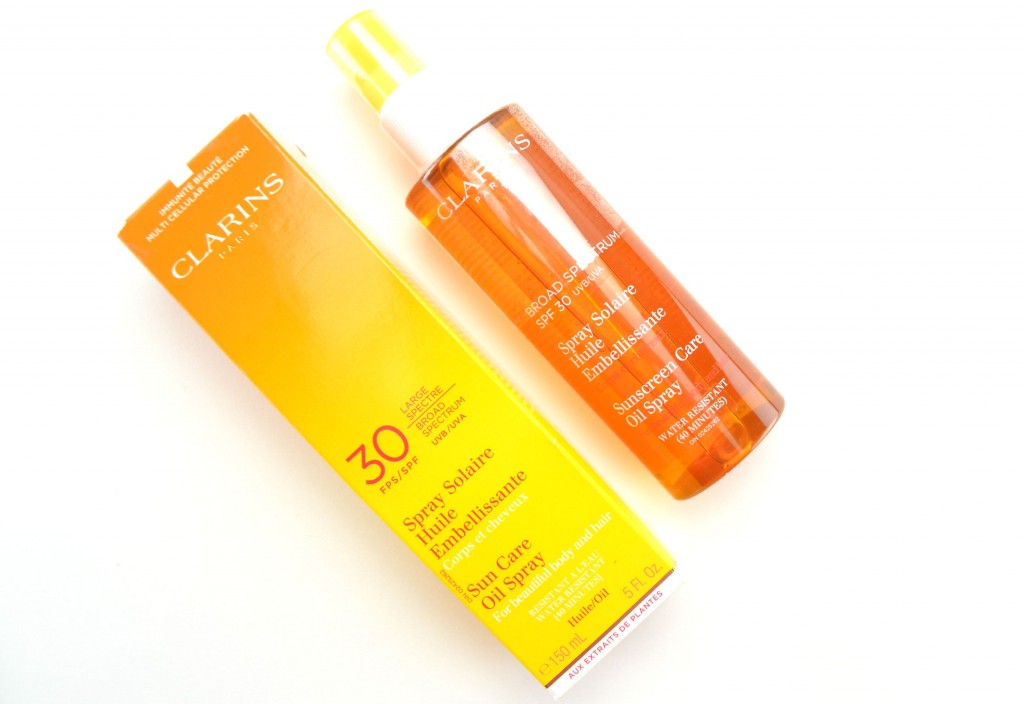 Clarins Sun Care Oil Spray SPF30 for Body and Hair instantly helps reduce the drying effects of the sun, while protecting my colour treated hair from the harmful UV rays. Thanks to its water resistant sunscreen formula, it keeps it protected for up to 40 minutes, without having to reapply. Both my skin and hair is left feeling satiny-smooth without being greasy. I might be a little obsessed with this. It moisturizes, hydrates, heals, protects, and doesn't clog my pores or cause breakouts. Love that I can use it on my face, body and hair, talk about double duty. It retails for $35 for 150ml.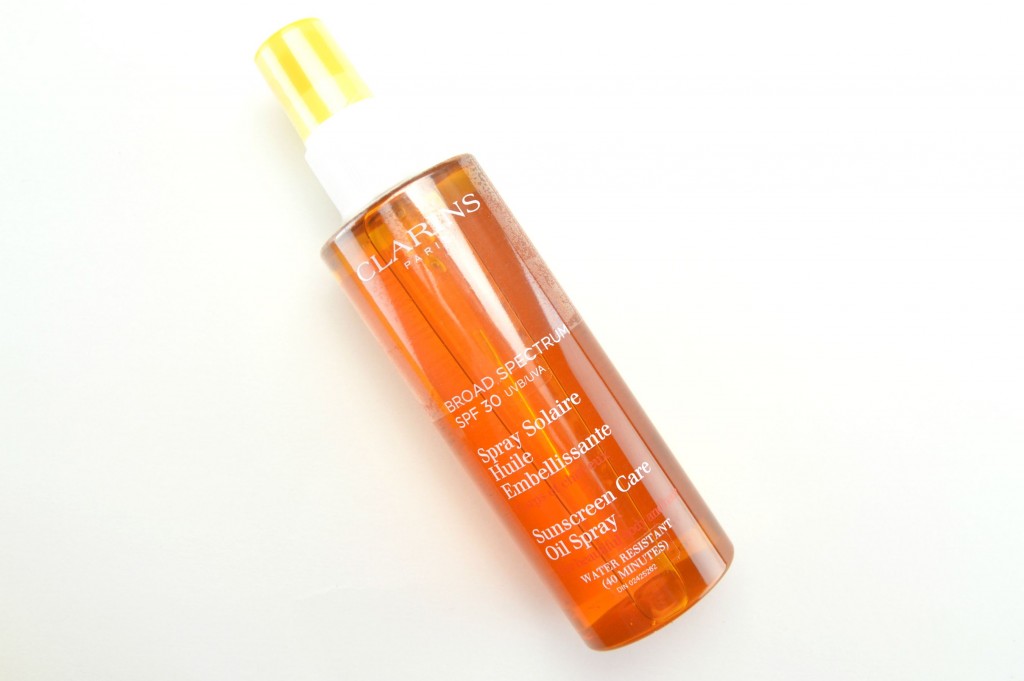 Clarins Sunscreen for Face Wrinkle Control Cream SPF 30 is designed for those with sensitive skin or for those that are exposed to prolonged sunlight and harmful UVA and UVB rays. It helps to prevent sun-inducing skin gaining, while promoting an even, long-lasting tan. It's specially design complex, baobab extract, anthyllis, ayapana, olive tree and silver birch, to help promote a more even tan by providing reinforced protections to preserve your skin's youth and beauty, while offering SPF 30.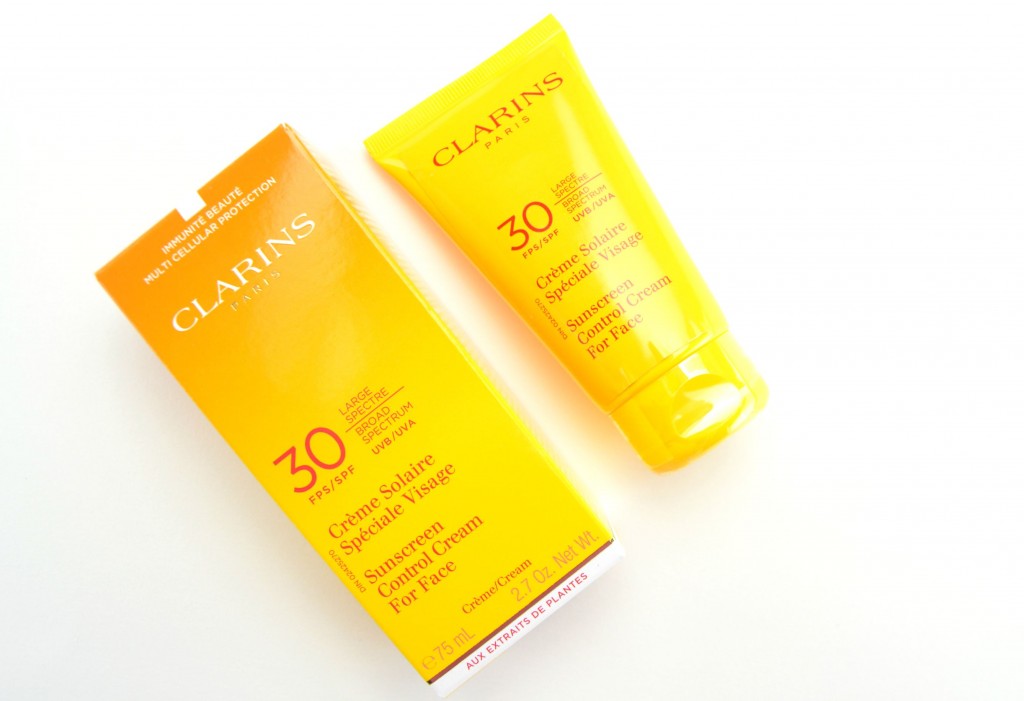 Clarins Sunscreen for Face Wrinkle Control Cream SPF 30 comes in a squeeze tube with a thick, yet still incredibly lightweight and creamy texture. Although it does seem to absorb well into the skin, without a sticky or greasy residue, it does take a few minutes to totally sink in. It does seem to penetrate deep down into the skin to provide all day hydration, even without a daily moisturizer. It doesn't clog the pores, nor does it cause breakouts and it wears beautifully under a foundation or powder. Its breathable formula makes it the perfect daytime sunscreen. It retails for $34 for 75ml.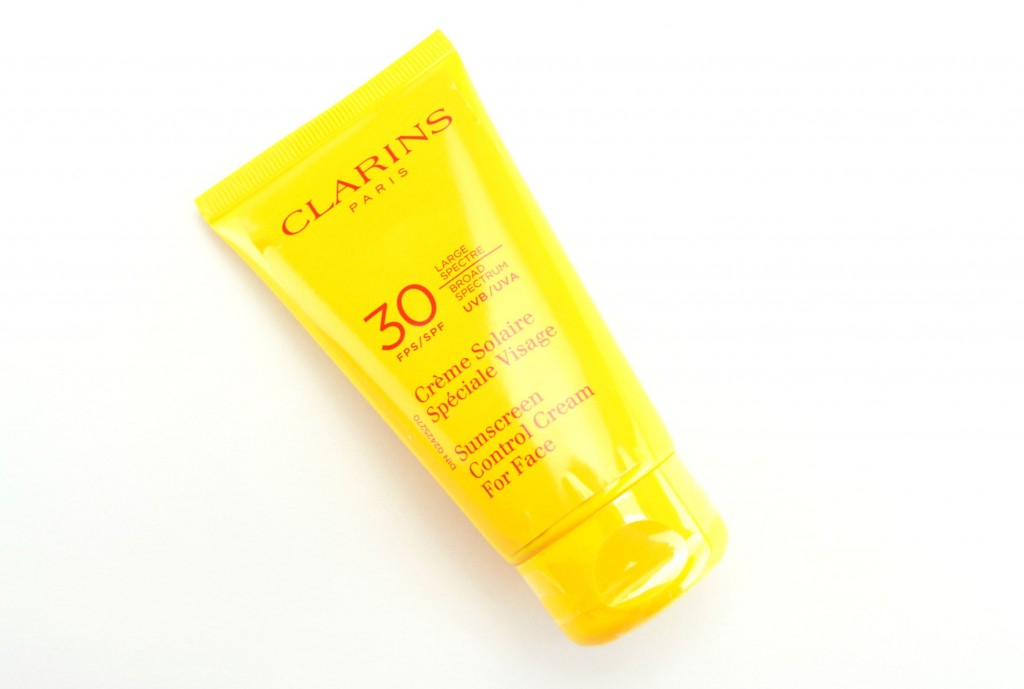 Clarins After Sun Gel Ultra-Soothing helps to soothe, regenerate, refresh, hydrate and extend the life of your tan. It's formulated with specific plant extracts, sunflower, griffonia, watermelon, aloe and safflower, to help calm the feeling of hot skin after a day in the sun. It helps to ease and soothe discomfort from too much sun exposure, while rehydrating dry skin. It helps to stimulate your tan and prolong its colour. It leaves skin feeling satiny smooth and soft.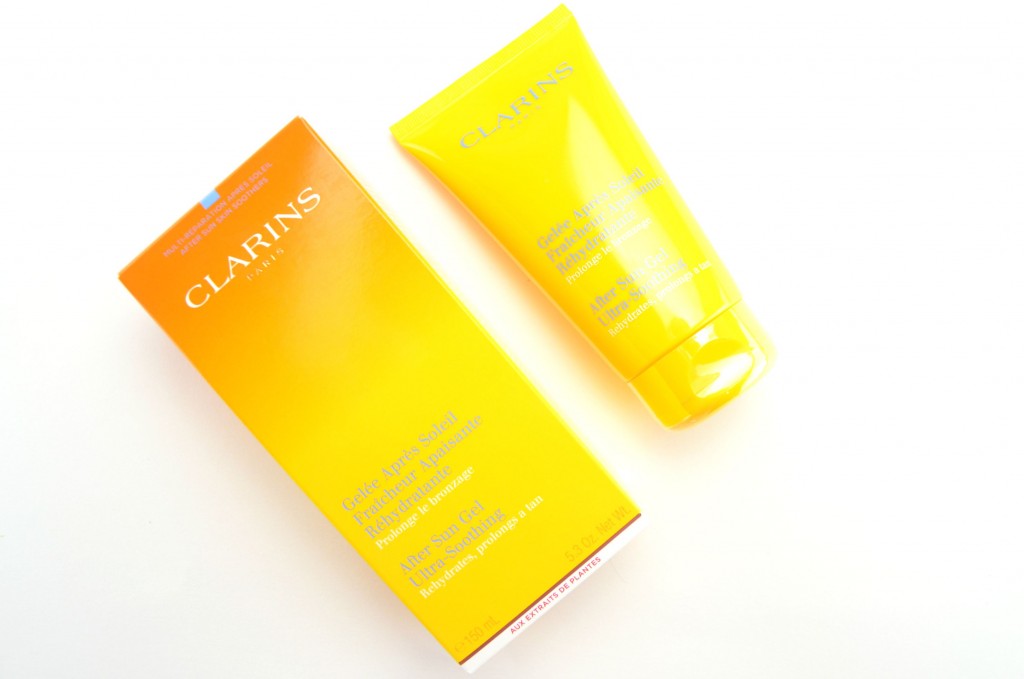 Clarins After Sun Gel Ultra-Soothing also comes in a squeeze tube with a rich and creamy, super moisturizing gel that helps to soothe and nourish the skin after hours in the sun. It's incredibly lightweight formula provides 24 hours of hydration, absorbs almost immediately and smells amazing. This energising gel instantly brings a wonderful feeling of well-being and feels extremely refreshing after a long, hot summer day. It retails for $34 for 150ml.