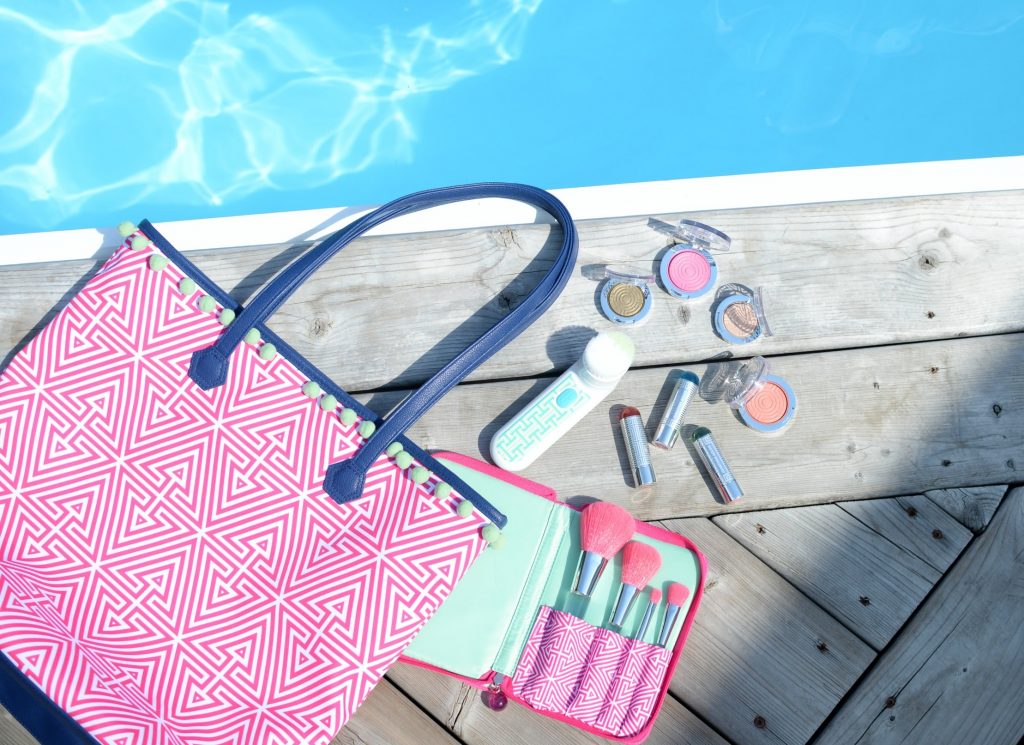 #CliniquexAdler
When one of your favourite design icons, Jonathan Adler, teams up with one of your favourite beauty brands, Clinique, you run out and get it…am I right? Artfully designed packaging, fun pops of colour, this collection feels like a tropical summer vacation. Inspired by some of Jonathan's favourite travel destinations, Capri, Palm Beach and Santorini, its geometric patterns, paired with crisp, colourful, luminous and bright hues, is like a mini getaway to the most glamorous places you can imagine, without leaving the house.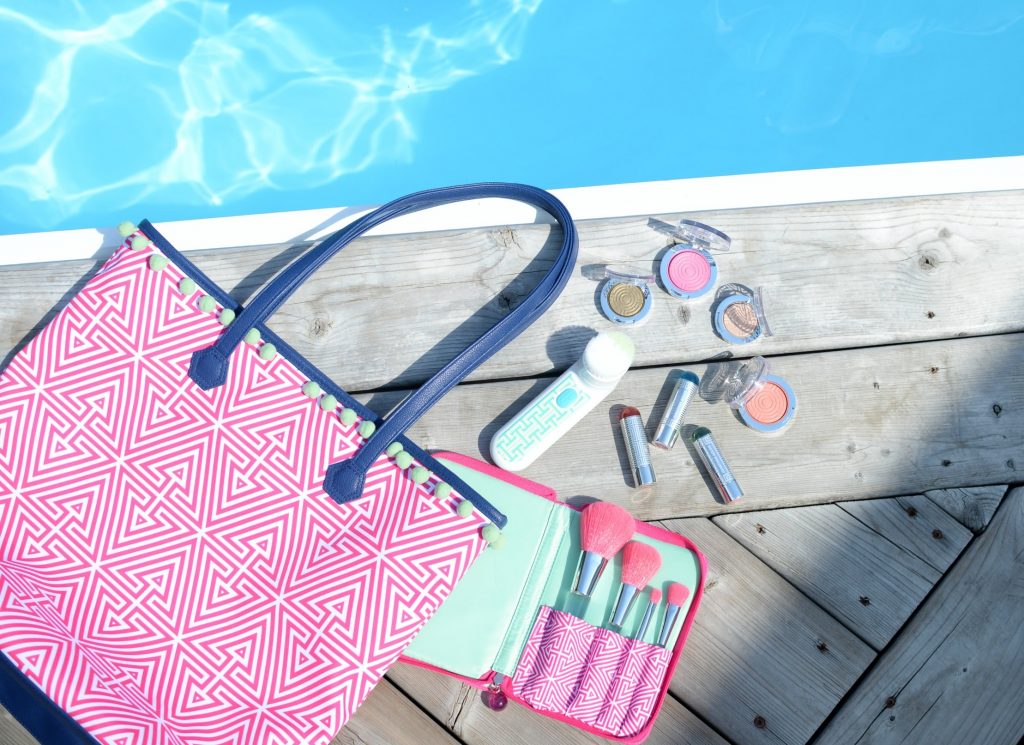 Clinique + Jonathan Adler Pop Lip Colour + Primer features an acrylic smooth gem cap with Jonathan's signature geometric pattern imprinted around the tube. Its innovated longwearing formula helps to smooth, define and nourish the lips in 3 limited edition shades inspired by Capri, Palm Beach and Santorini. It has a rich and creamy, lightweight consistency that applies evenly and smoothly, without pulling or tugging on the lips. It's fairly pigmented and provides true colour payoff in a swipe or two. It has a semi-opaque to opaque coverage, that's slightly translucent, depending on the shade. It gives a glossy, velvety finish without looking too shiny. Its colour stays true and doesn't fade or budge throughout the day. You can easily get a solid 6+ hours' wear time, before wanting to reapply.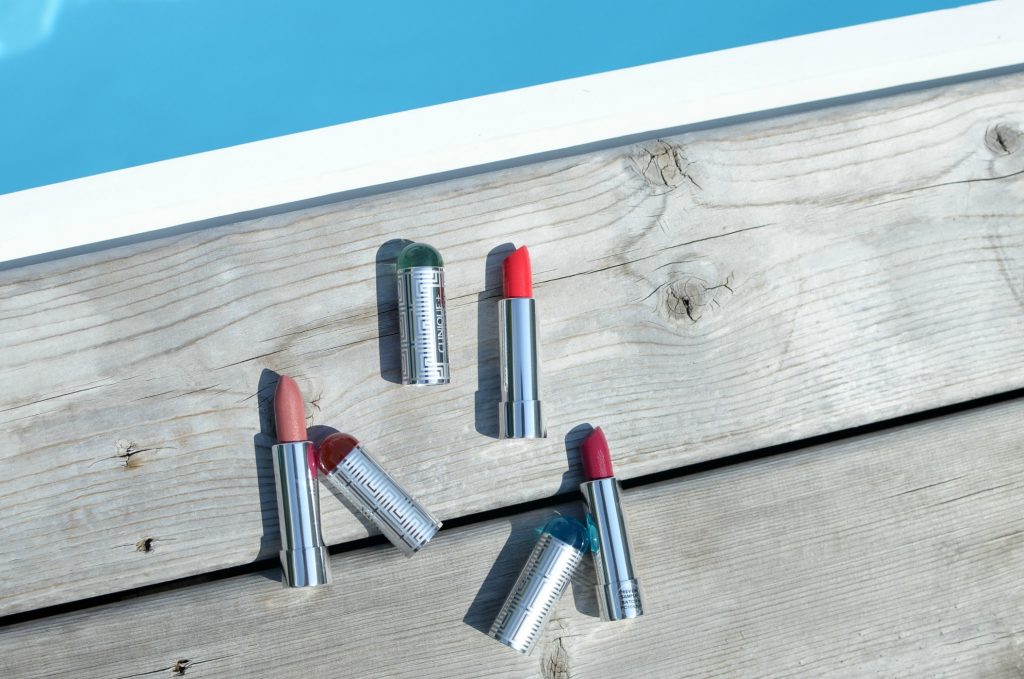 Clinique + Jonathan Adler Pop Lip Colour + Primer in Bare Pop is an extremely wearable, every day nude, Capri Pop is a bright coraly red with subtle golden shimmers throughout and Santorini Pop is a bold and bright fuchsia. Each retail for $27.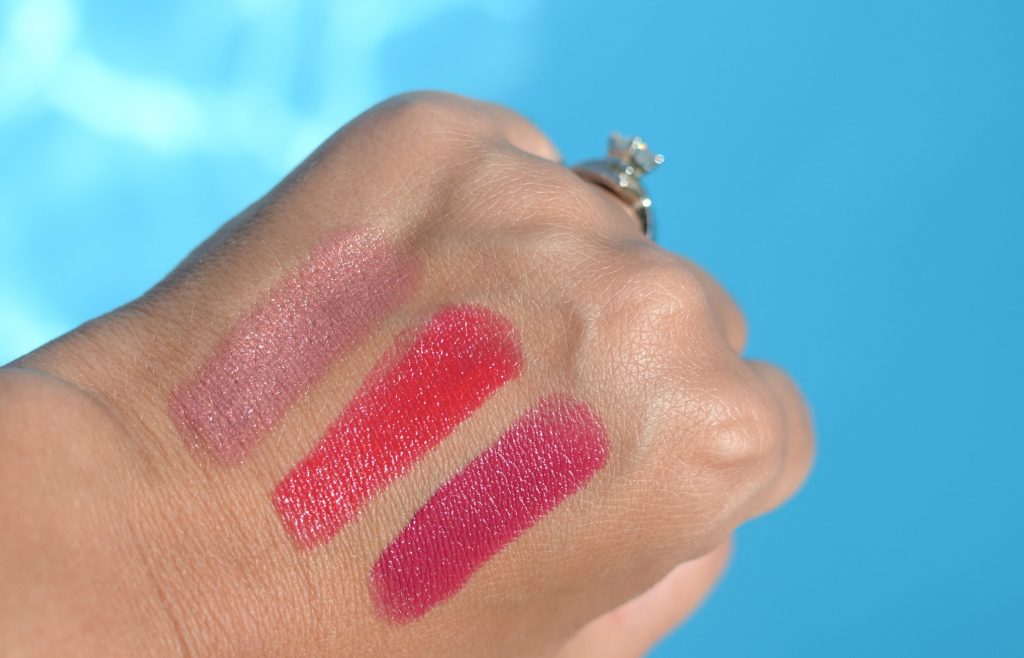 Clinique + Jonathan Adler Lip Pops are inspired by French gardens and feature an exclusive Jonathan Adler geometric pattern on both the lid and imprinted into the actual powder in 4 limited edition shades. It features a silky smooth, light as a feather, formula that instantly provides a pop of colour on the eyes with a seamless finish. Its highly pigmented formula blends into the skin beautifully for a sheer, yet vibrant wash of colour. Its buildable formula allows you to create intense colour payoff without looking chalky or powdery. It lasts throughout the day without fading or creasing, providing a stunning effect to the lid with ease. Each retail for $25.
Clinique + Jonathan Adler Lip Pop in Cream Pop is the perfect neutral and Willow Pop is a stunning rich khaki.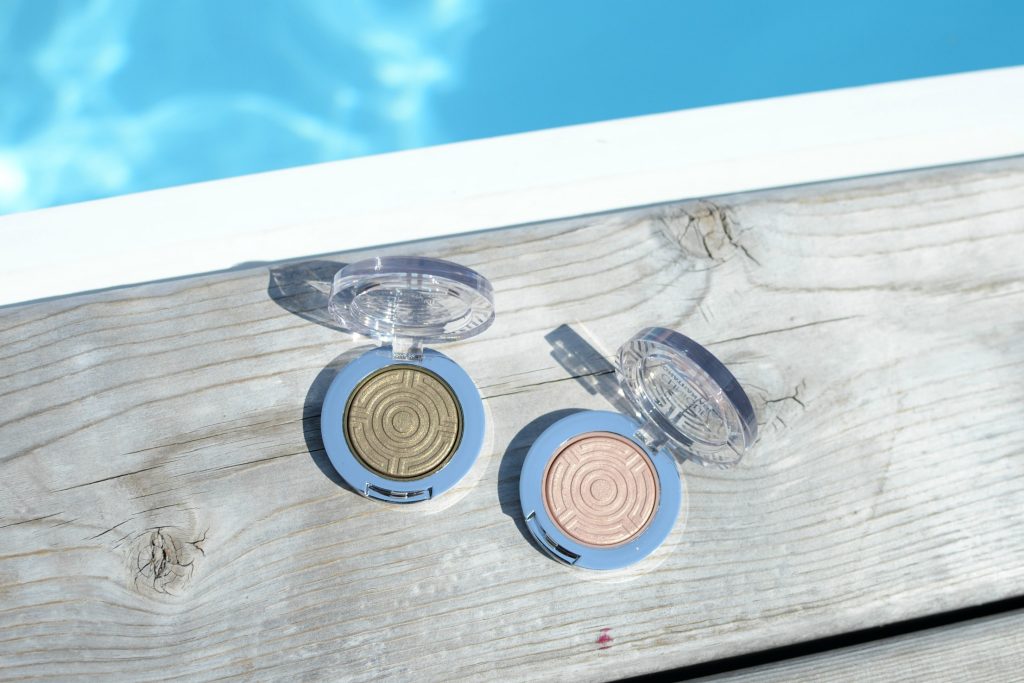 Clinique + Jonathan Adler Cheek Pop are also inspired by the French gardens and feature the same exclusive Jonathan Adler geometric pattern on both the lid and imprinted into the actual powder as the Lid Pops, in 2 limited edition shades. Its unique, creamy, yet seamless formula, deposits just the right amount of product onto your cheeks that can be both layered and built-up for an all natural or dramatic look. Its silky formula allows you to achieve an effortless look that's vibrant and long-wearing without any traces of powder buildup or streaking. Its innovated formula starts off as a liquid and is then slowly baked to give it a distinct powder-like texture that's lightweight, silky smooth and velvety soft. It lasts throughout the day without fading and gives a healthy, radiant, natural glow to the cheeks without any shimmer. Each retail for $33.
Clinique + Jonathan Adler Cheek Pop in Peach Pop is a stunning peachy coral and Plump Pop is a pinky mauve.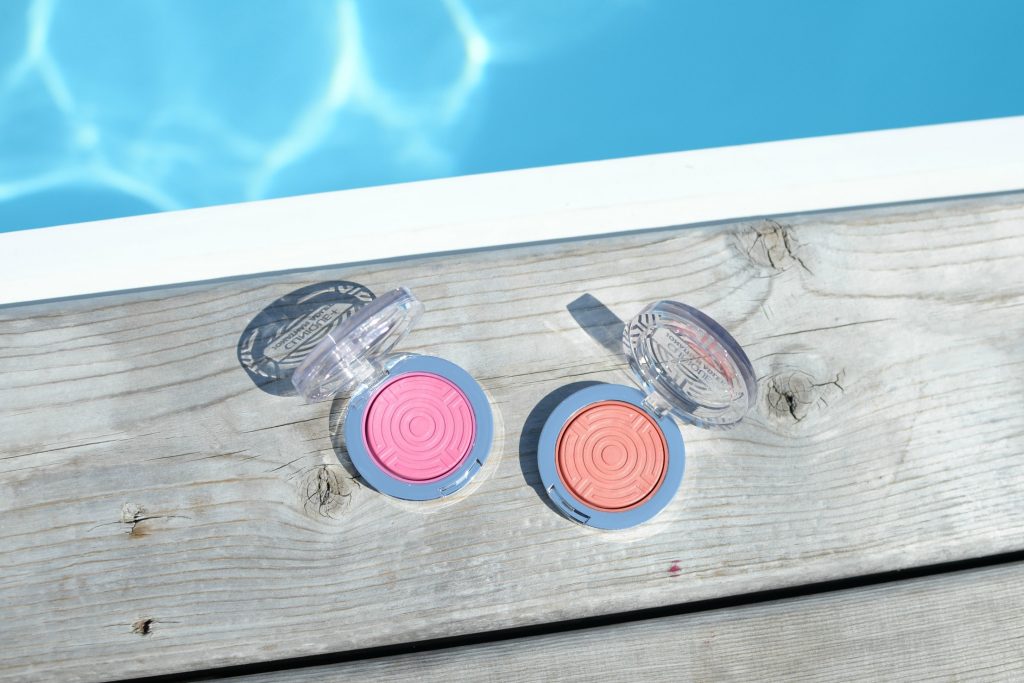 If you don't currently own a cleansing brush, now's your time for a cleansing experience that's as stylish as it is effective. The new Clinique + Jonathan Adler Decorated Sonic Three-Piece Set comes with a sonic brush, signature Jonathan Adler printed travel case and a foaming sonic facial soap. Its unique oval brush head tilts for targeted cleansing, allowing you to cleanse hard to reach areas. Its two-speed design allows for personalization and built-in timer automatically turns off after 30 seconds. It contains 2 different bristles that target different areas of your face. Light green bristles are firmer, rougher and shorter to help deeply cleanse the T-zone, while white bristles are softer for an all-over cleanse on more sensitive spots. Sonic vibrations gently massage the skin, loosening stubborn dirt and oil. It helps remove makeup, dirt and oil, easier and more efficiently than hands alone. This results in fewer build ups on the skin that can cause blackheads, blemishes and dullness. It retails for $111.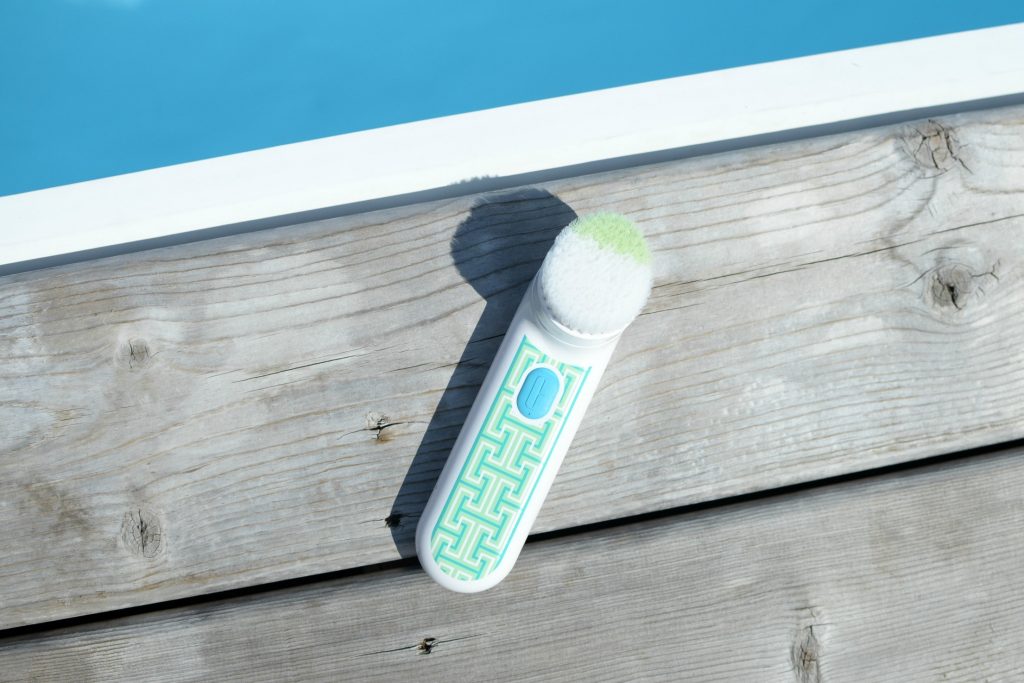 Clinique + Jonathan Adler Luxe Brush Collection had me at pink. Its like this 5-piece set was created specifically for me. It features a powder, blush, eye shadow and eye shaper brush, along with a geometric cosmetic bag. Each brush is made of high-quality bristles allowing you to use less product, yet still achieve a seamless and flawless look. Its lightweight, yet durable design fits perfectly into the palm of your hand for easy application and its incredibly soft bristles are never scratchy or itchy on the skin. It retails for $61.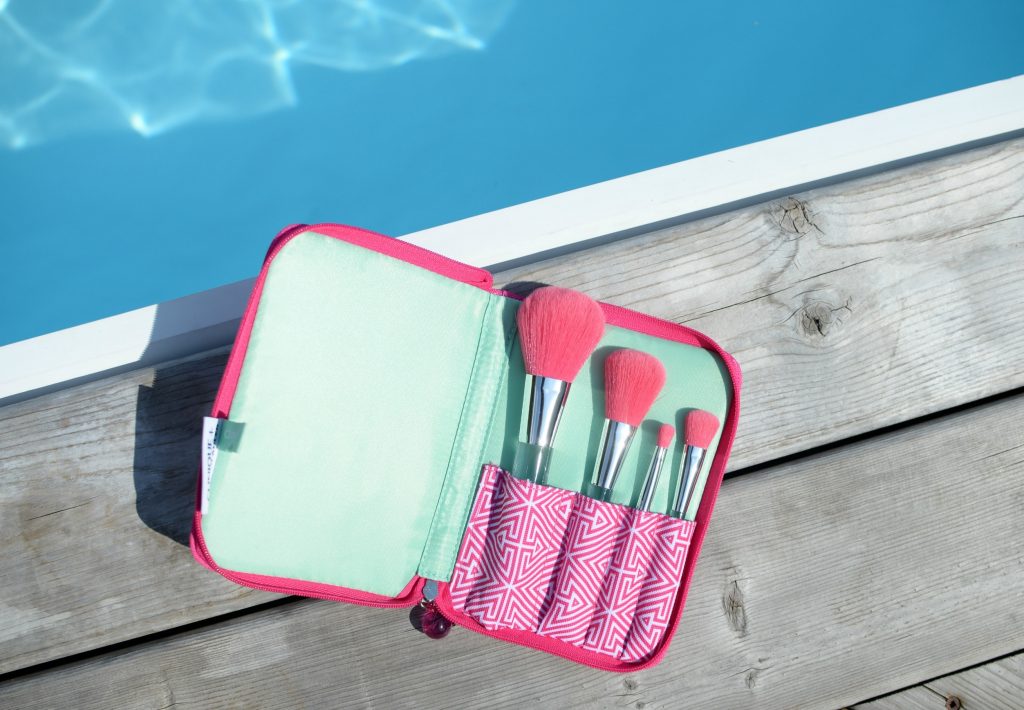 For a limited time, when you purchase $65 or more at clinique.ca or thebay.com , you will receive this adorable limited edition #CliniquexAdler tote, perfect for days at the beach.