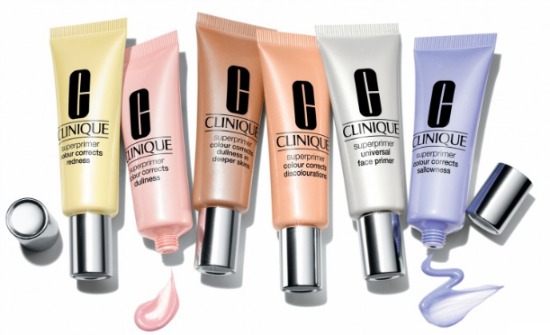 Remember the days when all your primer did was help prolong the wear of your foundation? Clinique has put out new primers that help colour correct and address your most common skin concerns. There are 6 new Clinique Superprimers that can help target and colour correct redness (a green shade that counteracts redness), dullness (a pink shade that corrects dullness in fair skintones), discolouration (a peach shade that hides discolorations), sallowness (a yellow shade that corrects sallow skin), dullness in deeper skin tones (a bronze shade that corrects ashness and dullness in darker skintones) and translucent ideal for all over smoothing. All have the same basic formula besides the colour tint and are lightweight, oil-free, fragrance and allergen free.


I can still remember the days when I would never use a primer, now I can't live without them. Call me basic, but I don't really need or want any colour correcting abilities in my primers, I don't really have any concerns about redness, dullness or sallowness so a translucent primer is perfect for me. The 5 Clinique Superprimers that offer colour correcting are silicone based and I usually look for something a little more hydrating for my skin, as it tends to be on the drier side of the scale. Clinique Superprimer Universal Face Primer has no tint, no colour correcting, just an everyday primer that helps my foundation look flawless, keeps my skin hydrated all day and prolongs the wear of my makeup; everything I look for in a good primer.

Clinique Superprimer Universal Face Primer has a hydrating, white, creamy texture that absorbs clear, easily and quickly into the skin. It provides extra moisture that allows my foundation to glide onto the skin with ease and provides a solid base for my foundation to adhere to. It helps to smooth out any imperfections I may have, helps diminish my pore sizes and blurs out the appearance of fine lines. It also helps prevent signs of excess oil from appearing and keeps my skin fairly hydrated throughout the day, but never greasy or shiny. My makeup looks smooth and even, almost like an airbrushed effect, no matter what foundation I use.
I do think these primers are a must try, they give a velvety finish to the skin, are fuss free and apply like a dream. You can either go simple with the Clinique Superprimer Universal Face Primer like I did, or address some of your skin tone concerns with 1 of the 5 colour correctors. A little something for everyone. These retail for $27 each.