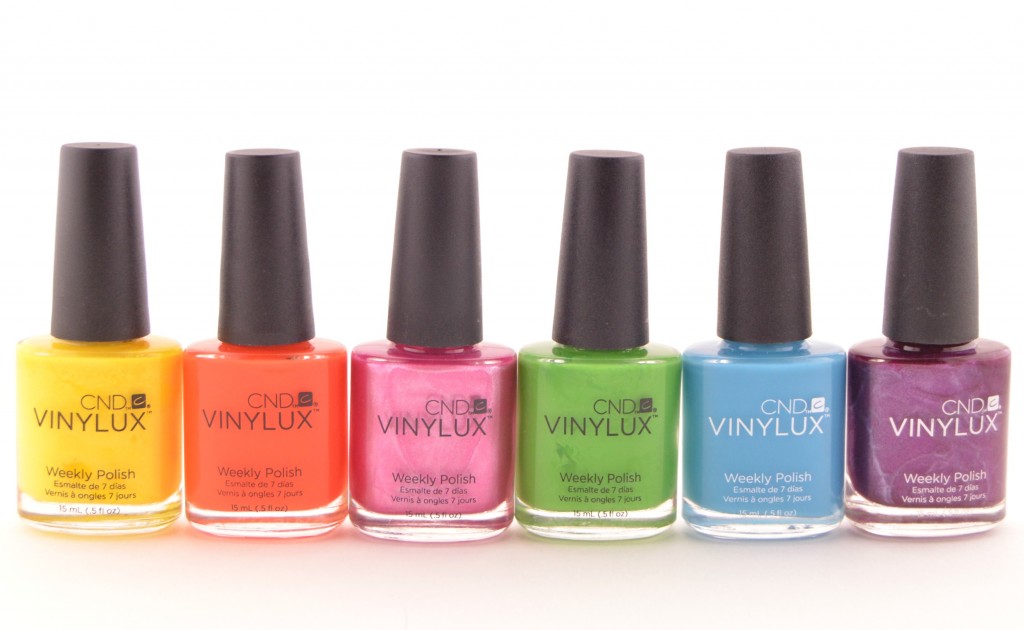 Salon quality nails at home

I was first introduced to CND VINYLUX, from the creators of the-oh so popular Shellac polish, last summer, and I've been a fan ever since. This season escape to paradise with the new CND Paradise Collection. This exotic line is done in bold, bright, tropical neon hues and captures the beauty of the faraway island. These sultry, gorgeous colours transport you to a world of fantasy and hedonism in 6 new shades. It's available in shades of Bicycle Yellow, Electric Orange, Sultry Sunset, Lush Tropics, Cerulean Sea and Tango Passion.
CND VINYLUX polishes offers you salon quality nails from the comfort of your own home and is designed to last an entire week without chipping. Its ProLight Technology cures the polish in natural UV light and gets stronger and tougher overtime. This weekly system consists solely of a nail polish and top coat, no base coat needed. Just apply two thin coats of the weekly polish, followed by one coat of the weekly top coat, and you're all set. It provides a stain-free look that dries in as little as 8 ½ minutes for a high-shine, long wearing look. It now comes in 76 fashion-forward shades straight from the runways into your home and corresponds to over 60 CND Shellac shades that make for easy touch-ups at home. Best part, it can easily be taken off with a few swipes of your favourite acetone-based polish remover in less than a minute.
CND VINYLUX Weekly Polish comes in a standard CND polish bottle with a thin, flat, flexible brush for easy application. It is free of formaldehyde, DBP, toluene, formaldehyde resin and camphor. The polish has a thin texture to it that goes on incredibly smooth and opaque on the nails. Thanks to its no base coat application, the application process is a lot quicker with its amazing dry time of under 10 minutes. It provides full coverage with only one to two coats needed and the top coat gets stronger when exposed to sunlight. It does provide a full week of wear time with little to no signs of chipping. It retails for $11.95 for 15ml.
 CND VINYLUX Weekly Polish in Bicycle Yellow, Electric Orange, Sultry Sunset, Lush Tropics, Cerulean Sea and Tango Passion
 CND VINYLUX Weekly Polish in Bicycle Yellow
 CND VINYLUX Weekly Polish in Electric Orange
 CND VINYLUX Weekly Polish in Sultry Sunset
 CND VINYLUX Weekly Polish in Lush Tropics
 CND VINYLUX Weekly Polish in Cerulean Sea
 CND VINYLUX Weekly Polish in Tango Passion
 If you like this CND Paradise Collection Review, you might also enjoy Revlon Colorstay Gel Envy Longwear Nail Enamel