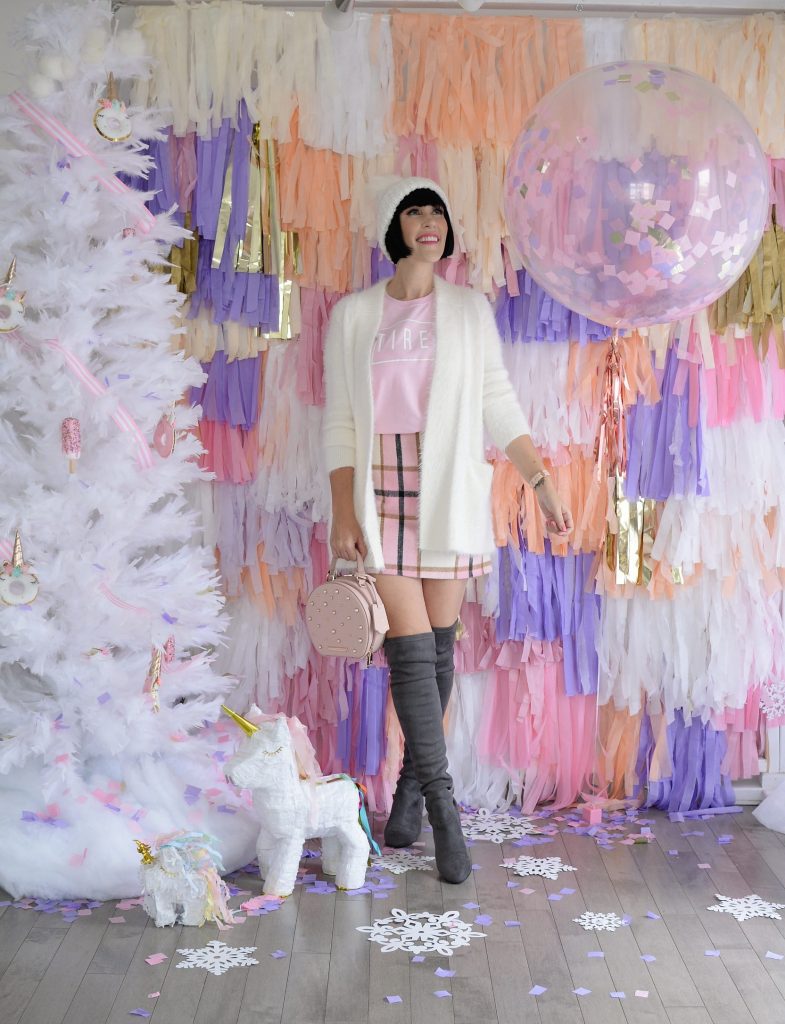 Banana Republic Cardigan
Comfort is always a good idea, especially in the long, cold winter months. As much as I want to curl up in a ball on the sofa and snuggle with the dogs by a fire, there are days like today when I'm forced to leave the house. An oversize cardigan sweater is an excellent option for days when you want the feeling of lounging around in your pjs, but still want to look put together. A soft long cardigan is soft, warm and stylish. It's the perfect piece to add to your wardrobe when you want to show your feminine side, no matter what the temperature is outside.
My style tip is, if you're going loose on the top, keep your bottom tailored and streamlined. Like any other boxy or bulky top, a good rule to follow when styling an oversize sweater, is to keep your bottom form-fitting. This will help ensure your look is balanced. Skinny jeans might be the easiest to style with oversized sweaters, but don't forget about your skirts. A well-fitting mini skirt will not only give the appearance of longer, leaner legs, but it helps keep your body proportioned.
Oversize doesn't have to mean boxy and ill-fitting, depending on your height and body shape, look for a cardigan that comes in at the waist. You can also elevate your look with some heels. This will keep your outfit from being too casual and frumpy. A simple pump, heel bootie, even over-the-knee boots will help lift your look to the max. A heel, of course, will also elongate your legs and add some edge to your outfit.
Winter white isn't as harsh on the skin as traditional black and adds a light and airy feel to any look. From suede, knits, wool to cotton, these fabrics are all designed to keep you warm this chilly season. A chic white cardigan pairs beautifully with everything in your current wardrobe and can create both a casual or dressy look. Achieve the perfect weekend vibe with jeans and a basic tee or dress it up with a silky dress for evening.
What I Wore –Tired Tee- c/o Zink Made, Cardigan- Banana Republic, Hat- Lauren Conrad, Watch- Cluse, Mini Skirt- Forever 21, Purse- c/o Poppy & Peonies, Over-The-Knee Boots- Steve Madden
Makeup done by the fab Samantha Blatnicky Makeup & Lash Artist and set design created by Party Girls Company