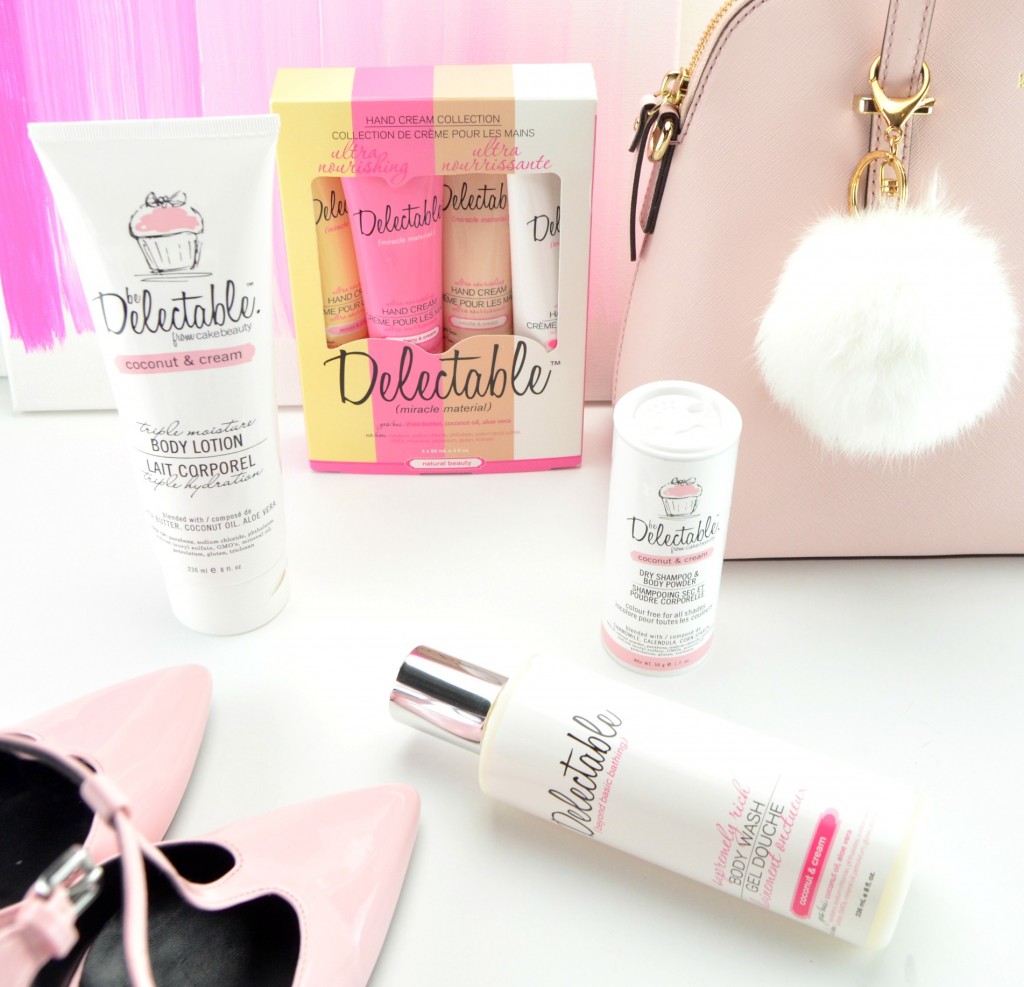 #beDelectable
I have some extremely exciting news today, you're looking at the newest Delectable Ambassador, yahoo! Each month I'll be showcasing my must-have products at the moment, ones that I not only love, but that are luxe, smooth and incredibly delicious. Delectable, sister brand to Cake Beauty, has been a favourite of mine for years and I'm excited for our partnership. Each product is made with natural ingredients, decadent texture, but best of all, delectable fragrances and scents. Each product is better than the next and leaves you craving more. Come indulge with me in 3 Delectable essentials that will help keep both your hands, body and hair happy this season.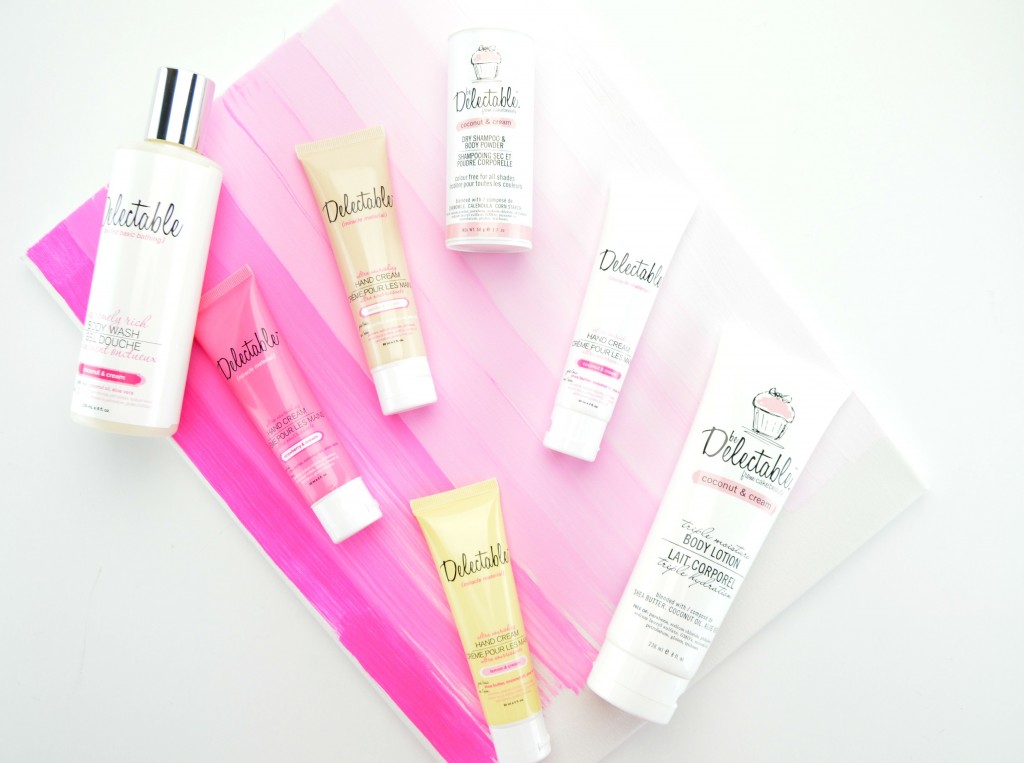 Delectable Ultra Nourishing Hand Cream Kit contains 4 mini hand creams in scrumptious flavours of strawberry & cream, lemon & cream, vanilla & cream and coconut & cream. It comes in the most adorable packaging ever, in fun pastel shades, corresponding to the flavour within. Each 60ml tube is enriched with mango butter, shea butter and aloe vera to not only keep hands silky smooth and soft, but it helps to hydrate, nourish and rejuvenate dry, tired hands and cuticles. It's free of parabens, sodium chloride, phthalates, sodium lauryl sulfate, GMO's, mineral oil, petrolatum, gluten, triclosan, ensuring nothing but the best for your hardworking, well-deserved hands.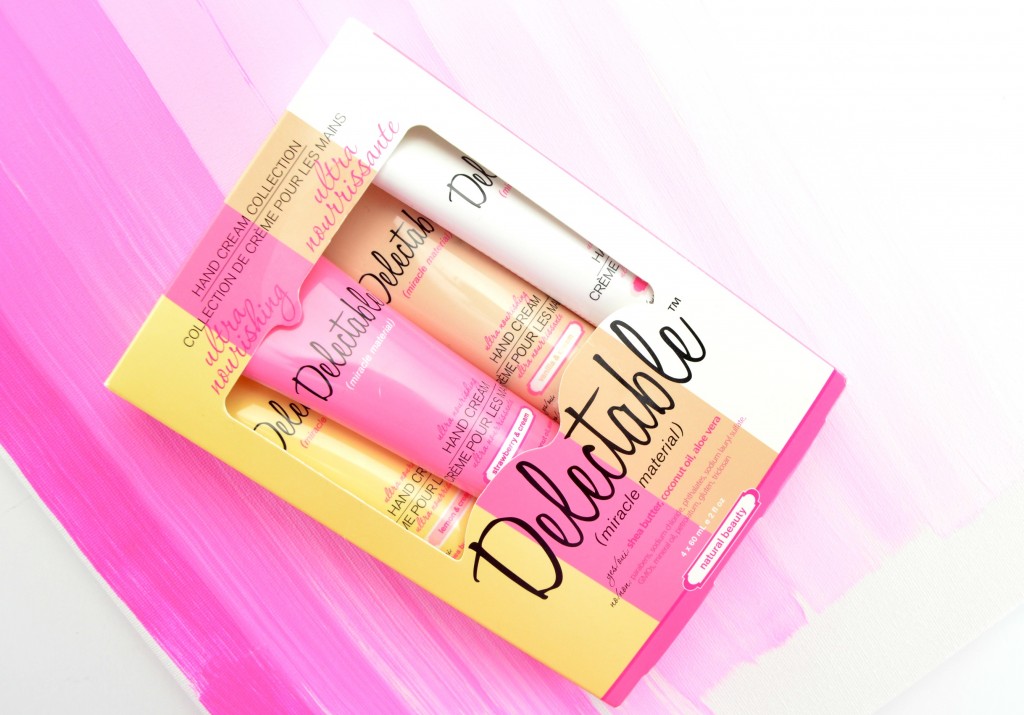 Delectable Ultra Nourishing Hand Creams have an incredibly rich, and creamy texture, and although it has a slightly thicker consistency, making it perfect for the dry winter months, it still applies and almost melts into the skin with ease. It absorbs within seconds, ensuring you can get back to your busy lifestyle without having to wait for it to fully sink in. It's never greasy, oily or slick, just moisturizing and hydrating for hours on end. It's soft, smooth and nourishing formula keeps hands feeling baby soft the entire day, no need to reapply. Let's talk about the fragrance, it's the scent that leaves you wanting more, each one more fabulous than the next. Slightly sweet, incredibly delicious with just a tint of fresh fruit and vanilla. The entire kit retails for only $16.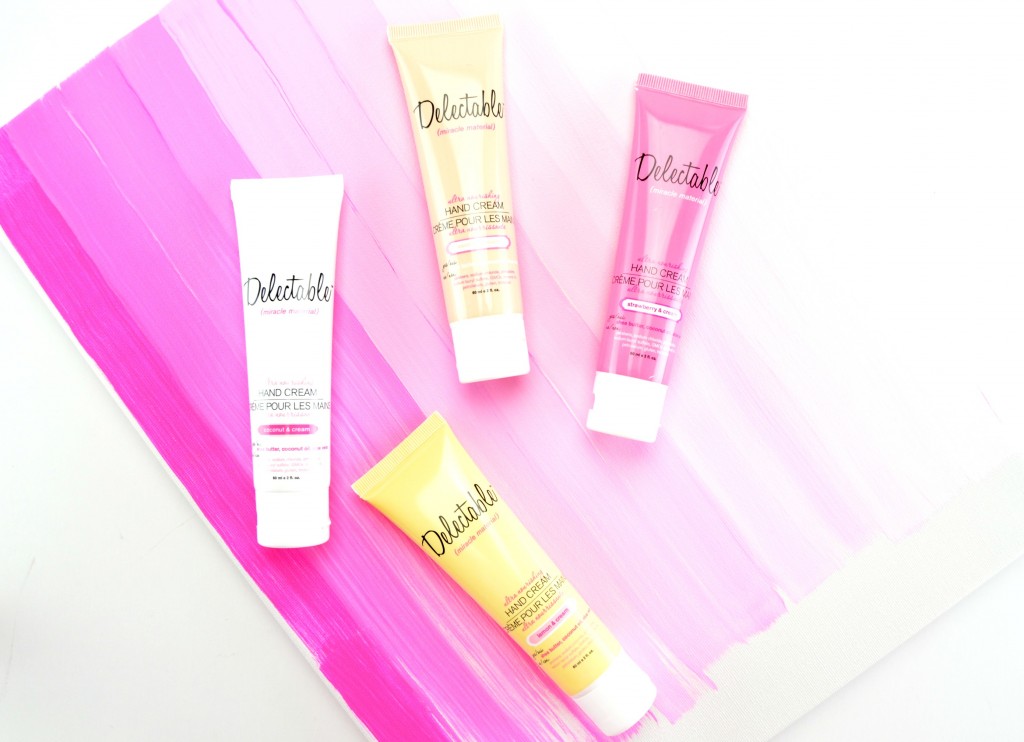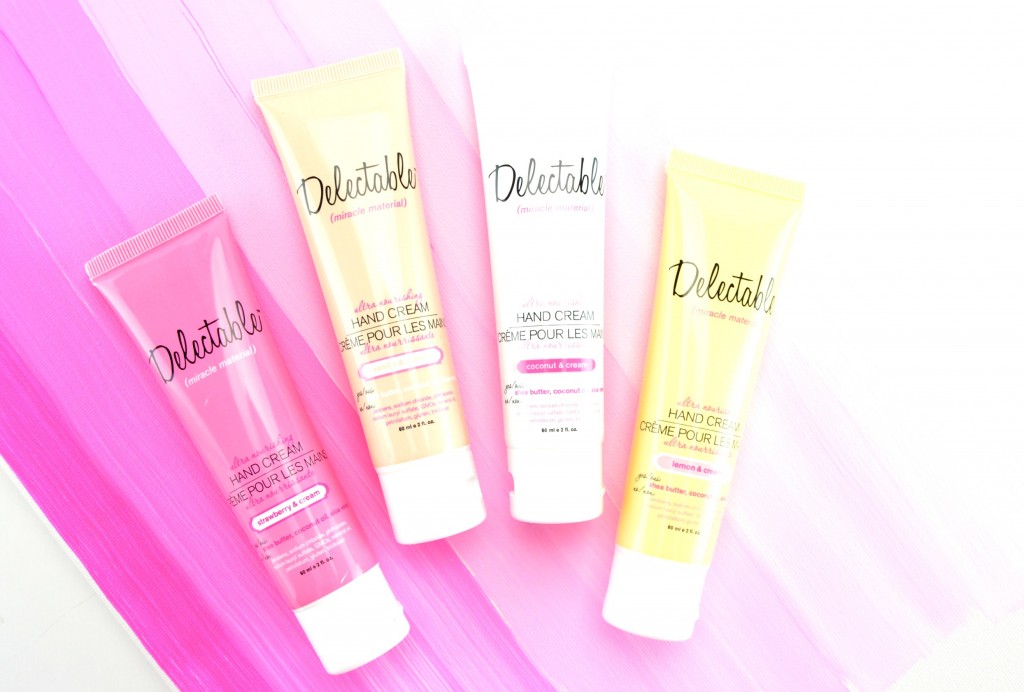 Delectable Supremely Body Wash comes in your choice of Strawberry, Coconut, Vanilla, Lemon or Lavender and this rich and creamy bath wash is enriched with coconut oil and aloe vera to help nourish, hydrate and soften the entire body. This dreamy, creamy, bubbly formula takes your shower experience to an entirely different level thanks to its intoxicating sweet scent. It not only does an amazing job at cleansing the skin of dirt, oily and daily grime, it washes clean away without any sticky, greasy or tacky residue. It gives an added boost of hydration to keep skin incredibly moisturized throughout the day with a squeaky clean, incredibly soft, smooth and silky feel. It retails for $10 for 236ml.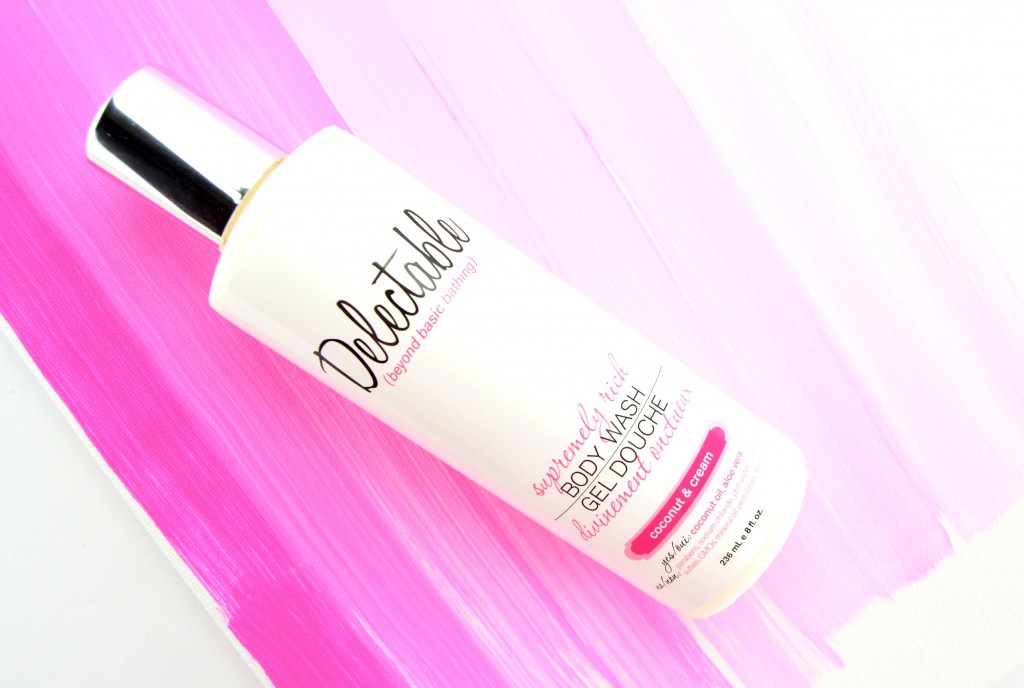 Delectable Triple Moisture Body Lotion comes in your choice of Strawberry, Coconut, Vanilla or Lemon and thanks to its three times softness, three times smoothness and three times richness, it allows you to enjoy your beautiful birthday suit without feeling dry, dull or dehydrated. This triple moisture body lotion is whipped to perfection and enriched with coconut oil, shea butter and aloe vera to help smooth, hydrate and nourish your entire body. It too has a slightly thicker, incredibly rich and creamy texture that glides on smoothly and absorbs within seconds. It leaves your skin feeling silky smooth, sensationally supple and ready to take on the day. The coconut scent is everything I'm looking for in a body lotion, a little tropical, a little sweet, a little creamy and a lot yummy. It retails for $14 for 236ml.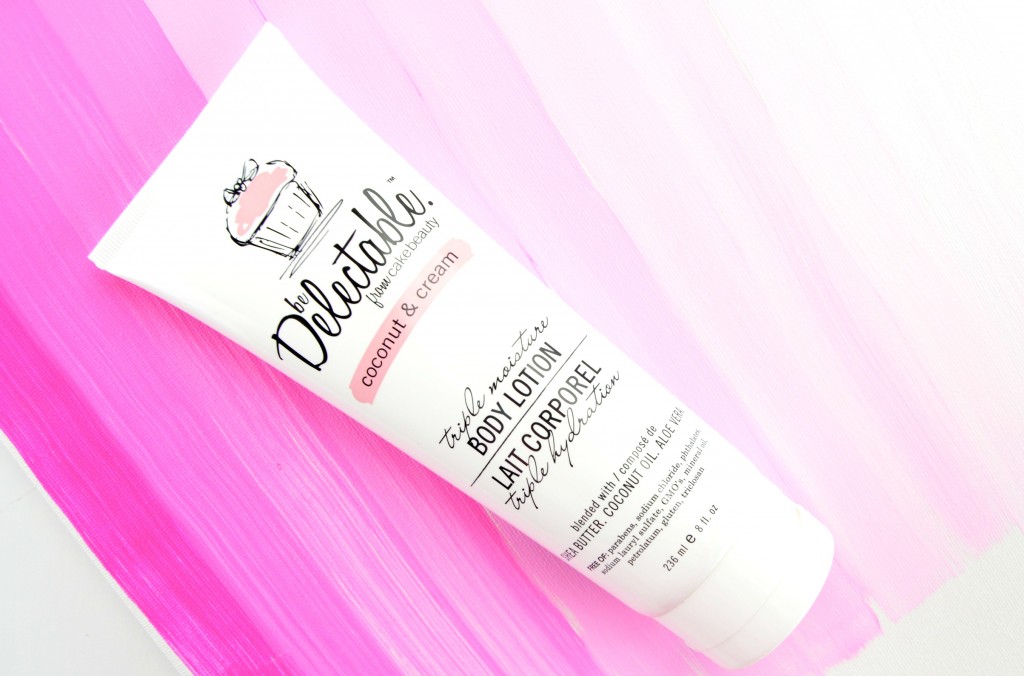 Delectable Dry Shampoo & Body Powder is a truly unique and innovated product that can be used on both the body and hair. It comes in your choice of Strawberry, Coconut, Vanilla, and Lemon and is completely talc-free, yet contains calendula to help nourish and soothe both the scalp and skin. This loose and translucent powder has an incredibly silky and luxurious texture that not only blends into the skin to help calm irritated and sensitive skin, is also helps to absorb oil while adding volume when applied to the hair. Simply sprinkle a small amount into the palm of your hands, before running through the hair, concentrating on the roots. Although it may look like baby powder once poured onto your hands, but I assure you, it is lightweight formula instantly disappears as you start to rub it into the hair, turning invisible within seconds. I found absolutely no white caste behind, even on my extremely dark hair. When you sprinkle a little all over your body and rub in, this velvety smooth formula helps to instantly give a burst of freshness to otherwise dull skin. It's a great multi-functional product to keep in your purse, for touch-ups on the go. It retails for $16 for 50g.