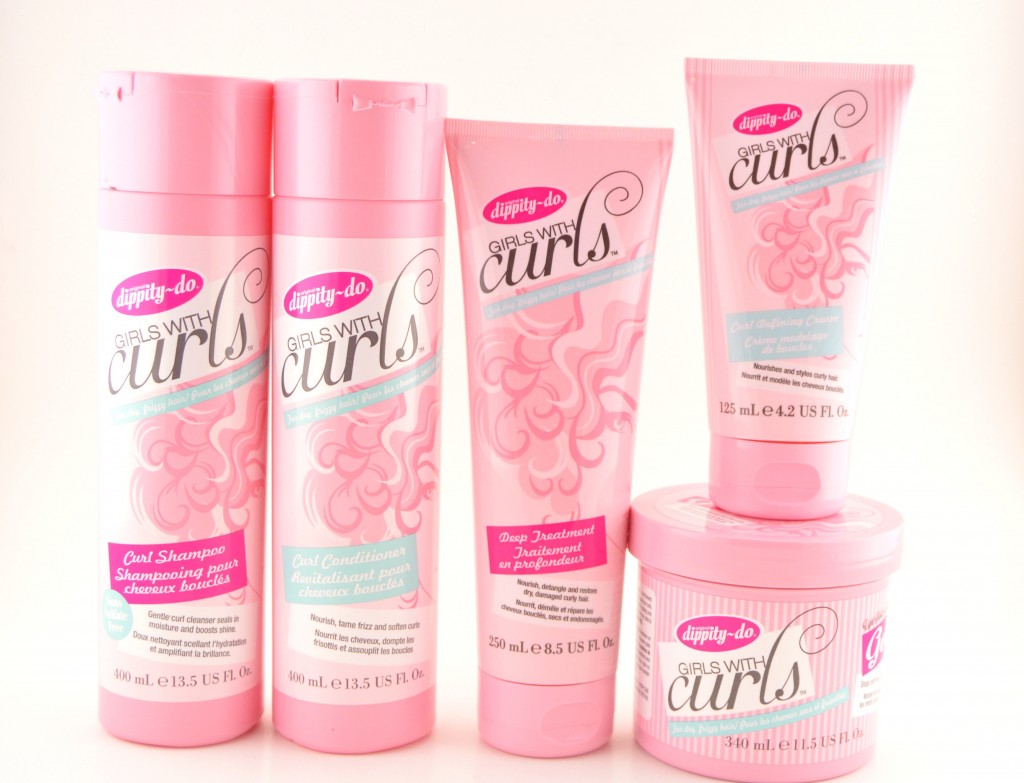 Why is it we always want what we can't have? I remember growing up always wanting curly hair, I swear if I was a teenager in the 80's I would have totally gotten a perm. Even now, I still wish I had curly hair and thanks to the MiraCurl (review found here) I'm able to have a faux curls for the day. I did however use a lot of Dippity-Do growing up, being a child of the 90's I rocked a backwards bang in grade 6 and 7 and after spending 30 minutes curling my bangs both upwards, downwards and sideways I wanted to make sure it would last. Dippity-Do was the perfect inexpensive gel that would keep my bangs straight up in the air all day long.
Dippity-Do Girls With Curls is a brand new collection targeted towards budget-conscious curly head girls looking for smoother, supple, more manageable curls and waves without it feeling heavy or weighted down. It's a throwback to the day when curly hair looks were uncomplicated and carefree and will help achieve feminine, soft, bouncy curls. Its botanical enriched formula is made with natural shea butter, coconut oil, aloe and vitamin E to calm and smooth frizz while moisturizing, nourishing and defining each curl.


Although I don't have curly hair, I did give each product a test run and can give you a little background on each product. The collection features a shampoo, conditioner, curl shaping gelee, leave-in-curl defining cream and a curl deep conditioning treatment. It comes in the most beautiful pale pink with just the hint of teal accents packaging that I've ever seen, so girly and cute. It's reminiscent of the original Dippity-Do packaging of 60's. It also features the more amazing scent, I can't really put my figure on it, kinda reminds me of a strawberry milkshakes.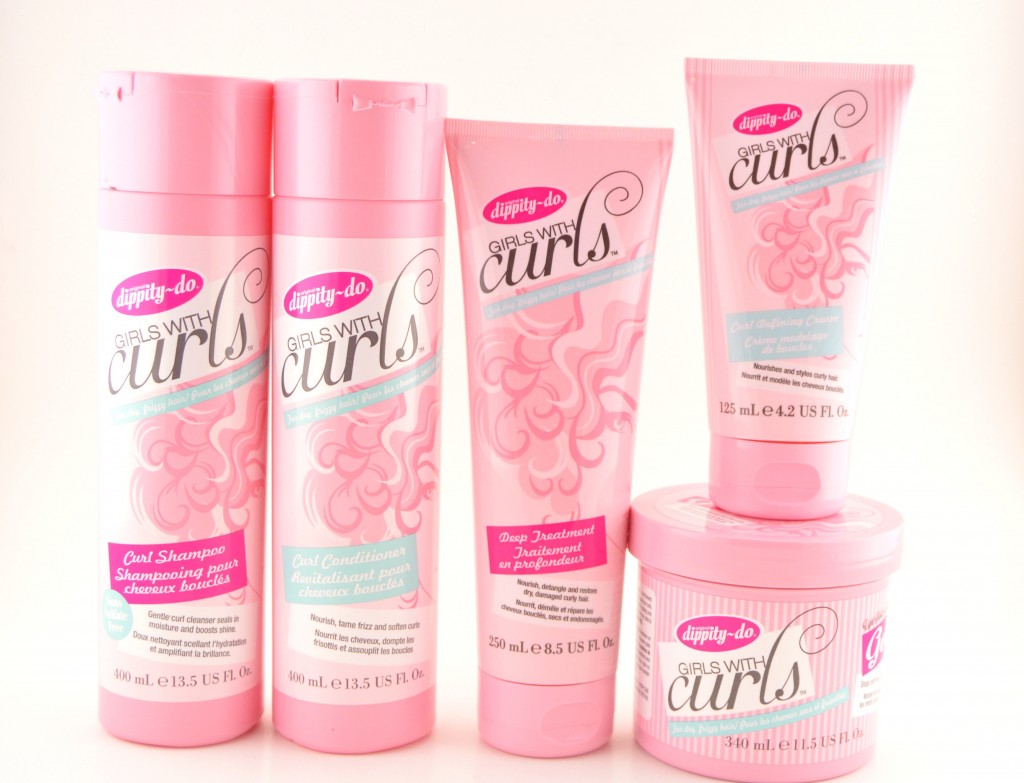 Dippity-Do Girls With Curls Shampoo is a sulfate and paraben free cleanser and your first step in achieving silky, soft, hydrated curls. It helps to eliminate frizz, silken and define curls for long-lasting bounce. It keeps curls moisturized without weighting them down and prevents breakage. It has a clear, gel like consistency that lathers well, cleanses my hair by removing residue and product buildup and washes clean without leaving hair weighted down. It helped to detangle my hair for easy bushing and easy styling with added shine and less frizz. It retails for $6.99 for 400ml.
Dippity-Do Girls With Curls Conditioner is also paraben free and helps to eliminate frizz, control static and hydrate the hair. It contains wheat proteins to fortify the hair along with shine enhancing ingredients to leave hair supple and smooth while helping to seal split ends and fortify damaged and frizz prone areas without adding buildup or weight. It has a clear, thicker, gel like consistency that adds extra moisturize back into my dry, dull strands. It's lightweight, washes clean away and leaves my ends silky smooth and incredibly soft and shiny. It retails for $6.99 for 400ml.


Dippity-Do Girls With Curls Shaping Gelee is alcohol and paraben free and is the perfect styling tool to help define curls allowing you to shape, smooth and separate each curl while eliminating frizz. It provides a light hold that feels natural, seals in moisture for a healthy, nourished curl and adds a gloss like finish for extra shine. It has a pink, creamy, gel like texture that melts into the palm of your hand for easy application to the hair. It did an excellent job at defining and holding my curls, sometimes with little to no hairspray needed. It retails for $6.99 for 340g.


Dippity-Do Girls With Curls Leave-In Curl Defining Cream is a colour safe, paraben free beauty balm ideal for women with medium to thick hair that helps to nourish and style dry hair without the frizz, breakage or static. It's formulated with humidity resistant shaping polymers that help to add volume without the frizz and contains sunflower seed oil and UV filters to help prolong colour vibrancy. It can be used on damp or dry hair and its weightless, non-greasy formula won't leave your hair feeling dull, heavy or weighted down. It retails for $6.99 for 125ml.


Dippity-Do Girls With Curls Deep Conditioning Treatment is also colour safe and paraben free that helps to nourishes, detangle and restore moisture back into dry, damaged hair. It helps to eliminate frizz, fly-aways, add shine and nourish and repair the hair from within with its botanically enriched formula of avocado, jojoba and borage oils. It retails for $6.99 for 250ml.