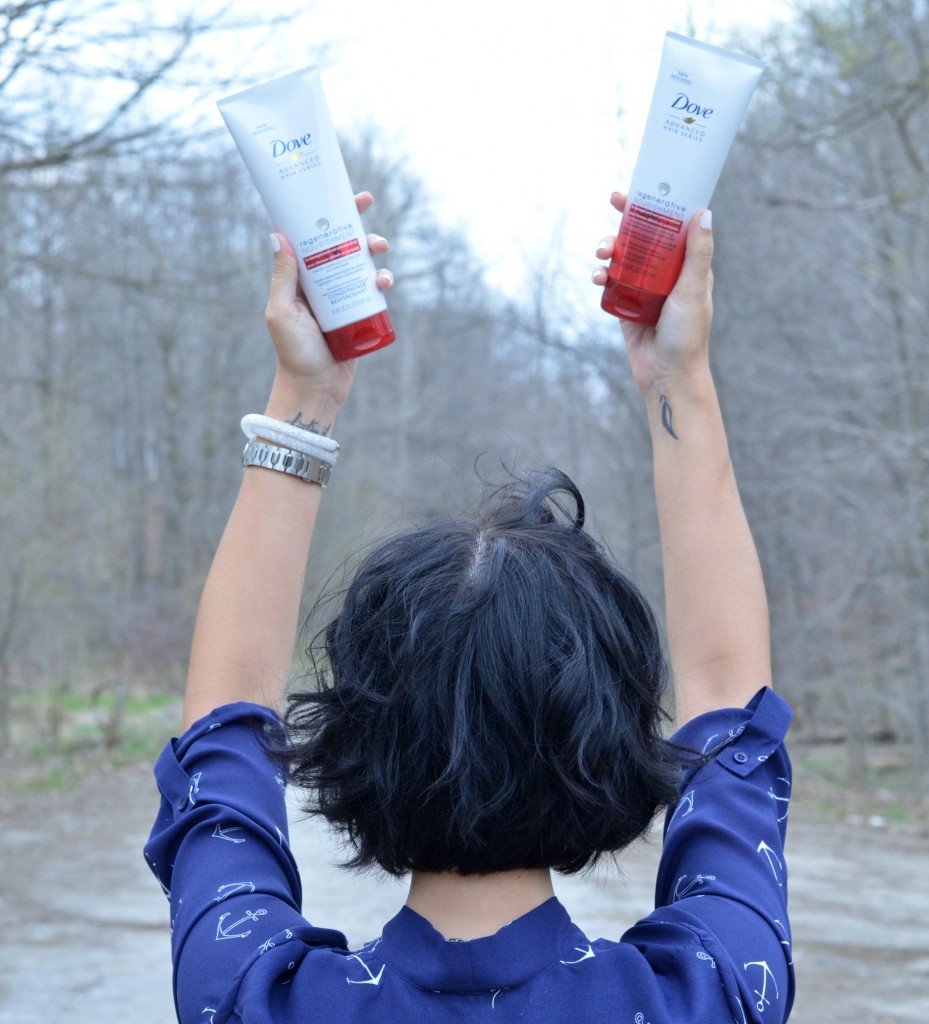 #HairDare
Can you believe I've been going to the same hair stylist for over 17 years? Yep, half my life. Not only is she now an amazing friend, I also trust her completely. Even when I was a bleached blond, I could rely on her to never over-process my hair or leave it looking straw-like. That being said, colour treating my hair for almost 2 decades has taken a toll on the overall health of my hair. I'm extremely picky when it comes to what products I use on my hair, so I was a little sceptical when Dove asked me to take their #HairDare challenge. I guess one could say I'm a bit of a hair snob, I tend to stick with salon brand shampoos and conditioners. Don't get me wrong, I love Dove as a brand and everything they stand for, I love that they inspire women of all shapes, colour and ages, to look and feel beautiful from the inside out, but I've never really experimented with their hair care line-up, until now.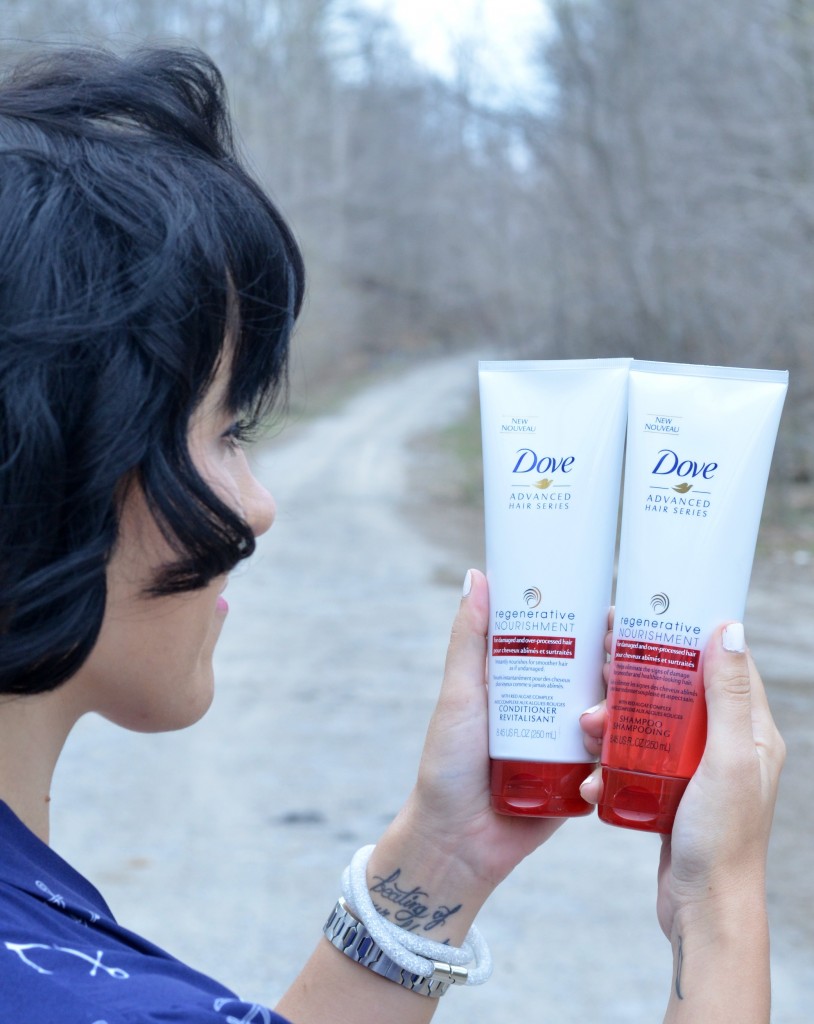 The Dove Regenerative Nourishment collection is designed for those with damaged and over-processed hair, its unique Red Algae + Keratin NutriComplex instantly leaves hair stronger, smoother and shiny after each use. Although my hair isn't necessarily damaged, thanks to my amazing hair stylist, who knows exactly the right products to use for my hair type and colour, that doesn't mean I don't look for products that can help maintain my healthy, strong, shiny locks.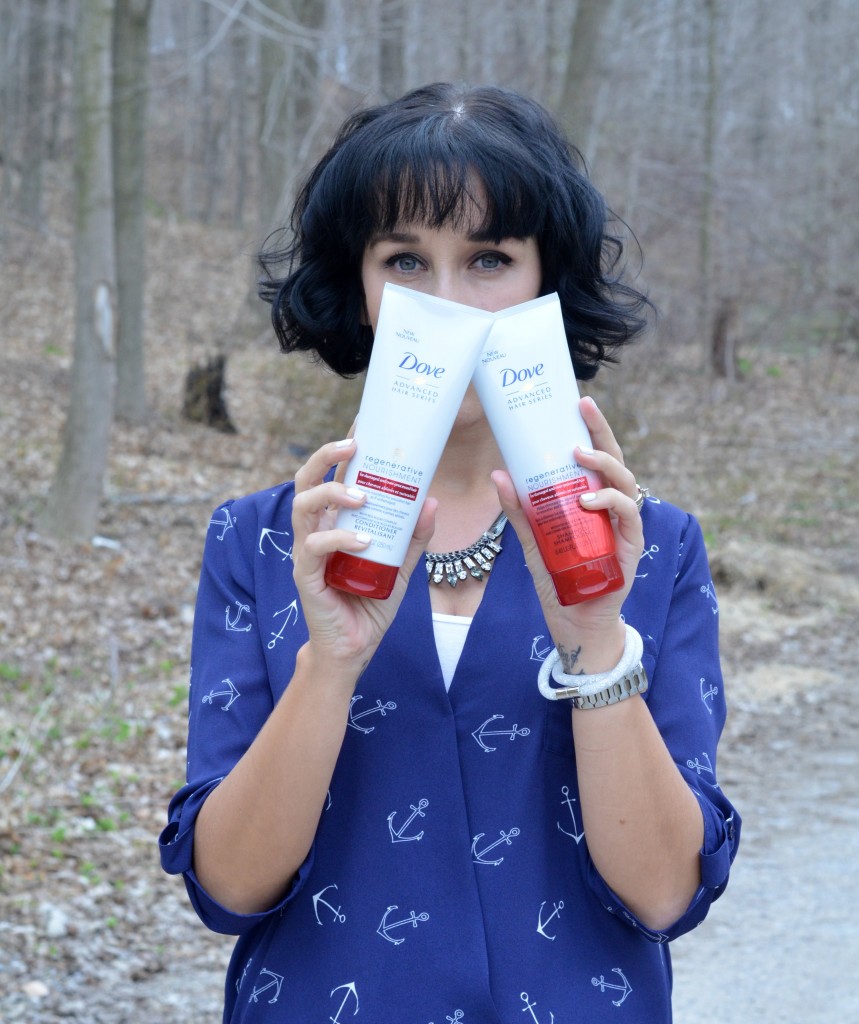 Dove Regenerative Nourishment Shampoo comes in a squeeze tube that's perfect for shower use and has an incredibly rich, creamy, milky consistency that does an amazing job at cleansing my hair of all oil, dirt and product buildup. It instantly helps to add moisture back into my chemically-treated hair, nourishing it from the inside out. It comes to a decent lather, gently washing each strand without stripping it of its natural oils or leaving it feeling greasy, sticky or tacky. It also seems to help smooth and control frizz, even before the conditioner. My hair feels healthier and stronger after only a few uses, which in the long run, will help future breakage. The shampoo feels extremely lightweight, never weighing my thin short hair down, no matter how often I wash. I'm totally obsessed with the scent, a light, refreshing spa-like aroma, achieved without the expensive salon prices.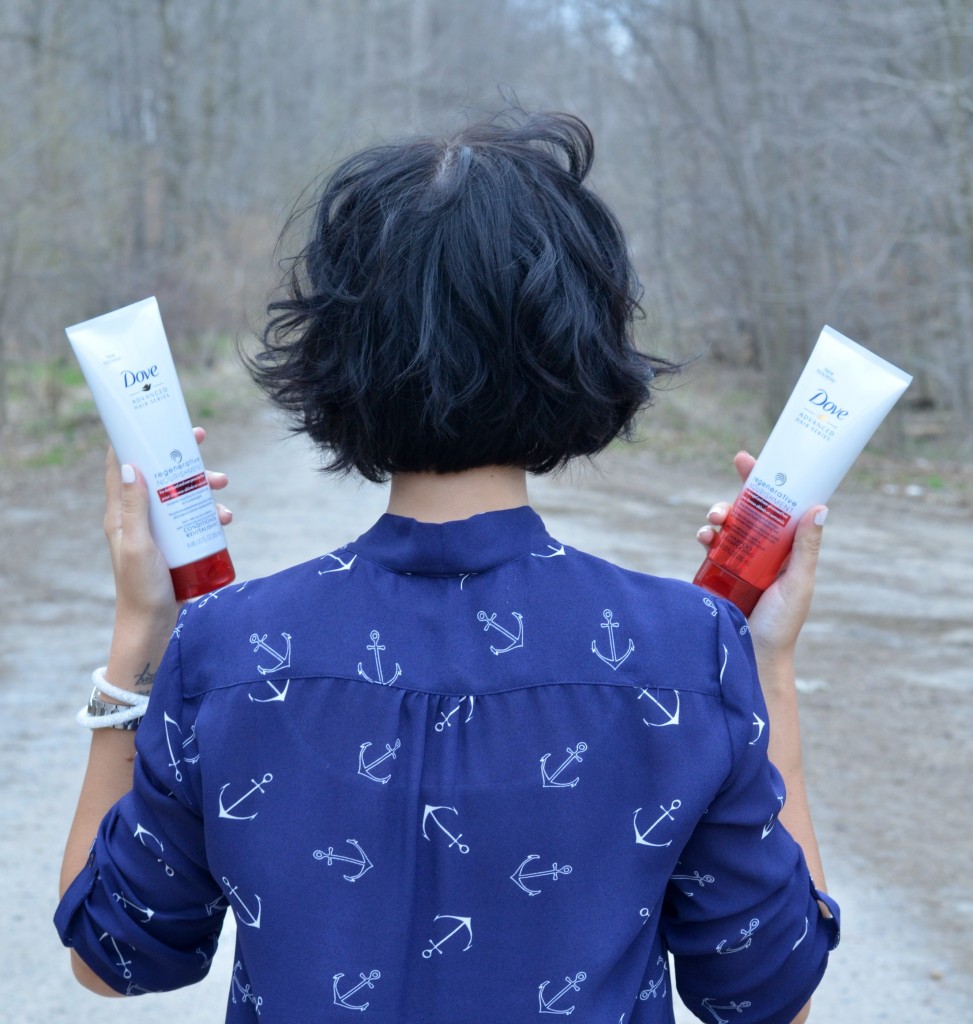 Since my hair is so fine and the shampoo does such an amazing job at hydrating and detangling my hair, I only use the Dove Regenerative Nourishment Conditioner every other day. That being said, it's probably my favourite product of the three I've been testing. It has an extremely thick and creamy texture that only requires the smallest amount to deeply moisturize and hydrate the hair. It instantly penetrates deep down into your hair cuticles to provide nourishment and incredible shine, without weighting it down or leaving it feeling greasy. With only a dime size amount, it gives life back to my hair, with a shiny, silky smooth texture for days at a time. Since it absorbs within seconds, there's no need to wait 3 to 5 minutes like other conditioners to get the full effect. It almost immediately detangles all knots, while smoothing and calming frizz. For someone who doesn't like to take her flat iron to her hair daily, this allows me to skip this step and go right into styling my hair for the day. It has the same great scent as the shampoo, just leaves your hair more manageable and sleeker on the days you use it.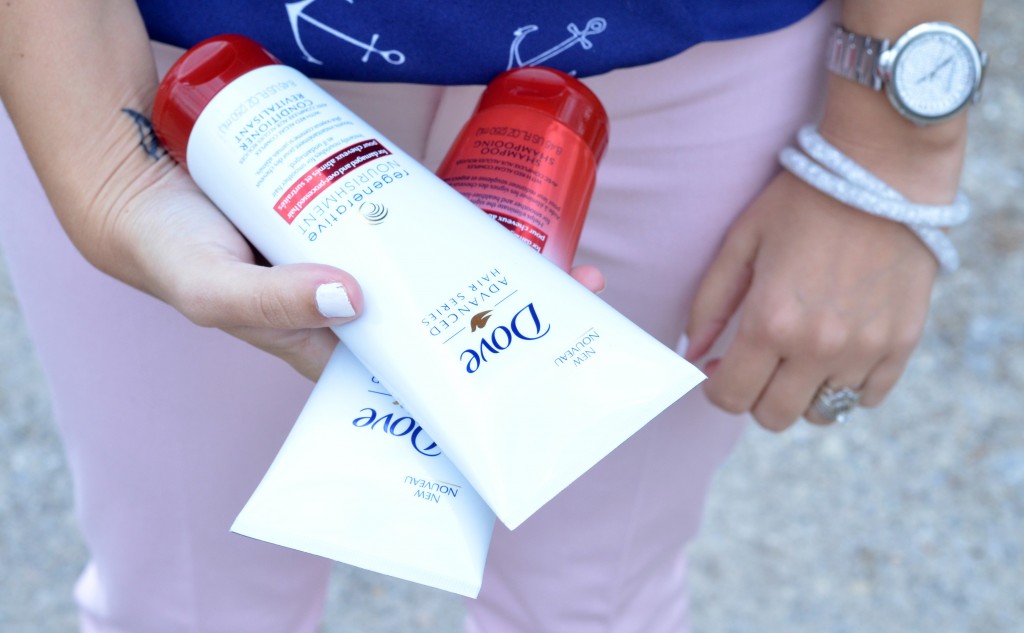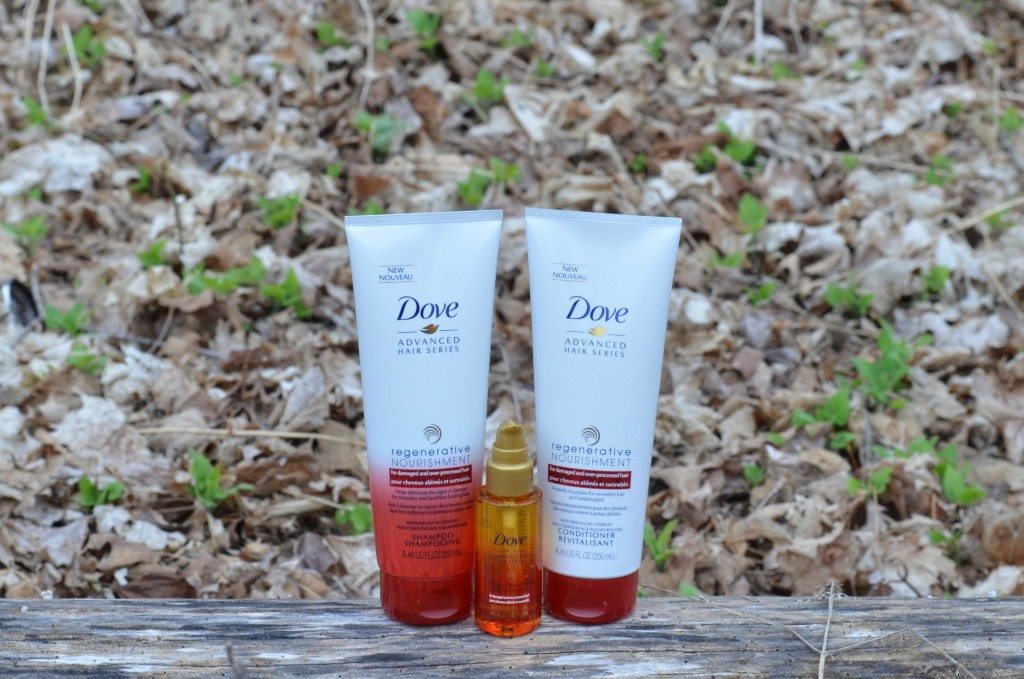 The final step, the Dove Regenerative Nourishment Serum-in-Oil, instantly helps to leave hair shiny and soft thanks to its unique potent blend. It instantly helps to restore hair's healthy appearance with only 2 to 3 pumps. My short hair actually only requires a single pump to see the full benefits and to ensure it never feels weighted down or greasy. I start by applying a single drop to the palms of my hands and rubbing my hands together to get the oil warmed up before applying to clean, damp hair. I focus on the ends of my hair and watch as it instantly penetrates deep down into the hair shaft to help nourish and prevent split ends, while reducing frizz and adding incredible shine. This is quite a unique product, think the nourishing properties of an oil, with the restorative qualities of a serum. You know I love me a 2-in-1 product.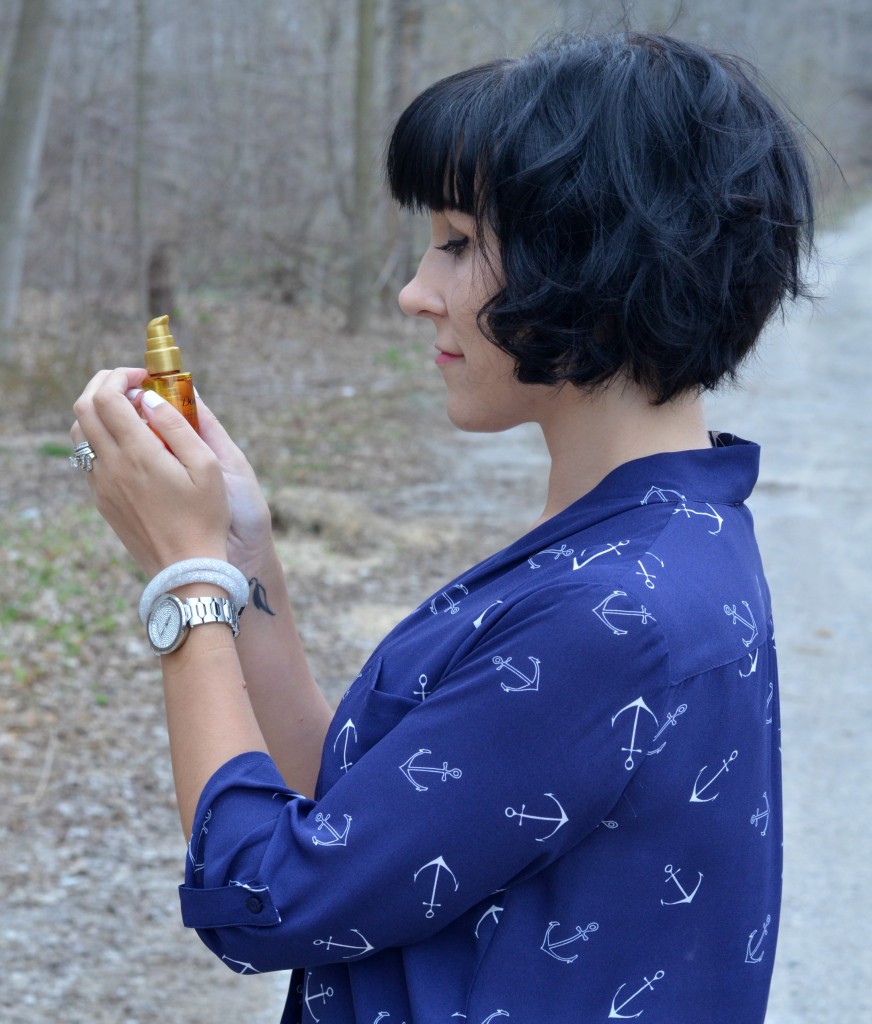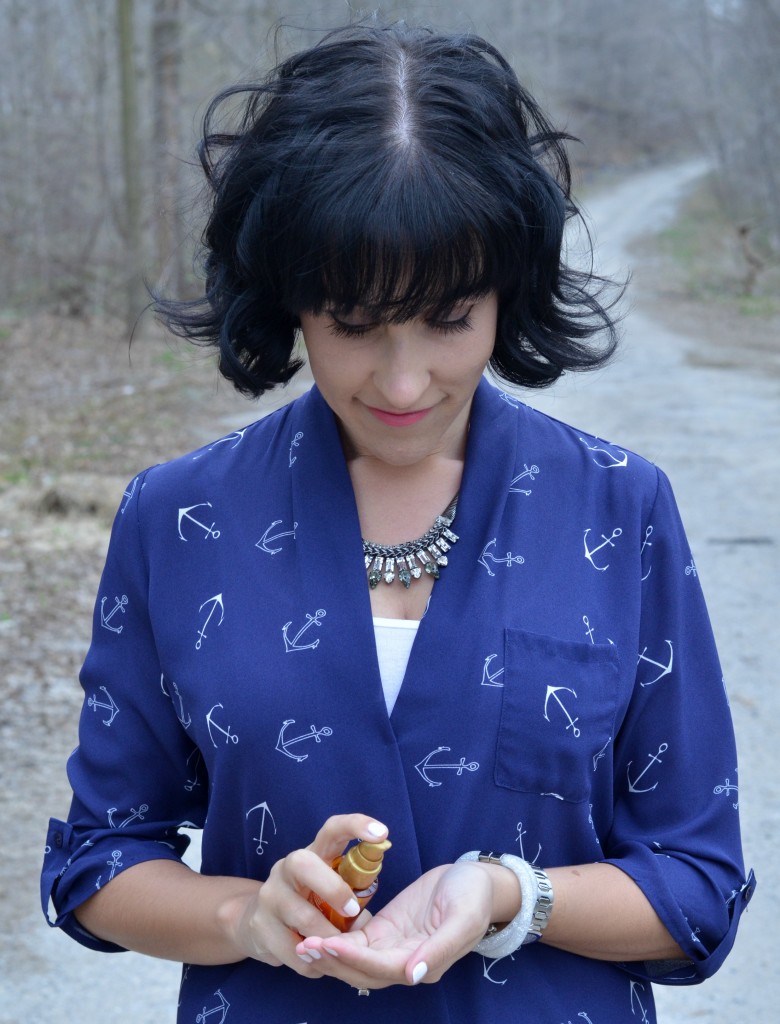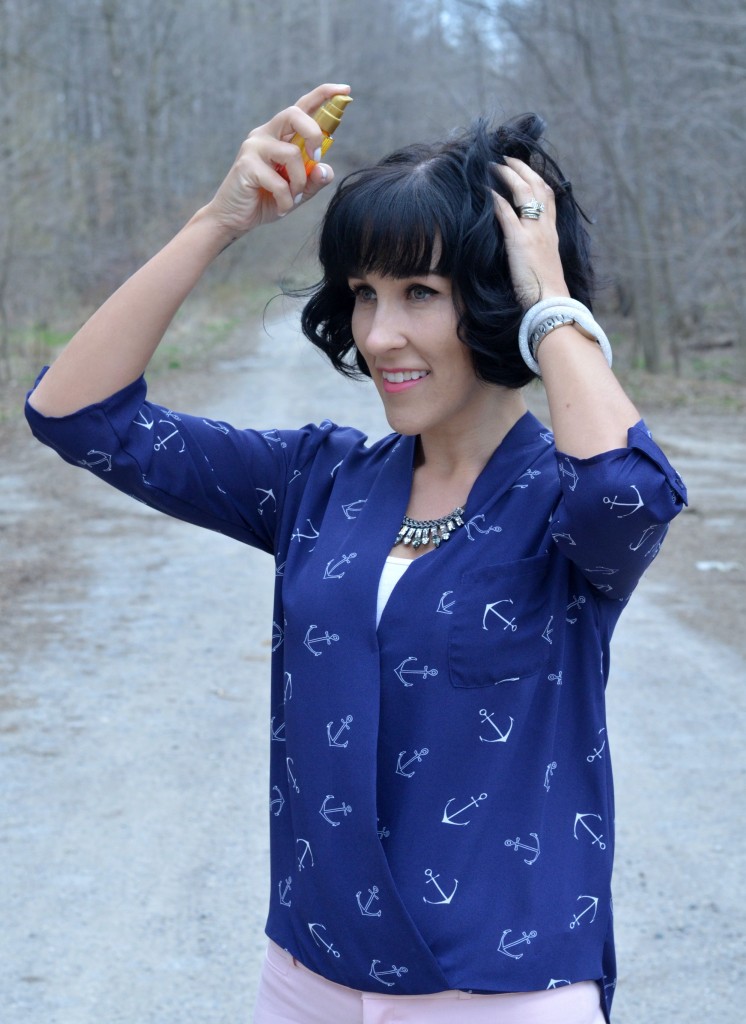 I took the Dove #HairDare challenge and tried out a new hair style. For someone who always wears their hair pin-straight (it's pretty much my "trademark" now), it was fun to experiment with a new look. Now that I'm feeling fearless when it comes to heat tools, thanks to the  Dove Regenerative Nourishment product line, I've been wearing my hair curly for the past few weeks. In case you're not familiar with my OG look, here's a picture of how I normally style it.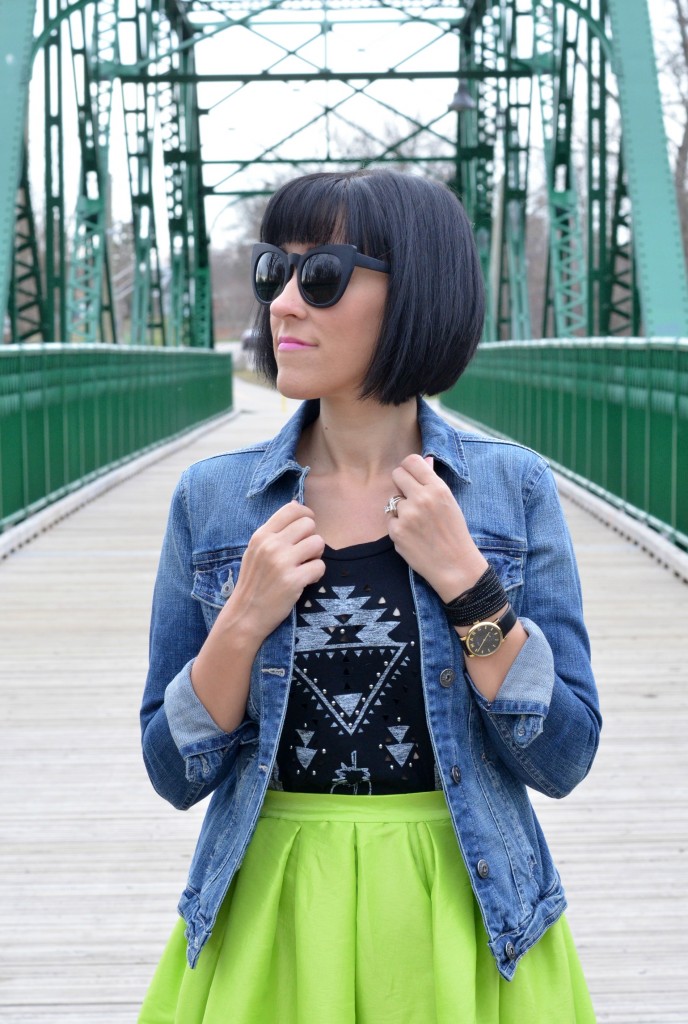 Before using this collection, I tried not to use a lot of heat tools on my hair, since colour treating it monthly, can tend to leave it feeling brittle and dull. This Dove Regenerative Nourishment challenge was a huge eye-opener, not only demonstrating that I can get excellent, high-quality hair care products at the drug store, but also illustrating that I can dramatically change the state of my hair in as little as a few short weeks. I'm not scared to try new hair styles, like curling it, or adding more heat to get that "perfect" salon do at home, since I know that as long as I continue to use the Dove Regenerative Nourishment product lineup, my hair will always revert back to its healthy state. My hair has felt stronger, softer and smoother these past few weeks, and I also love knowing these products are actually fighting against future breakage and split ends. It will help to give me that "fresh out of the salon" shiny, healthy look for weeks to come. I'm feeling much more daring after using this 3-piece system.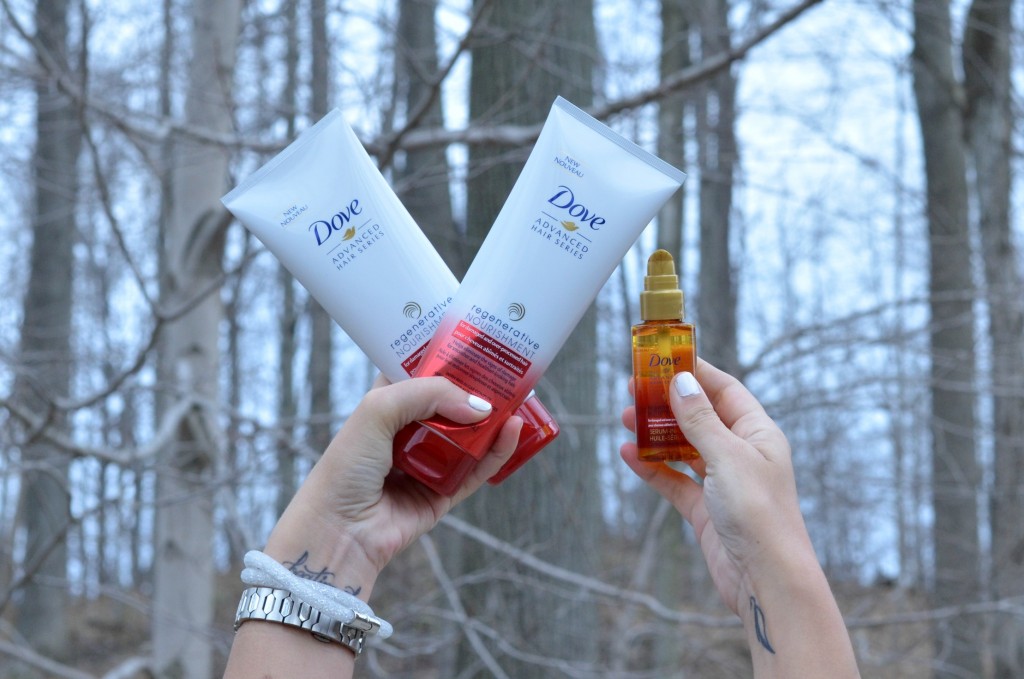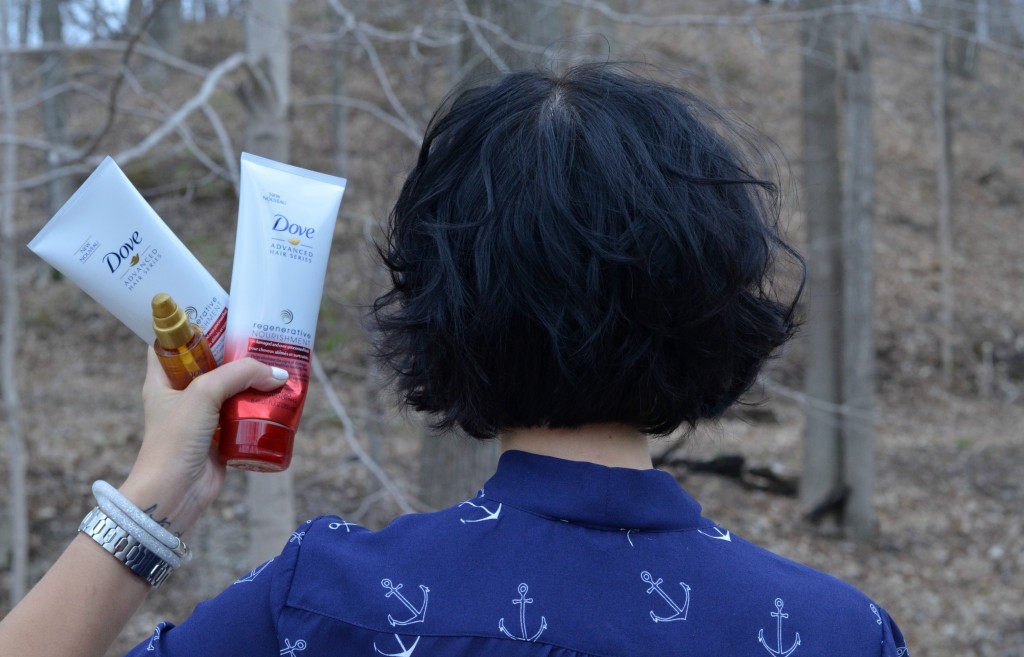 Need a little hair pick-me-up?, I highly suggest taking the Dove #HairDare challenge and seeing just how quickly it can transform and repair your hair. Over-processed, over-coloured or even over-heat styled, this Dove Regenerative Nourishment collection has you covered. I'd love to see your hair makeovers, so be sure to tag me on social media with your fresh, new, healthy hair.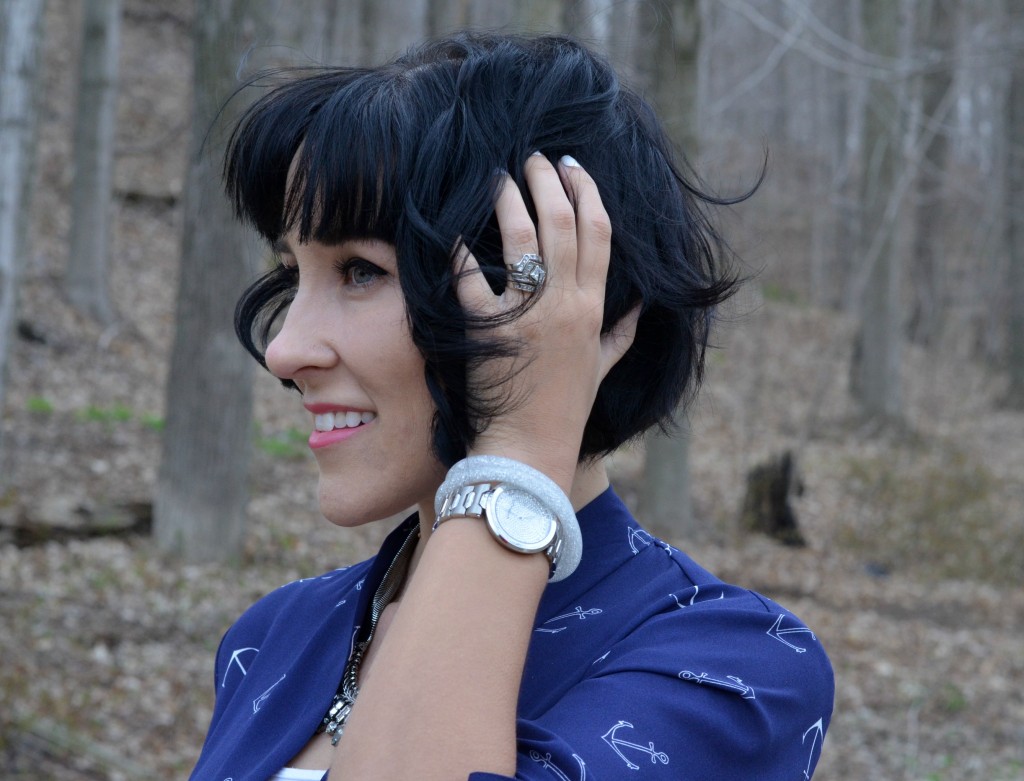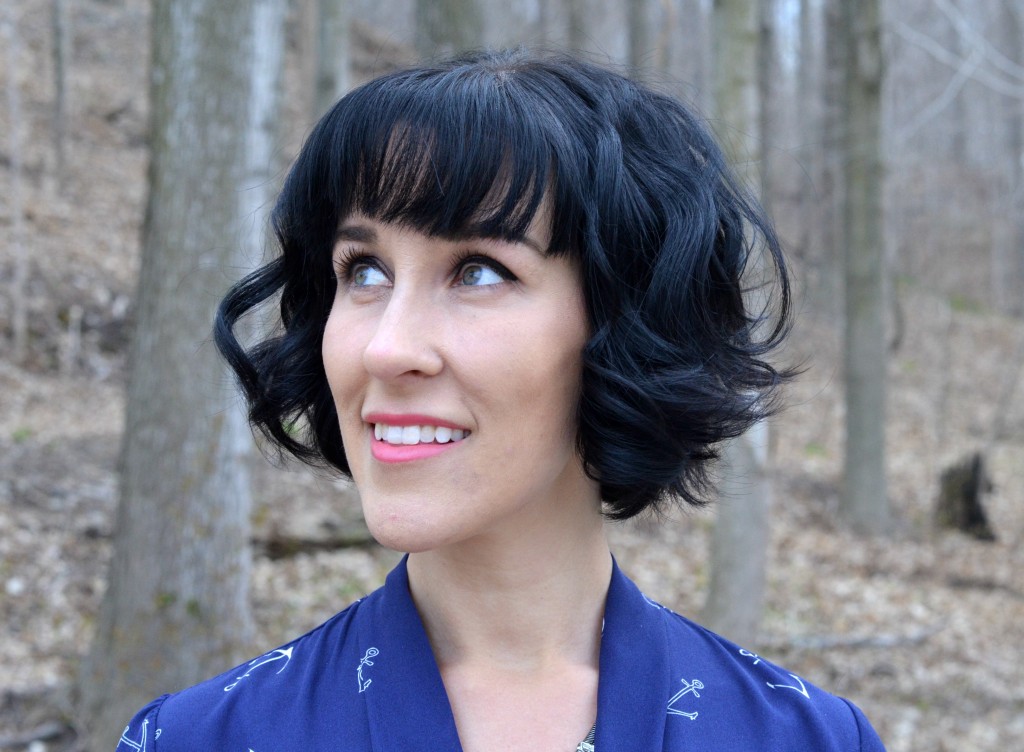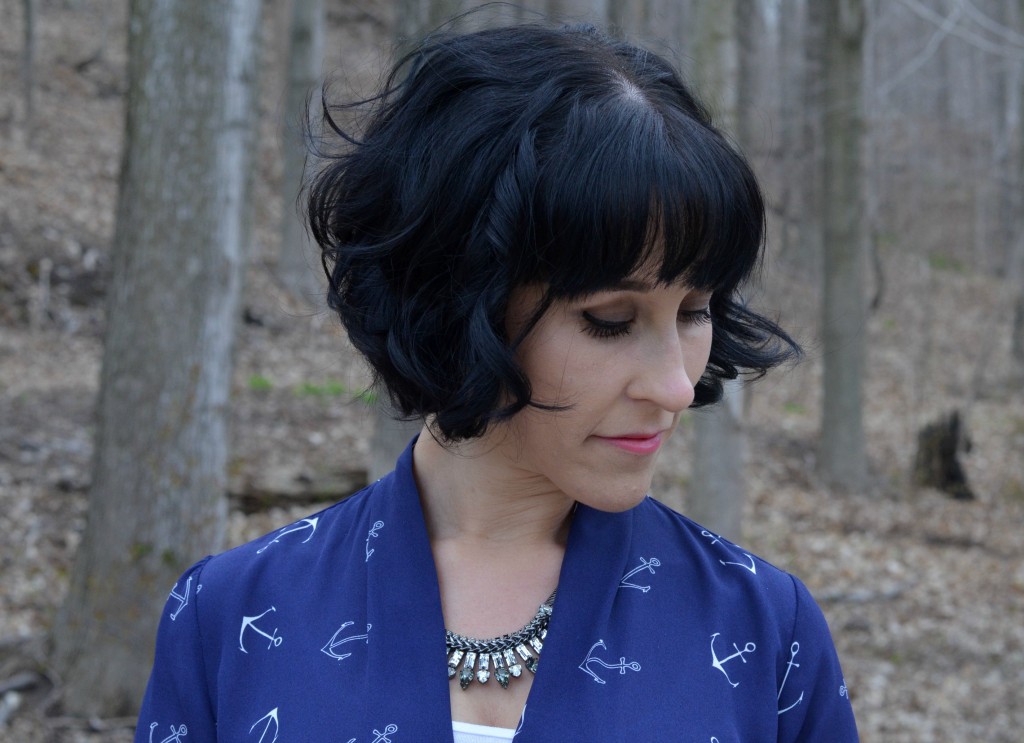 The Regenerative Nourishment range, formulated with Red Algae + Keratin NutriComplex, is a specific daily program for damaged, over-processed hair, making it smoother and stronger against breakage – as if damage never happened. Learn More!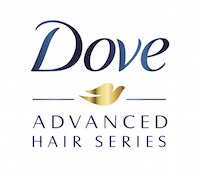 Disclosure: This post was brought to you by Dove Canada via Mode Media Canada.  The opinions expressed herein are those of the author and are not indicative of the opinions or positions of Dove Canada.