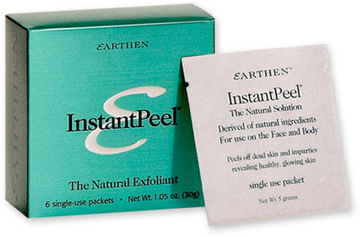 Who doesn't love a little facial pampering? And who doesn't love to save a little money with an at home kit? Earthen Instant Peel is a non-irritating exfoliate that gets rid of dry skin (which we all want). It dramatically improves your skins texture, elasticity and firmness. It's formulated for your face and neck, but its fine to use anywhere on the body.
Using natural fruit enzymes to get rid of dead skin (and reveal the new skin that's been hiding beneath), it is free of detergents, colorants, hypoallergenic and oil free. What more can we ask for?
Each box contains six single-use packets which could last you up to 4 months depending on your skin type? For oily and normal skin you can use it once every other week, for dry skin once every three weeks. At $50 for a pack of 6, that's only $8 a facial, great deal. You could spend more than that one just one spa treatment.
Earthen will help peel the old skin off and it will manifest itself as rolled up balls of skin. Don't worry it's not like those other chemical peels where you face will be red for days, no redness here.
How to use:
You will take one pack of the Instant Peel into the shower with you, go about your normal routine and after about 5 minutes (you want your pores to open up) from the steam, go ahead and apply the Instant Peel. The peel is milky in consistency and texture (and does not smell the best) but it works great. I started on my forehead rubbing in circles for about 30 seconds and started to see little balls of skin falling off (so gross I know). I then moved onto my cheeks, nose & chin and the dry skin just kept on coming off my face. I rinsed, got out of the shower and my skin felt soft and smooth right away- yippee. I then just added some of my daily moisturizer to the face & it was super soft, smooth & glowing!
Try is once and you'll be hooked for life, no more red, burning, expensive spa treatments for this gal!
One lucky reader had the chance to win a 6 pack of Earthen's Instant Peel to try at home, just by leave a comment on Facebook!
Winner of the 6 pack of Instant Peel was Katie Murray!
***Disclosure: product was sent to me for review consideration***