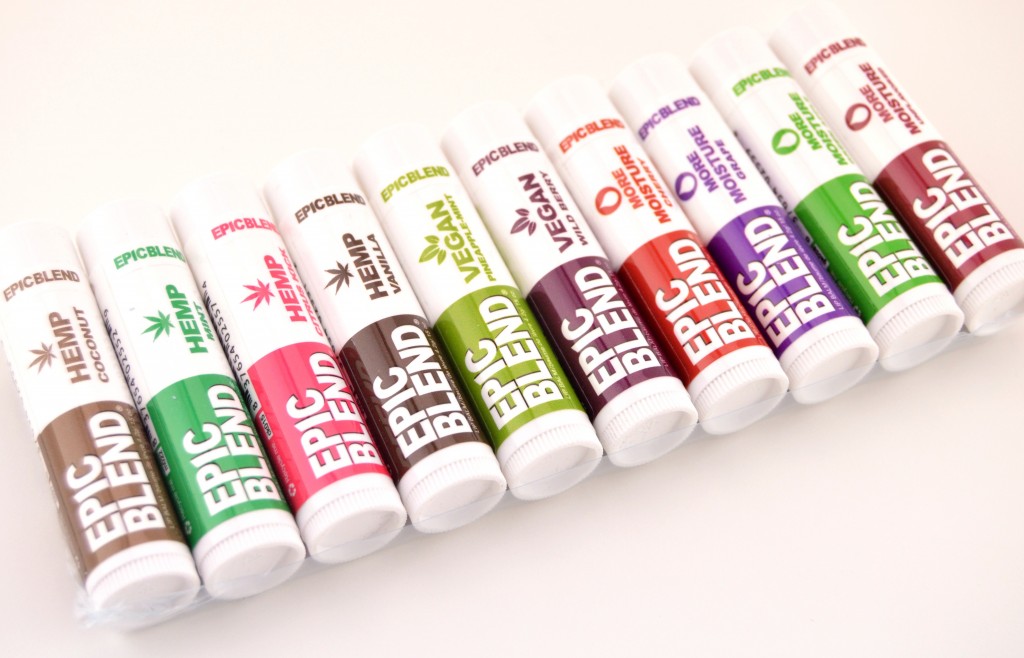 It seems like us Canadian's suffer through at least 8 months of cold, dry winters and only a few short months of summer, so when looking for a lip balm that deeply hydrates and moisturizes, you know us Canucks have you covered. Epic Blend Premium Lip Balm was created in 2007 right here in B.C Canada and offers a full line of lip care products that's all-natural, vegan, gluten, cruelty and petroleum free. Epic Blend was born from our passion for products that are made with not only the top ingredients, but ones that are all natural and completely healthy for all individuals to use," says Tracy Lengyel, co-founder of Epic Blend Premium Lip Balm.


Epic Blend Premium Lip Balm will not only moisturize and hydrate lips in 10 different flavors (with a few limited edition scents) but will help prevent lips from chapping, treat lips that are already chapped and nourish those sore, dry lips with 7 different moisturizers. Epic Blend Premium Lip Balm falls into 3 different categories, Hemp that's made with organic hemp seed oil that acts as an amazing anti-oxidant, is super nourishing and quickly absorbs deep into the skin cells, Vegan which is 100% plant-based and beeswax-free made with Candelilla wax that give them a smooth, rich texture and More Moisture with its 7 unique moisturizers, including Organic Shea Butter that gives these balms an extra "kick" of moisture and staying power.


Epic Blend Premium Lip Balm Hemp in Coconut, Mint, Citrus Kick and Vanilla

Epic Blend Premium Lip Balm Vegan in Pineapple- Mint and Wild Berry


Epic Blend Premium Lip Balm More Moisture in Cherry, Grape, Unflavored and Green Apple


Epic Blend Premium Lip Balm may look a little dense in the tube but once it hits your lips and warms up, it instantly turns into a creamy, rich, smooth texture that glides onto the lips like no other product you've tried before. It gives your lips a healthy shine, feels comfortable to wear all day with no sticky or tacky residue. Only need one to two swipes across the lips for total moisture and hydration and you'll only need to reapply every 6 hours or so, very long lasting.


Epic Blend Premium Lip Balms have made my lips feel softer, more supple, highly hydrated and healthier in just a few short days. I now have a tube of it in each room in my house, along with my purse and car for when my lips are feeling a little parched, or I'm just looking for a yummy scent to apply to my lips. I really can't get over how soft and creamy these are, they glide onto the lips and provide such a silky smooth texture, no other products compare. If I had to pick a favourite it would be Citrus Kick, the perfect blend of pink grapefruit and sweet orange, a refreshing scent that has me wishing for warmer, summer days. Epic Blend Premium Lip Balm retails for $3.49 each or a pack of 4 for $12 and can be purchased at Epic Blend at a various retailers across Canada. I may have just found the holy grail of lip balms!


Which Epic Blend Premium Lip Balms are you dying to get your hands on?