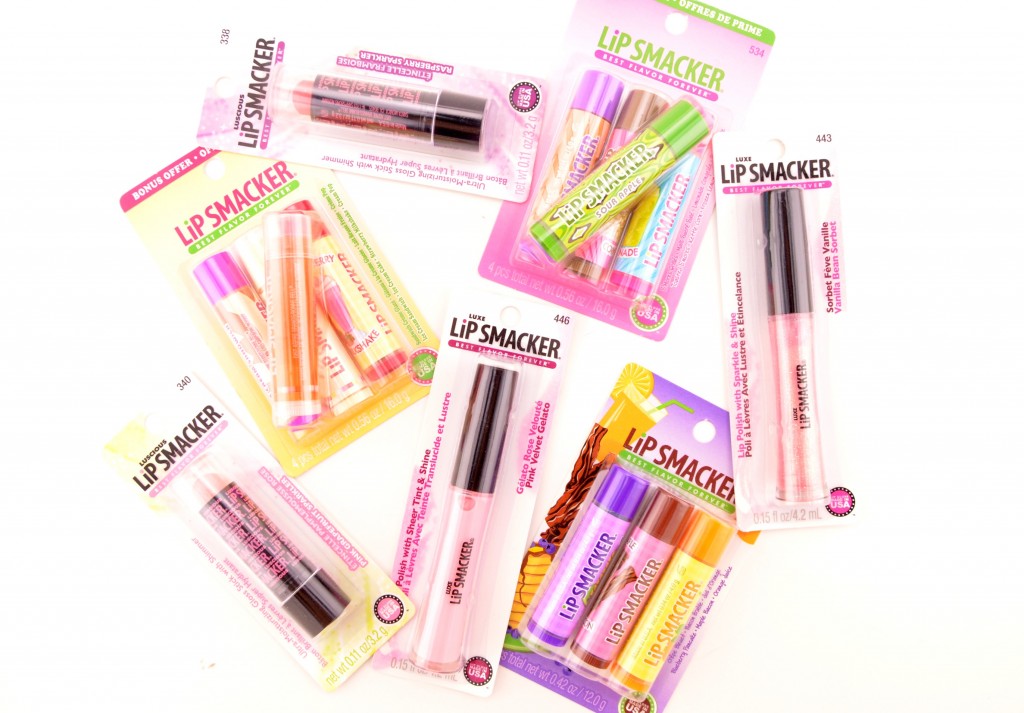 Best Flavor Forever

There's something nostalgic about Lip Smackers, brings me back to my early childhood days. I had a large collection when I was little, and was always on the hunt for the newest scent or newest limited edition flavors. Although these may seem a little juvenile for adults, the formula is extremely moisturizing and hydrating, making it the perfect lip balm for all ages.

Lip Smacker key ingredients are castor oil, sesame oil, mineral oil, and beeswax that not only give it a smooth and creamy texture, but helps keep lips moisturized throughout the day. It has a somewhat waxy texture, has a non-tinted gloss finish, even though it may look pigmented in the tube. The coloured formula is just to match the flavor and scent, which there are hundreds to choose from. It feels comfortable without being heavy, sticky or greasy, wears for about 3 to 4 hours and feels ultra-hydrating on the lips. It leaves behind a yummy scent, without smelling artificial and lasts for about 20 minutes on the lips.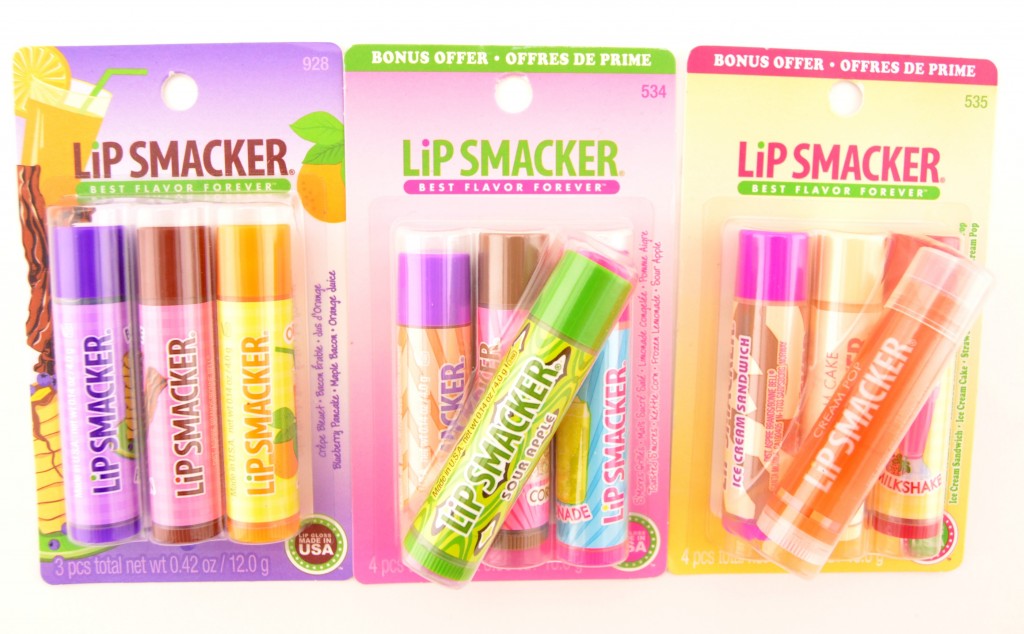 Frist up for review is Lip Smacker Breakfast Lip Balm Trio which includes Blueberry Pancake, which smells exactly like pancake mix, with a hint of fresh blueberries, Maple Bacon that has a strong, sweet and yummy scent of fresh maple syrup with that crisp, straight out of the pan, bacon scent and Orange Juice, which, you got it, smells like freshly squeezed citrusy, orange juice. It retails for $6.99.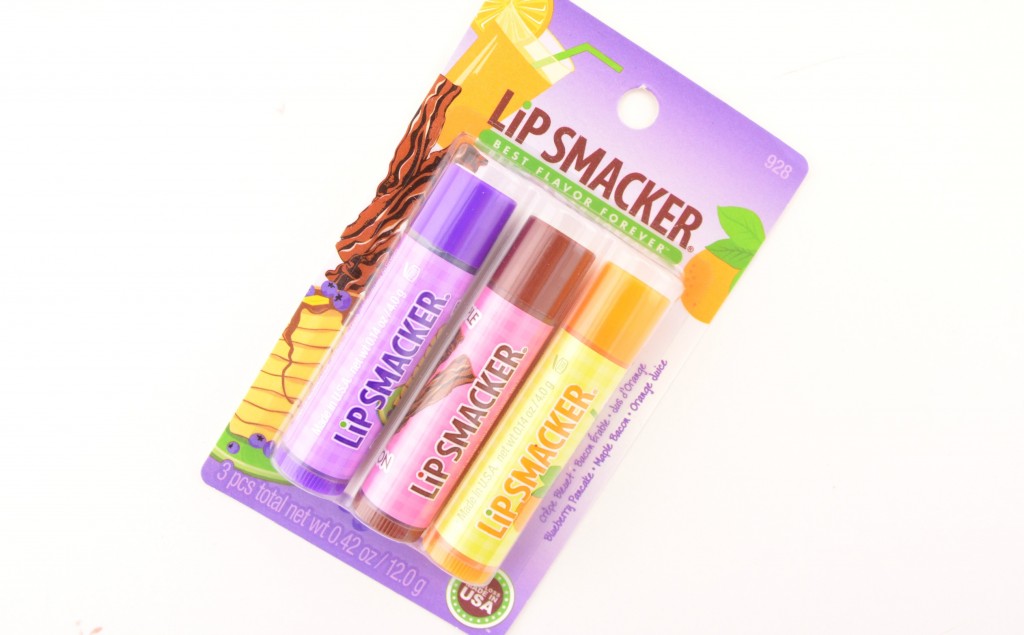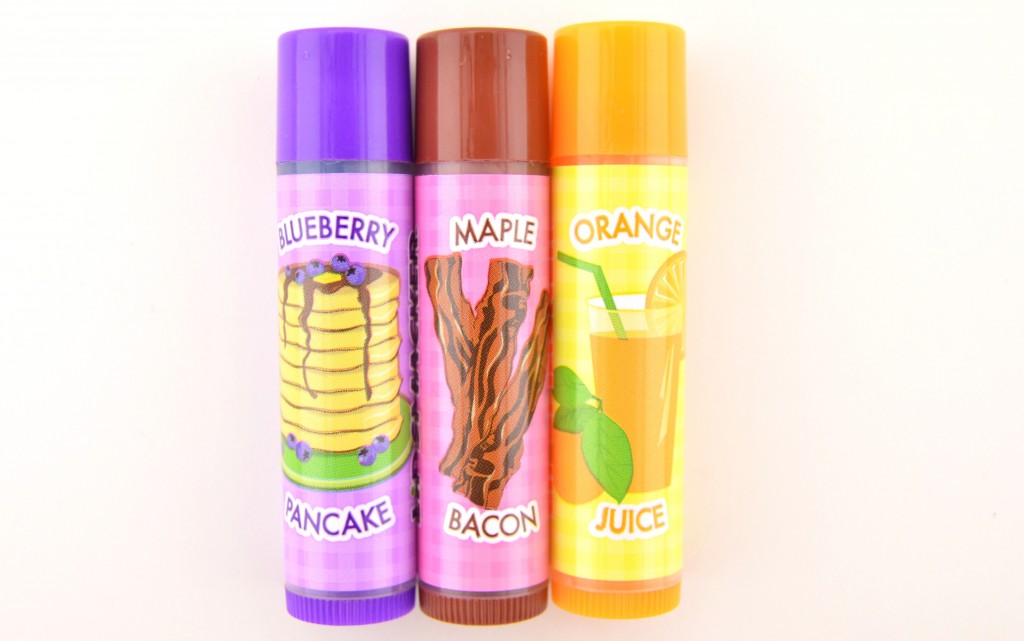 Now, what's better than a 3 piece Lip Smacker set, a 4 piece collection at the exact same price. For a limited time, you can get some truly unique flavors with a free added bonus. Frist up, Lip Smacker Summer Camp Trio with Toasted S'Mores that will bring back memories of sitting around the campfire melting marshmallows and chocolate over graham crackers, Kettle Corn, which has a sweet sugary popcorn scent, think of the first smell when you first walk into a movie theatre and Frozen Lemonade, that has a sour, yet sweet scent and then, of course, the free Sour Apple, that has a somewhat sour, but not overly powering scent to it.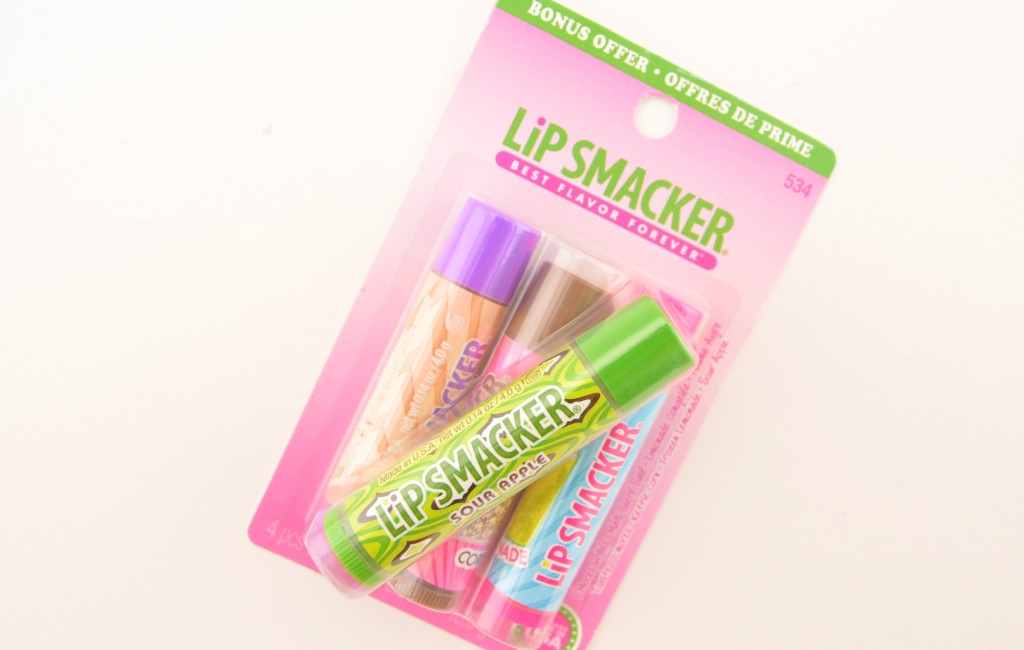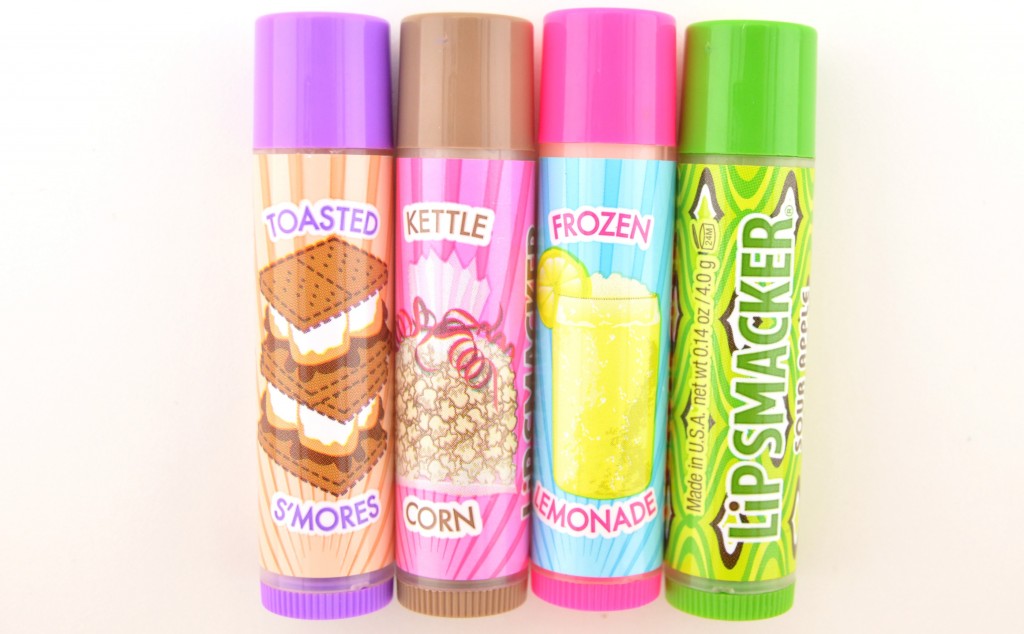 Next up is Lip Smacker Limited Edition Trio with Ice Cream Cake, that has a rich and creamy, straight out of the oven, vanilla cake scent, Ice Cream Sandwich, which smells somewhat the same as the cake scent with a sweet scent of vanilla, Strawberry Milkshake which has a creamy, sweet, delicious scent of strawberries and the free Cream Pop which smells exactly like Crush Orange Soda.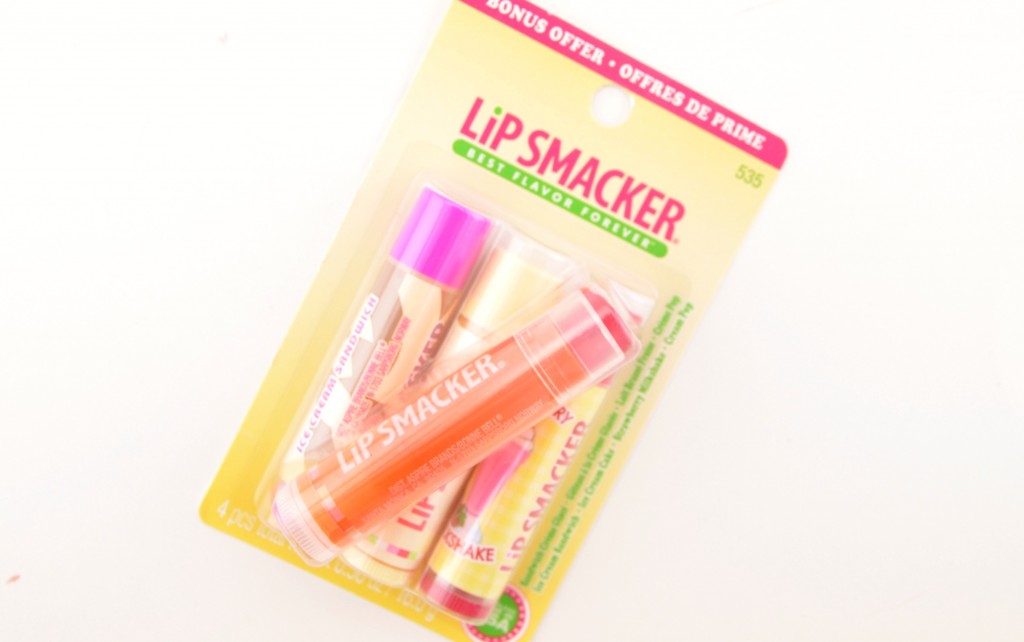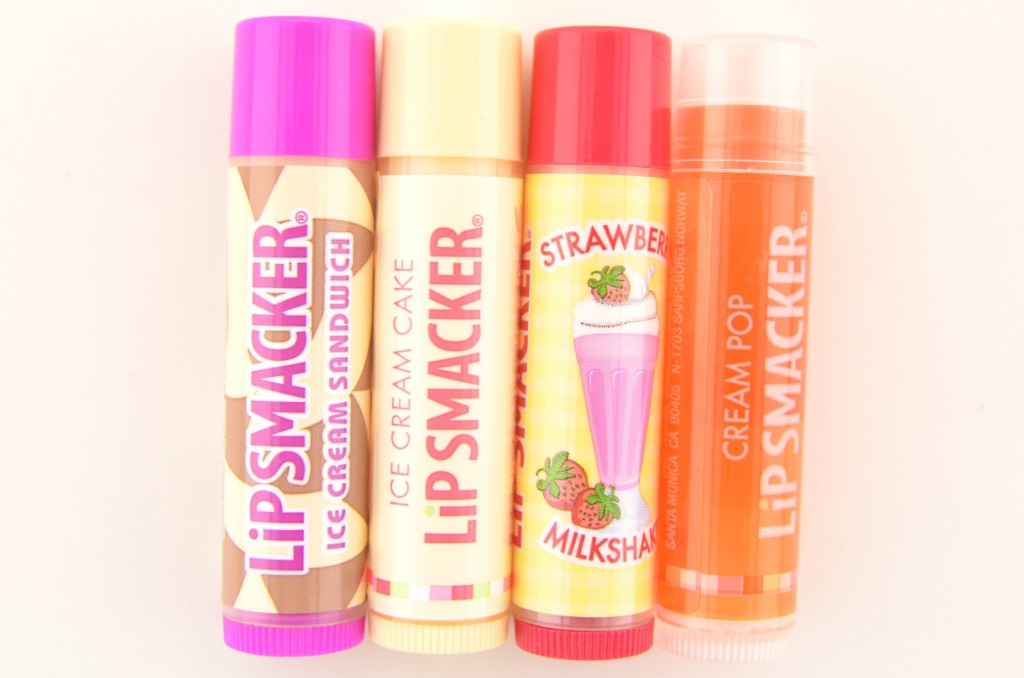 Also in the special 4 piece collection is SPF Trio which includes Kiwi Berry Crush, Watermelon Wave, Cool Strawberry Orange + a free Cherry Berry Ball, Vintage Beverage Trio which includes Cherry Cream Soda, Root Beer Float, Vanilla Malt Shake + the free Salted Pretzel Skittles, Skittles Trio which includes Banana Berry, Strawberry Starfruit, Mango Tangelo + the free Lime and finally, Limited Edition which includes Trio Funnel Cake, Candy Confetti, Snow Cone + the free Pumpkin Latte. It retails for $6.99.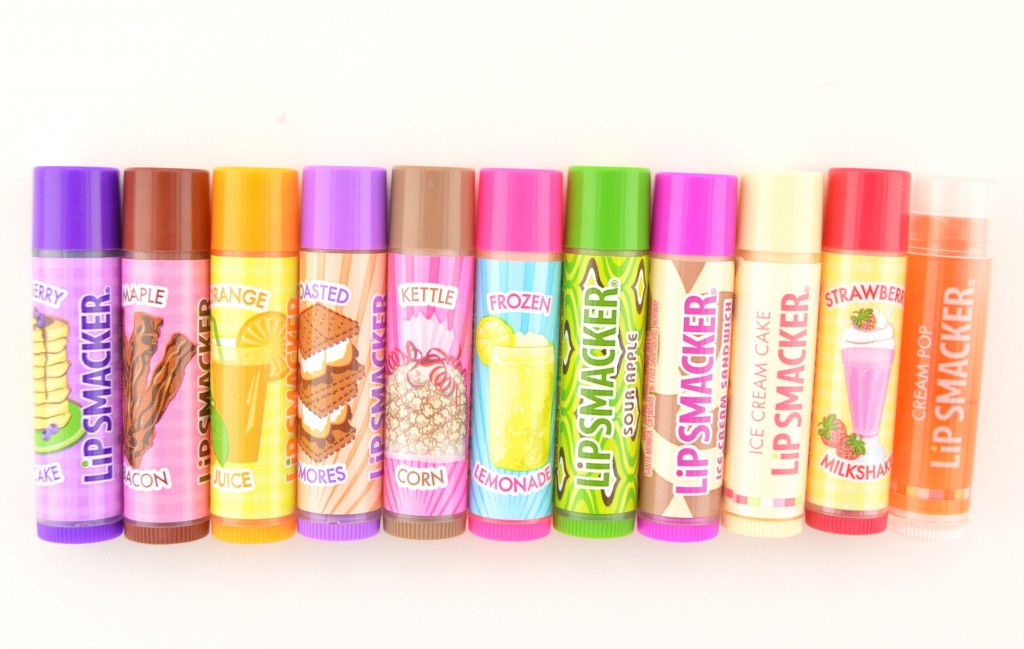 A new generation of Lip Smackers is here with their new Luxe Lip Smacker that delivers high-shine, prestige-inspired lip polish with a variety of shiny, multi-dimensional finishes in sparkle, shimmer and iridescence. The sparkly ones do have large chunks of glitter throughout it that do show up on your lips, and quite unevenly, the shimmery ones add a nice translucent glow to the lips and the iridescent ones add a high, gloss, shiny glow to the lips. It has a lightweight, creamy texture that gives a sheer, colourless shine to the lips. Its creamy formula glides across the lips with ease and doesn't feel sticky or tacky. It keeps lips hydrated, smooth, moisturized and super soft. It does need to be reapplied every few hours, because it isn't sticky like other glosses and it features mouth-watering, delectable flavors in Caramel Sorbet, Pink Velvet, Gelato, Coconut Lace, Vanilla Bean and Limencello Pop. It retails for $4.99.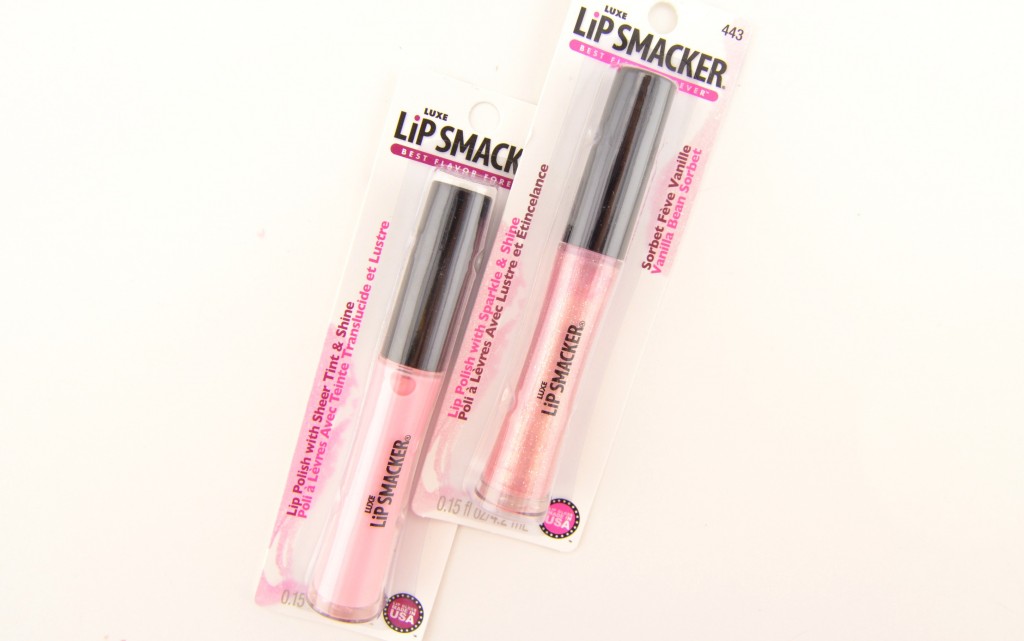 Also brand new out is Luscious Lip Smacker that features an ultra-moisturizing gloss in a variety of high-shine finishes including shimmer, sparkle and iridescent. Its conditioning formula keeps lips moisturized and hydrated for kissable soft lips that last all day. It comes in 6 refreshing flavors of Pink Grapefruit Sparkler, Pomegranate Fizz, Raspberry Sparkler, Strawberry Lemonade, Watermelon Spritzer and Mango Fizz for $3.99.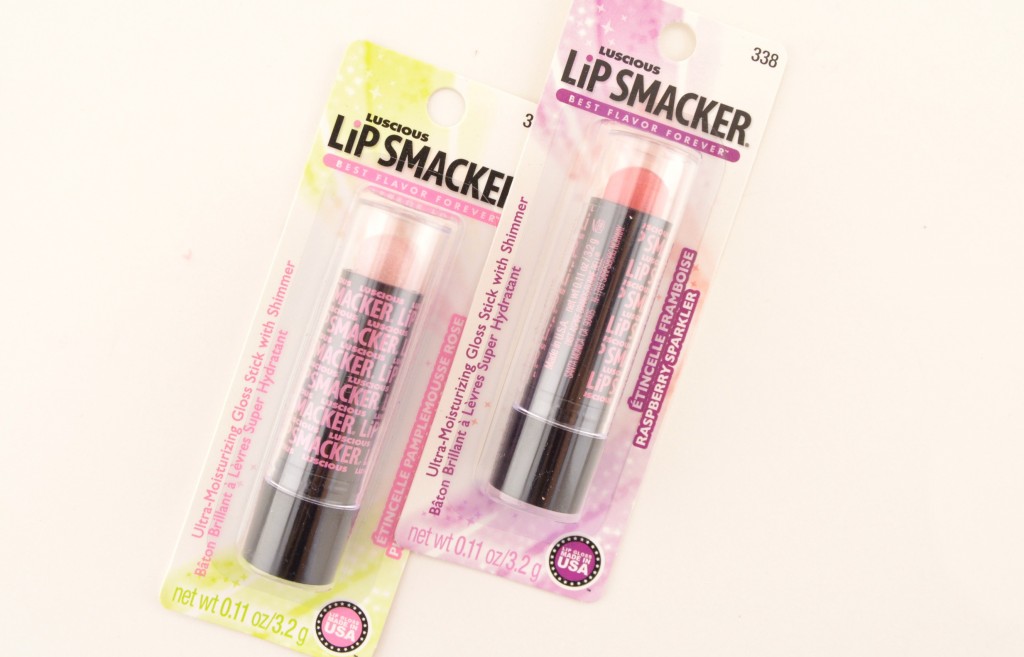 If you like this Lip Smacker Review you might also like Epic Blend Review and Philosophy Pink Almond Candy Lip Balm