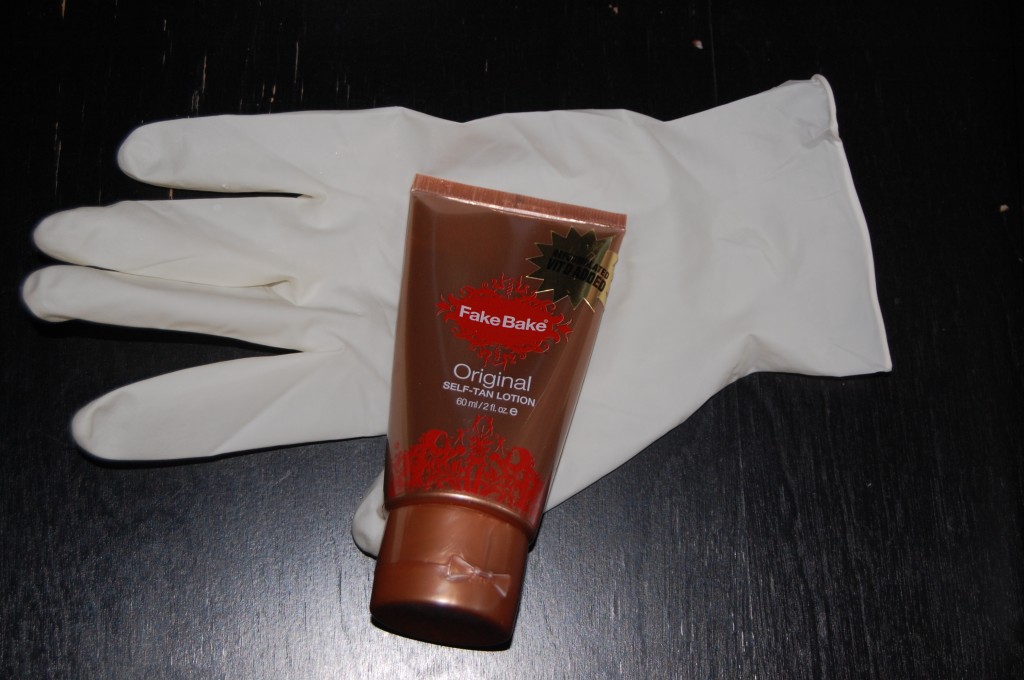 As many of you know (I've talked about it several times now) I really try to stay out of the sun, I wear SPF of at least 50 when out and about, due to the fact I lost my BFF of 18 years to cancer 4 years ago now. I've tried the spray tan and hated it, nothing more to say than "hello orange" (and plus I really can't get pass the $30+ price tag for each tan)… yes I'm cheap. 
I was thrilled to get Fake Bake Original Self-Tan Lotion in the mail to test out; I've heard so many good things about this company and could hardly wait to try it for myself. 
I was a little freaked when I first saw the colour of the lotion, its super dark, almost black and I was thinking there is no way this is going to look good on me, being so pale as I am. After reading about it I found out its only dark because it has a built in colour guide (that's temporary) that will allow you to see where you're apply the tanner. 
First step to the perfect tan is to exfoliate, you want your skin to be super soft for the lotion to apply evenly and not leave any dark spots behind. After I exfoliated in the shower I was ready to apply the lotion. The only down fall to this product was it didn't come with any gloves, I know from past experiences that you're going to need these; otherwise the palms of your hands will be super dark for days. Luckily I had a pair lying around and was able to use them. If you don't have any at home you can pick them up for $1 at the Dollar Store and you get 10 of them. 
I applied the lotion in the evening after getting out of the shower; I just started on my neck and worked my way down my arms, shoulders, then onto my legs. I started on the outside of my arms and legs and rubbed in a circular motion moving to the inside of my arms and legs; I find this will give you the most "natural" look as this is how your body would normally tan outside. I left out my stomach and mid back as no one really sees this (besides my husband); my full body took about 20 minutes. 
Woke up in the morning and I was a little freaked out to see that my skin was a dark green, I was thinking this better wash off or I'm in trouble. I took a shower right away and I did see colour running down the drain, but that's just the colour guide coming off and you're then left with a beautiful, natural tan (not orange at all) like most other self-tanners I've tried. I had no streaks, pale patches or dark spots, I'm super happy with the turn out. 
If you're like me, I'm very about smells, I think there's no getting away from that self-tanner scent, but this is the best one I've tried. Fake Bake did seem to be able to mask the smell somehow, almost a floral like scent and it was very bearable (by the morning I couldn't smell anything). 
Great thing about this self-tanner is you can apply it 2-3 nights in a row to get your desired colour and then just maintain it with one new application once a week for that sun kissed glow all year round. I only had to apply 1 coat to get my desired look and it lasted about 6 days. When I went into work, everyone thought I was at the beach the day before and they could not believe how "natural" it looked. I think I did an amazing job of applying it for my first time, which to me, means its super easy!
 I was not orange at all, the colour did not come off on my clothes or bedding and it seemed to fade all at the same time to each part of my body. This would be perfect for brides that want to have a natural tan and not have to worry about it staining their dress, it really is amazing, I can't say enough good things about it. 
I'm hooked now but I do want to test out Fake BakeFlawless Self- Tanning Liquid, it looks even easier to apply because you get a buffing mitt with it? 
You can pick up Fake Bake Original Self-Tan Lotion for only $29.95 here and right now they have 25% off using code LOTION25 making it only $22.50, yippee!