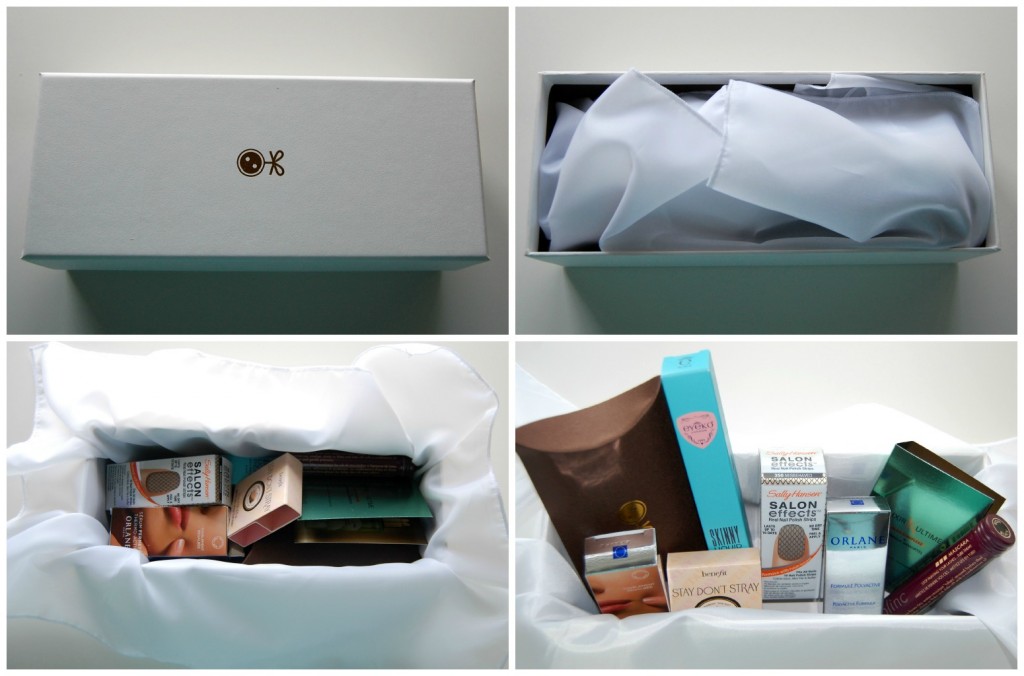 I had a little freak out when I got my mail today, it's finally here…. Loose Button Luxe Box Fall edition; I've been waiting month for this, yippee! As you know Loose Button has switched their membership program from once a month to quarterly, which I think is a great idea (something a little different than the other companies). You now get 7-8 trial size products once every 3 months to test out for only $26. 
When I first started to open it I noticed the box is different, way different and way better. I will for sure be saving these boxes and using them for storage. Everything is wrapped so nicely in the box with a silk like napkin. It's just perfect! 
First up is Blinc Mini Mascara in Black and you know me I'm always on the look-out for that perfect mascara (in which I haven't found it yet). Blinc promises a no-hassle, no-smudge mascara that you can take throughout your day with no re-application. Instead of painting your lashes like conventional mascaras, blinc mascara forms tiny no-smudge, water-resistant "tubes" around your lashes. Once applied, these mascara tubes bind to your lashes and cannot run, smudge, clump, or flake, even if you cry or rub your eyes. Blinc mascara will add volume and length to give you a radiant natural look that lasts all day. 
I got a sample size of 4g, full size retails for $26 for 6g making mine worth $17 
Next up is Eyeko Skinny Liquid Eyeliner which featuring a long-lasting pigmented formula with an easy-to-apply, pen-style nib, allowing you to create thick feline flicks and defined lines for a smudge-proof finish. 
It's the full size product and retails at Sephora for $18 
Third is Benefit Stay Don't Stray Primer, this dual-action primer works 360 degrees around the eyes to make concealers and eye shadows really stay put. 
My sample size is 2.5ml, full size retails for $30 for 10ml making mine worth $7.50 
Forth up is Orlane Thermo-Active Firming Serum which helps the skin become firmer, plumper and more elasticity. The shape of the face is remodeled, the outline of the face is redefined and the contours are more distinct. The face regains its shape and youthful appearance. 
My sample size is 3ml, full size retails for $200 for 30ml making mine worth $20 
Fifth up is Orlane Absolute Skin Recovery Care Polyactive Formula which sstimulates cell energy, regenerates, smoothes, firms and moisturizes. 
My sample size is 3.5ml, full size retails for $198 for 50ml making mine worth $14 
Sixth up is Sally Hansen Salon Effects Real Nail Polish Strips, if you're been following me for awhile now you know I'm in love with these strips, they last up to 14 days and super easy to take off. 
It's a full size product and retails for $10 
Next up is Kerastase Elixir Ultime with Immortal Moringa helps damaged hair and helps hair feel replenished and nourished. 
My sample size is 3ml, full size retails for $54 for 125ml making mine worth $1 
My last and eighth sample is a Loose Button Exfoliating Pad, I believe this just to be an extra bonus from the company?
My total box is worth about $88 although I would never buy the Orlane products for those prices, my 2 little samples cost over $34 retail, are you kidding me? I kinda don't even want to try them, cause what if I fall in love (and you should for those prices). I am really happy with the Blinc Mini Mascara, Eyeko Skinny Liquid Eyeliner and the Sally Hansen Salon Effects Real Nail Polish Strips, those alone are worth over $45 (so I feel that paid for the box and then some). I've heard amazing things about the Benefit Stay Don't Stray Primer, so I can't wait to test that out also. My overall thoughts on this box is amazing, if you take out those 2 expensive products I'm still left with a value of over $55 and I only paid $26, pretty good in my books and I'm looking forward to testing out a few new products I've never heard of before!