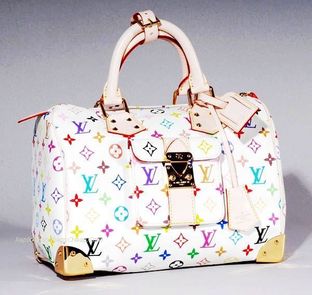 And the winner for February's contest is……. Raz Kassam. Raz most expensive piece is her gucci boston bag (that her hubby bought her for her Birthday)- what a nice guy. 
The piece she would spluge on would be a pair of christian louboutin shoes or a pair of sexy Gucci shoes or any high end fashion designer shoe in purple (she might get a pair for her Wedding Day? 
We all like to splurge once in awhile, correct?
Although now that I'm married & own a home I don't spend as much money on clothing, shoes & accessories as before (yes this may be seem hard to believe) but trust me I was way worst in my early 20's- haha. 
This month's contest I heard from so many fashionista on what they splurge on, anything from designer dress, shoes & purses, to riding boots, leather jackets & pants, ball gowns/ fancy dresses, designer sunglasses, designer jeans & so much more. 
My most expensive item to date would have to be my Louis Vuitton Monogram Multicolour Speedy 30- which now is about 6 years old & I think I've only used it maybe 15 times. It was all the rage back in the day when Jessica Simpson was working hers all the time, I had to have it. My husband spent over $2000 on it, but that was also right around the time of the "knockoffs" starting coming out- all the young girls had the fake one & I thought people would think mine was also fake, so it lost its appeal to me. Might have to bring it back out of the closet & start rocking it- what do we think?