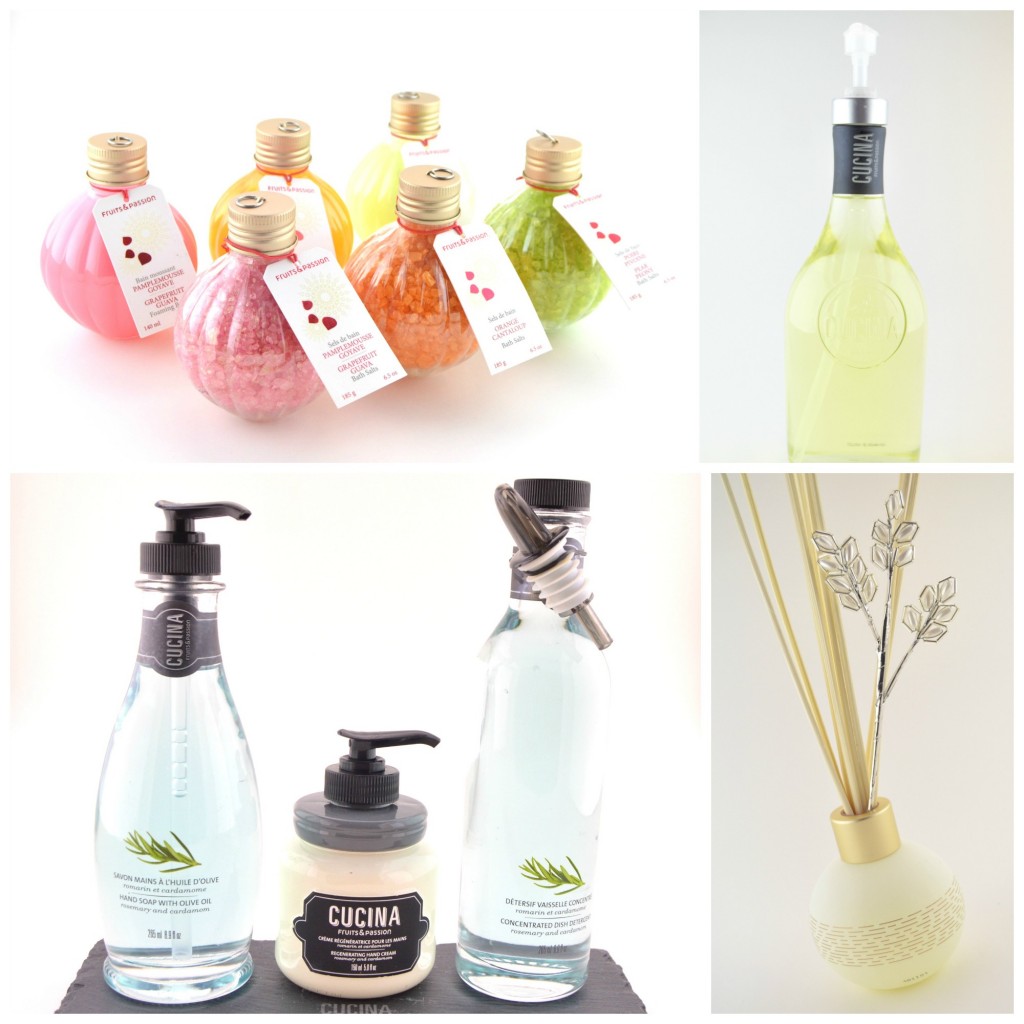 It's that time of year, one holiday party after another, and you can't show up empty handed, instead of the traditional bottle of wine or liquor as a hostess gift, why not try something from the Fruits And Passion Holiday Collection instead.

First up are these adorable, ornament like Bath Salt Balls and Foaming Bath Balls that come in shades of pink, orange and green, are highly fragranced and sure to soothe and relax the sole. For the Bath Salt you just need to add a few crystals to your bath water and watch them melt away leaving you with a purely relaxing soak. For the foaming bath just add 2-3 caps under running hot water and watch the bubbles arise, you can also use this as a shower gel to get fresh, clean, moisturized skin. These retail for $7.50 each or 3 for $15.


The pink is Grapefruit Guava that has the tangy scent of grapefruit with the smooth sweetness of guava. It also has middle notes of peach and freesia that give it a fresh, airy scent like a warm summer day.


The orange is Orange Cantaloupe that has a sparkling orange scent with fresh cantaloupe and touches of strawberry, violet, jasmine and lily and vanilla, giving it the perfect mix between fruit and floral.


The green is Pear Peony that has pear leaf notes with touches of magnolia and honeysuckle giving it a clean and fresh scent to it.


Fruits & Passion Kitchen Trio on a Slate Set is a modern, beautifully designed set that adds a trendy, decorative touch to your kitchen. The trio comes with a 265ml bottle of hand soap that's made from first cold pressed olive oil and olive derivative with moisturizing properties, 150ml tub of regenerating hand cream to help soften the skin, 265ml bottle of concentrated dish detergent that completes this kitchen ritual, all on a decorative slate plaque that adds a dash of style to your kitchen for $44.50.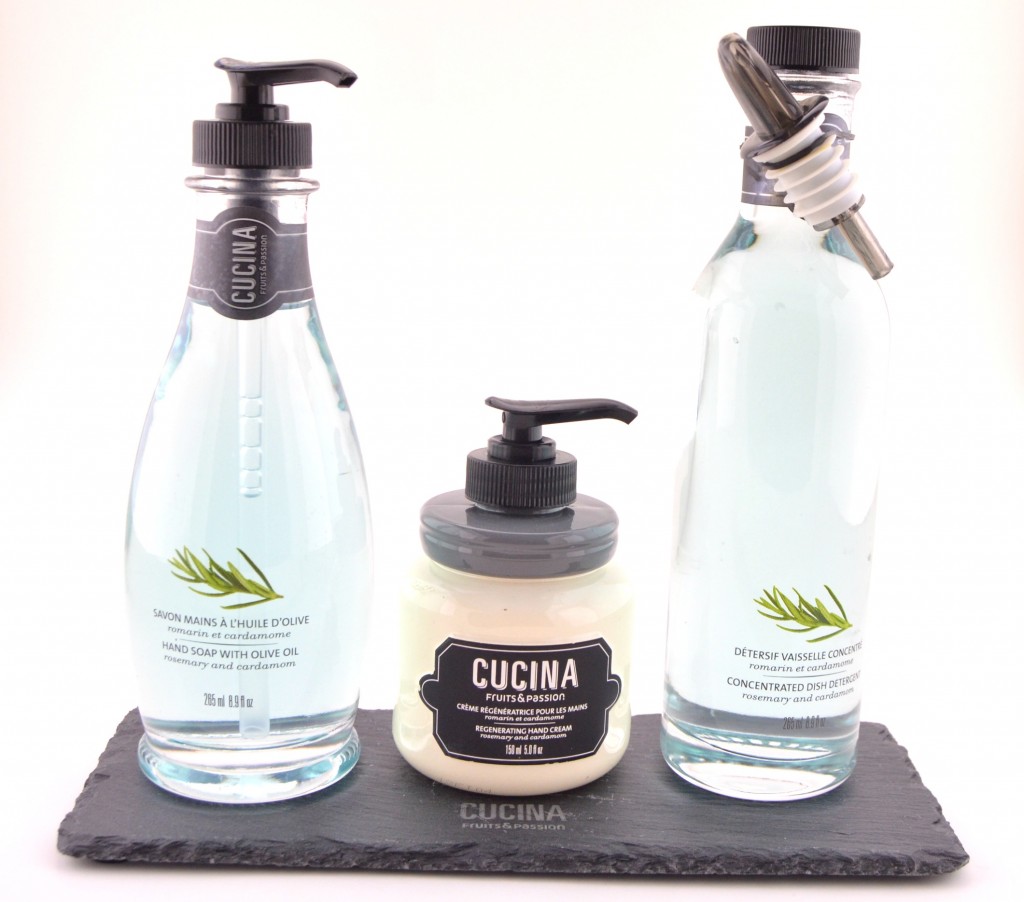 It comes in 4 different scents, "Clementine and Candied Ginger" that features zesty clementine with the savoury notes of candied ginger that makes this scent both delicate and spicy, "Coriander and Olive Tree" that features a subtle blend of coriander seeds and olive wood that's sophisticated fragrance is both aromatic and slightly woody, "Lime Zest and Cypress" that features crisp, sunny notes of effervescent lime zest mingle with green, naturally aromatic cypress to create a fragrance that's irresistibly fresh and "Rosemary and Cardamom" that features vibrant rosemary notes that give way to a delicately spiced cardamom and pink pepper hearts.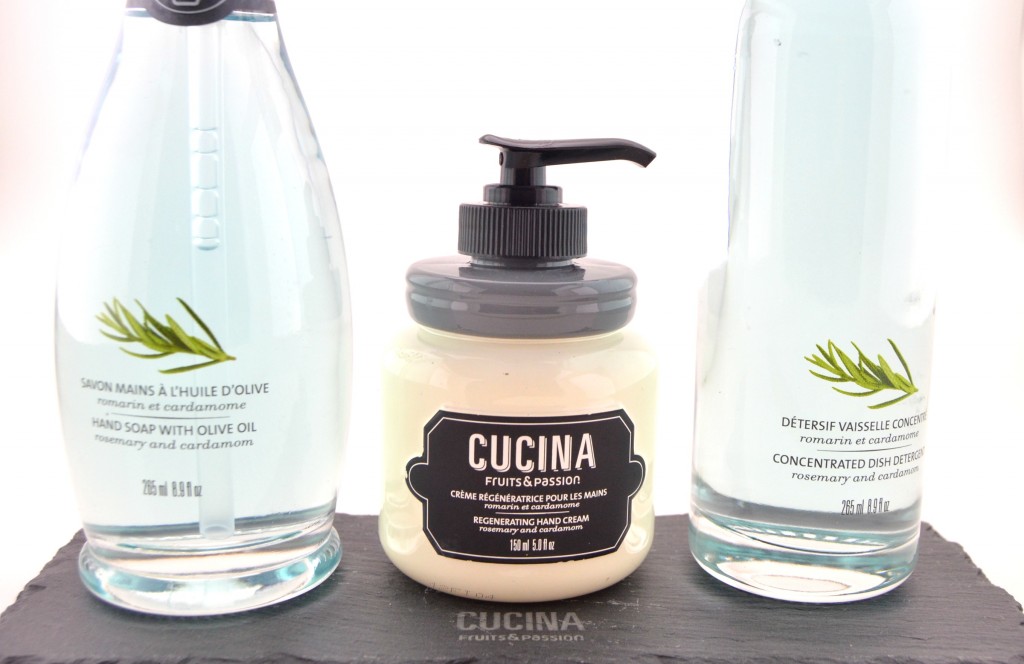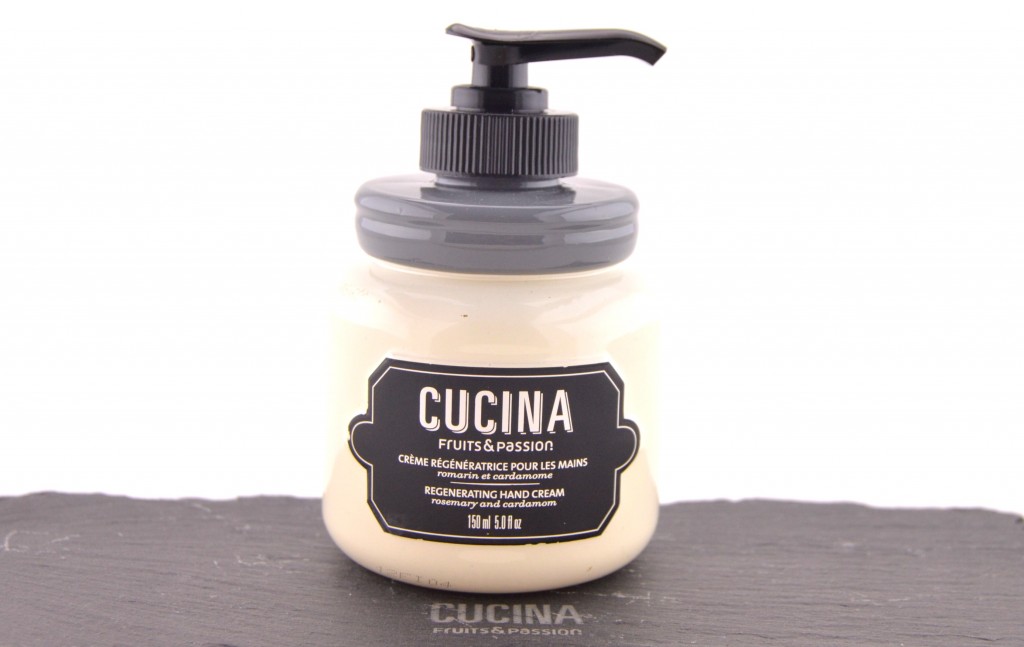 Fruits & Passion Hand Soap Collector's Bottle comes in a limited edition, decorative glass bottle that's refillable and is inspired by vintage Italian wine. Cucina Hand Soap is biodegradable, is specially designed for use in the kitchen, cleans hands effectively, yet gently, and is made from first cold press olive oil from the Mediterranean to help protect and soften the skin. It comes in 4 yummy scents, Pinot Grigio which features fruity notes with a hint of flowers, Coriander and Olive tree that is both aromatic and slightly woody, Lime Zest and Cypress that features tangy lime zest and woody cypress notes for a fresh and sunny fragrance and Rosemary and Cardamom with its vibrant rosemary notes that give way to a delicately spiced cardamom and pink pepper hearts. It retails for $22.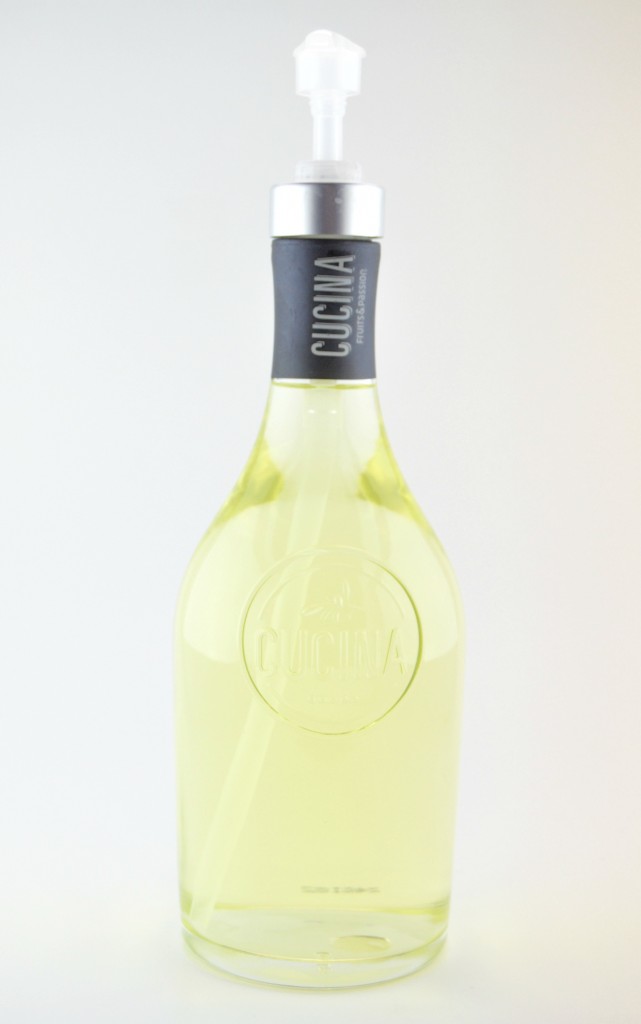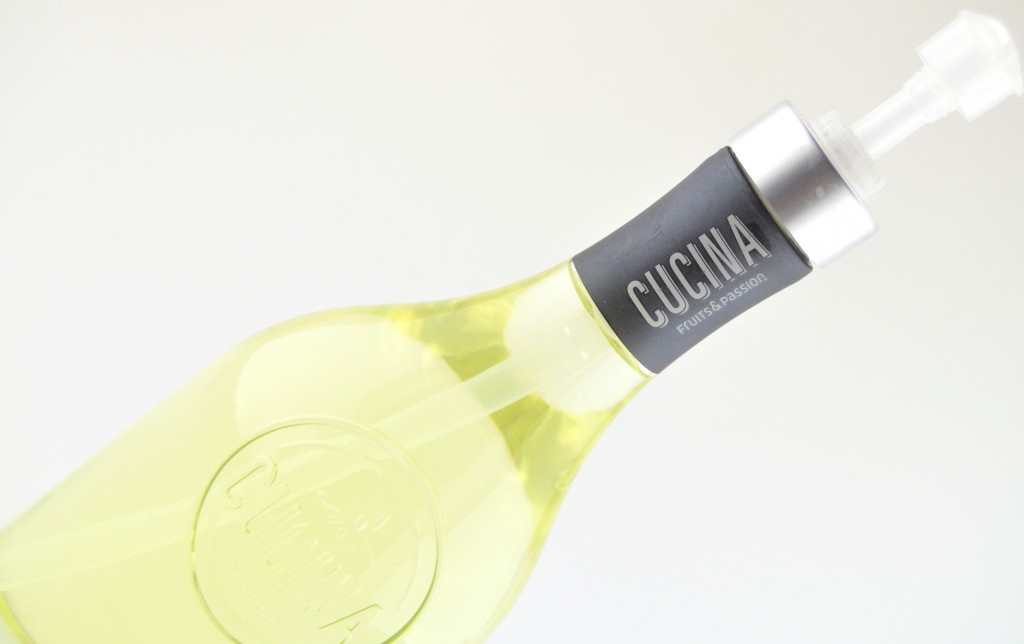 Fruits & Passion Decorative Diffuser Setwill not only keep your house stylish this holiday season, but highly fragranced too. The scented liquid is absorbed by the diffusing components and, through capillary action, then perfumes the air. It infuses your home with delightful aroma of either Boreal Fir with its spicy woody notes, Frosted Birch with its hints of iced leaves, lemon zest, jasmine and white birch or Winter Berries that features frosted berries combined with the heady aroma of a cedar forest in winter. It retails for $28.50 and will last a solid 6 to 8 weeks before you'll want to replace the reeds and add the fragrance refills to the bottle.