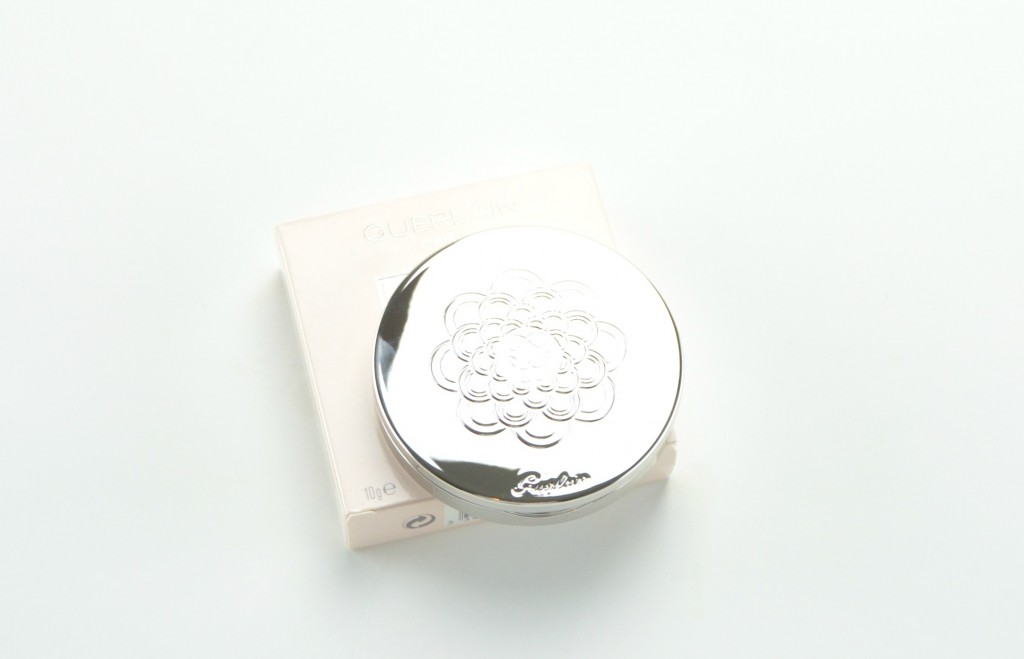 Light Reveling Powder
Guerlain Clair Meteorites Compact is a pearl compact that helps create a subtle and natural effect by giving every skin tone just the right amount of light and correction. It comes in three different shades to help colour correct all skin types. 
Guerlain Clair 02 Meteorites Compact comes in a velvet pouch, which adds a very luxe feel to the compact, which I usually end up tossing immediately. It comes in a beautiful silver mirrored compact with an engraved floral design on the outside lid and full size mirror on the inside lid. The powder itself contains finely pressed pearls done in a stunning mosaic style design in both teal, white, champagne, lavender and pink. Its finely milled, velvety smooth texture applies like a dream. Together each shade helps to draw in light and colour correct to add a subtle and natural effect to the skin. It can be applied with either a large kabuki or fluffy brush and blends into the skin like a dream. It effortlessly glides across the skin and is evenly distributed in a few single strokes. It has a subtle violet scent that's almost unnoticeable. Skin instantly looks soft, smooth, delicate and beautiful with only the smallest amount.

Guerlain Clair 02 Meteorites Compact teal shade helps to reduce redness, the white helps to illuminate, the champagne helps to even out the skin tone, the pink helps to balance the complexion and the purple helps to blend for the perfect luminosity. When swirls together it's almost transparent finish helps to instantly colour correct the skin for a natural glow.
Guerlain Clair 02 Meteorites Compact is, of course, a finish powder and therefore its sheer, almost translucent finish makes it next to impossible to capture in a photo. I promise you the results are life changing and truly amazing. It provides a soft, natural, radiant and luminous glow to the skin without looking over the top. I know it doesn't claim to be a setting powder, but it does, however, prolong the wear of my foundation. In fact, on days when I apply this, I don't even need to set my foundation. It's also lighter than most setting powders, doesn't cling to dry areas and allows my skin to breathe, which is perfect for daily use. It actually adds a little life and brightness back into my dull skin and helps to add depth and dimension to the face when I apply it over my favourite matte foundation. Keep in mind I do have dry skin, so those with oily to combination, may still need to set their foundation?

Guerlain Clair 02 Meteorites Compact adds just the right luminosity to have people wondering what you've done differently to your skin, without looking like you've applied a ton of makeup. It gives the appearance of smoother skin while minimizing the appearance of enlarged pores. It also helps to improve the overall appearance of my skin's texture, without looking cakey. It retails for $71.