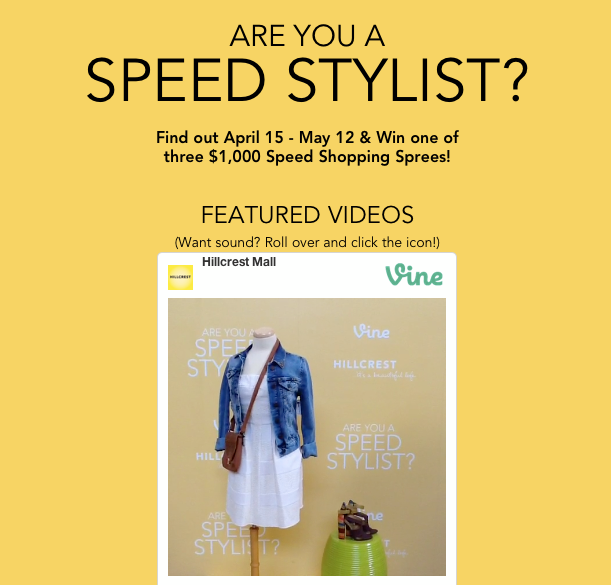 For my fellow Torontoarian, Hillcrest Mall, which is located at the corner of Yonge St & Carrville Rd and features premium fashion & lifestyle brands and over 125 stores and services making it a vibrant shopping destination in GTA, is inviting families and shoppers to their spring fashion Hillcrest Mall Speed Styling Event in the Centre Court during the weekends of May 3 – 5 and May 10 – 12.
Using Twitter's new video app called Vine, families and shoppers of all ages can create a personal look using clothing, accessories, and mannequins provided by Hillcrest retailers. Representative stylists will be at the event helping you create outfits, film the video and uploading it to Vine. All participants have a chance to win a $1000 speed stylist shopping spree or Hillcrest Mall gift card.  
Hillcrest is one of the first shopping malls to run a promotion using this new platform. They invite fashion lover to share a 6 second creative video highlighting a styling tip or assembled outfit and tag the style tip using the hashtag #HillcrestSpeedStylist on Vine for a chance to win a speedy shopping spress at Hillcrest Mall valued at over $1000, yahoo! 
Event hours are from:
Friday 10 A.M. to 9 P.M
Saturday 9:30 A.M. to 6 P.M.
Sunday 11 A.M. to 6 P.M
You can find out more info at Hillcrest Mall