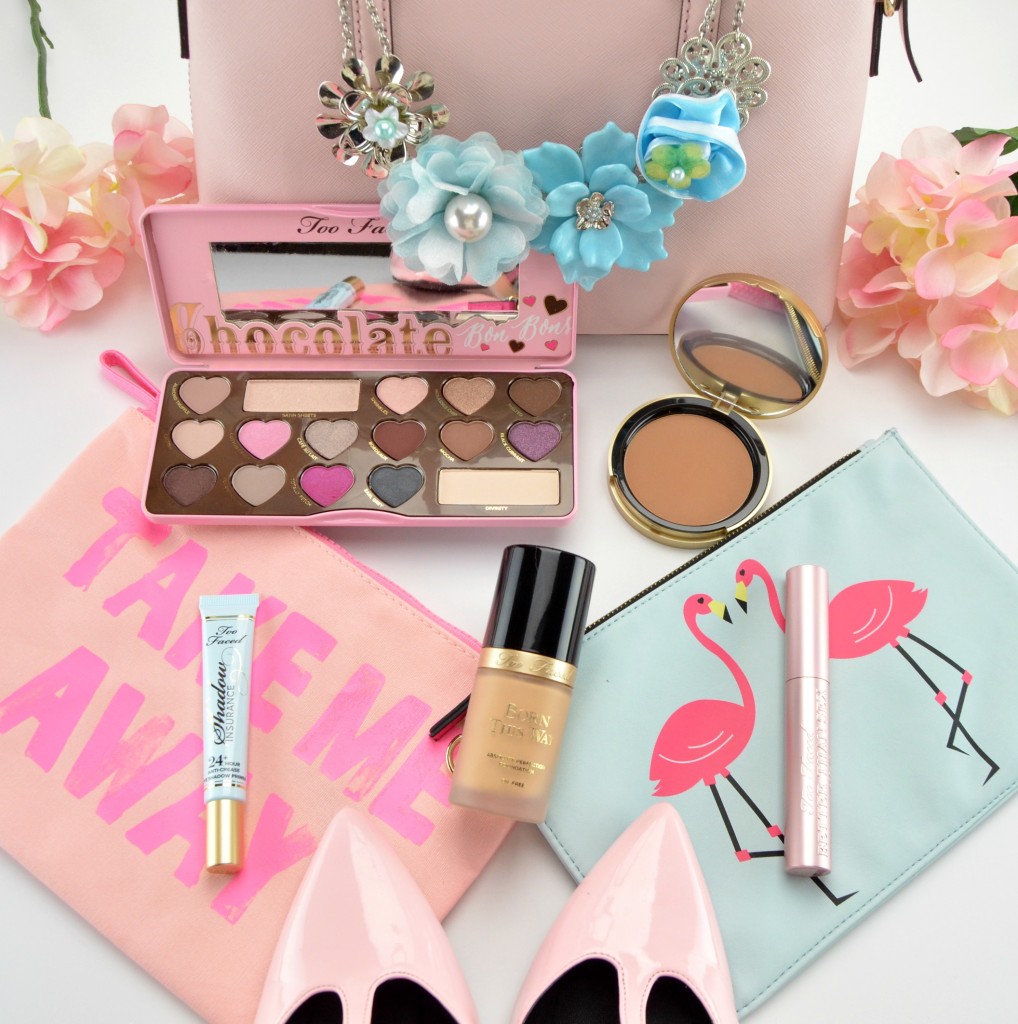 In place of my traditional holiday gift guides, I'm doing something a little different this year. I'll still be rounding up my favourite presents for the season, but instead of combining them into a few posts, I'll be featuring a new company daily. Make sure to check back every day as I'll be showcasing a new brand and my must-have holiday gifts for the season. I can't believe it's less than a week till Christmas, who's excited? Over the next 6 days I be sharing some last-minute holiday gift ideas so be prepared to be inspired.
I don't know a single girl who doesn't love Too Faced. Everything about this brand is amazing, it's a little girly, comes packaged beautifully, it is high excellent quality, but best of all, some products are infused with cocoa powder that offers you a sweet chocolate treat without the calories. Although I haven't tried a product from the brand that I didn't fall in love with, there are 3 standout products, my ride or die beauty must-haves if you will, that I think every girl needs in her collection. The Chocolate Soleil, Shadow Insurance, Better Than Sex Mascara and for an added bonus, the new Too Faced Chocolate Bon Bons Eyeshadow Palette.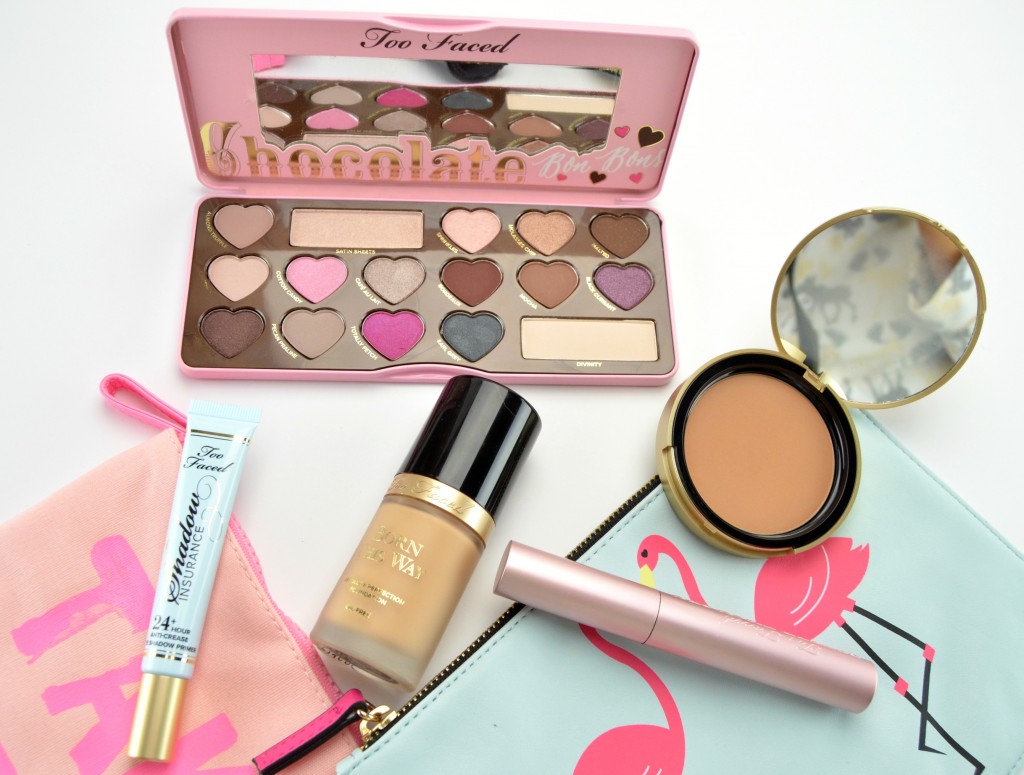 Let's start off with the new Too Faced Chocolate Bon Bons Eyeshadow Palette. It comes in the most adorable pink metal, tin-like compact with magnetic closure, full size mirror and a look-book card with step by step instructions on how to create an array of different looks. It features 14 brand new heart-shape eyeshadows and two, slightly larger rectangular-shaped neutral shades. These antioxidant-rich cocoa powder infused shades are mostly neutrals, with a few pops of colour, pink being the main focus. Each shade compliments each other beautifully and comes in an array of finishes from shimmer to mattes. Like all Too Faced shadows, each is buttery soft, incredibly creamy, and glides on smooth with absolutely no fallout. It's finely milled formula blends into the skin seamlessly and stays put the entire day without budging, smudging or creasing (although I do highly recommend the Shadow Insurance) just to ensure everything stays in place. Pigmented, opaque and beautiful colour payoff, everything you're looking for in a perfect palette. No need to reach for any other shadows, this palette has every shade possible to create a ton of holiday looks. It retails for $59.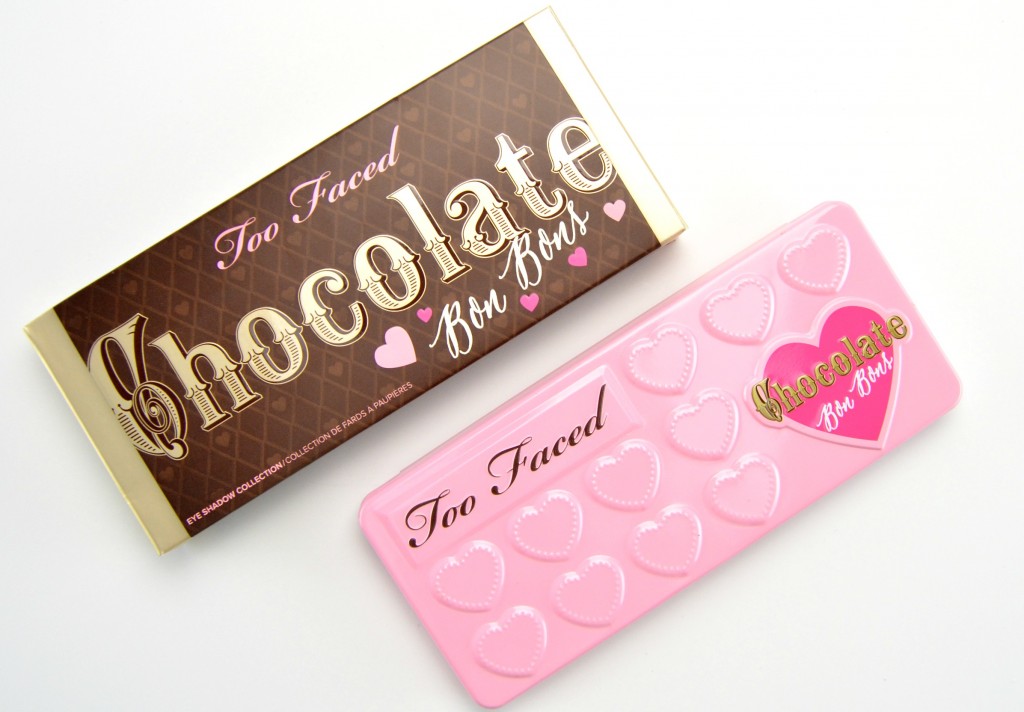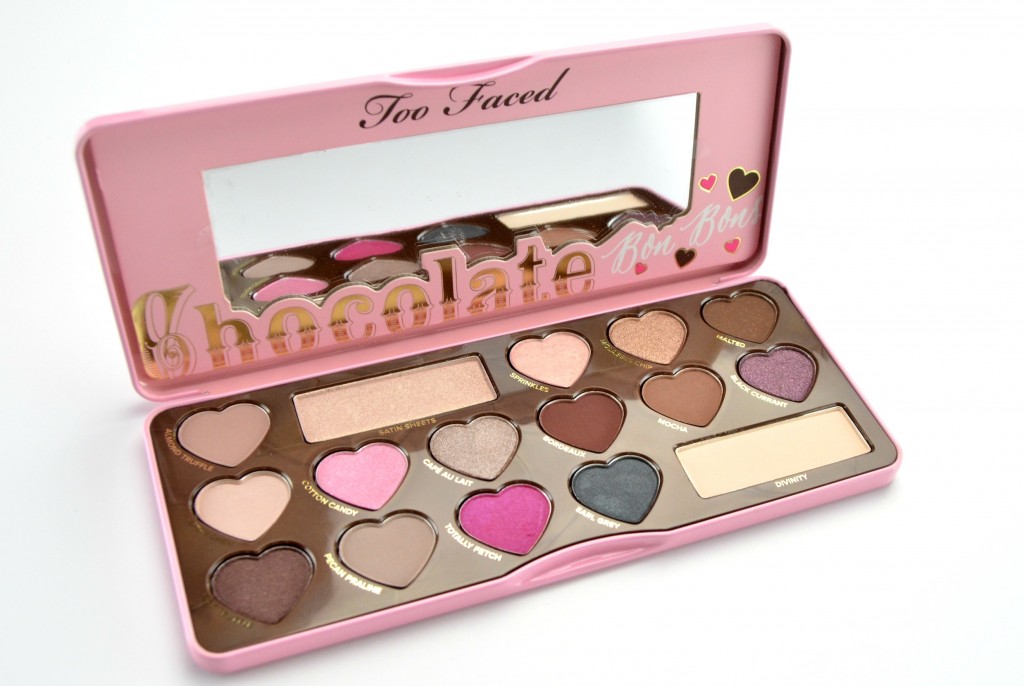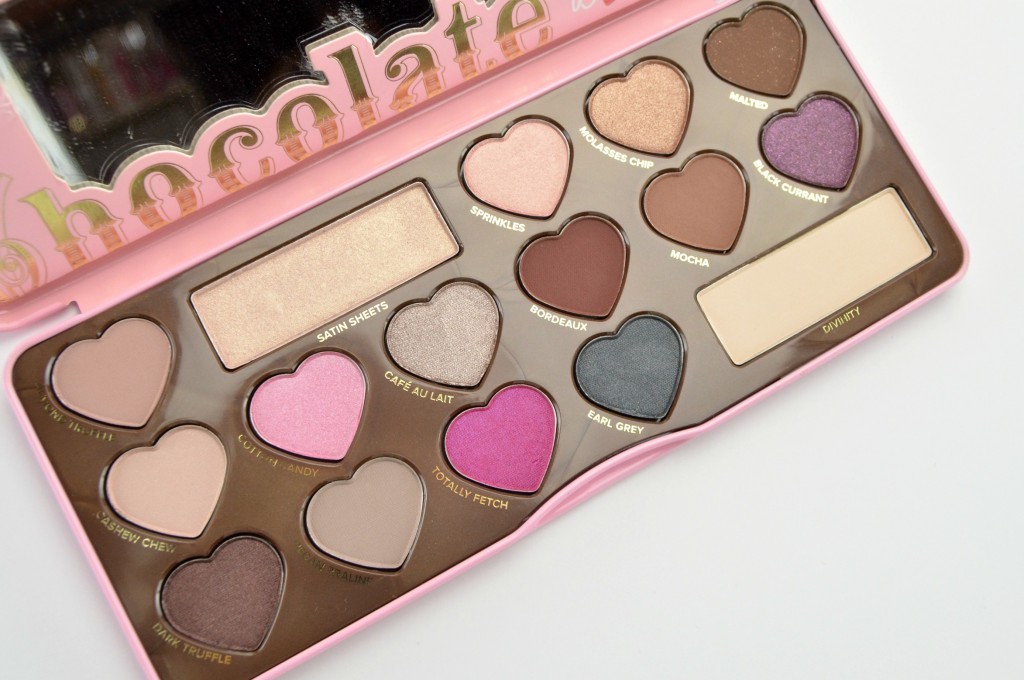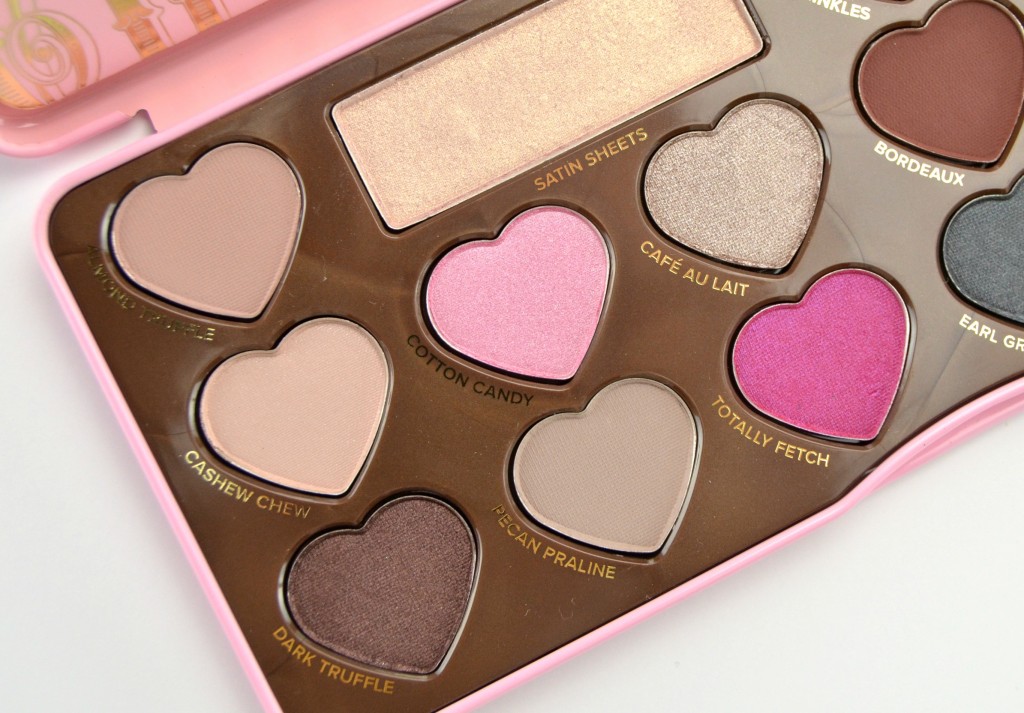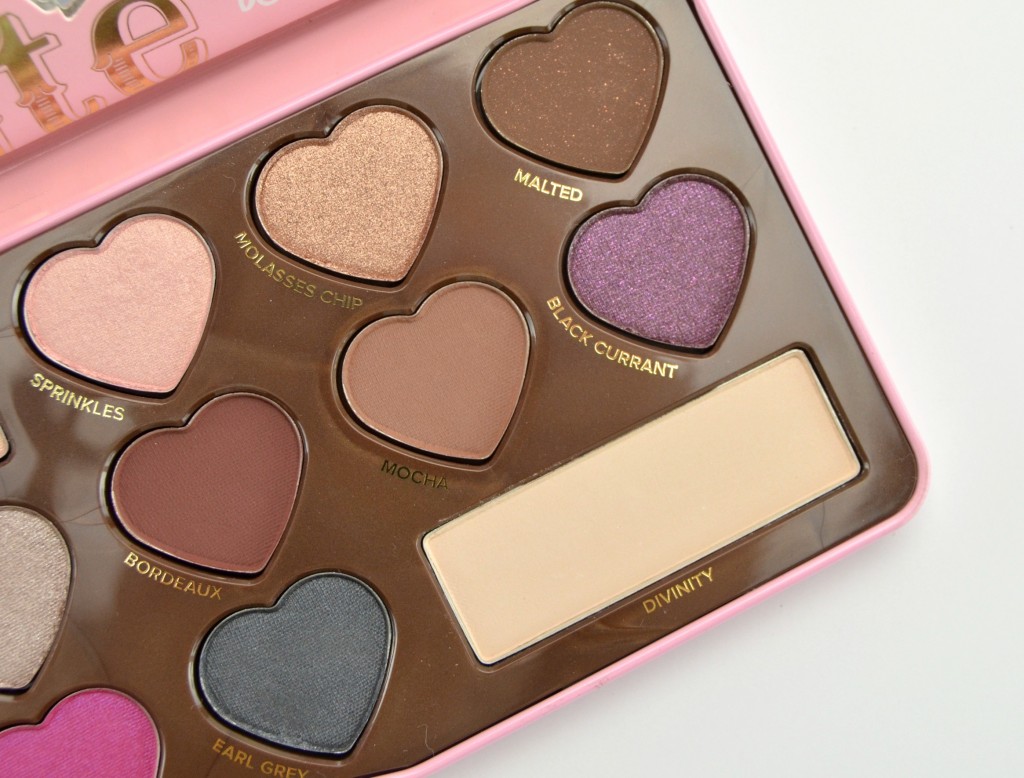 Too Faced Chocolate Bon Bons Eyeshadow Palette in Almond Truffle is a medium mauve with a cool undertone and a completely matte finish, Satin Sheets is a pale pink with a goldish frost finish, Sprinkles is a medium pink with a gold sheen, Molasses Chip is a coppery, almost bronze with a metallic sheen and Malted is a rich chocolate brown with a matte finish.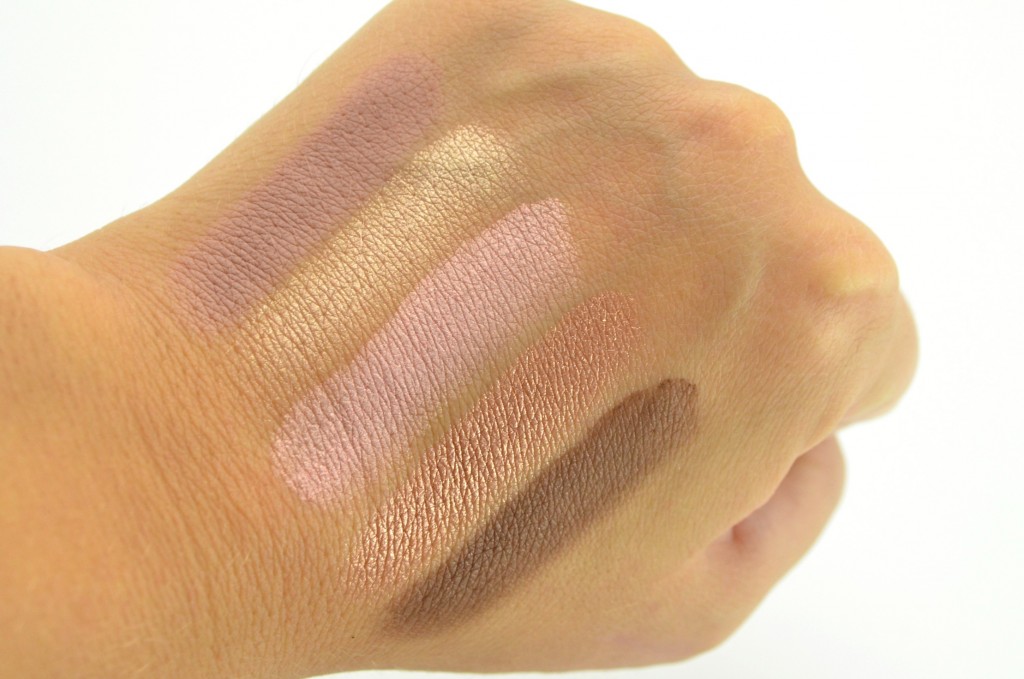 Too Faced Chocolate Bon Bons Eyeshadow Palette in Cashew Chew is a pale, dusty peachy-pink with a satin finish, Cotton Candy is a bright, yet pale fuchsia pink a frosted sheen finish, Café Au Lait is a pale brown with gold throughout and a champagne metallic sheen finish, Bordeaux is a brick reddish brown with a matte finish, Mocha is a medium brown with a matte finish and Black Currant is a dark plumy purple with a frosted, almost sparkly finish.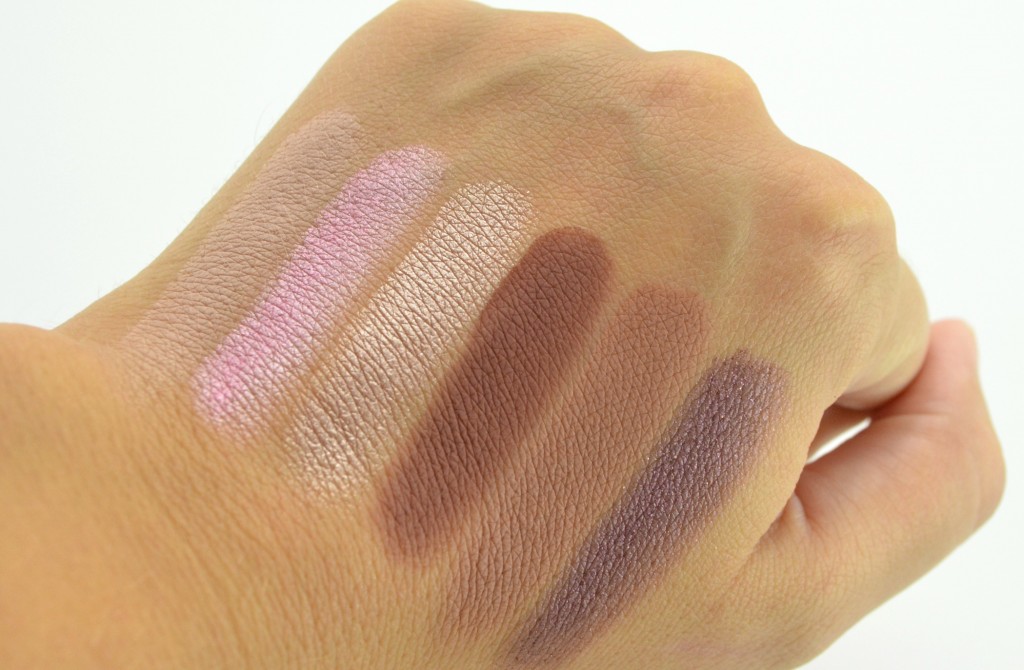 Too Faced Chocolate Bon Bons Eyeshadow Palette in Dark Truffle is a dark chocolate with a pearl finish, Pecan Praline is a light greyish, taupe brown with a matte finish, Totally Fetch is an extremely bold and bright deep fuchsia with an iridescent shimmery finish, Earl Grey is a deep, almost black teal with a satin shimmer finish and Divinity is a pale beige.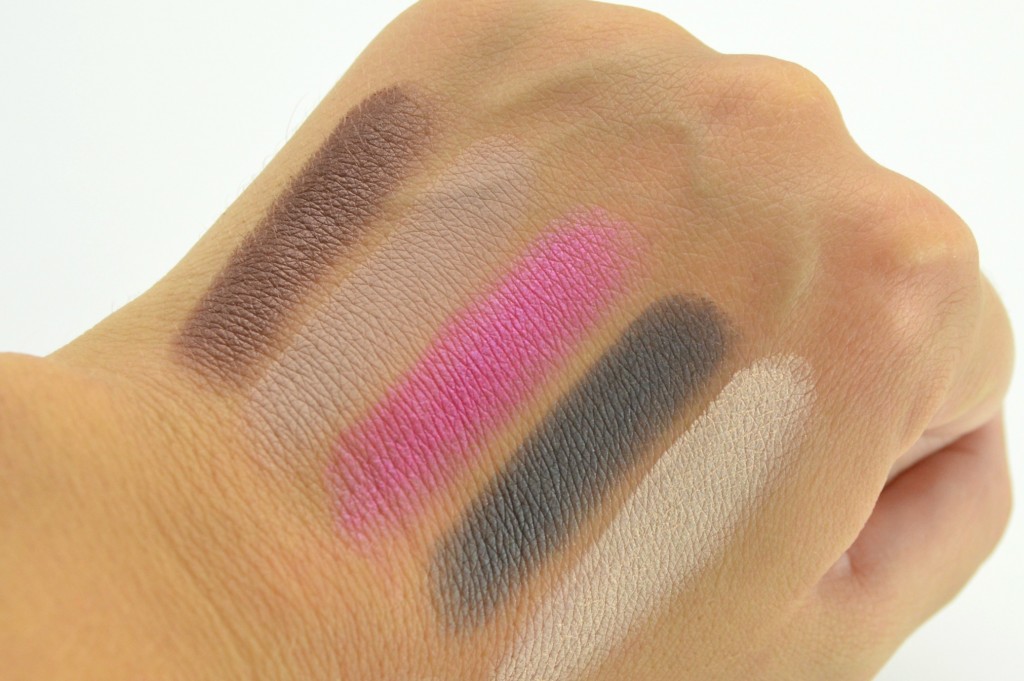 Too Faced Chocolate Soleil Medium/ Deep Matte Bronzer is the last bronzer you'll ever need. It's incredibly soft, silky, extremely finely milled texture provides a medium to dark, neutral to warmish brown matte finish to the skin. Not only do you instantly get hit with a rich scent of chocolate, its highly pigmented formula applies like a dream and blends and buffs into the skin beautifully. The colour is true to pan and can either be applied lightly for a sheer finish, or layered for a more opaque effect. You'll instantly achieve a perfectly flawless, sun-kissed glow with absolutely no orange or dull tint. It's the perfect shade for everyday contouring and creating an all-over deep rich tan. It retails for $38.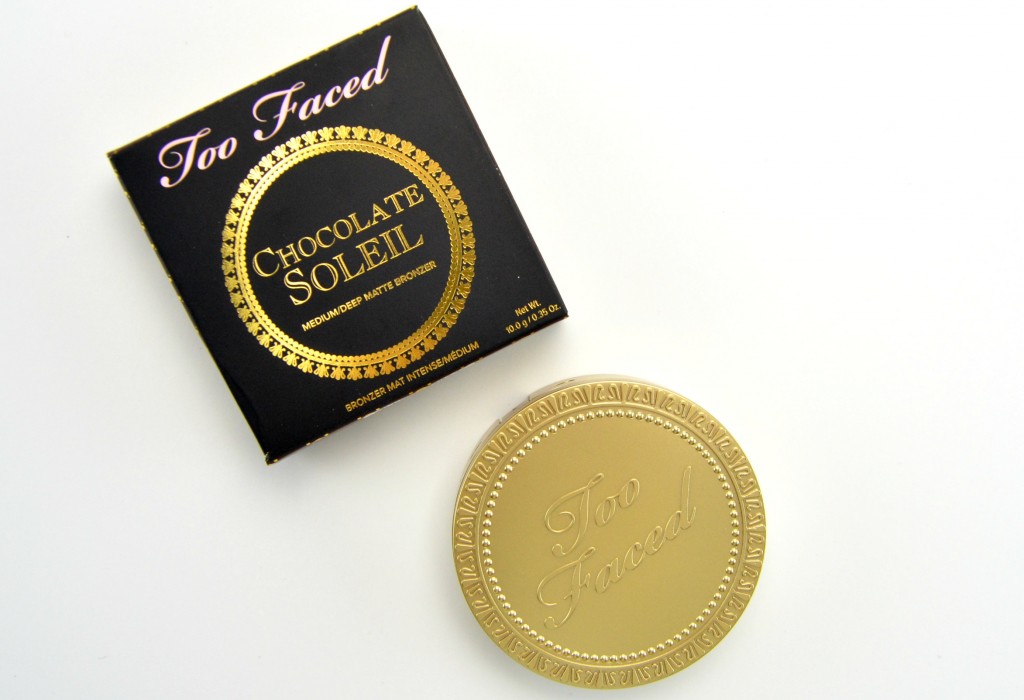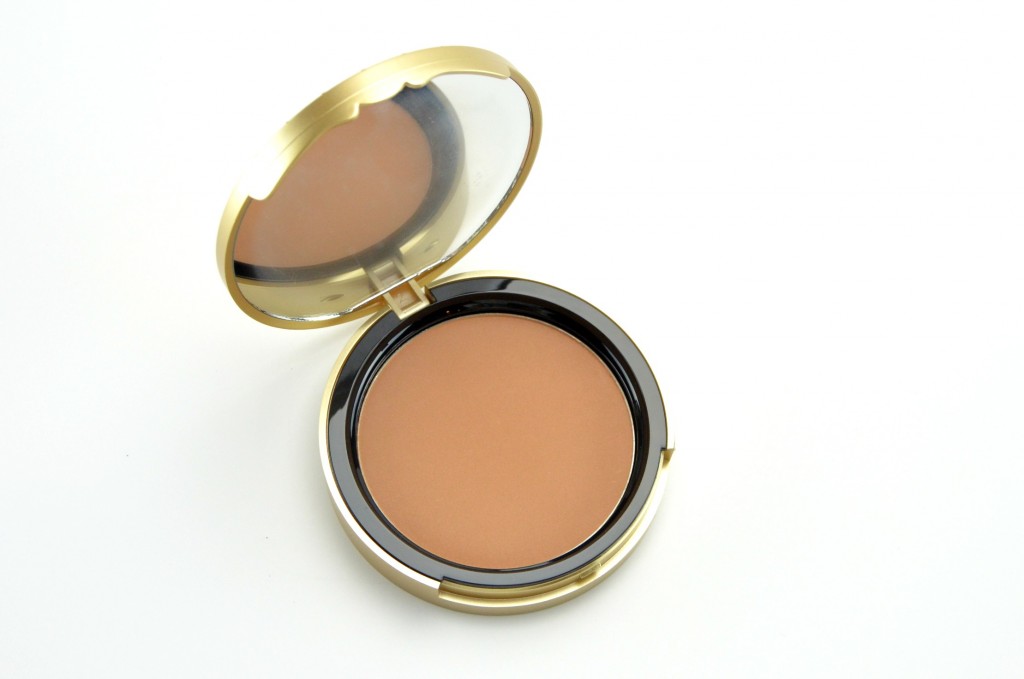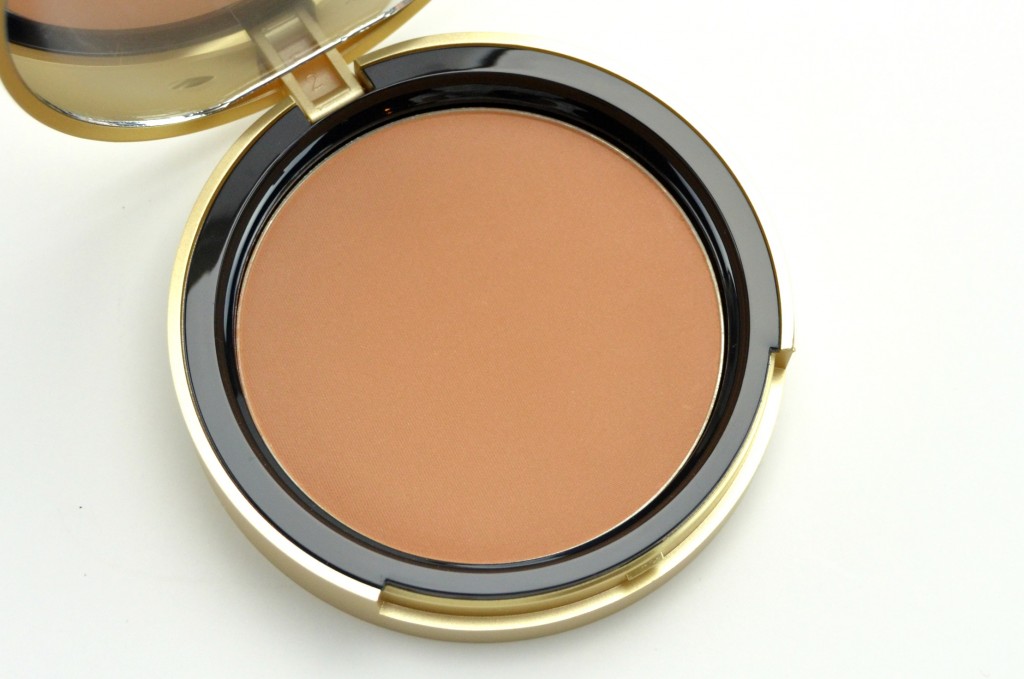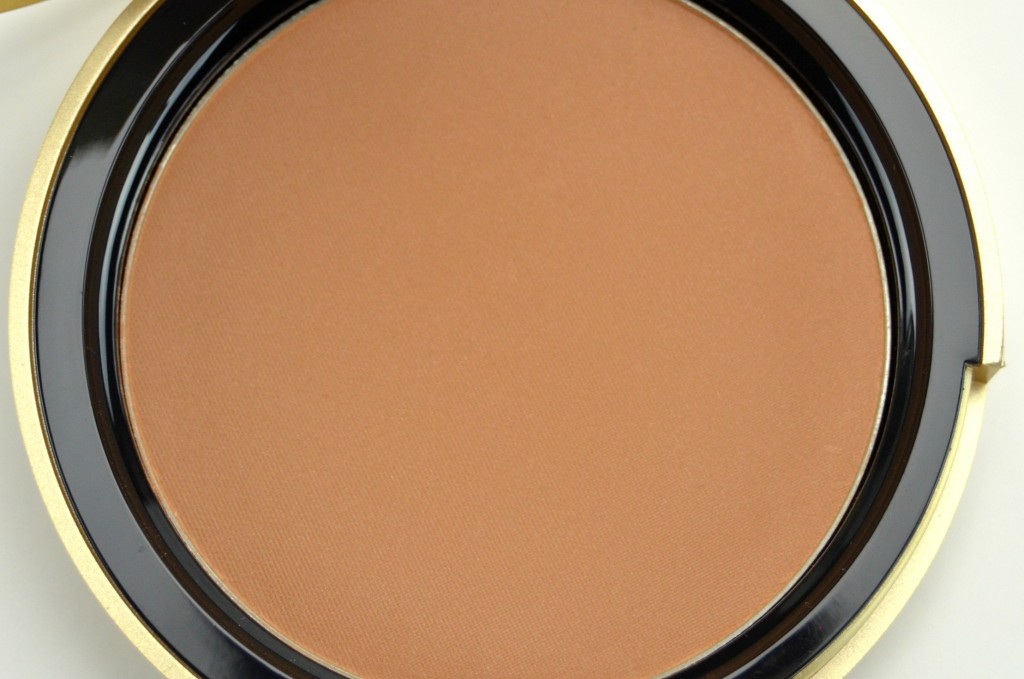 I can't even tell you how many tubes of Too Faced Better Than Sex Mascara I've gone through over the years. It's my go-to mascara when looking for extreme volume, definition and length. Its unique hourglass shaped brush is inspired by the curves of a woman's body and its extra stiff bristle helps to enhance the performance of its carbon-black, collagen-fueled formula. Its long lasting, film-forming polymer formula not only adds length, definition and volume, it keeps your lashes curled all day and night without smudging or flaking. Only one coat is needed for dramatically intense lashes, two coats provide award winning performance and three coats, well let's just say, all eyes will definitely be on you this holiday season. Best part, no matter how many coats you apply, it's never looks clumpy or spider like. It retails for $30.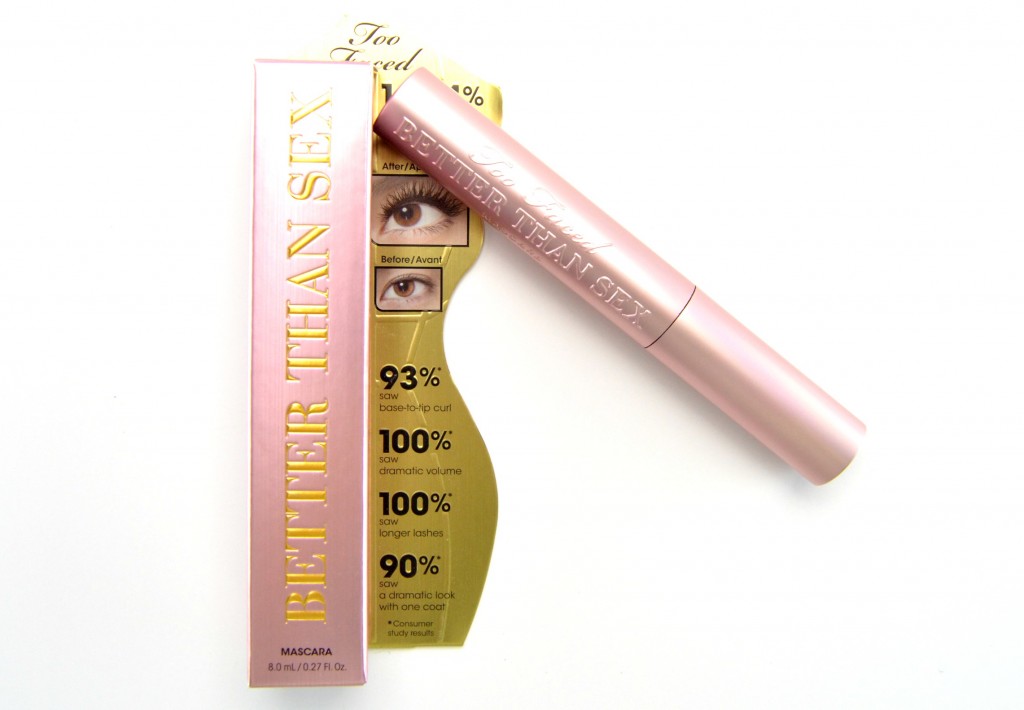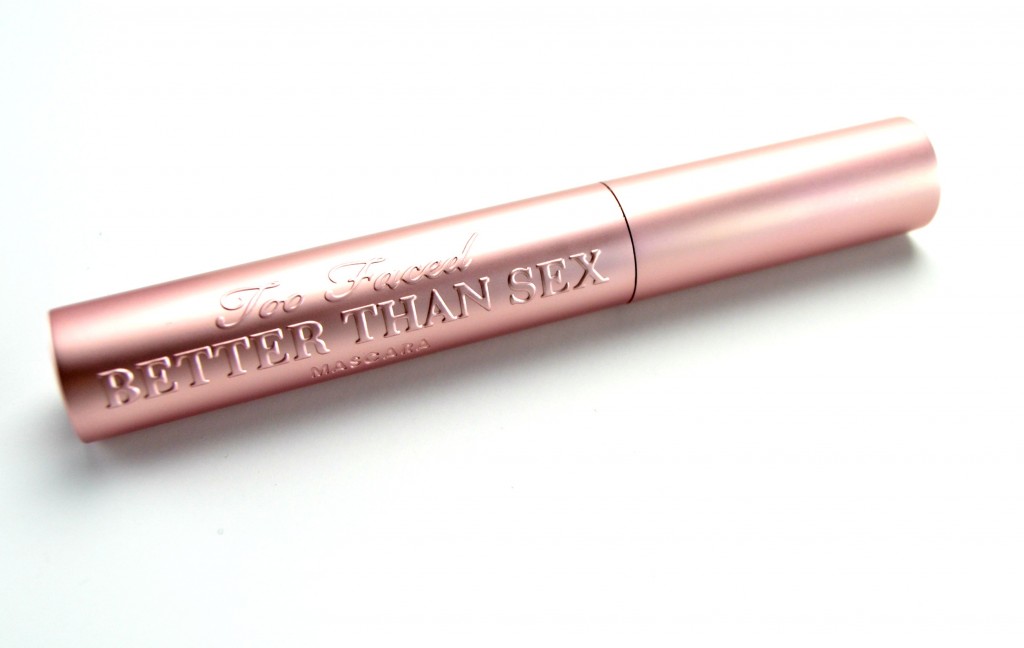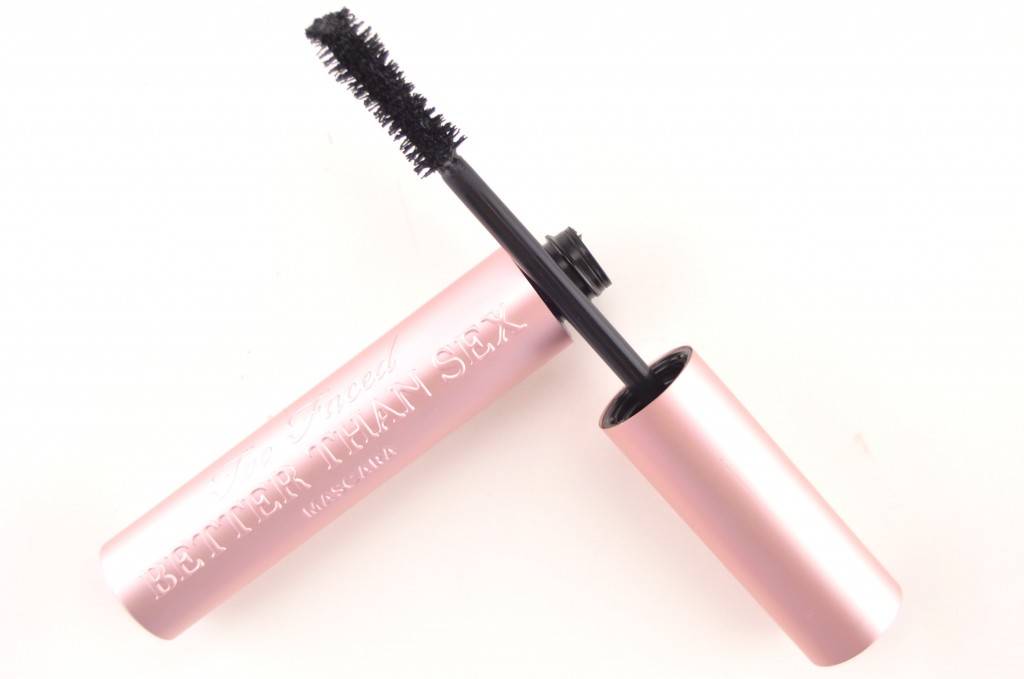 Too Faced Shadow Insurance is a silicone-based eyeshadow primer that helps prolong the life of your eyeshadow. It provides full coverage, along with giving the appearance of smoother, more even skintone for a completely flawless finish, even before your shadow. It helps to reduce, minimize and prevent fading, creasing and smudging, along with allowing your shadows to blend and buff out easier. It intensifies any colour you apply overtop, locks each shadow shade in place for all day hold and provides a barrier between your skin and makeup, so it doesn't become oily or greasy. 24 hours of eyeshadow insurance for only $24.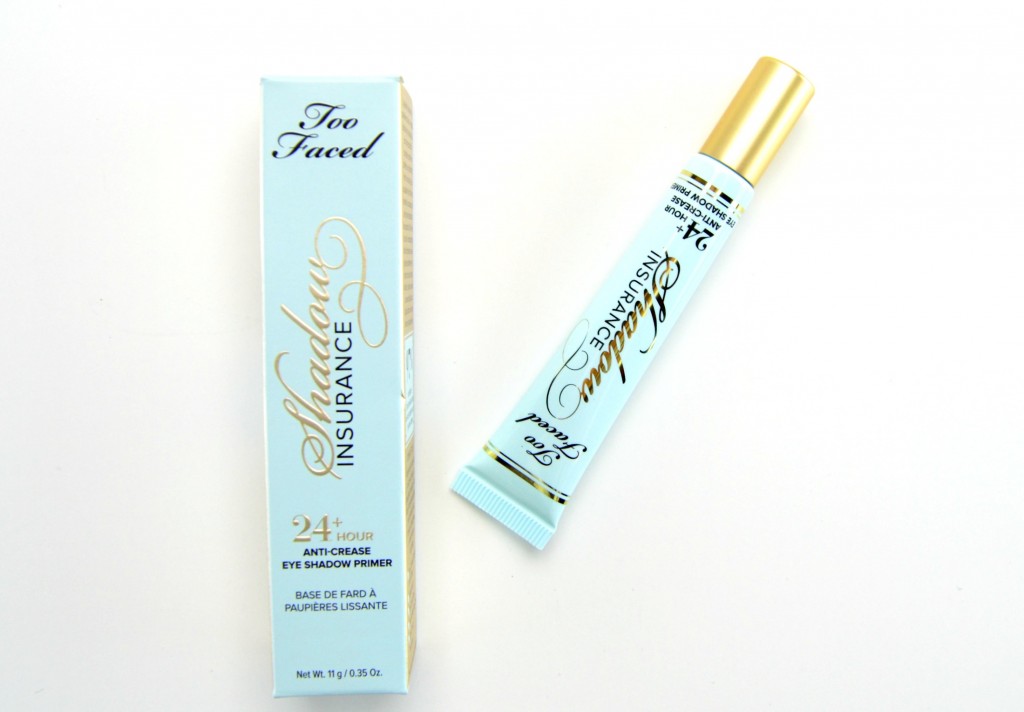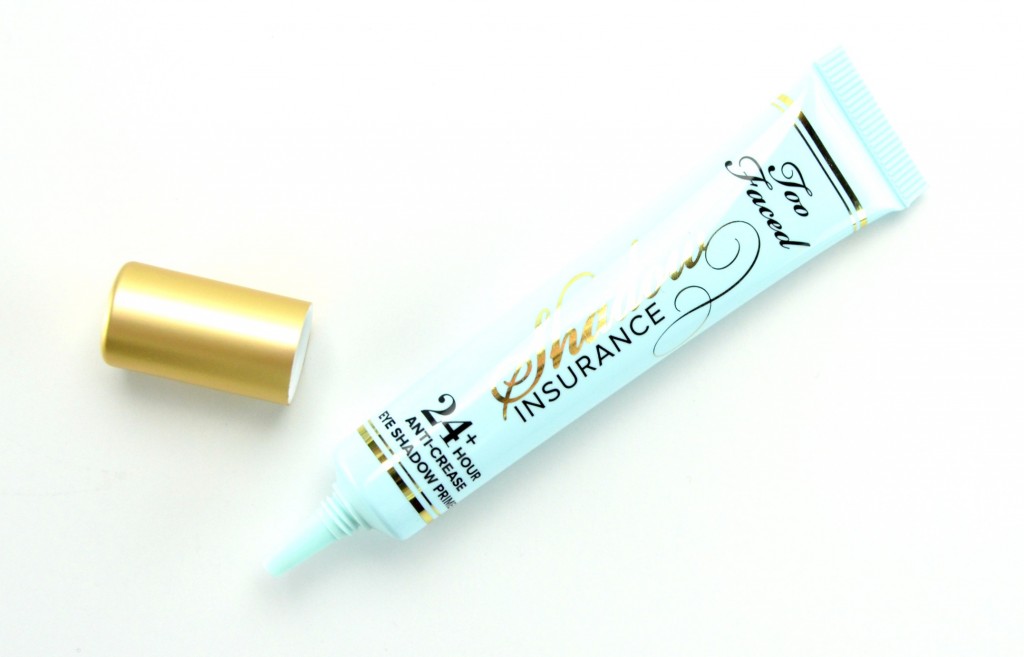 And let's not forget about my favourite foundation at the moment, Too Faced Born This Way Foundation (full review here). It's hybrid formula features added skincare ingredients, like coconut water, alpine rose and hyaluronic acid to help add moisture back into the skin, while giving a slight brightening and firming effect, while its oil-free formula helps to diffuse the line between makeup and skin, providing an invisible, medium to full coverage finish that looks naturally radiant.