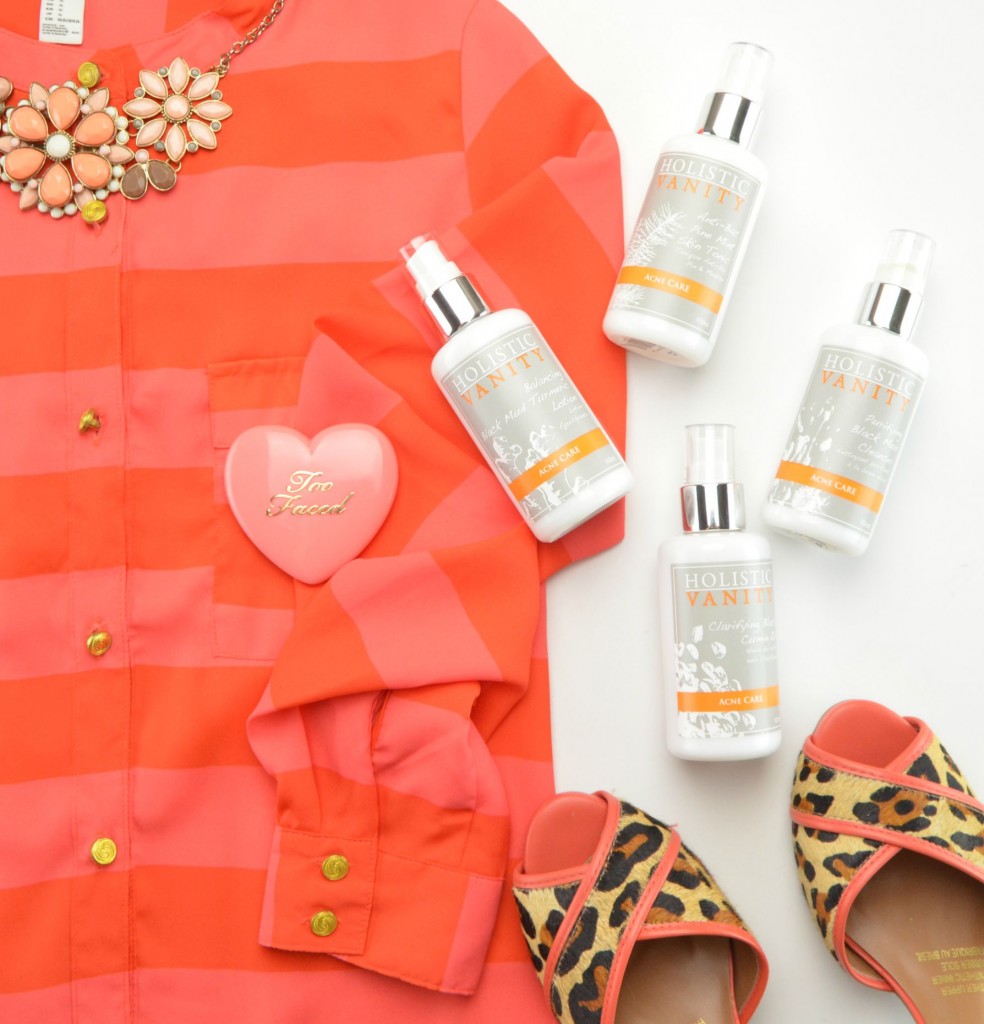 Natural way to combat breakouts
Are you looking for a natural way to combat breakouts, look no further than the new Holistic Vanity Acne Care Collection. This new lineup was created by Pure + Simple co-founder Kristen Ma, a long-time sufferer of chronic acne, who was looking for effective products that will not only fight against acne, but that would help soothe aggravated skin. Like all Holistic Vanity products, this new collection doesn't contain any water, unnecessary fillers, or chemical ingredients, making it the perfect solution for those looking to purify and strengthen their troubled skin without any harmful elements. The line features unique and beneficial ingredients including Black Mud from the Dead Sea, Turmeric, and Black Cumin Oil that are effective, yet gentle enough to use daily.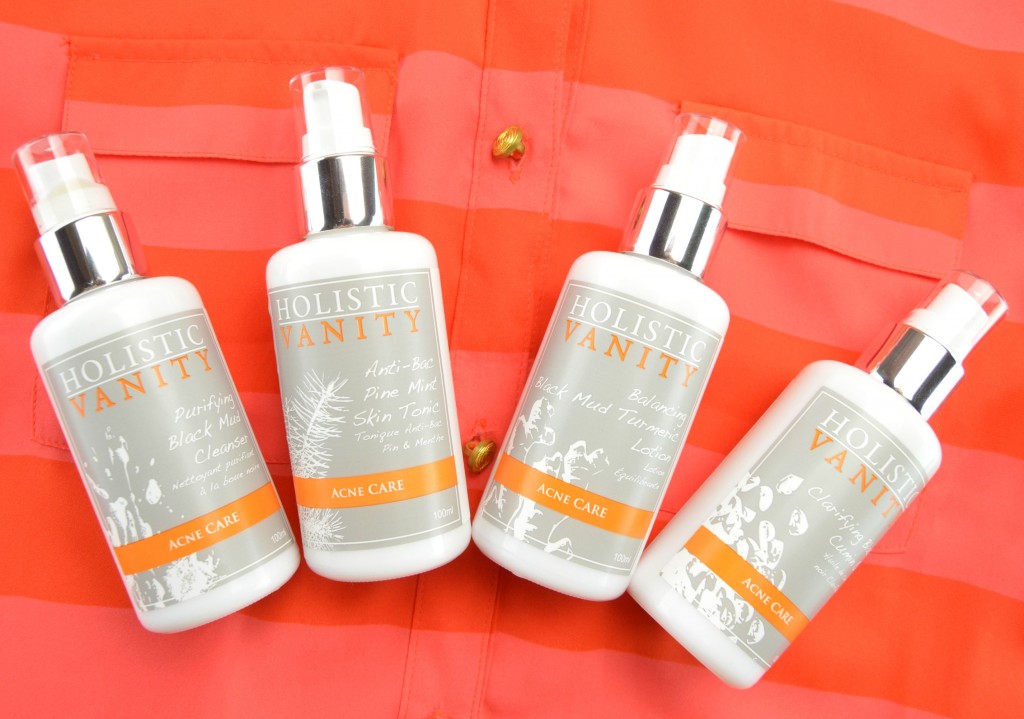 Although I don't currently suffer from acne, I do constantly battle breakouts and blemishes on a daily basis. I've been working a few of these organic skincare products into my daily routine these past few weeks and have been enjoying the results. A lot of acne products often leave my dry skin feeling extremely dehydrated, but these detoxify and purify products not only gently hydrate and protect my vulnerable skin, it helps to keep it clear, soft and supple. Also obsessed with the chic, yet simple, glass, pump style packaging that ensures everything stays fresh and hygienic. The entire line does have a fairly strong, herbal, almost minty spa like scent that I find quite relaxing and calming. It helps to instantly soothe and hydrate my dry, irritated skin.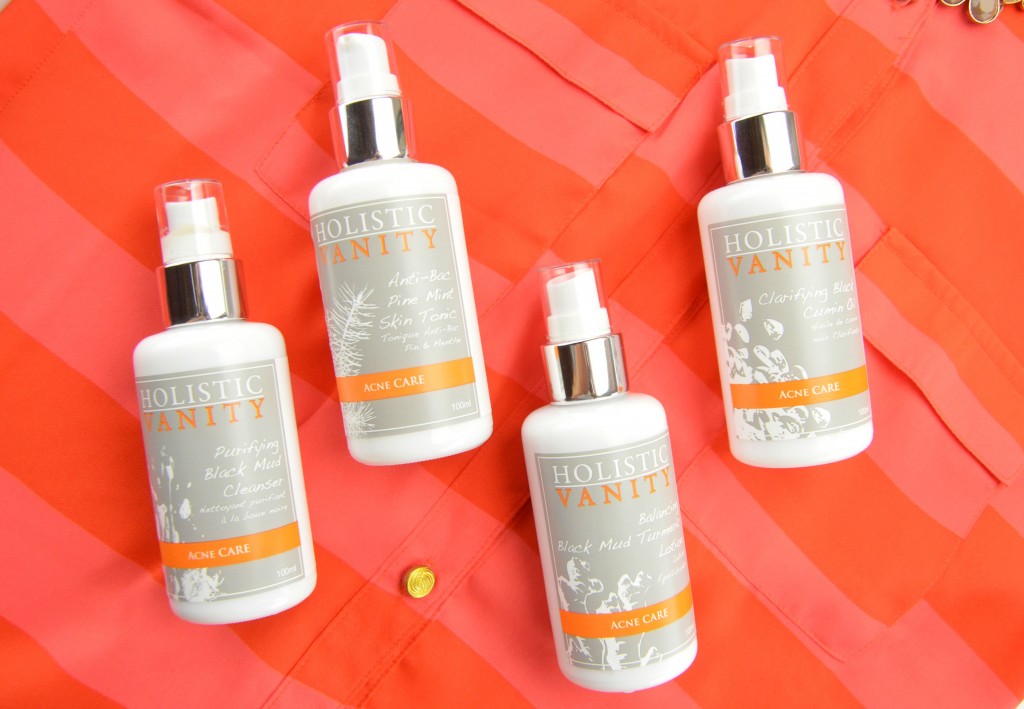 Holistic Vanity Purifying Black Mud Cleanser is an extremely deep, yet gentle cleanser that acts as a double duty detoxifying and balancing mud cleanser. It has a slightly, almost milky formula that although doesn't come to a rich and creamy lather, it effectively washes away dirt, oil and makeup without stripping it of its natural oils. I actually now prefer a cleanser that doesn't foam up, I find it doesn't irritate my skin, yet keeps my skin squeaky clean. You don't need a lot of product to gain the full benefits, a tiny dime size amount is sufficient to cover both your face and neck. I've been using it in the morning, although it's gentle enough to use twice a day, by applying a small amount to moistened hands and then working into the skin. It rinses clean away without a greasy, oily and nasty film left behind. I've noticed my skin is looking slightly brighter with less breakouts, yet is still moisturized and silky smooth. It retails for $28 for 100ml.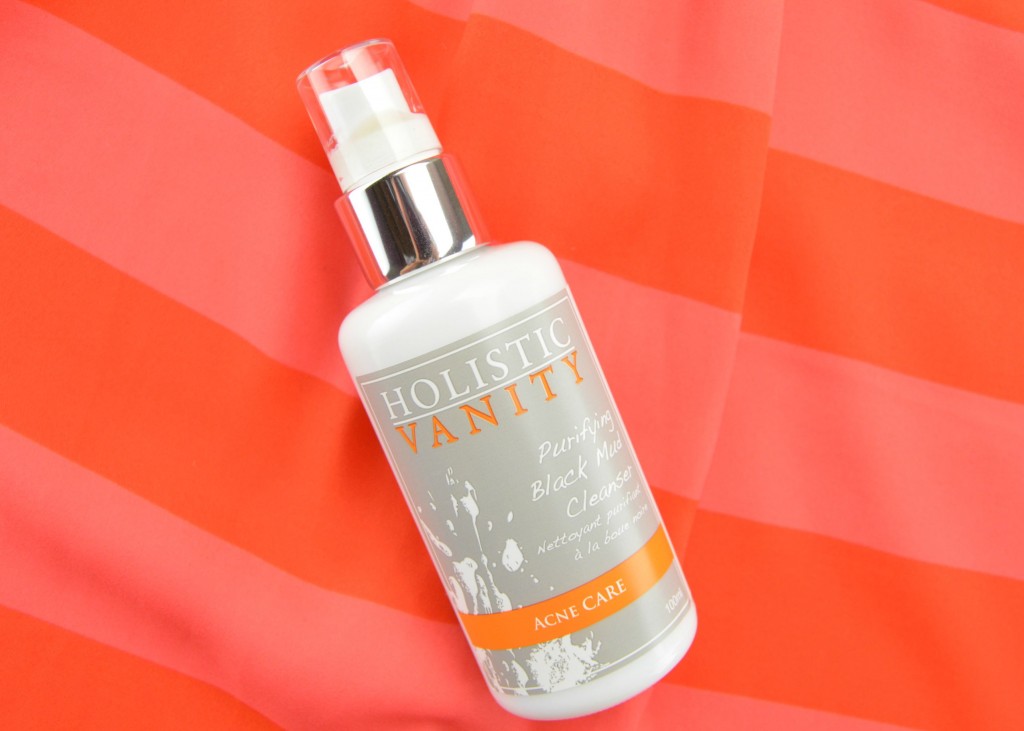 Holistic Vanity Anti-Bac Pine Mint Skin Tonic is the perfect therapeutic and refreshing skin tonic that's formulated with water extracted from pine needles and mint leaves. This highly lightweight and incredibly refreshing tonic water helps to purify the skin and prep it for your daily moisturizer without drying out your acne-prone skin. Simply apply a small amount to a cotton pad and gently wipe over entire face and neck. It also helps to remove any excess dirt or makeup that the cleanser may have missed, while prepping it for the next step in your daily routine. It leaves my skin feeling refreshed and clean with maximum hydration, without feeling tight or dry. It retails for $26 for 100ml.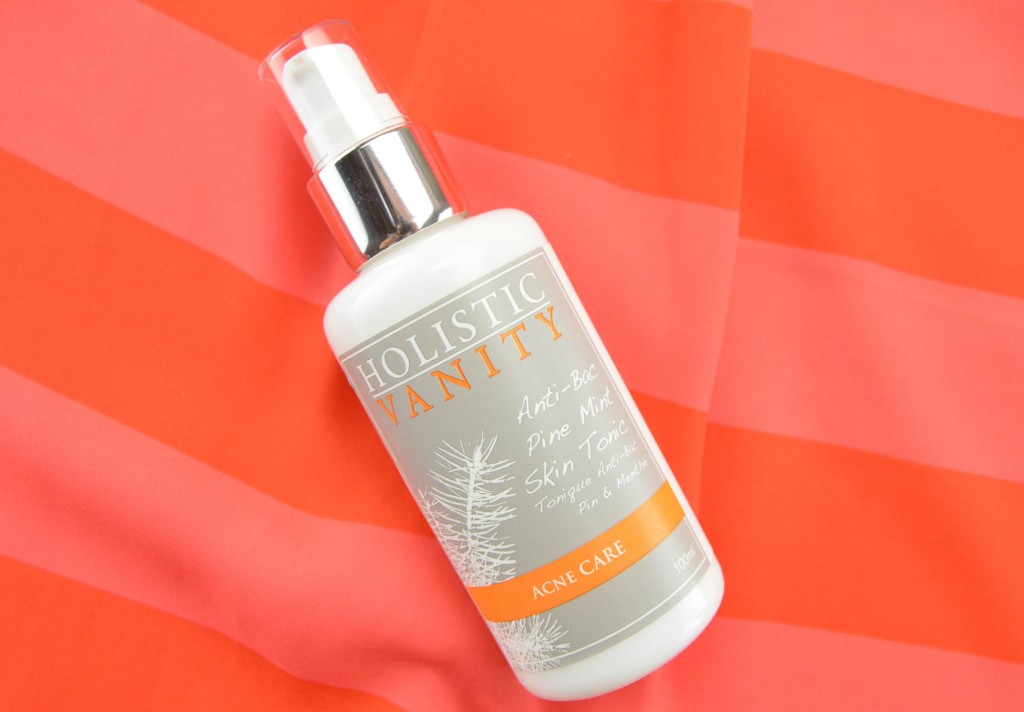 Holistic Vanity Clarifying Black Cumin Oil is made with 100% organic oil that gives breakout-prone skin the best of both worlds, antibacterial properties of black cumin oil with anti-inflammatory benefits of babassu oil. It seems to not only help to soothe acne and blemished prone skin, it also helps to combat existing blemishes for visibly clearer skin in a few days. It helps to instantly reduce redness around my nose and over time will help fade and reduce the appearance of acne scars. It retails for $43 for 100ml.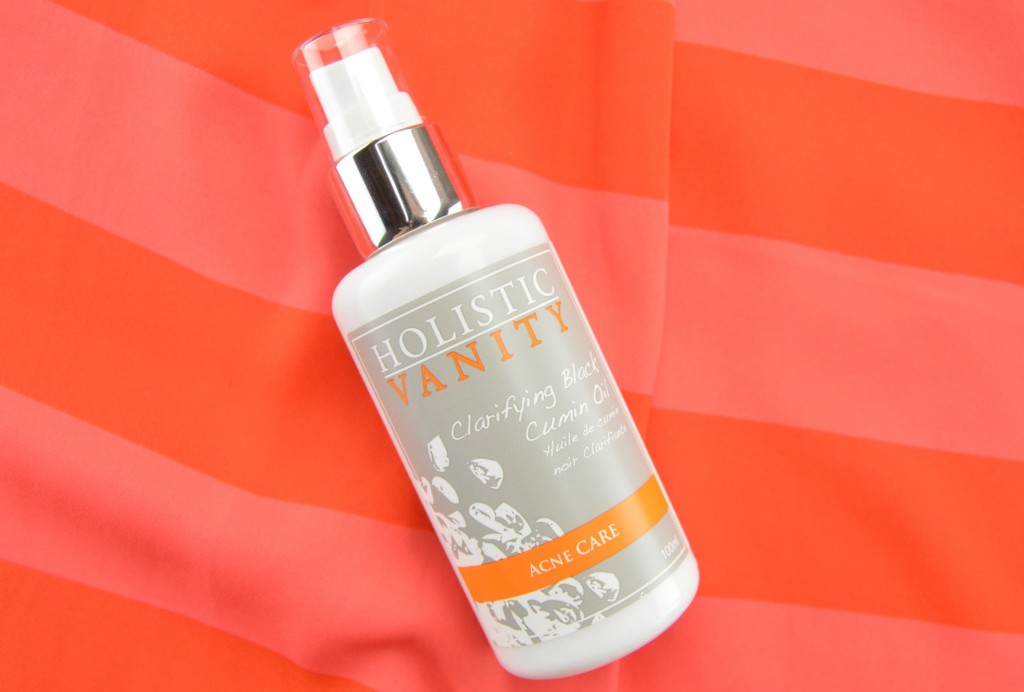 Holistic Vanity Balancing Black Mud Turmeric Lotion is a balancing lotion packed with essential purifying and calming ingredients such as organic babassu oil, black mud, and turmeric that helps to not only moisturize, but calm and clarify the skin. It has an extremely lightweight, silky soft and smooth consistency that applies like a dream. It penetrates deep down into the skin and fully absorbs within a few short minutes. It has a cooling and refreshing scent that doesn't leave your skin feeling or looking greasy, nor does it leave behind an oily residue. I can apply my makeup immediately afterwards. Only a dime size amount is needed to cover my entire face and neck and it blends into the skin beautifully. It instantly helps to not only plump up the skin for a fuller, radiant and healthy glow, it keeps it highly moisturized throughout the day. It retails for $50 for 100ml.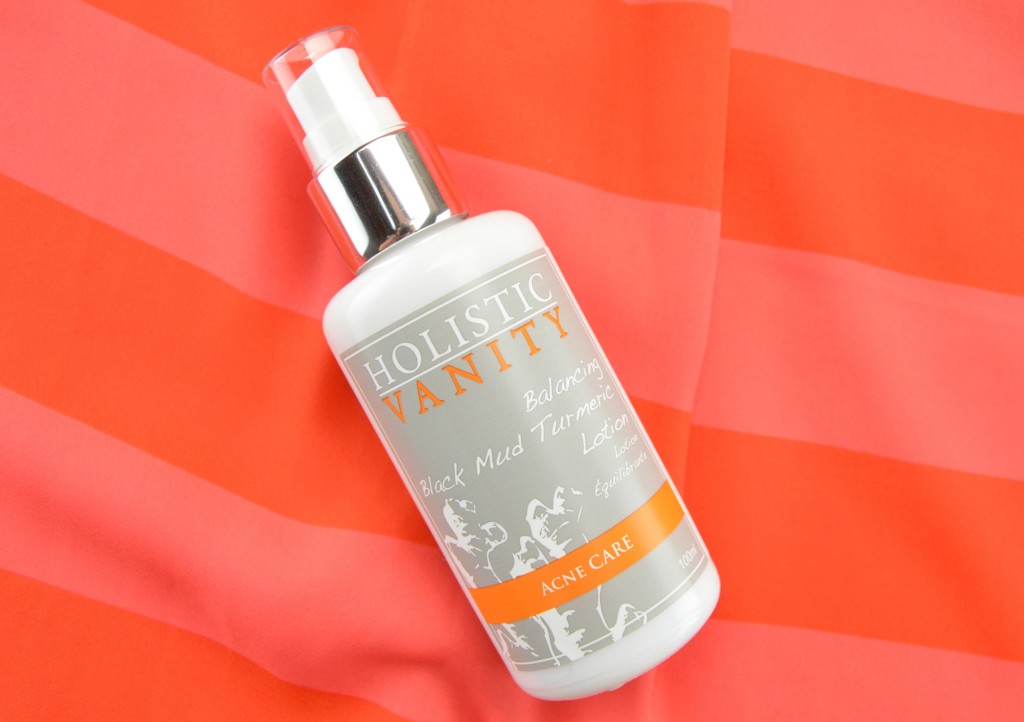 Holistic Vanity Acne Care Collection is available as of today at your local Pure + Simple Spa locations and of course, online.