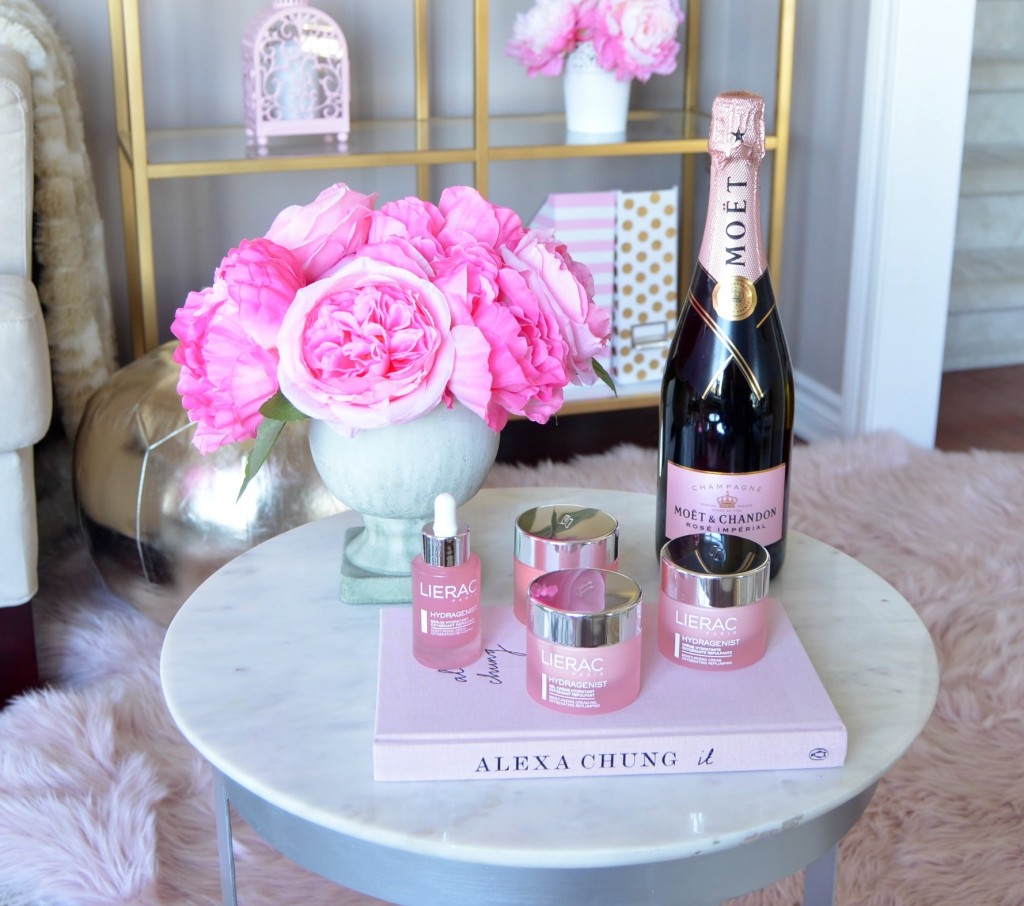 After a few years of having extremely dry skin, I think I finally have it under control. Maybe it's the environment or a hormonal imbalance, but no matter how many hydrating products I've used, nothing really seemed to get my skin back to "normal". I drink a ton of water, somewhat healthy, and moisturize my skin twice a day and nothing ever seemed to work. I took to the internet in hopes of finding a few new products to try to help get my skin back to its lusturous state, when I came across the fairly new Lierac HYDRAGENIST line. It's designed for those in their 30's, like myself, for when your skin starts to loose hydration and you are looking for products to help boost hydration for oxygenated, re-plumped and incredibly fresh skin. It's the first collection inspired by the aesthetic technique of tissue oxygenation, which involves infusing the cells with oxygen to stimulate the production of water captors in all layers of the skin. It combines biomimetic oxygen, vernonia leaf, hyaluronic acid, along with an array of vitamins and minerals to help boost the skin's metabolism and stimulate the skin to deeply hydrate it from the inside out.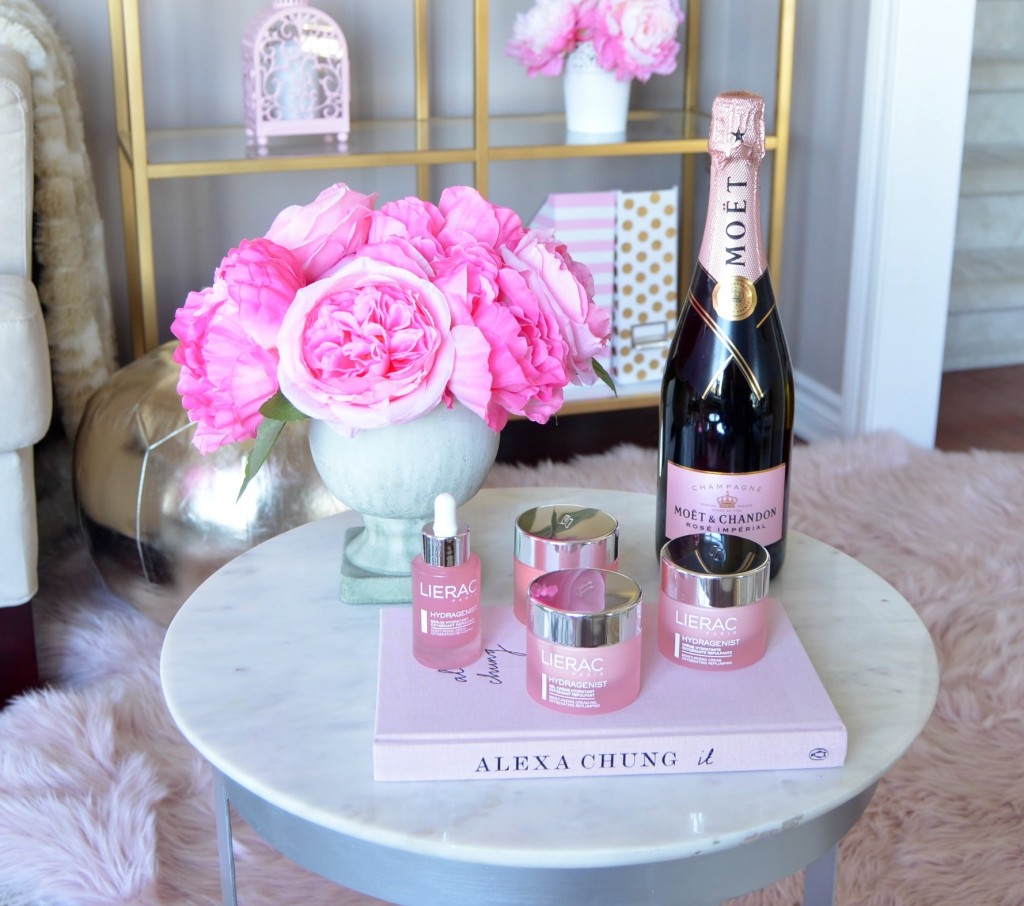 Lierac HYDRAGENIST line consists of 3 moisturizers and a serum, all of which comes in a stunning, luxe, pink glass bottle with blending notes of rose water, jasmine and gardenia. For someone who typically dislikes floral scents, this one is actually quite delicate and refreshing. These 4 products are a breath of hydration and thanks to its fresh active textures, it immediately hydrates and re-plumps the skin.

Lierac HYDRAGENIST Moisturizing Serum Oxygenating & Re-plumping is like a hydration shot in a tiny bottle. This smoothing, almost second-skin serum not only instantly hydrates the skin, it intensely replumps it, while smoothing wrinkles and fine lines. Although this serum is incredible on its own, its lightweight, silky formula can be paired with other LIERAC skincare products. For daytime use, I've been mixing in a few drops to my favourite foundation to not only help sheer out the coverage, but to leave a healthy, radiant glow. In the evening I add a few drops to my nightly moisturizer to help replenish and recharge the skin overnight. Not only is my skin fresher and more rested in the morning, it tends to help and improve skin's texture, look and feel overnight. It's non-greasy, fast absorbing formula helps to repair and regenerate the skin without leaving it looking or feeling oily. It retails for $65.

Lierac HYDRAGENIST Moisturizing Cream-Gel Oxygenating & Re-plumping is a thirst-quenching re-plumping bomb that helps to moisturize, mattify and re-plump the skin. Not only is it formulated with micro rice powder for a soft focus, mattifying look, its cream-gel texture is incredibly lightweight and absorbs into the skin within seconds. Its unique melt-in texture quickly becomes liquidy once in contact with the skin, disappearing and absorbing deep down into the skin, almost immediately, with no greasy residue left behind. It has a fresh, almost cooling consistency that helps to keep skin hydrated the entire day and well into the evening. Its innovated formula seems to not only lock in moisture, preventing dehydration the entire day, but it instantly captures, replenishes and creates moisture. Since it is so lightweight, it's perfect for under makeup which is why I've been using it in the morning after washing my face. I can feel it working right away and its soothing properties help to relieve dryness and provide an abundance of moisture back into my skin for a healthy, radiant and glowing effect. It retails for $70.

Lierac HYDRAGENIST Moisturizing Cream Oxygenating & Re-plumping is pretty much the same as the moisturizer above but designed for those with extra dry skin. It too retails for $70.

Lierac HYDRAGENIST Extreme Moisturizing Rescue Balm Oxygenating & Re-plumping is a re-plumping moisture bath with a ridiculously balmy texture. Its active texture combines the freshness of a gel with the comfort of a balm, to envelop and nourish the skin without a heavy sensation. Although this is probably the thickest and heaviest moisturizer I've ever tried, it somehow manages to feel lightweight and doesn't clog pores. That being said, you'll probably want to save this one for evening use or almost as an overnight treatment mask. It glides on smoothly, adheres to the skin without feeling greasy or oily and absorbs within a few short minutes. You'll probably want to wait a few minutes before hitting your head to the pillow, just to allow it to fully soak in, but other than that, there's no fear of it damaging your pillowcase or sheets. It helps to replenish the skin and add moisture and hydration back into the skin by the morning. My skin is left looking radiant, refreshed and ready to take on the day. It's clearer, brighter and with a stunning glow. It leaves my skin feeling dewy, without being greasy or causing breakouts, extremely nourished and well-rested. It does a wonderful job at sealing in moisture without being too heavy and any flaky patches I may be experiencing are totally cleared up and gone by morning. It retails for $70.